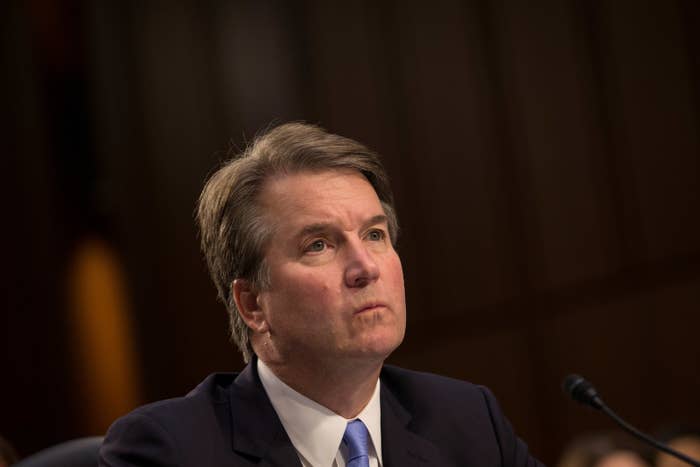 WASHINGTON — Senate Judiciary Committee staff interviewed two men who said they believed that they, and not US Supreme Court nominee Brett Kavanaugh, had "the encounter" with the woman who accused Kavanaugh of sexually assaulting her when they were teenagers, according to new information released Wednesday night by committee Republicans.
The revelation — which came on the eve of much-anticipated public testimony from Kavanaugh and the woman who has accused him of attacking her, Christine Blasey Ford — included few details. The committee didn't identify the men, offer details about what they said, state whether committee staff found their accounts credible, or indicate whether there would be any further follow-up.
The committee released a timeline describing how committee chair Chuck Grassley and his staff had responded to misconduct allegations against Kavanaugh, starting with Ford's account of being attacked at a party in the summer of 1982. On Sept. 24, the committee said that staff interviewed "a man who believes he, not Judge Kavanaugh, had the encounter with Dr. Ford in 1982 that is the basis of his complaint."
Committee staff interviewed the man again the next day, on Sept. 25, according to the timeline. "He described his recollection of their interaction in some detail," according to the committee.
On Sept. 26, the committee received "a more in-depth written statement" from the man they had previously interviewed. Committee staff also spoke by phone "with another man who believes he, not Judge Kavanuagh, had the encounter with Dr. Ford in 1982 that is the basis of her allegation. He explained his recollection of the details of the encounter."
A spokesperson for Grassley did not immediately return a request for comment. Lawyers for Ford also did not immediately return a request for comment.
A Democratic aide told BuzzFeed News in an email that committee Democrats were not told about the allegations, which was a violation of committee rules. The aide called the release from the Republican side "shameful and the height of irresponsibility."
Ford and Kavanaugh are scheduled to testify Thursday before the Senate Judiciary Committee; Senate Republicans have brought in Arizona prosecutor Rachel Mitchell to ask questions on their behalf. Kavanaugh has repeatedly denied the allegations. In written remarks submitted in advance of Thursday's hearing, Kavanaugh said that he "never did anything remotely resembling what Dr. Ford describes."
"I categorically and unequivocally deny the allegation against me by Dr. Ford.
I never had any sexual or physical encounter of any kind with Dr. Ford. I am not questioning that Dr. Ford may have been sexually assaulted by some person in some place at some time. But I have never done that to her or to anyone. I am innocent of this charge," Kavanaugh wrote.
Ford has stood by her accusation. In her prepared remarks, she recounted her claims that at a party while the two were in high school, Kavanaugh pinned her to a bed, groped her, and tried to take off her clothes. He covered her mouth with his hand when she tried to scream, she said. Ford said that another high school friend, Mark Judge, was also in the room.
Judge's lawyer submitted a statement from Judge to the committee saying he had "no memory of this alleged incident" and "never saw Brett act in the manner Dr. Ford describes."

"It was hard for me to breathe, and I thought that Brett was accidentally going to kill me," Ford wrote. "Both Brett and Mark were drunkenly laughing during the attack. They both seemed to be having a good time. Mark was urging Brett on, although at times he told Brett to stop. A couple of times I made eye contact with Mark and thought he might try to help me, but he did not."
Since Ford's accusations became public earlier this month, two other women, Deborah Ramirez and Julie Swetnick, have come forward to accuse Kavanaugh of sexual misconduct. Kavanaugh has denied those allegations as well. The committee is only set to hear from Ford and Kavanaugh at Thursday's hearing.
UPDATE
Updated with comment from a Democratic aide on the Senate Judiciary Committee.