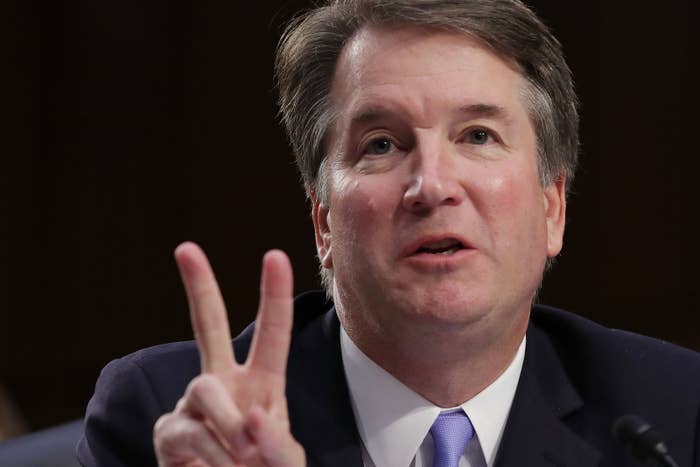 As senators prepare to hear this week from a woman who has accused Judge Brett Kavanaugh of sexual assault, a second woman has come forward with additional claims of misconduct.
Deborah Ramirez, who attended Yale University with Kavanaugh in the 1980s, told the New Yorker that the then-18-year-old Kavanaugh exposed his penis to her at a college dormitory party.
Ramirez told the New Yorker that she was drunk at the time, on the floor, and slurring her words. She recalls someone putting his penis in her face, which she pushed away. Students were laughing, she said, and she claimed she remembered Kavanaugh pulling up his pants.
"I was embarrassed and ashamed and humiliated," she told the New Yorker.
Ramirez had hesitated to come forward because of the gaps in her memory, the New Yorker reported, but she and her attorney now believe her recollection should be investigated by the FBI. A number of Republican and Democratic senators have received information on Ramirez's allegation, and Democrats are investigating, according to the New Yorker.
The New Yorker was not able to confirm with other eyewitnesses that Kavanaugh was present at the party. The magazine contacted several dozen classmates of Ramirez and Kavanaugh regarding the incident but said that many did not respond to interview requests, while others declined to comment or said they did not attend or remember the party.

In a statement, Kavanaugh denied Ramirez's allegation.
"This alleged event from 35 years ago did not happen," he said. "The people who knew me then know that this did not happen, and have said so. This is a smear, plain and simple. I look forward to testifying on Thursday about the truth, and defending my good name — and the reputation for character and integrity I have spent a lifetime building — against these last-minute allegations."
A spokesperson for Sen. Chuck Grassley, the Republican chair of the Senate Judiciary Committee, said Grassley learned about Ramirez's allegations via the New Yorker story and that he planned to look into them. The spokesperson added committee Democrats should have passed on the information to other members of the committee sooner.
"Yet again, Senate Democrats actively withheld information from the rest of the Committee only to drop information at politically opportune moments," the statement said. "It increasingly appears that they are more interested in a political takedown than pursuing allegations through a bipartisan and professional investigative process."
Sen. Dianne Feinstein, the ranking Democrat on the committee, on Sunday called for confirmation proceedings to be immediately postponed.
"An investigation needs to be conducted as part of Judge Kavanaugh's background investigation by career professionals at the FBI — not partisan staff of the Committee," she wrote to Grassley.
The White House has said it continues to support Kavanaugh's nomination to the Supreme Court.
"This 35-year-old, uncorroborated claim is the latest in a coordinated smear campaign by the Democrats designed to tear down a good man," White House spokesperson Kerri Kupec said in a statement. "This claim is denied by all who were said to be present and is wholly inconsistent with what many women and men who knew Judge Kavanaugh at the time in college say. The White House stands firmly behind Judge Kavanaugh."
Meanwhile, attorney Michael Avenatti — a vocal critic of the Trump administration — tweeted Sunday that he has "credible information" related to Kavanaugh from another woman and made further allegations about the judge. Avenatti told BuzzFeed News his client is not Ramirez, but he did not immediately respond to other questions.
Republican staff for the Judiciary Committee have asked Avenatti to provide more information about the tweets, and so far, he has not, Grassley's office said in a statement Sunday.
"The committee staff requested that Mr. Avenatti provide any evidence that he claims to have," the statement said.

The Senate Judiciary Committee is set to hear testimony from Kavanaugh and Christine Blasey Ford on Thursday. Ford, now a professor at Palo Alto University, has said Kavanaugh attempted to rape her at a high school party when he was 17 and she was 15.