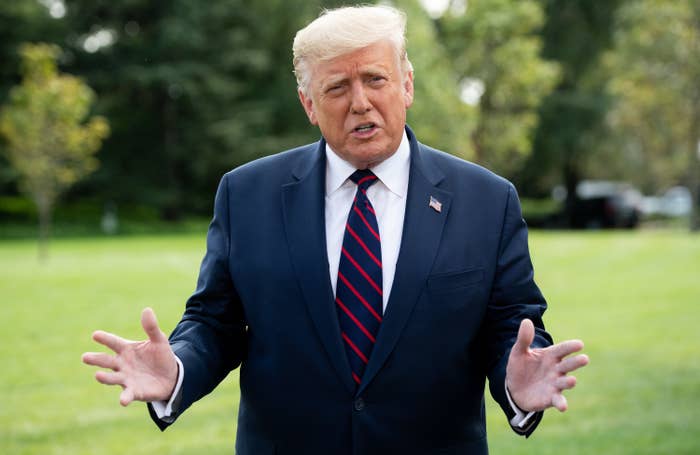 WASHINGTON — President Donald Trump's campaign and the Republican Party are devoting millions of dollars to wage a state-by-state legal battle against mail-in voting during the coronavirus pandemic, not only suing state officials but also intervening in cases where they aren't a party to limit how Americans can vote from home.
BuzzFeed News identified at least 11 cases where the Trump campaign has asked judges for permission to intervene to defend state and local policies that voting rights advocates argue will make it harder for people to safely vote during the pandemic. That's in addition to more than half a dozen lawsuits the campaign has filed with the Republican National Committee contesting efforts by Democratic governors and other state and local officials to expand mail-in voting.
It's unusual to see a presidential campaign take such an active role in court leading up to an election, but the pandemic has made for an extremely unusual — and highly litigious — election year. As the US death toll continues to rise, Trump is throwing the weight of his campaign behind legal challenges in court and using his platform as president to try to dissuade Americans from voting by mail. At the White House, on the campaign trail, and on Twitter, Trump has repeated debunked and unsupported claims that the practice is tainted by widespread fraud and the specter of foreign interference.
The Justice Department doesn't represent Trump's campaign, but Attorney General Bill Barr has echoed Trump's rhetoric against mail-in voting, telling CNN earlier this month that states trying to expand the practice are "playing with fire" and telling the Chicago Tribune that it would encourage "the business of selling and buying votes."
Trump and the RNC have committed $20 million to fund election-related litigation. Trump told Politico in July that the "biggest risk" to his reelection was failing to successfully fight plans that would make it easier for voters to remotely receive and return ballots.
"My biggest risk is that we don't win lawsuits," Trump said at the time. "We have many lawsuits going all over. And if we don't win those lawsuits, I think— I think it puts the election at risk."
State and local election officials have scrambled to prepare for a crush of voters trying to cast ballots remotely for the first time due to the pandemic. Early data compiled by the United States Elections Project at the University of Florida show that in Florida, Pennsylvania, North Carolina, and Colorado, absentee ballot requests are up compared to previous election cycles, with registered Democrats outnumbering registered Republicans.
In the latest of a string of cases that underscore Trump's aggressive approach to voting litigation leading up to the election, his campaign and the RNC last week asked a judge for permission to join a lawsuit filed by Ohio voters and advocacy groups. The challengers accused Ohio Secretary of State Frank LaRose of unconstitutionally banning counties in the state from having more than one secure box where voters can drop absentee ballots instead of returning them by mail.
Lawyers for Trump and the RNC contend they have a stake in restricting the number of drop boxes in Ohio — an issue that took on new relevance this summer amid US Postal Service delays. The Trump campaign and the RNC are now arguing in court that they should be allowed to join the case because LaRose and Ohio Attorney General Dave Yost, both Republicans, might not be able to represent the campaign's issues.

"Secretary LaRose's generalized interest in enforcing the law is distinct from the Republican Committees' private interests," lawyers for the campaign and RNC wrote in the Sept. 10 filing. "He has no interest in electing particular candidates. ... He also must consider a 'broad spectrum of views, many of which may conflict' with the Republican Committees' specific interests."
With mail-in ballots already starting to go out to voters in a few states, litigation is moving quickly. There are multiple lawsuits around some of the same issues proceeding on separate tracks in state and federal courts. In Ohio, for instance, where the campaign just asked to intervene in federal court, a state judge on Tuesday ruled that LaRose lacked legal authority to ban multiple drop boxes; the campaign and RNC had asked to intervene in that case, but the judge denied the request, finding their interest was "too attenuated" and would be "fully protected" by the involvement of the state Republican Party.
Trump's campaign has attempted to get involved in cases that cover a range of state laws and policies that affect how people vote remotely, including whether states can automatically send registered voters absentee ballots or ballot request forms, where and how voters return ballots, when ballots need to be postmarked or received to be counted, and whether voters should have a chance to fix a problem with their ballot — a signature that doesn't match the one on their registration, for instance — before it's tossed out and their vote isn't counted at all.
"The Trump campaign has calculated that making it harder to vote — even in the pandemic — will help Trump get reelected," Rick Hasen, an election law expert at the University of California Irvine School of Law, told BuzzFeed News in an email. "It is not clear that this strategy will work because it appears to be deterring many of Trump's key supporters from voting by mail, which may be the safest way for people to vote during the pandemic. But it is not really about stopping voting fraud, of which there is little evidence of a widespread problem."
Former vice president Joe Biden's campaign has reportedly recruited hundreds of lawyers in anticipation of a legal fight around the election. Biden told supporters in July that the campaign would have 600 lawyers plus 10,000 volunteer lawyers on the ground, according to USA Today. But his campaign hasn't formally gotten involved in court on a state-by-state basis the way Trump's campaign has so far.

It's more common to see national and state political party organizations duke it out in court than presidential campaigns, and that's been true this year — the Republican National Committee is involved in more cases than Trump's campaign, and the Democratic National Committee is also active in court.
"This is just an all-out effort by Republicans to send a clear message that they will oppose voting rights in every state on every ground they can," said Marc Elias, one of the lawyers leading the charge on behalf of Democrats to defend mail-in voting practices in court this year. (Elias was the general counsel for Hillary Clinton's 2016 campaign; his legal efforts on behalf of Democrats earned him his own section on a website the RNC launched to attack mail-in voting.)

Legal battles have defined presidential elections before — Bush v. Gore in 2000 is one of the most consequential US Supreme Court decisions in modern history — but 2020 is notable for the sheer quantity of court action. There are more than 300 pending cases related in some way to the election, according to a tracker created by the Stanford-MIT Healthy Elections Project and Loyola Law School professor Justin Levitt.

Celina Stewart, senior director of advocacy and litigation for the League of Women Voters, said their litigation caseload has dramatically increased since the pandemic started. They've not only taken states to court to push for expanded mail-in voting access in the primaries and general election this year, she said, but also to try to match the ramp-up in legal activity coming from Trump and the RNC.
"For us, because that is a voter suppression technique, we just had to make sure we continue to fight back against actions like that," Stewart said.
The Trump campaign has filed a string of lawsuits to block states from expanding mail-in voting this fall — suing New Jersey over a plan to send ballots to all registered voters and extending the time frame to count ballots received after Election Day, suing Nevada for adopting a longer timeline for accepting mail-in ballots, suing Montana over the state's universal vote-by-mail plan, and suing county election officials in Iowa over their plans to send mail-in ballot applications prepopulated with voter information the county already has on file.
Judges in all three of the Iowa cases have sided with Trump and the RNC, invalidating prefilled absentee ballots that had already been sent to voters and ordering county officials to resend blank forms. Judges have yet to rule in the New Jersey, Nevada, and Montana cases.
A Trump campaign spokesperson did not respond to questions about the campaign's litigation strategy and how it's deciding when to go to court. BuzzFeed News identified at least 11 law firms listed on court documents for the campaign and the RNC, including Jones Day, which also served as a lead law firm for Trump's 2016 campaign, and Consovoy McCarthy, which has represented Trump personally in major court fights during his first term, including challenges to subpoenas from Congress and New York prosecutors for his financial records.
In Pennsylvania, a battleground state, the Trump campaign has tried to intervene in at least three cases related to remote voting during the pandemic. One was brought by the state Democratic Party arguing before the Supreme Court of Pennsylvania for a host of mail-in voting changes, including allowing drop boxes for ballots, extending the deadline to count mail-in ballots postmarked on Election Day but received after, giving voters a chance to fix ballot problems, and allowing "naked" ballots — ballots that don't arrive in a special secrecy envelope — to be counted.
On Sept. 3, the court allowed Republican state officials to intervene as parties but denied Trump and the RNC's request. The court said they could file amicus, or friend-of-court, briefs to express their views, along with other outside groups that also unsuccessfully asked to join the case. On Thursday, the court issued a 63-page decision finding county election boards could have drop boxes to collect ballots and approving the longer deadline for counting ballots received after Election Day. The court denied state Democrats' other requests.
Trump's campaign and the RNC filed their own lawsuit against Pennsylvania Commonwealth Secretary Kathy Boockvar to limit the number of drop boxes per county, but that's been on hold pending a decision from the state supreme court.
In another case, the League of Women Voters of Pennsylvania and other voting rights groups sued Boockvar in federal court in August, arguing the state failed to give clear guidance about how to handle signature match problems. Trump and the RNC moved to intervene to fight the lawsuit on Sept. 1, arguing they had a special interest "in maintaining the competitive electoral environment" on behalf of Republican voters and candidates that the "impartial" Pennsylvania election officials couldn't represent.
Before the judge could rule on whether to let Trump and the RNC join, however, the challengers alerted the court on Sept. 14 that they were dropping the case. Boockvar had declared that county election boards couldn't dismiss mail-in ballots based on signature analysis alone, which satisfied the groups that sued. Absent a formal role in the case, Trump and the RNC didn't have a way to keep it active.
The campaign and the RNC have successfully intervened in a case in Ohio, another key state, over objections from the groups that sued. The lawsuit filed by voting rights groups and Ohio voters alleges the state has failed to adopt signature match standards and has unconstitutionally rejected ballots during previous elections without giving voters a chance to fix signature issues.
A federal judge in Arizona allowed the campaign and the RNC to intervene in another signature-related case, and they're now appealing a judge's order last week directing the state to give voters whose ballots arrive in unsigned envelopes more time to fix the issue. Meanwhile, on Wednesday a different federal judge in Arizona denied the campaign and the RNC's request to intervene in a lawsuit challenging the state's Election Day deadline for mail-in ballots from members of the Navajo Nation who live on a reservation.
In Minnesota, state officials opposed letting Trump and the RNC intervene in a federal lawsuit challenging a state requirement that voters have a witness present when they sign absentee ballots. Voting rights groups argued the rule added a layer of in-person contact that might deter voters from participating during the pandemic. The Minnesota Attorney General's Office, led by former US representative Keith Ellison, a Democrat, argued Trump and the RNC were trying to get involved "solely for an improper purpose — to engage in a public-policy debate regarding the best means to ensure the integrity of Minnesota elections."
A federal judge allowed the campaign and the RNC to intervene and refused to sign off on an agreement reached by the groups that sued and the state to temporarily waive the witness requirement for the August primary. However, in a separate case in state court where the RNC and Trump's campaign also intervened, a different judge signed off on an agreement reached by Minnesota voters and Secretary of State Steve Simon in August waiving the signature witness requirement for the November election.