The Jury Will Now Deliberate Whether Paul Manafort Is A Liar Or A Victim
Manafort is charged with filing false tax returns, failing to report foreign bank accounts, and bank fraud.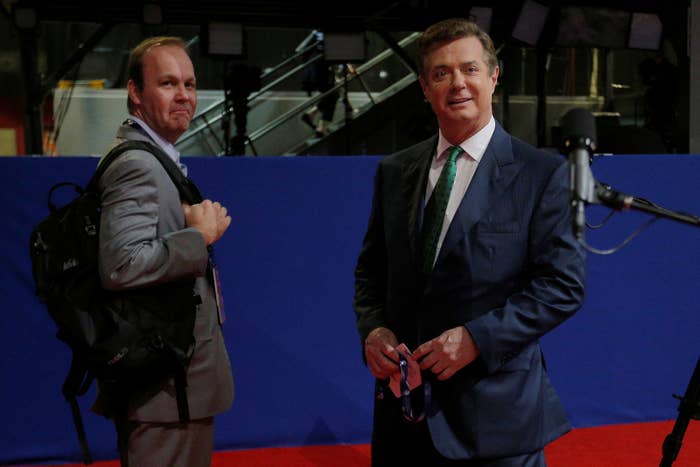 During closing arguments Wednesday in Paul Manafort's first trial, the jury heard about two very different Paul Manaforts.

By the government's account, Manafort was a sophisticated criminal mastermind, hiding millions of dollars in unreported income earned from his political consulting work abroad from the IRS, concealing his interests in more than two dozen foreign bank accounts from US authories, and defrauding multiple banks into approving millions of dollars in loans.

"Mr. Manafort lied to keep more money when he had it, and lied to get more money when he didn't," special counsel prosecutor Greg Andres said.
Manafort's lawyers, on the other hand, painted him as a victim of his preference for delegation, mistakenly placing his trust in a right-hand man who betrayed and stole from him — Rick Gates, a key witness for the government — and relying on unreliable and error-prone financial services professionals. Manafort involved his bookkeeper and his accountants in his financial affairs, his lawyers said, arguing that these professionals could see at least some of the money streams and foreign accounts that prosecutors allege he was trying to hide.
"That's not consistent with someone who is attempting to commit a fraud," Manafort's lawyer Richard Westling told the jury. "Fraud is about secrecy at its core."
The jury will begin deliberating Thursday morning. Closing arguments, lingering disputes about what the lawyers could and could not say to the jury, and the judge's final instructions to the jury took up the whole day on Wednesday. The government rested its case on Monday, and Manafort's lawyers announced Tuesday that they wouldn't put on any witnesses of their own.

Manafort is charged with filing false tax returns, failing to report his interest in foreign bank accounts, conspiracy to commit bank fraud, and bank fraud. The bank fraud charges are the most serious, carrying maximum penalties of up to 30 years in prison; if Manafort is convicted it's unlikely he'd face that much time behind bars, but some prison time would be on the table, according to prosecutors.
Gates's testimony turning on his former boss was one of the most dramatic moments of the trial, but Andres in his final presentation argued to the jury that documents were the "star witness." Before diving into the details of the charges, Andres displayed two documents representing the type of evidence the government has presented throughout the trial as proof that Manafort knew what the law required and broke it.
The first document was an email Manafort sent in January 2010 directing wire transfers to a home construction company in the United States. In the email, Manafort refers to the Cyprus-based account that the money would come from as "my" account. The jury has seen other similar emails where Manafort appears to explicitly claim ownership of overseas accounts that prosecutors say he used to hide his income from the IRS and that he was required to disclose.
The second document was a copy of a financial statement submitted to prospective lenders when Manafort was applying for refinancing loans on properties he owned. The document, a 2016 "profit and loss" statement for his business, listed the company's net income as $3 million. Prosecutors allege it was a fabrication, and one of many false or misleading pieces of information he provided to banks — Manafort's bookkeeper said she hadn't prepared the statement, noting it had typos and other formatting differences from versions she prepared; her statements for 2016 had Manafort's company losing more than $1 million by the end of the year.
Manafort's lawyers argued Wednesday that the government was "desperate" to prosecute Manafort, citing prosecutors' decision to cut a deal with Gates, who admitted committing a string of financial crimes as well as stealing from Manafort. They urged the jury to consider why the government would do that. They did not elaborate, but in pretrial proceedings the government asked US District Judge T.S. Ellis III to block the defense from arguing Manafort was a victim of selective prosecution, and the judge agreed.
Following an objection from Andres after Manafort's lawyers finished their closing presentation and the jury had left the room, Ellis later told the jury they should not consider the government's motivations for bringing the charges.
Manafort's lawyer Kevin Downing, who split closing arguments with Westling, said that Gates, who testified about concealing information about Manafort's income and foreign accounts at Manafort's direction, was not to be trusted.
A common thread through Downing's arguments was also that the financial issues at play were complicated, and that even if Manafort's documents included wrong information, the government failed to show he intended to defraud the government or banks.
On the tax returns
Andres went over documents and witness testimony about Manafort's alleged interest in 31 overseas bank accounts in Cyprus, St. Vincent and the Grenadines, and the United Kingdom, and the $15.5 million that government analysts determined Manafort wired out of those accounts to pay for personal expenses and didn't report as income.
Andres covered money recorded by Manafort's bookkeeper as loans to Manafort that FBI and IRS witnesses said was actually income — one $1.5 million loan was from an account that Manafort allegedly controlled, and a $900,000 loan was from an account controlled by one of his financial backers in Ukraine, where Manafort spent years as a political consultant.
Downing argued that Manafort's accountants had previously classified other income as loans, and questioned how Manafort could then know it was wrong when it came to the $1.5 million loan. He also questioned how an IRS agent determined that some of the money coming through the overseas account was income, noting the agent testified reviewing some, but not all, of the contracts related to that money.
On the foreign accounts
The jury saw a chart of the 31 foreign accounts, with stars next to some that Andres said represented accounts where Manafort was listed on documents as either a "beneficial owner" or an authorized signer. Manafort controlled the other accounts, even if his name wasn't on them, the government contends. Andres showed the jury an email that he described as a "critical" document, where a representative from Manafort's accounting firm sent him a detailed explanation of the foreign account reporting regulations.
Andres asked the jury to consider why Manafort would pay his bookkeeper $100,000 a year to pay his bills, and then separately pay some bills via wire transfers from overseas accounts. It was because Manafort wanted to hide the money, he said. Andres also questioned how it was possible that Manafort didn't own or control the accounts — that tens of millions of dollars could end up in accounts that Manafort had access to and could use to pay $15.5 million for personal expenses.
"Does that make any sense at all? We should all be so lucky," Andres said.
Westling and Downing raised questions about whether Manafort actually signed bank records that appeared to have his signature, noting differences in the handwriting. The jury did not hear from a handwriting expert. Downing also argued that the government had agreed to a statement that the overseas accounts were owned by Manafort's company, not Manafort. Andres countered that in the document Downing referred to, the government only agreed that this was how an agent for Manafort described the accounts.
On Rick Gates
Andres told jurors that he wasn't asking them to take Gates's testimony at face value, to trust Gates, or even to like him. He instead said the jury should compare what Gates said to other witnesses and what was in the documents, and then decide if they could believe him on a particular subject. Andres questioned what Gates's extramarital affair, which Manafort's lawyers focused on, had to do with the financial crimes Manafort was accused of committing.

Downing told the jury that Manafort must "feel foolish" to have trusted Gates. He argued Gates falsely told the jury that money he got from Manafort's accounts was bonuses and that Gates was stealing in order to finance a lifestyle he couldn't afford. Downing also argued Gates was lying about conspiring with Manafort in order to get out of prison time when he's ultimately sentenced. Under Gates's plea deal, if the government is satisfied with his cooperation, prosecutors agreed not to oppose a request by Gates's lawyer for a sentence of no prison time.
On bank fraud
By 2015, Andres said the evidence showed Manafort was going broke. Manafort is accused of defrauding or attempting to defraud three banks by submitting false information about his income, debts, and how he was using one of his properties. Andres displayed emails that he argued showed Manafort directing his former son-in-law to lie to an appraiser about using a home as a residence instead of a rental, and asking Gates to convert a financial statement into a format that could be edited, and then sending back a new version that inflated his company's net income.

Westling accused the government of "selectively" pulling together pieces of information, and argued that some emails showed prospective lenders knew about Manafort's lack of income and debts. No bank complained to financial regulators that Manafort was submitting bad information, he said. He disputed Manafort benefitted from what prosecutors say was a quid pro quo arrangement with the CEO of a bank who wanted a job in the Trump administration, noting Manafort had to put up more collateral than what the loan was worth.
And then there were 12
At the very end of the day, after Ellis spent nearly two hours reading jury instructions, he dismissed the four jurors who were chosen as alternates. He told the alternates they could not speak to anyone until the trial was over. Then, in a nod to the intense public interest in the trial — the courtroom has been packed every day with reporters and members of the public — he urged the jurors to consider not speaking about their deliberations when it's all over, saying he worried about a "chilling effect."
The judge cannot order the jurors not to talk, but suggested they adopt a "duty of confidentiality" about whatever happened next in the jury room.