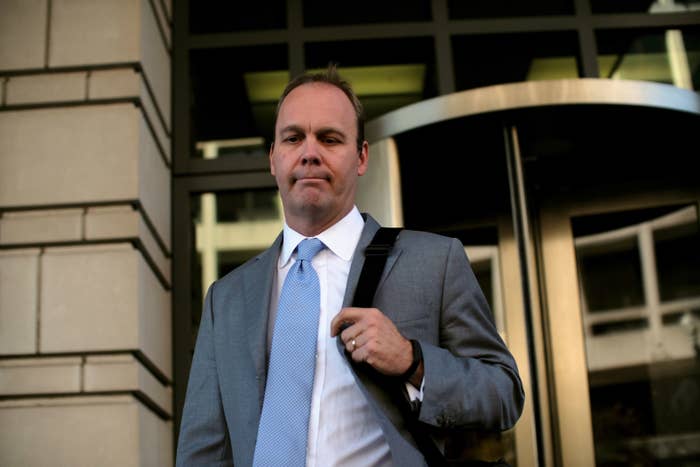 Rick Gates, the former deputy chair of President Donald Trump's 2016 campaign and a member of Trump's inauguration planning committee, testified Tuesday in the criminal trial of his former boss Paul Manafort that it was "possible" Gates stole money from the inauguration.
The revelation of that potential theft — Gates was asked if he had submitted personal expenses for reimbursement to the inauguration committee; he said it was "possible" — came as Gates was questioned Tuesday by Manafort's attorney. It was one of a series of crimes that Gates confessed to this week or said he may have committed.
Gates's credibility is a central part of Manafort's defense. On Tuesday, Manafort's attorney Kevin Downing asked Gates about Gates's own admission that he stole hundreds of thousands of dollars from Manafort, as well as the fact that he committed other crimes that special counsel Robert Mueller's office agreed not to charge with him in exchange for his cooperation.
"After all the lies you've told, you expect this jury to believe you?" Downing asked.
"Yes," Gates replied.
Downing asked Gates if he used money he stole from Manafort to finance a "secret life." Gates said he had a relationship, but did not share any details. The implication was that it was an extramarital affair. Later in his testimony, Gates said his wife knew about what Downing repeatedly referred to as his "secret life." Asked if he had a flat in London, Gates said he did spend several months there, and would travel to London when he was en route to Ukraine, where he and Manafort did political consulting work.
Gates denied funneling money from Manafort's overseas accounts to pay for his other relationship, saying the money went into an account that his wife knew about.
Gates, who was Manafort's longtime right-hand man, is the government's star witness in the trial taking place in federal court in Alexandria, Virginia. He was originally charged as Manafort's codefendant, but pleaded guilty in February and agreed to cooperate with the government. Manafort is charged with filing false tax returns, failing to report foreign bank accounts, and bank fraud. Gates testified on Monday and Tuesday that he aided Manafort with all of those alleged crimes.
Tuesday marked the first time that the Trump campaign and the role that Gates and Manafort played explicitly came up during testimony before the jury. Before the trial began, Ellis told the lawyers that he wanted to keep politics out of the trial as much as possible. There were earlier references to the fact that the two men worked on a presidential campaign, but the candidate was never named. That changed on Tuesday.
During Gates's questioning earlier in the day by special counsel prosecutor Greg Andres, the jury saw emails from Manafort to Gates after the 2016 presidential election; Manafort had left the campaign in August 2016, amid scrutiny of his ties to Ukraine and Russia. In one email from late November 2016, Manafort emailed Gates to ask if they could discuss getting the administration to consider Stephen Calk for secretary of the Army.
The jury did not hear any other testimony about Calk on Tuesday — he is the CEO of Federal Savings Bank, which reportedly loaned millions of dollars to Manafort. Prosecutors said during pretrial proceedings that they planned to introduce evidence that the unnamed bank chair — believed to be Calk, based on news reports and publicly available information — agreed to extend a loan to Manafort based on information Calk knew was false in order to get a job with Trump's campaign and in the administration; Calk did serve the campaign, but did not work in the administration.
On Tuesday, the jury also saw an email from Manafort to Gates in December 2016 asking about getting inauguration tickets for a list of people, including Calk.
On cross-examination, Downing asked Gates if the special counsel's office had asked him about his time with Trump's campaign. Gates began to answer, but Andres objected to the question. After the lawyers conferred with US District Judge T.S. Ellis III at the bench, out of earshot of the gallery and the jury, Ellis announced he would take a short recess. When the jury returned, there were no more questions about the campaign. Ellis did not address what they discussed at the bench.
Gates said Tuesday that he was in court now to tell the truth and accept responsibility. Downing questioned if Gates was truly accepting responsibility if his lawyer planned to ask for no jail time at sentencing, and that as part of a plea deal prosecutors had agreed not to oppose that request. Gates said his sentence was ultimately up to a judge. Downing asked if Gates had returned the money he stole from Manafort. Gates said no.
"I regret it, clearly"
Gates first took the stand on Monday afternoon, and Andres picked up the questioning Tuesday morning. The jury saw examples of million-dollar consulting agreements executed between Cyprus-based entities — one would be controlled by Manafort, and the other by a Ukrainian businessman who was financing Manafort's political consulting work in Ukraine, Gates said. Manafort's name wasn't on the registration papers for these entities — they were established by a Cypriot law firm, whose members then served as directors and board members — but Manafort controlled them and they contained his money, Gates testified.
Prosecutors have alleged Manafort underreported his income to the IRS by millions of dollars — money that they say he kept hidden through the Cyprus entities — and didn't report the existence of his interest in overseas accounts to the IRS or the Department of Treasury. Gates said there were never "overt" discussions with Manafort about hiding the accounts, but that was his understanding of what they were doing. Manafort would say that he didn't need to disclose the accounts because he didn't have signature authority over them, but Manafort controlled the accounts in reality, Gates testified.
Gates said that after Manafort moved much of the money in the Cyprus accounts to accounts in the Grenadines, he would create phony invoices to submit to the banks there to initiate wire transfers from Manafort's accounts to US-based clothing retailers and home contractors who did work for Manafort. The Grenadines bank needed to see an invoice with the name of the corporate entity listed on the account — the real invoices in the US were under Manafort's name — so Gates said he would create them, at Manafort's direction.
By 2014, when Manafort's former client Viktor Yanukovych — the former president of Ukraine — and Yanukovych's pro-Russia political party, the Party of Regions, had lost power, Manafort was having trouble paying his bills, Gates said. The jury saw one email Manafort wrote to Gates after learning what he might owe in taxes — "WTF?" Manafort wrote.
Gates testified that to reduce Manafort's tax burden, Gates told Manafort's bookkeeper that money coming in from an account held by a Ukrainian businessman was from a loan, when in fact it was income. When they were asked for documentation of the loan, Gates said he fabricated it.
Manafort is charged with submitting false information to banks in order to make it seem as though his finances were in better shape than they actually were and secure loans in 2015 and 2016. Gates said Tuesday that he helped Manafort commit fraud in a few ways. One way was by submitting an older version of an insurance policy to a bank indicating that Manafort owned a property that didn't have a mortgage on it — that was false, Gates said.
Another way Gates said he helped Manafort commit fraud was by creating a phony letter indicating that a transaction recorded as a $1.5 million loan to Manafort's company had been forgiven, making it income. The supposed loan was in fact from a Cyprus-based entity that Manafort controlled, Gates said, and that money had always been income, not a loan.
The jury also saw emails from Manafort to Gates asking Gates about converting a document prepared by Manafort's bookkeeper that detailed Manafort's finances from a PDF format into a Microsoft Word document — a PDF document being harder to edit than a Word document, Gates explained to the jury. Gates said Manafort then sent the document back to him with different numbers, and asked Gates to turn it back into a PDF.
Gates testified that on another occasion he created a fake document listing Manafort's income as being higher than it really was.
Downing's cross-examination of Gates kicked off with a tense exchange about what exactly Gates had told the special counsel's office about lying to investigators. Gates pleaded guilty to two counts — conspiring against the United States, and making false statements. Downing asked Gates when he had provided false and misleading information to prosecutors. Gates initially pushed back on the time frame Downing suggested for when he lied, and then Gates said that during interviews with the government he "struggled" to recall information.
Downing asked if Gates was saying that he didn't lie, but rather had trouble recollecting facts. Gates said that was what he said. Ellis then jumped in, noting that Gates pleaded guilty to making false statements. The judge asked Gates if he provided false information to the government. Gates said he did.
Gates admitted stealing from Manafort, but disputed some of Downing's version of when and how he did it. Downing asked Gates about a list of approximately 40 financial transactions that Downing said represented income that Gates was charged with failing to report; those charges were dismissed as part of his plea deal. The list totaled approximately $3 million. Gates said some of the transfers from Manafort's overseas accounts were authorized, and some weren't, but he said he coudn't recall which were which.
Downing asked why Gates stole from Manafort, arranging for hundreds of thousands of dollars in reimbursements for what were in fact personal expenses. Gates said that at the time, he was "living beyond my means."
"I regret it, clearly," Gates said.
Downing and Gates went back and forth for a few minutes about whether Gates would characterize what he did as embezzling. Gates kept referring to the theft as "unauthorized" transfers, and said Downing could call it whatever he liked. After more pushing from Downing, though, Gates said it was embezzling.