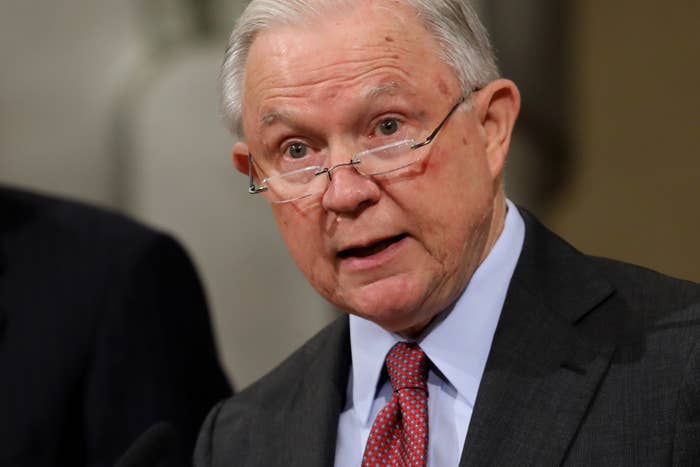 WASHINGTON — A representative of the national union of immigration judges says a new decision by Attorney General Jeff Sessions about the authority of judges to dismiss immigration cases is part of a broader effort by Sessions to limit their independence.
In an opinion released Wednesday by the Justice Department, Sessions wrote that immigration judges do not have "free-floating power" to dismiss removal proceedings. Judges could dismiss a case if the Department of Homeland Security failed to meet its burden of proof, Sessions wrote, or if specific conditions spelled out in existing regulations were met. Sessions reversed an immigration judge's decision to terminate a removal case, finding it wasn't based on the law or regulations.
Judge Dana Marks, a representative of the National Association of Immigration Judges and an immigration judge in San Francisco, told BuzzFeed News in an email that some judges, including herself, already interpreted the law as Sessions did, but a "very reasonable legal argument to the contrary" could be made. She said the decision more broadly demonstrated the Trump administration's "political approach" to immigration courts.
The administration "persistently moves to limit Immigration Judges' independence and to push them towards rapidly issuing orders of removal rather than engaging in creative problem solving and practical-based outcomes for the people who come before us," Marks wrote.
A spokesperson for the Justice Department declined to comment.
Immigration courts, unlike federal district and appeals courts, are part of the Justice Department. Sessions has the authority to act as an arbiter on legal questions affecting immigration proceedings. His latest decision, which came out of two immigration cases, Matter of S-O-G- and Matter of F-D-B-, follows the same guiding principles that Sessions outlined in a May decision, Matter of Castro-Tum, in which the attorney general restricted immigration judges' authority to indefinitely suspend cases.
The judge in Matter of F-D-B- had granted a request to terminate the removal proceeding of a Brazilian woman who was in the United States while she waited for the US consulate in her home country to process an immigrant visa application. The immigration judge didn't dispute that the woman lacked a legal right to be in the United States, according to Sessions' opinion, but concluded there wasn't a reason for the case to remain on the court's "busy docket" while the woman waited for her consular interview.

The judge's discretion in managing her caseload and the court's "busy docket" weren't legally adequate reasons to dismiss the case, Sessions wrote.
"As discussed above, however, immigration judges have no inherent authority to terminate removal proceedings even though a particular case may pose sympathetic circumstances," he wrote.

The American Immigration Lawyers Association released a statement slamming Sessions's latest decision, noting that Sessions hadn't publicly announced that he was taking up these cases or asked for briefing on the issues involved. The group's executive director Benjamin Johnson said the decision was "part of a systematic effort to marginalize the role of immigration judges in their own courtrooms."
The immigration judges union has been critical of Sessions and the Trump administration's approach to managing US immigration courts. The union is challenging the department's decision to take the judge who decided Matter of Castro-Tum off of that case, as well as others on his docket, and has come out against what they've described as quotas set by the department for closing cases; the department has called them "performance metrics."
After Sessions made remarks earlier this month saying judges should not "depart from the law and create nebulous legal standards out of a sense of sympathy," Marks told BuzzFeed News that the attorney general's comments represented a "political statement which does not articulate a legal concept that judges are required to be aware of and follow."
The backlog of US immigration cases is at an all-time high. As of July 2018, there were more than 700,000 cases pending, according to TRAC Reports, a research and government watchdog group.
UPDATE
Updated with comment from the American Immigration Lawyers Association.