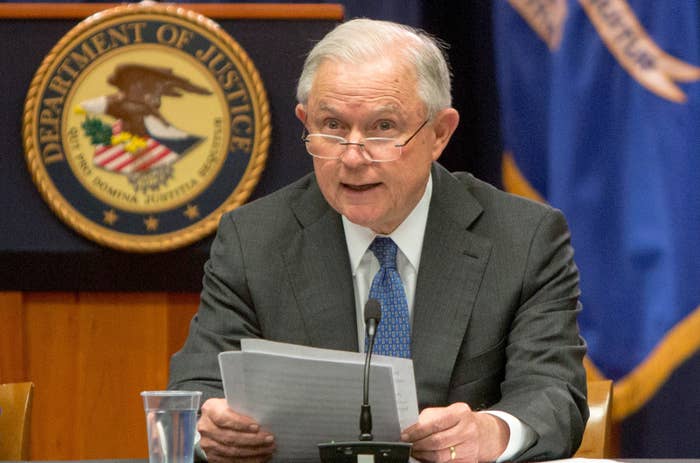 Attorney General Jeff Sessions on Monday warned incoming immigration judges that lawyers representing immigrants are trying to get around the law like "water seeping through an earthen dam" and that their responsibility is to not let them and instead deliver a "secure" border and a "lawful system" that "actually works."
He also cautioned the judges against allowing sympathy for the people appearing before them, which might cause them to make decisions contrary to what the law requires.
"When we depart from the law and create nebulous legal standards out of a sense of sympathy for the personal circumstances of a respondent in our immigration courts, we do violence to the rule of law and constitutional fabric that bind this great nation. Your job is to apply the law — even in tough cases," he said.
The comments immediately drew criticism from the union that represents the judges and from former judges.
"The reality is that it is a political statement which does not articulate a legal concept that judges are required to be aware of and follow," said Dana Marks, a spokesperson for the National Association of Immigration Judges and an immigration judge in San Francisco. "It did appear to be a one-sided argument made by a prosecutor."
Jeffrey Chase, a former immigration judge and now an immigration attorney, said the comments overlooked the fact that asylum laws were designed to be flexible.
"We possess brains and hearts, not just one or the other," he said. It is sympathy, Chase said, that often spurs legal theories that advance the law in asylum law, civil rights, and criminal law.
"Sessions is characterizing decisions he personally disagrees with as being based on sympathy alone," he said, "when in fact, those decisions were driven by sympathy but based on solid legal reasoning."
Unlike other US courts, immigration judges are employees of the Justice Department whose evaluations are based on guidelines Sessions lays out. In that role, Sessions already has instituted case quotas, restricted the types of cases for which asylum can be granted, and limited when judges can indefinitely suspend certain cases. Advocates believe the Trump administration has made these decisions in order to speed up deportations. His comments on sympathy to immigrants appeared intended to bolster a decision he made recently to limit when asylum can be granted out of fear of domestic or gang violence.
Sessions also told the judges that they should focus on maximum production and urged them to get "imaginative and inventive" with their high caseload. The courts currently have a backlog of hundreds of thousands of deportation cases.
Ashley Tabaddor, an immigration judge in Los Angeles and the president of the National Association of Immigration Judges, which represents the nation's 350 immigration judges, said Sessions' speech was notable for its lack of any mention of fairness or due process. "We cannot possibly be put in this bind of being accountable to someone who is so clearly committed to the prosecutorial role," said Tabaddor.
The union has long called for its separation from the Department of Justice in order to be truly independent of political decision-making.
"Good lawyers, using all of their talents and skill, work every day — like water seeping through an earthen dam — to get around the plain words of the [Immigration and Nationality Act] to advance their clients' interests. Theirs is not the duty to uphold the integrity of the act. That is our most serious duty," Sessions said in a speech to 44 newly hired judges who were being trained in Falls Church, Virginia.
He ended his speech by telling the incoming judges that the American people had spoken in laws and "in our elections."
"They want a safe, secure border and a lawful system of immigration that actually works. Let's deliver it for them," Sessions said.
From the beginning of October through the end of June, immigration judges had granted around 22% of asylum cases and denied around 41% of cases. The rest of the cases were closed. The rate is similar to previous fiscal years. Sessions' decision to limit the types of cases in which asylum should be granted was made in mid-June.