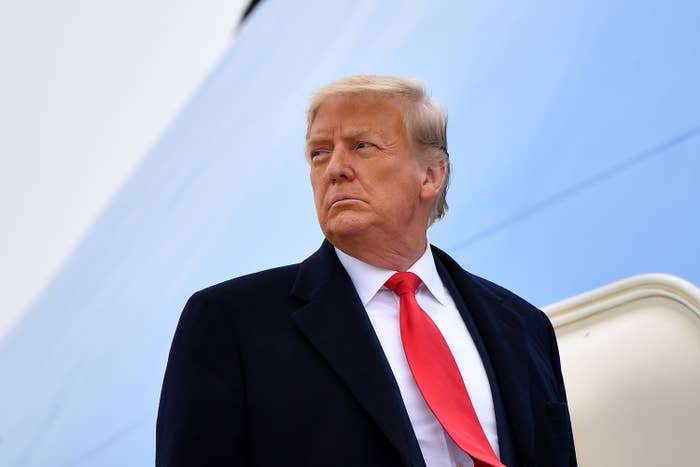 WASHINGTON — The US Supreme Court on Monday cleared the way for New York prosecutors to get eight years of former president Donald Trump's tax returns, dealing Trump a major blow in his yearslong quest to block a grand jury investigation into his affairs.
The Supreme Court rejected Trump's latest challenge to the subpoena with no fanfare, issuing a one-sentence order that denied his request to put a lower court ruling on hold that tossed out the latest version of his lawsuit. No justice publicly indicated they had dissented from the order.
New York District Attorney Cy Vance Jr.'s office subpoenaed eight years of Trump's tax returns as part of a grand jury investigation into a wide array of Trump's business dealings and personal finances, including — but not limited to — hush money payments orchestrated by Trump's former attorney Michael Cohen to two women who had claimed to have had affairs with Trump before he became president. The order serves as a reminder of the legal exposure that Trump continues to face now that he's out of office, and the fact that as a former president, he can no longer invoke that office as a shield if Vance or any other law enforcement agency brings criminal charges against him.
The Supreme Court's latest order doesn't mean the public will get to see the documents, though, at least not right away; grand jury investigations are conducted in secret. If Vance's office ever brought a criminal case that involved the tax returns, that information could then become public.
The Supreme Court ruled against Trump and the Justice Department last summer when the case first reached the justices, but Trump then tried to pursue another version of his case in the lower courts. A federal district judge in New York dismissed it, and the US Court of Appeals for the 2nd Circuit upheld that ruling in October, which freed New York prosecutors to enforce the subpoena. Trump petitioned the Supreme Court to delay the effect of the 2nd Circuit's decision while he took the fight back up to the justices, and the justices denied that request on Monday.
"The work continues," Vance said in a statement.
Vance's office wrote a letter to Trump's lawyer William Consovoy in September making clear that if the Supreme Court denied Trump's request to put any lower court rulings on hold, they "will be free" to enforce the subpoena.
Consovoy did not immediately return a request for comment on Monday. Trump released a statement later on Monday calling the New York investigation "a continuation of the greatest political Witch Hunt in the history of our Country," trying to connect it to the special counsel investigation into foreign interference in the 2016 election — Trump referred to it as "Russia Russia Russia" — and his two impeachments. He used the statement to repeat his false claims that he was a victim of voter fraud and that he won the 2020 election, and vowed to "fight on."
The order in the tax return case wasn't Trump's only loss in the Supreme Court on Monday. The justices brought a formal end to Trump's legal challenges to President Joe Biden's electoral wins in Pennsylvania and Wisconsin, issuing brief orders that denied Trump's petitions contesting lower court rulings against him. The court also declined to take up a challenge to a Pennsylvania Supreme Court decision entered before Election Day in November that had allowed the state to accept mail-in ballots that arrived up to three days later; Justices Clarence Thomas, Samuel Alito, and Neil Gorsuch dissented, saying they would have heard the case.
Trump did score one win on Monday — the justices refused to revive a defamation case against him brought by Stormy Daniels, the adult film star who claimed to have had an affair with Trump and received one of the hush money payments through Cohen. Daniels sued Trump after he tweeted that she was lying when she said that someone had threatened her to not talk about the affair with Trump. The 9th Circuit dismissed the case after finding Trump's tweet was an opinion that couldn't be the subject of a defamation claim, and Daniels asked the Supreme Court to hear the case.
Trump was the first president since Richard Nixon not to voluntarily release his tax returns during his campaign. The New York Times obtained information from more than two decades of his tax returns, including from his first two years as president, and reported that the documents showed "a businessman who takes in hundreds of millions of dollars a year yet racks up chronic losses that he aggressively employs to avoid paying taxes."
When Cohen testified before Congress in February 2019, he not only described how Trump reimbursed him for the hush money payments during his presidential campaign, but also claimed that Trump had at different times inflated or deflated the value of assets to get better loans or reduce his tax exposure, respectively. Cohen also said that Trump had told Cohen about getting a $10 million tax refund during the financial crisis in the late 2000s and called the government stupid for doing it.

The New York grand jury issued a subpoena to Trump's accounting firm Mazars USA LLP in August 2019 seeking Trump's tax returns going back to 2011. Trump filed suit the following month in federal court. He was represented by a private legal team, but as the case went forward the Justice Department also got involved to back the then president's challenge to the subpoena.
Trump repeatedly lost in court. The district judge in New York dismissed the case in October 2019, and the 2nd Circuit ruled the following month that Trump was not entitled to "presidential immunity" against criminal investigation while in office. Trump took the case up to the Supreme Court, and the justices agreed to stop Vance's office from enforcing the subpoena while the case was pending. In a July 2020 opinion written by Chief Justice John Roberts Jr., a majority of the justices rejected Trump's total immunity argument. The Justice Department didn't back Trump's immunity position but did argue that prosecutors should have to meet a higher standard of "need" to pursue records related to a sitting president, and the Supreme Court majority rejected that as well.
Roberts' opinion left open the possibility that Trump could raise other arguments to challenge the grand jury subpoena. Trump tried to do just that, filing a new version of his lawsuit in the New York federal court that focused on arguments that the subpoena was too broad and that prosecutors were pursuing it in "bad faith." The judge wasn't persuaded and dismissed the case in August. The 2nd Circuit upheld that dismissal in October, and that's when Trump petitioned the Supreme Court to once again intervene.
Vance's office has confirmed in court filings that the investigation goes beyond the hush money payments and deep into Trump's sprawling business dealings. Last month, the Wall Street Journal reported that prosecutors had subpoenaed records related to the valuation of Seven Springs, a Trump property located in Westchester, New York. The New York attorney general's office also has a pending investigation into the Trump Organization's properties and financial operations.
The New York Times reported just last week that Vance's office had brought on a former federal prosecutor with significant experience with white-collar and organized crime cases to join the probe into Trump, his family, and his companies.