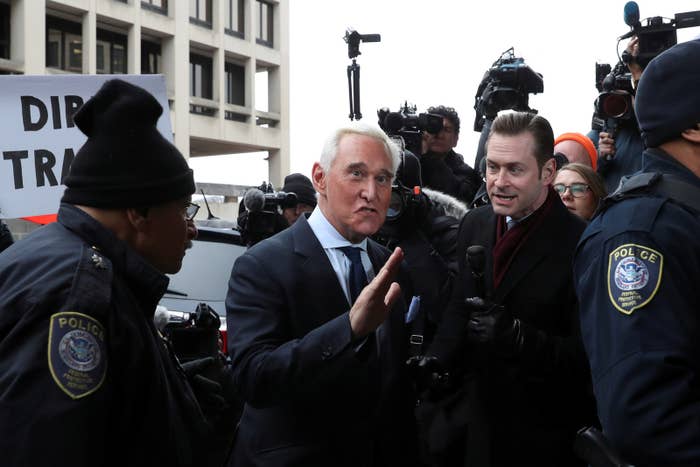 WASHINGTON – Roger Stone, through his lawyer, pleaded not guilty on Tuesday to charges brought by special counsel Robert Mueller that he lied to Congress about his contacts with WikiLeaks and tried to convince an associate to lie as well.

Stone, a longtime adviser to President Donald Trump, is facing a seven-count indictment, with the most serious offense — witness tampering — carrying a maximum sentence of 20 years in prison. He was arrested Jan. 25 in Fort Lauderdale, Florida, and released on a $250,000 bond after making his first court appearance there. Tuesday marked Stone's formal arraignment in federal court in Washington, DC, where his case will proceed going forward.
Prosecutors from the Special Counsel's Office and the US Attorney's Office in Washington are jointly handling the case. They did not ask for any change in Stone's release conditions as the case proceeds, which means Stone will be released pending his trial. He was ordered not to contact any witnesses in the case, and will not be allowed to have a passport. He'll be limited to traveling to Manhattan and a few other areas in New York, southern Florida, DC, and northern Virginia.
Stone, wearing a navy shirt, dark blue tie, and light blue pocket square, spoke little during the arraignment. His lawyer Robert Buschel entered the plea of "not guilty" on his behalf.
Prosecutor Michael Marando from the US Attorney's Office in Washington told the judge that the government and Stone's lawyers agreed to designate the case as "complex," which means it won't move as quickly to a trial as a regular criminal matter.
Stone did not speak with reporters when he left the courthouse. Outside, protesters and reporters swarmed the black SUV picking him up. Some demonstrators chanted "lock him up" and waved Russian flags as the Russian national anthem blared; others were there to support Stone, holding up signs that read "FREE STONE FIRE MUELLER" and "STOP MUELLER POLITICAL PERSECUTION."
Stone is charged with one count of obstructing Congress, five counts of making false statements to Congress, and one count of witness tampering. Speaking to reporters Friday after a dramatic exit from the Fort Lauderdale courthouse that featured Stone making the double-peace sign gesture à la former president Richard Nixon, Stone said he planned to plead not guilty.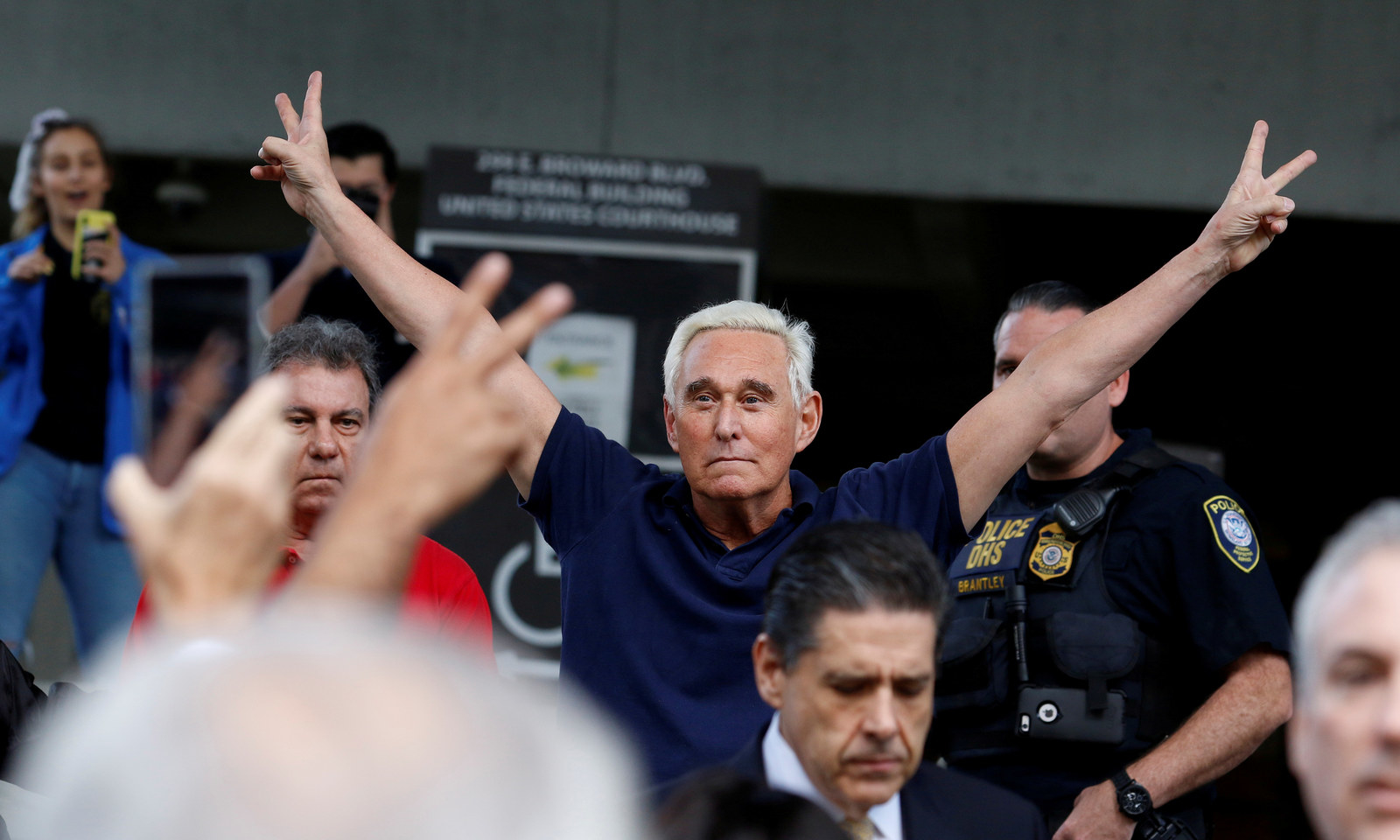 "I am falsely accused of making false statements during my testimony to the House Intelligence Committee. That is incorrect," he said at the time. "Any error I made in my testimony would be both immaterial and without intent."
Since the indictment was unsealed, Stone and Trump have stressed that the charges against Stone don't allege collusion between the Trump campaign and the Russian government.
The indictment accuses Stone of lying to the House Permanent Select Committee on Intelligence when he testified in September 2017 about what he knew and whom he communicated with about documents stolen via hacks of the Democratic National Committee and Hillary Clinton's campaign chair during the 2016 election. Prosecutors allege Stone lied about having documents related to the committee's investigation, directing associates to communicate with WikiLeaks, and discussing his WikiLeaks contacts with the Trump campaign.
Stone is also accused of trying to convince one of his then-associates, referred to as "Person 2," to lie to Congress in order to align their stories. A lawyer for former Stone associate Randy Credico confirmed that Credico is "Person 2"; he declined to comment further. Credico testified before the grand jury in September 2018.
The indictment says Stone only told the House about one intermediary's contacts with WikiLeaks, but prosecutors allege he also sought assistance from a second person, referred to as "Person 1," in reaching out to WikiLeaks. Lawyers for Jerome Corsi, who had previously been cooperating with Mueller's office but later said he expected to be indicted by Mueller, confirmed Friday afternoon that Corsi is "Person 1."
On Friday, however, Corsi's lawyers also said in their statement that their client "fully cooperated with the Special Counsel" and "is not being accused of any illegality." Corsi, a purveyor of conspiracy theories best known for his efforts to push the false "birther" claims against former president Barack Obama, worked for Infowars, run by Alex Jones, for a period of time as the head of its DC bureau.
Corsi's lawyer Larry Klayman was at the DC courthouse for Tuesday's arraignment. He told BuzzFeed News that he was there to observe the hearing.
US Magistrate Judge Deborah Robinson handled Stone's arraignment; magistrate judges, who are appointed by the court, typically handle initial appearances by defendants in criminal cases. Going forward, Stone's case is assigned to US District Judge Amy Berman Jackson — the same judge who has been presiding over the Special Counsel's Office's prosecution of former Trump campaign chair Paul Manafort.
This story is breaking and will be updated. Follow BuzzFeed News on Twitter for updates.