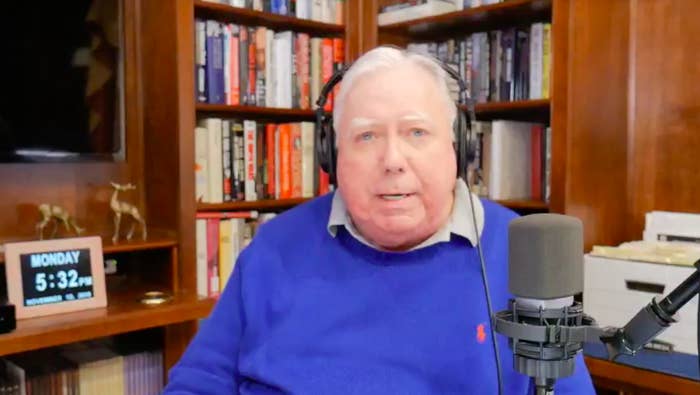 Conspiracy theorist Jerome Corsi, who testified recently in front of special counsel Robert Mueller's grand jury, announced on Monday that he expects to be indicted in the near future.
The news was first reported by NBC News and was quickly followed by Corsi announcing the expectation of an indictment himself on his YouTube-hosted livestream.
"I think I'm the next to be indicted," Corsi said on the livestream. "We did try to cooperate, and I did think I was doing a pretty good job of it" but that eventually "it all blows apart."
He said he expects to be indicted "for some form or other of lying."
A spokesperson for the special counsel's office declined to comment.
Corsi, best known for advancing the false "birther" conspiracy theory against former president Barack Obama, has been linked to Roger Stone by Mueller's investigators. Stone also has said that he expects to be indicted by the special counsel's office. NBC reported recently that questions have been raised about whether Corsi served as a connection between Stone and WikiLeaks, which leaked Democratic emails during the 2016 presidential election that had been hacked by Russia.
"To the best of my knowledge, I've never met Julian Assange. To the best of my knowledge, I did not have sources who told me what Julian Assange was going to do in advance," Corsi said. "To the best of my knowledge, I figured out what I knew, largely from open sources. That's what I do, connect the dots."
Corsi said that he made three separate trips to Washington to meet with the special counsel's office and met with them six times and appeared before the grand jury. "I guess I couldn't tell the special prosecutor what they wanted to hear," he said.
Attorney David Gray confirmed to BuzzFeed News that he is still Corsi's lawyer, but declined any further comment.

Zoe Tillman contributed reporting.
This is a developing story. Check back for updates and follow BuzzFeed News on Twitter.