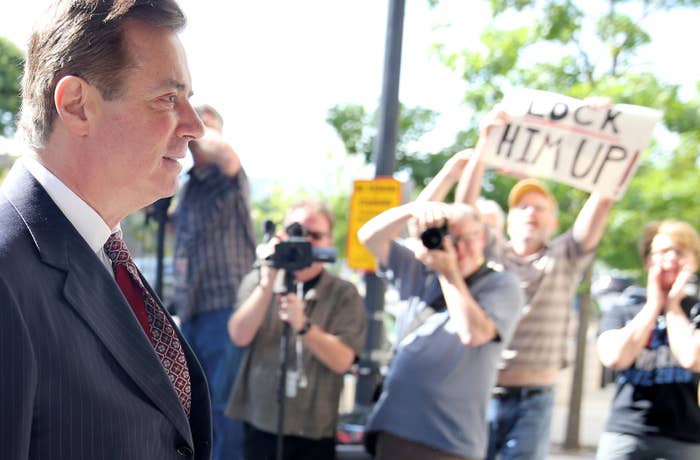 Former Trump campaign chair Paul Manafort appeared in court Friday in a wheelchair, as his lawyer asked a judge to speed up the sentencing process, saying his client is suffering from "significant" health issues.
US District Judge T.S. Ellis III set a sentencing date for Feb. 8 on the eight criminal counts a federal jury in Alexandria, Virginia, found Manafort guilty of in August. Manafort last month entered a guilty plea in the case that special counsel Robert Mueller's office brought against Manafort in federal court in Washington, DC; a sentencing date has not been set in that case.
Manafort's lawyer Kevin Downing did not provide details about Manafort's condition in court Friday, only saying his health issues had to do with his conditions of confinement. Manafort's right foot was in what appeared to be a thick white sock or wrapping and he did not stand during the hearing. A source familiar with his condition said he has a serious medical condition related to his diet, and that is related to inflammation in his foot.

Manafort has been in jail since mid-June, when the judge handling his DC case ordered him detained after the government presented new allegations that he attempted to interfere with witnesses. Manafort's lawyer said on Friday that expediting sentencing would get him transferred out of a regional jail and into the custody of the Federal Bureau of Prisons.

Ellis dismissed 10 counts that the Virginia jury deadlocked on "without prejudice," meaning the government could bring them again in the future, at least in theory, if they aren't satisfied with his cooperation per his plea deal — Ellis suggested there might be legal reasons why the government wouldn't be able to bring those charges in the future, but he said that was for the government to figure out.
Ellis asked prosecutors if they had an estimate for when Manafort would be finished cooperating. Assistant US Attorney Uzo Asonye, a federal prosecutor in Virginia who has been working with Mueller's office on the Manafort case, said they did not. The government is due to give an update on the status of Manafort's case in DC on Nov. 16.
In other cases filed by Mueller's office in the US District Court for the District of Columbia — including the prosecutions of former national security adviser Michael Flynn and former Trump campaign adviser George Papadopoulos — judges have allowed the government to postpone sentencing while defendants cooperated. Ellis said he would not do that.
"I'm not willing to go on endlessly in that regard," he told the lawyers Friday.
The charges against Manafort didn't involve his time running Trump's campaign in the summer of 2016 — they stemmed from his pre-campaign work as a political consultant in Ukraine. In the US District Court for the Eastern District of Virginia, he was charged with failing to report millions of dollars in income and his interests in overseas bank accounts to US authorities, and defrauding banks when prosecutors said his income dried up and he needed cash to support his "lavish lifestyle." In DC, he was charged with failing to report his work as an agent for a foreign government and also attempting to interfere with witnesses earlier this year.

Given the overlap between the two cases, Ellis said he wanted to be careful about not sentencing Manafort twice for the same conduct. He asked the lawyers to address that principle in pre-sentencing memos they'll file with the court. Ellis said he would take into consideration Manafort's cooperation when he's sentenced, and if Manafort isn't finished working with the government by February, the lawyers could come back to court later and ask to reduce his sentence.
Manafort was convicted in August of eight counts of financial crimes in the Virginia case; the jury hung on the remaining 10 counts. Days before jury selection was set to begin in mid-September in the case against him in federal district court in Washington, Manafort entered a guilty plea. In exchange for pleading guilty to two conspiracy counts — charges that largely encompassed the financial crimes he was convicted of in Virginia and separately charged with in Washington — and agreeing to cooperate, prosecutors said they would drop the remaining charges in the DC case and not retry him on the hung counts in Virginia.
Manafort also agreed to delay sentencing in both cases while he cooperated with the government. His agreement didn't limit that cooperation to Mueller's office — it states that he would work with "law enforcement authorities identified by the Government in any and all matters as to which the Government deems the cooperation relevant."
Prosecutors filed papers formally alerting Ellis about the plea agreement, and about Manafort agreeing to delay action on the hung counts until his sentencing or his cooperation finished. But on Oct. 10, Ellis issued an order saying that he wanted to go ahead with setting a sentencing date. It would be "highly unusual" for the government to defer a decision about whether to retry a defendant on hung counts until after their cooperation is done, the judge wrote.
"In this District, the government's decision to re-try a defendant on deadlocked counts is always made in a timely manner and sentencing occurs within two to no more than four months from entry of a guilty plea or receipt of a jury verdict," Ellis wrote, ordering the lawyers to come to court the following week to address those issues.
Ellis, confirmed in 1987, is a member of a court known for its speedy resolution of cases — its nickname is the "rocket docket." And Ellis runs a tight courtroom. He was critical of how prosecutors presented their case against Manafort at trial, chiding them for taking too long and presenting what he thought was irrelevant evidence and testimony. He occasionally made critical comments about the government in front of the jury, prompting requests by prosecutors for "curative" instructions to jurors.
Mueller's office responded to Ellis's order on Oct. 17, writing that they didn't oppose setting a sentencing date. Prosecutors said they would prefer to wait to resolve the hung counts until sentencing or after Manafort was done cooperating, but if the judge wanted to deal with them now, they wouldn't oppose the judge dismissing those counts without prejudice, meaning the government could bring them again in the future.
On Oct. 16, Manafort's lawyers asked Ellis to allow Manafort to be dressed in a suit at his future court appearances, instead of jail-issued clothes. Ellis issued an order later that day: No.

"Defendants who are in custody post-conviction are, as a matter of course, not entitled to appear for sentencing or any other hearing in street clothing," Ellis wrote. "This defendant should be treated no differently from other defendants who are in custody post-conviction."