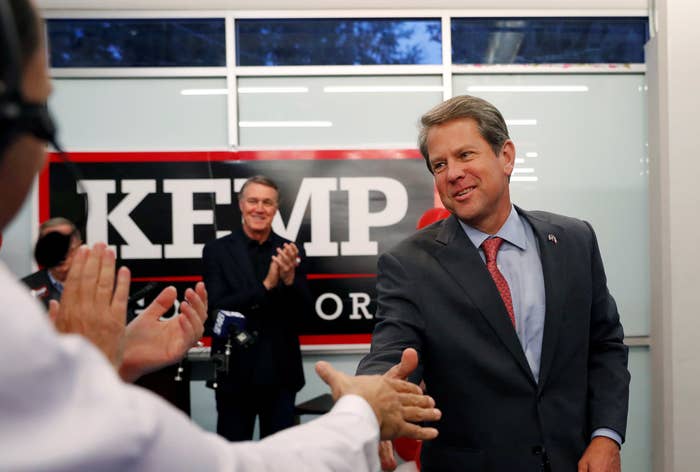 A group of Georgia voters filed a lawsuit Tuesday afternoon in a last-minute effort to block the state's top election official — Brian Kemp, who is also the Republican candidate for governor — from overseeing and certifying election results.
Kemp, who is locked in a tight race with Democratic candidate Stacey Abrams, declined to step down as secretary of state while he ran for governor, stoking fears among his critics that he would leverage his office to favor his campaign. The lawsuit filed on Tuesday in federal court in Atlanta just a few hours before polls were set to close at 7 p.m. in Georgia alleges that he's done just that.
"Defendant's clear bias in favor of his own candidacy demonstrates the truth of the axiom that no man may be the judge in his own case. This Court should not permit Defendant Kemp to resolve the outcome of the elections in which he is a candidate under these circumstances," lawyers for the challengers wrote in the complaint.
The secretary of state's office is responsible not only for certifying the results, but also investigating allegations of election fraud and handling other election-related controversies.

The plaintiffs have asked a judge to issue a temporary restraining order that would block Kemp from further exercising his duties related to the 2018 election and require Georgia Gov. Nathan Deal, a Republican, to appoint another official to take over Kemp's election responsibilities.
Candice Broce, a spokesperson for Kemp's office, said in a statement Kemp had been notified of the lawsuit. She said that the secretary's office does not count votes or conduct recounts — those are handled by counties.
"This twelfth-hour stunt will not distract us from fulfilling our responsibilities and working with county officials to ensure a secure, accessible, and fair election for all eligible Georgians," Broce said.
The challengers accuse Kemp of using his office to gain an advantage in his pursuit of the governor's office, pointing to an announcement shortly before the election that his office had opened an investigation into whether the state Democratic party committed cybercrimes related to state voting systems. The plaintiffs called his statements "false and reckless."

"This use of Defendant's official website to post what amounts to a false but powerful advertisement against his opponent's political party in a prominent location that many voters would be checking before voting evinces his strong bias against his political opponents and in favor of Defendant's own party," the plaintiffs wrote in the complaint.
Democrats and civil rights groups have accused Kemp and Republicans of pursuing a broader voter suppression push. The lawsuit filed Tuesday cites a much-criticized effort that Kemp oversaw to remove more than 100,000 names from state voter rolls of individuals who hadn't voted in previous elections.

A federal judge last month blocked the state from throwing out absentee ballots and ballot applications where the signatures did not match the signature on the voter's registration card. That ruling came several weeks after the Associated Press reported that more than 53,000 voter registration applications in Georgia, a majority of them from black voters, were put on hold by Kemp's office, also for signature issues.
The lawsuit was filed on behalf of five Georgia voters. They're represented by the government watchdog group Protect Democracy Project and two Georgia law firms.

Separate from the lawsuit, lawyers at the NAACP Legal Defense and Educational Fund sent a letter to Kemp's office on Tuesday afternoon asking him to extend voting hours at polling locations that suffered from technical problems that caused hours-long delays for voters. A county judge on Tuesday ordered polling location extensions in three locations in Gwinnett County, Georgia.
Asked about the letter, Broce said in a statement to BuzzFeed News that, "The Secretary of State has no authority under state law to extend voting hours at any polling location. Clearly, this group did not bother to read the election code before firing off this ill-informed letter."