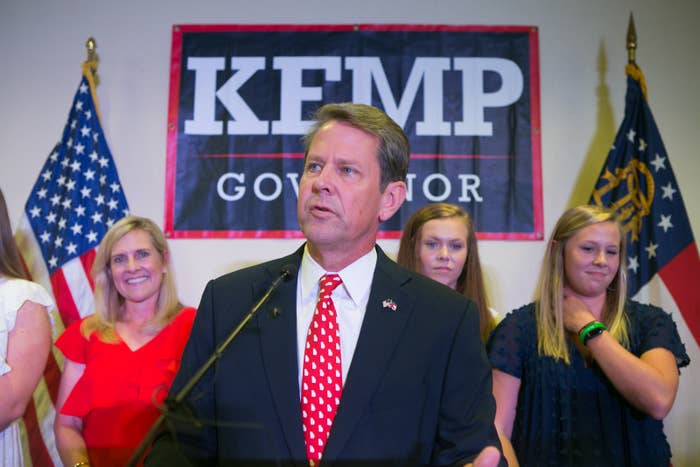 A federal judge in Atlanta on Wednesday issued an order blocking Georgia officials from rejecting absentee ballots and applications for ballots with signature problems without first giving voters notice and a chance to fix the problem.
US District Judge Leigh Martin May found that the voting rights groups that sued were likely to succeed in arguing that Georgia's voting laws were unconstitutional when it came to throwing out absentee ballots with signature issues. She rejected the state's argument that adopting a system now that allows voters to appeal a rejected ballot or application would be too much of a burden.

"The Court does not understand how assuring that all eligible voters are permitted to vote undermines integrity of the election process. To the contrary, it strengthens it," May wrote.
The ruling comes weeks after the Associated Press reported that more than 53,000 voter registration applications in Georgia, a majority of them from black voters, were put on hold by Georgia Secretary of State Brian Kemp's office also for signature issues. Kemp is the Republican candidate for governor.
Voting rights groups cheered May's decision Wednesday, which comes as early voting is already underway in Georgia and less than two weeks away from Election Day on Nov. 6. May approved the challengers' request for a statewide temporary restraining order laying out procedures for absentee ballot applications this election cycle while the lawsuits go forward.
"This ruling protects the people of Georgia from those who seek to undermine their right to vote. It's a huge victory, especially with the midterms just days away," Sophia Lakin, an attorney with the ACLU's Voting Rights Project, said in a statement.
A spokesperson for the Georgia Secretary of State's Office did not immediately return a request for comment. A spokesperson for the state Attorney General's Office declined to comment.
Under Georgia law, election officials check to see if the signature on a voter's ballot application matches the signature on their voter registration card. If an official decides there's a mismatch, there's no way for the voter to challenge that decision — they're notified about the rejection and allowed to apply for another ballot.
Voter registrations work the same way, with the state putting applications on hold in which signatures do not exactly match what is on file with the state's Department of Driver Services or the Social Security Administration, the AP reported. Applications could be held because of a dropped hyphen, for example, according to the AP.
The two lawsuits, filed in the US District Court for the Northern District of Georgia in Atlanta, focus on absentee ballots, rather than voter registrations, however. While the lawsuits apply to the whole state, they hone in on Gwinnett County, Georgia, where the challengers say a higher number of absentee ballots and applications are being rejected due to signature issues compared with other counties.
According to the challengers, 493 absentee ballot applications and nearly 100 absentee ballots for the 2018 election were rejected in Gwinnett County as of mid-October because of signature mismatch issues. The county contested those numbers, saying 185 ballot applications and just nine ballots were rejected because of signature mismatches.
In Wednesday's order, May rejected arguments that the plaintiffs waited too long to file suit to get emergency relief now from the court — lawyers for Georgia argued the law had been in place for more than 15 years without a challenge. The judge wrote that the plaintiffs had "several patently reasonable explanations for the timing of their suits," including the fact that they just learned about the scope of the alleged issue in Gwinnett County and that requests for absentee ballots were up this year because of concerns about separate litigation over the security of Georgia's electronic voting system.
The judge acknowledged the state's argument that so far only a small number of ballots had been thrown out because of handwriting issues, but concluded that there was still a risk that a person would be deprived of their right to vote under the current system. The challengers said some voters couldn't vote in person because of physical limitations, and the judge found there was no guarantee that a person's signatures would match if they tried to apply a second time.
"While the Court recognizes that the risk of an erroneous deprivation is by no means enormous, permitting an absentee voter to resolve an alleged signature discrepancy nevertheless has the very tangible benefit of avoiding disenfranchisement," May wrote.

The judge wrote that allowing voters to challenge a rejected ballot because of handwriting issues wouldn't be a burden on the state since state law already spells out a process for voters to appeal when their ballots were deemed ineligible for other reasons. She also noted that the state's argument that relatively few ballots had been thrown out so far because of handwriting issues cut against them.
"The State cannot claim on one hand that an appeal process would be an administrative nightmare while on the other claiming that such a rejection is rare," May wrote.