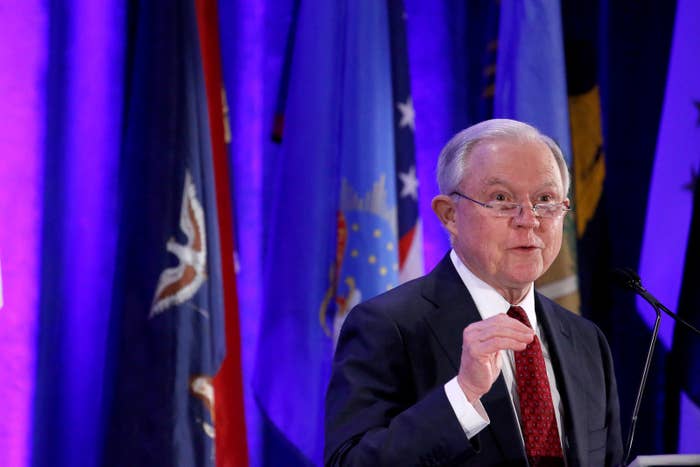 The Justice Department filed a constitutional challenge to California's so-called sanctuary laws on Tuesday night.
The lawsuit represents an aggressive new push by Attorney General Jeff Sessions to go after "sanctuary jurisdictions," which have earned the immigration hardliner's ire for adopting laws aimed at protecting undocumented immigrants and making it harder for federal immigration agents to find and deport them.
The lawsuit was filed in the US District Court for the Eastern District of California in Sacramento, and names the state and its Democratic governor and attorney general as defendants. Sessions is traveling on Wednesday to Sacramento to announce the lawsuit, a speech that was publicly billed as a "major sanctuary jurisdiction announcement" before the department filed in court.
The lawsuit accuses the state of violating the Supremacy Clause of the US Constitution. The Supremacy Clause, broadly speaking, dictates that when state law conflicts with federal law, federal law prevails. The Justice Department is arguing that the California laws at issue conflict with federal immigration laws and frustrate Congress's goals in adopting them.
The Justice Department had heavily promoted the lawsuit's roll-out, including a scheduled speech by Sessions before the California Peace Officers' Association.
"I can't sit idle while the lawful authority of officers is being blocked by politicians," said Sessions.
"I don't want to be the position of having to challenge these laws," Sessions told the law enforcement group Wednesday morning. "I can't sit idle while the lawful authority of officers is being blocked by politicians."

Sessions alleged that sanctuary laws in California do not merely restrict local officials from helping deport undocumented immigrants, but rather, that the policies are "actively obstructing federal law enforcement," and in turn, putting violent criminal on the street.
"It is a plain violation of federal statute and a violation of common sense," he said, calling sancuary laws a "radical, irrational idea" that effectively creates open borders.
California Attorney General Xavier Becerra shot back Tuesday night — before he'd seen the lawsuit — insisting his state complies with federal law and comparing the Trump administration's announcement to a low-budget film.

"We have seen this B-rated movie before," Becerra said on a conference call with reporters, referring to the federal government's repeated clashes with California over immigration.
"They better have good evidence, because we are going to fight back," he said. "We are doing nothing to intrude on the work of the federal government to do immigration enforcement."

The Justice Department under Sessions already has taken steps to penalize state and local governments for adopting sanctuary laws, but this is the most direct challenge to date. Sessions has publicly and repeatedly criticized politicians and law enforcement officials who embraced these types of policies, and the Justice Department has been reviewing whether jurisdictions with sanctuary policies should lose their eligibility for federal grants.
"We are going to fight back," said California Attorney General Xavier Becerra.
Asked if more lawsuits like the one against California were coming against other states and cities with sanctuary laws, a senior Justice Department official said the department was in the process of reviewing immigration laws in other jurisdictions.
The lawsuit will challenge sections of three California laws: AB 450, signed by Gov. Jerry Brown in October, which restricts employers from cooperating with federal immigration officials; SB 54, also signed in October, which bars state and local law enforcement from alerting federal agents when an undocumented immigrants will be released from state custody and places restrictions on detainee transfers; and AB 103, signed in June, which requires the state's attorney general to review state, local, and private detention facilities that house detainees on behalf of the Department of Homeland Security, as well as the circumstances of their detention.
"These are uncertain times for undocumented Californians and their families, and this bill strikes a balance that will protect public safety, while bringing a measure of comfort to those families who are now living in fear every day," Brown said in a statement when he signed SB 54 into law.
Before the lawsuit had even been publicly announced, the state's governor criticized Sessions' planned Wednesday visit to the state, tweeting that Sessions was headed to the state "to further divide and polarize America." The governor's office later sent out Brown's tweet in response to news of the lawsuit.
The Justice Department is arguing that these laws are preempted by federal law in different ways. On AB 450, for instance, DOJ says that the law places requirements on employers to notify employees about a possible federal workplace inspection, even though federal laws don't have any such requirement. The law also prohibits employers from giving federal immigration agents employee records without a subpoena or a warrant, or access to nonpublic areas without a warrant or other permission under federal law.
On SB 54, the government argues that the state's prohibition on telling federal agents about a detainee's release date — at which point federal officers could take them into custody — directly conflicts with federal immigration law; the law includes a few exceptions, but the Justice Department says those don't square with federal law either. A senior DOJ official said that a section of federal law that prohibits blocking a federal, state, or local officer from sharing information with federal immigration officials about "immigration status" applied to a detainee's release date.
The Justice Department argues that by barring the transfer of detained immigrants to the US Department of Homeland Security, California is forcing agents to make arrests in the field, which is more dangerous for the agents and the public.
The Justice Department cited a US Supreme Court decision from 2012, United States v. Arizona, in which the court found that some, but not all, sections of an Arizona law aimed at boosting immigration enforcement were invalid because they conflicted with federal law, a senior official said. The justices found that the portions of Arizona's law that dealt with immigrant registration, employment restrictions, and the grounds for making warrantless arrests based on immigration status all conflicted with federal law, and, as a result, were invalid.
The justices upheld a section of the Arizona law that required state law enforcement officers to make a "reasonable attempt" to verify the immigration status of a person they've stopped if there is "reasonable suspicion" that the person is unlawfully in the country. Justice Anthony Kennedy wrote for the majority that "Congress has done nothing to suggest it is inappropriate to communicate with ICE in these situations, however. Indeed, it has encouraged the sharing of information about possible immigration violations."
Becerra, citing the state laws that the Justice Department alleges are superseded by federal policy, said, "I don't see the conflict, at least in terms of our laws." Asked about the Arizona immigration law partly struck down in 2012, he added, "We are following the Constitution and federal law."
An unsurprising defendant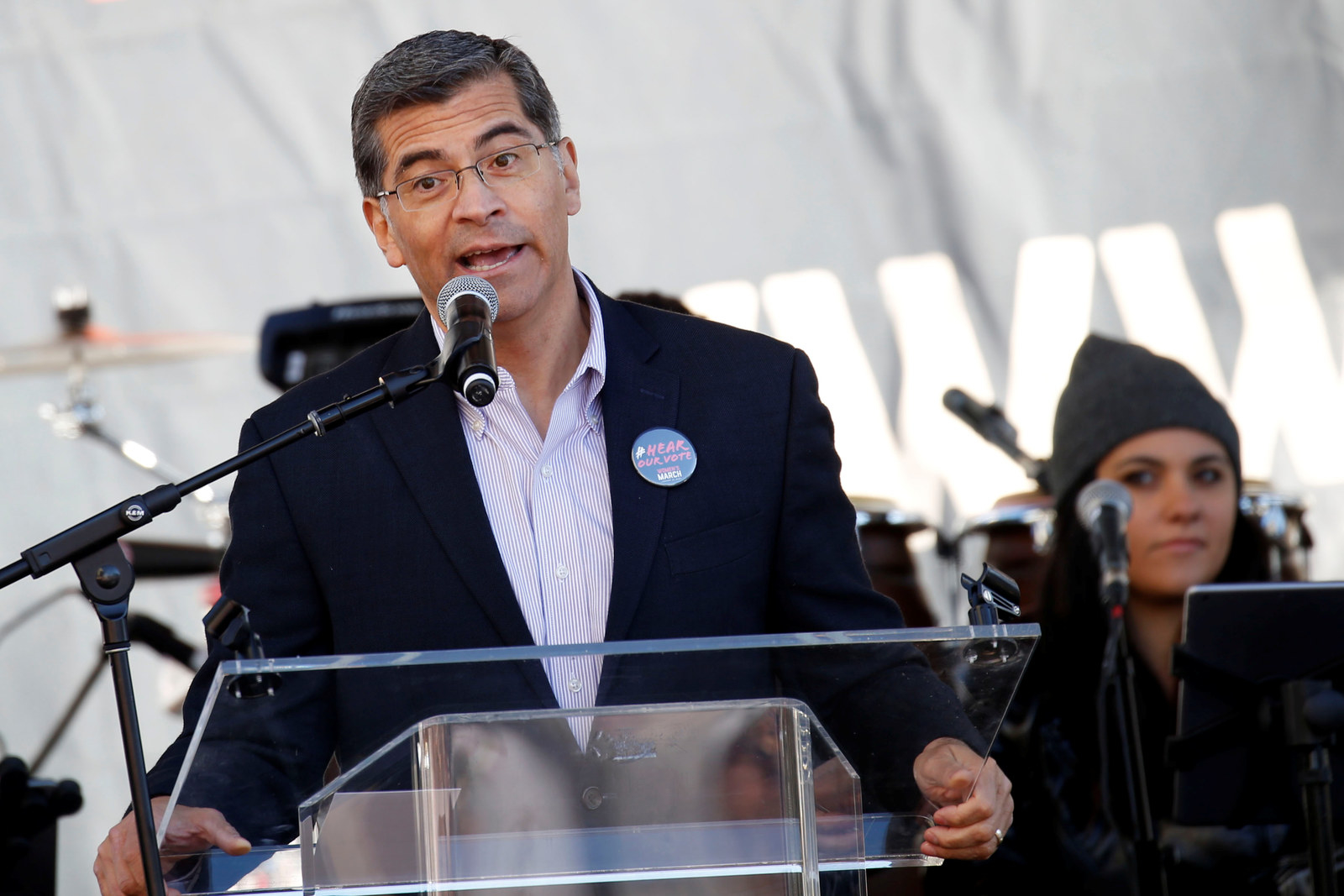 The Trump administration's lawsuit on Tuesday is its loudest bark yet at a sanctuary jurisdiction — and unsurprisingly, it's aimed at California.
Politicians in the Democratically controlled state, which has an immigrant population in the millions, have repeatedly clashed with the administration over the issue.
"California, absolutely it appears to me, is using every power it has — and some it doesn't — to frustrate federal law enforcement," Sessions said Wednesday. "So you can be sure I'm going to use every power I have to stop them."
Sessions denounced Oakland Mayor Libby Schaff, saying, "How dare you? How dare you needlessly endanger the lives of our law enforcement just to promote your radical open borders agenda?"
Becerra has frequently led the charge or joined other Democratic attorneys general in suing the Trump administration over the past year, including challenges to the wind down of the Deferred Action for Childhood Arrivals (DACA) program, the construction of a border wall, the rollback of environmental regulations, and the reversal of Obama-era health care policies.
The administration, meanwhile, has attempted to coerce states into carrying out a hardline immigration agenda by threatening to deny federal grants. Sessions has argued jurisdictions that frustrate those aims are complicit in promoting violence.
Asked if California's role as an antagonist played a part in deciding to sue the state now, a senior DOJ official said they were focused on fair enforcement of the law. The official did say that California's laws were novel and went beyond what other states had done.
On Tuesday night, Becerra said he respects the federal government's jurisdiction on immigration, but he argued states have autonomy under the 10th Amendment to enact public safety laws as they see fit.
Policies that build bridges with immigrant communities encourage cooperation with police, he said. "We are in the business of public safety, not deportation."

He added that the Trump administration has threatened states and cities on immigration issues for the past year, and — apparently in reference to cases such as the travel ban and rescinding DACA — courts blocked the administration. "We are doing pretty well on this count," he said. "The Trump administration has acted outside the law, and they are the ones who have not respected the rule of law."

Until Tuesday's lawsuit, most of the immigration-related lawsuits over the past year have come from the other direction — with states or other parties suing the Trump administration.
Last April, US District Judge William Orrick in California blocked key sections of Trump's executive order to starve sanctuary jurisdictions from federal money, saying the executive branch overstepped its bounds by grabbing purse strings reserved for Congress.
The same month, the Justice Department indicated it would withhold law enforcement grants unless local agencies assisted with its federal immigration agenda — including by notifying federal agents when an undocumented immigrant was in local custody.
But a federal judge in Philadelphia blocked those conditions locally, while a federal judge in Chicago suspended most of those stipulations on the grants nationwide.
The Justice Department has been unrelenting in its threats, though, demanding that local officials show compliance with federal immigration law — Section 1373, the same section cited in the department's new case against California — in order to receive funding from the so-called JAG program. The legal questions at play in the grant-related litigation and the latest action against California are different, however.
Responding to the Justice Department's prior threats, a number of agencies, including the California Board of State and Community Corrections (BSCC), have insisted they are complying.
"The US Department of Justice has not provided any evidence that the BSCC, or any state recipient of JAG funds, is not in compliance with Section 1373," a lawyer for the BSCC told the Justice Department in a letter last month.
State officials had asked courts to block the grant conditions entirely — but Orrick said in an order issued Monday that it would be premature to suspend the conditions now. Still, he wrote that the underlying legal questions remain unanswered, particularly because it's not clear what it means to share information "regarding immigration status."