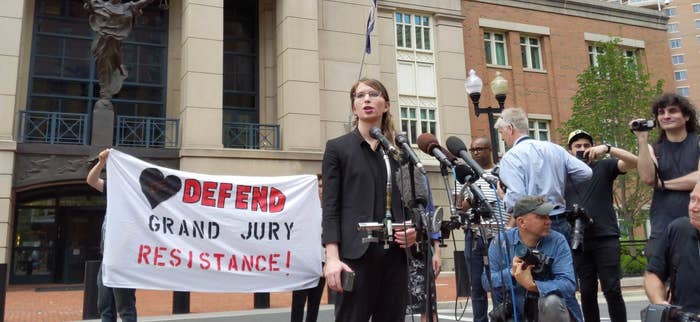 ALEXANDRIA, Virginia — After a week of freedom, former Army intelligence officer Chelsea Manning was ordered back to jail on Thursday for once again refusing to testify before a federal grand jury.

Manning had been jailed for two months starting on March 8 after she refused to answer questions before a grand jury in Alexandria, Virginia, about WikiLeaks and the group's founder Julian Assange — specifically, about the cache of classified military documents that she gave to WikiLeaks in 2010. She was released on May 9 because the term of the grand jury expired.

US District Judge Anthony Trenga ordered Manning jailed on Thursday following a two-hour hearing, half of which was sealed. During the second, public portion of the hearing, Trenga announced that he had once again found Manning in civil contempt, and decided that notwithstanding her pledge not to cooperate, he thought there was still a chance that more jail time could convince her otherwise. The government had argued that because Manning had an appeal pending during part of the previous two months she served, she spent part of her earlier jail time with some hope of release.

"It's unfortunate we're at this point," the judge said. Before remanding her to the custody of the US Marshals, Trenga told Manning that there was nothing "dishonorable" about fulfilling one's duties as a US citizen, and he hoped she'd consider that.
Manning, wearing a black jacket, shirt, pants, and boots, told the judge she would rather "starve to death" than change her opinion, and added that she meant that "literally."
"The government cannot build a prison bad enough, cannot create a system worse than the idea that I would ever change my principles," she said.
The judge has the power to keep Manning in jail until she testifies or until the term of the grand jury expires again. Trenga also imposed a fine — after 30 days in jail, a daily fine of $500 will kick in, and that amount will go up to $1,000 per day after 60 days. The grand jury could be in service for up to 18 months. During the hearing, Assistant US Attorney Thomas Traxler told the judge that they didn't think a fine would compel Manning to testify, since she could just go on social media and launch a fundraising campaign.

Manning did not have an emotional reaction as the judge announced his decision. She was still seated with her lawyer when guards cleared the courtroom.
After the previous grand jury expired earlier this month and Manning was released, prosecutors convened a new grand jury in the US District Court for the Eastern District of Virginia and issued a new subpoena to Manning, requiring her to come back and testify. Speaking to reporters before she went into the courthouse, Manning again vowed not to answer any questions.
"I will not cooperate with this or any other grand jury," Manning said.
Grand jury proceedings are normally secret, but Manning and her support team confirmed that prosecutors want to ask her about WikiLeaks. A military court found Manning guilty of violating the Espionage Act in 2013, among other crimes, for leaking hundreds of thousands of military documents to WikiLeaks. She was sentenced to 35 years in prison. But in January 2017, in the final days of the Obama administration, former president Barack Obama commuted Manning's sentence, and she was released in May of that year.

Assange is facing an indictment in the Alexandria court charging him with conspiring with Manning to hack into US Defense Department computer systems in 2010. Assange is in London — he was arrested on April 11 after spending years in the Ecuadorian Embassy as an asylum-seeker — and is contesting efforts by the US government to extradite him to the United States. It could be years before the extradition fight is resolved, however.
The Justice Department has 60 days after seeking a "provisional arrest" of Assange through UK authorities in mid-April to submit a final extradition package. Once that happens, prosecutors can't add any more charges against him. It's unclear if prosecutors want Manning to testify before the grand jury specifically about matters that could lead to more charges against Assange, or as part of a broader investigation with other subjects.
Manning has repeatedly challenged the lawfulness of the government's effort to force her to testify, and said she believes she may have been under surveillance. The US Court of Appeals for the 4th Circuit summarily rejected her challenges to the subpoena and her incarceration the first time she was jailed.
In court on Thursday, Traxler argued that allowing Manning to stay out of jail because she'd taken a principled stand against grand juries would set a dangerous precedent for other witnesses subpoenaed to testify. He said that Manning's opposition to grand juries seemed to conflict with her beliefs about the dangers of government overreach, since grand juries were intended to serve as a "buffer" between the powers of the government and the people.
"Ms. Manning holds the keys to the jailhouse door," he said.
Manning's attorney Moira Meltzer-Cohen argued that jailing Manning after she'd already shown that incarceration would not convince her to testify would transform the sanction into punishment, which is not allowed under federal law. She also argued that the Alexandria Detention Center, where Manning was previously held, lacked the resources to respond to Manning's medical needs and that Manning had suffered health problems as a result.
Manning, who has spent significant time behind bars, "is not going to back down," Meltzer-Cohen said.
"She knows what it is to suffer and she walked into this with her eyes open," she said.
Speaking outside the courthouse after the hearing, US Attorney G. Zachary Terwilliger declined to comment on the substance of the grand jury proceedings when asked why the government wanted to question Manning before the grand jury after already indicting Assange.
"What I can tell you is that there is a lawfully predicated reason for seeking her testimony," Terwilliger said.
Meltzer-Cohen told reporters after the hearing that they were "disappointed," and she reiterated their argument that putting Manning back in jail now would not change her mind about whether to testify.
"This administration is ... obsessed with unwinding Obama's legacy, from health care to Chelsea's commutation," Meltzer-Cohen said.