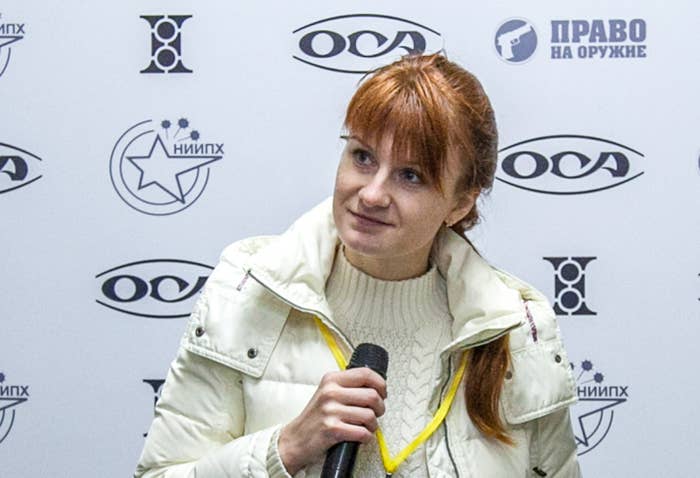 Alleged Russian agent Maria Butina on Monday lost her latest effort to get out of jail while the criminal charges against her go forward.
A federal judge in Washington rejected Butina's request to reconsider her current pretrial detention, agreeing with findings over the summer by another judge that there were no release conditions that would assure the court that Butina wouldn't try to flee the country.
Adding to the bad news for Butina and her lawyers, US District Judge Tanya Chutkan on Monday entered a gag order on the parties after finding that repeat media appearances by Butina's lead attorney Robert Driscoll had "crossed a line." Her lawyers argued that a gag order would render them unable to defend Butina's reputation amid massive press interest and to push back on efforts by the prosecution to portray Butina "as some type of Red Sparrow or spy-novel honeypot character, trading sex for access and power."
The judge also dinged Butina's lawyers for trying to make a last-minute submission of videos hours before Monday's hearing — one was a video recorded last year of Butina and her then-boyfriend Paul Erickson, a Republican operative, lip-synching to the theme song of the Disney movie Beauty and the Beast, according to the judge. Driscoll argued the videos countered the government's attempts to undermine the legitimacy of Butina and Erickson's relationship and, more broadly, her ties to the United States. Chutkan said the videos were not relevant to whether Butina should stay behind bars.
Chutkan did chastise prosecutors for making the "rather salacious" claim early in the case that Butina had offered sex for a job, only to walk it back later after Butina's lawyers published the contents of the messages at issue and argued that they showed that Butina and a friend were joking. The judge said she was "dismayed" that the government concluded the texts were evidence of a serious offer to trade sex, noting it took her five minutes to read the messages and conclude they were joking.
"It really makes it difficult to have a fair trial when those statements are made," Chutkan said.
The judge didn't penalize the government for what prosecutors said in court filings last week was an "error." The judge commended them for coming clean.
Butina has been in custody since she was arrested on July 16. She has pleaded not guilty to charges that she acted as an illegal agent for Russia in the United States and conspired to do so. At a hearing on July 18, a federal magistrate judge agreed with prosecutors that Butina should be detained pending trial, finding there weren't any release conditions that would satisfy the judge that Butina wouldn't flee the country.
On Aug. 24, Butina's lawyers filed papers asking Chutkan to reconsider pretrial detention, arguing prosecutors had relied "on innuendo and undefined phrases, soundbites and alarmist buzzwords." Notwithstanding the "patina of espionage," Butina wasn't charged with spying, her lawyers wrote, saying the evidence showed Butina wasn't trying to hide what she was doing in the United States. They argued there was no evidence that the Russian government paid her or covered her expenses, or was giving her directions on what to do.
Chutkan echoed a concern that prosecutors had raised in arguing to keep Butina detained, which is that if Butina got into a car with diplomatic license plates, US law enforcement could not stop the vehicle. There was nothing the court could do to stop Butina from getting into a diplomatic car and going straight to an airplane, Chutkan said. The judge noted that Russia doesn't have an extradition treaty with the United States, and that the Russian government had been protesting Butina's detention.
Butina was in court on Monday, wearing a green prison uniform. She did not speak during the hearing.
In earlier court filings arguing to keep Butina behind bars, prosecutors claimed Butina had offered sex in exchange for a job, as part of a larger argument that her relationship with a US national wasn't strong enough to ensure she'd stay in the United States; the US person wasn't named in charging papers, but the description matches Erickson, a Republican operative from South Dakota and NRA activist, with whom Butina was living.

The government's July filing didn't include any other details to back up the claim, and Butina's lawyers pushed back, saying prosecutors relied on a misinterpretation of text messages between Butina and a friend.
The government last week walked back from the allegation, saying in a Sept. 7 filing that even if they were "mistaken" about Butina offering sex for a position, there was still other evidence that Butina's relationship with Erickson wasn't strong enough to ensure she wouldn't try to flee if released from custody.
The government also pointed out that Butina had offered to provide information about Erickson to the FBI. Butina's lawyers countered that the government was trying to punish her for cooperating.
"By extension, the U.S. Attorney's Office for the District of Columbia suggests that true love means never cooperating with federal investigations and that only a 'duplicitous' partner would offer an interview with government agents or provide truthful evidence. The government's attempt to punish Maria for choosing to cooperate with a federal investigation — like a gang member would punish a witness for snitching — is jaw dropping," Butina's lawyers wrote in a Sept. 9 filing.
The government also asked the judge to enter an order restricting Butina's lawyers from making public statements about the case. Driscoll has spoken to reporters on several occasions, and prosecutors argued those comments heightened the risk of prejudicing a future trial. Driscoll had offered opinions, revealed information that wasn't included in charging papers, and accused prosecutors of sexism, prosecutors argued.
Driscoll "has repeatedly sought to elicit the prejudices and sympathies of potential jurors, casting the defendant as a daughter and sister, and as a mere student or victim," they wrote.
Butina's lawyers argued that the government was trying to stop them from countering the prejudicial information included in the government's filings, including information that prosecutors had walked back — the claim about Butina offering sex for a job — or admitted they got wrong. In a Sept. 7 filing, prosecutors acknowledged making a "error" in how they described a visa that Butina applied for, although they said the underlying argument they were trying to make — that her new visa would allow her to travel to and from the United States — was still correct, even if the visa type was different.
"It is true that the case has garnered significant publicity. However, the government is largely to blame for this fact because of its efforts to 'sex-up' its thin case, which makes its request to restrain Maria Butina's right to defend herself, her reputation, and to correct the false public record sowed by the government not only disingenuous but unconstitutional," her lawyers wrote.
In agreeing to enter an order restricting what lawyers in the case can say in public, Chutkan pointed out that Washington, DC, has a relatively small pool of potential jurors, making it more likely that inappropriate comments about the case could make it harder to seat a jury and have a fair trial.
There is no trial date. Prosecutors are still turning over evidence to Butina's lawyers, and on Monday they asked for another 60 days before giving the court the next update on the status of the case. In the meantime, Butina's lawyer Alfred Carry told the judge that they plan to file a motion to dismiss the case — he said they'll argue that she's facing two criminal counts for what is essentially the same underlying crime of being involved in a conspiracy to act as an illegal agent for the Russian government. The next hearing is scheduled for Nov. 13.