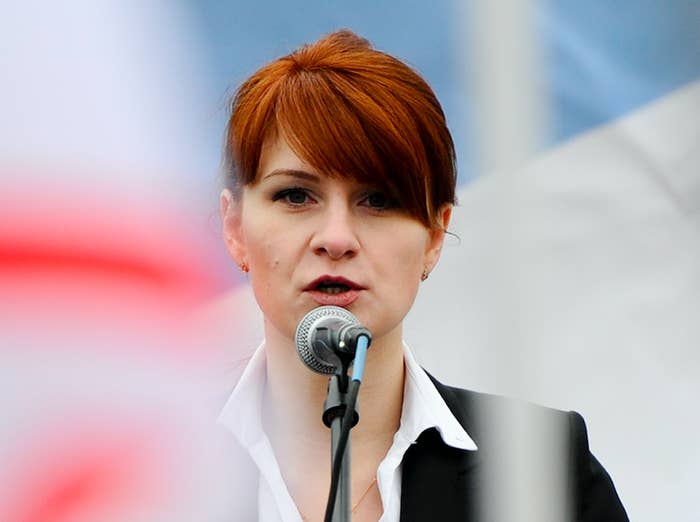 Maria Butina, the Russian graduate student and gun rights activist charged with conspiring to act as an agent for the Russian government in the United States, appeared to have ties to Russian intelligence, prosecutors said in court papers on Wednesday.
Butina, also referred to in court filing as Maria Butina, pleaded not guilty Wednesday to charges that she acted as an illegal agent for the Russian government in the United States and that she conspired against the United States to do so. A federal magistrate judge ordered Butina held without bond pending trial, finding there were no release conditions that the judge believed would ensure she wouldn't flee.
Butina did not speak during Wednesday's arraignment. Her lawyers filed papers shortly before the hearing asking the judge to allow her to wear civilian clothes, but she came into court wearing an orange prison uniform; she was not shackled. After the hearing, her lawyer Robert Driscoll told reporters that they disagreed with US Magistrate Judge Deborah Robinson's decision to detain her.
"We remain confident she will prevail in this case. She is not an agent of the Russian government, the Russian Federation. She is innocent of the charges brought against her. Most importantly, she is a young student seeking to make her way in America," Driscoll said.
Butina is charged with organizing "influence" activities with US individuals and organizations at the direction of an unnamed, high-level Russian official, without registering as an agent for a foreign entity as required by federal law. Descriptions of the official in the charging documents match Alexander Torshin, a powerful Russian banking official and close associate of Russian President Vladimir Putin, and Butina's lawyer said his name at least once during Wednesday hearing.
The charging papers repeatedly refer to Butina's involvement with an unnamed US "gun rights organization" — Butina and Torshin attended National Rifle Association events, and there were several references to the NRA during Wednesday's hearing. Court papers also refer to her attendance at the National Prayer Breakfast and alleged efforts to organize activities of the Russian delegation to the event.
Prosecutors had filed papers several hours before the hearing asking the judge to continue to hold Butina in custody while her case is pending, presenting new information about Butina's alleged activities in the United States that the government said bolstered their argument that she is a flight risk.
Prosecutors said that Butina had contact information for four employees of the Russian FSB, which was a primary successor agency to the KGB — investigators found a handwritten note titled, "Maria's 'Russian Patriots In-Waiting' Organization" and included the question, "How to respond to FSB offer of employment?"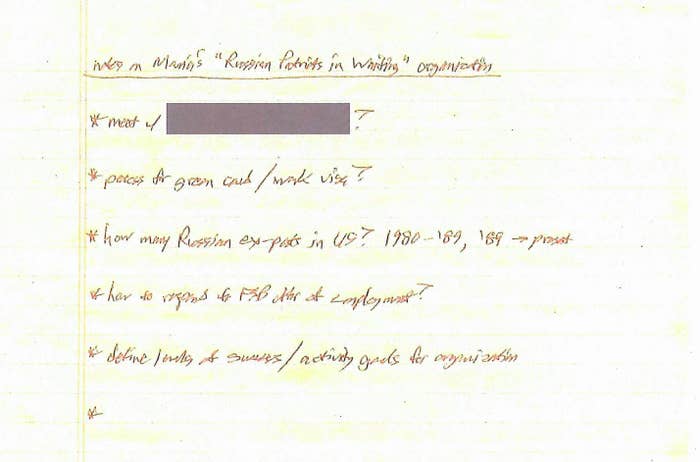 The FBI also saw Butina with a Russian diplomat who was suspected of being a Russian intelligence officer, before that diplomat left the United States in March 2018, according to the filing. At Wednesday's hearing, Assistant US Attorney Erik Kenerson showed a photograph of Butina at a restaurant with a man the government identified as the now-expelled former Russian diplomat. Kenerson also said there was a photo of Butina with former Russian ambassador Sergey Kislyak; Driscoll downplayed the significance of that interaction, saying they were photographed at a movie screening together.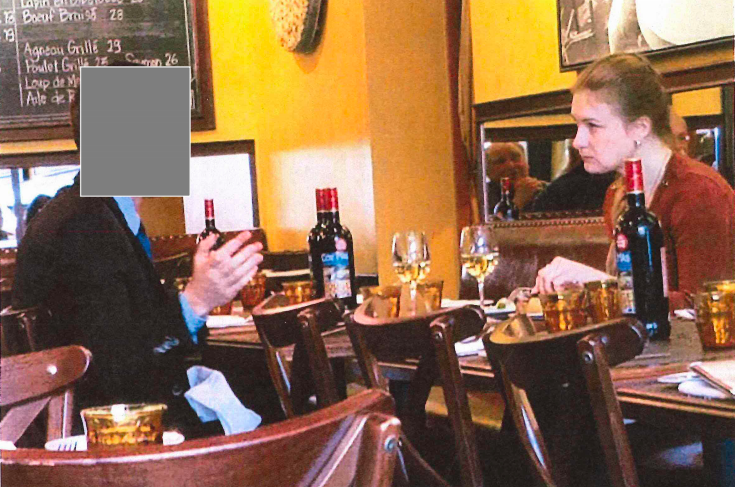 The FBI found messages between Butina and the unnamed Russian official — believed to be Torshin — who allegedly directed her activities in which the official compared her to Anna Vasilyevna Chapman, a Russian intelligence agent who was arrested in 2010 and later pleaded guilty to conspiring to act as a foreign agent.
Prosecutors argued that given Butina's few ties to the United States, her extensive contacts in Russia — including a wealthy Russian businessman with ties to Russian President Vladimir Putin's administration who prosecutors said was her "funder" — and evidence that she was already taking steps to leave Washington, DC, she posed "an extreme risk of flight."
Although Butina had a personal relationship with an unidentified US citizen, prosecutors say she saw that as part of her work and had complained about living with that person; she allegedly offered another person sex "in exchange for a position within a special interest organization," according to Wednesday's filing. The description of the unnamed US person matches Paul Erickson, a Republican operative from South Dakota and NRA activist.
Driscoll had argued that Butina was in the United States as a student, and that information presented by the government as nefarious — her discussions with the unnamed US person about visa options, her decision to move out of Washington, for instance, and a selfie she took in front of the US Capitol on President Donald Trump's Inauguration Day, for instance — had innocent explanations. Butina was moving to South Dakota to live with her boyfriend, Driscoll said, and it was natural for her to explore different types of visas. It was normal for a foreign graduate student to take a selfie at the Capitol, he said.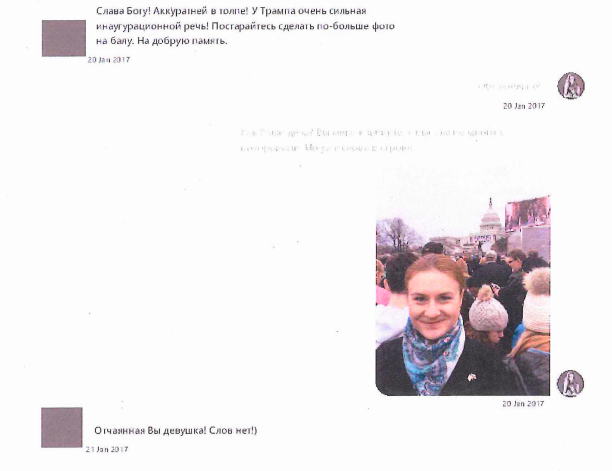 Kenerson said that the selfie of Butina was sent in the context of other messages that referred to her covert activities.
Driscoll argued that Butina was not a "proxy" for the "serious" issues that the United States had with Russia. Her case was unrelated to the recent charges filed against Russian intelligence officers accused of hacking Democratic organizations and Hillary Clinton's campaign during the 2016 presidential election, he said. Butina had not tried to flee after she cooperated with the Senate Intelligence Committee and Committee on Finance, responded to an inquiry from the Federal Election Commission, offered to cooperate with the US attorney's office in South Dakota, and been present when search warrants were executed at her home, he said.

Kenerson countered that it was not until now that Butina actually faced criminal charges. Prosecutors in South Dakota were pursuing a fraud investigation related to Erickson — Butina was not a subject, Kenerson said. Federal agents executed two search warrants at Butina's home, including one that related to the South Dakota fraud investigation, he said.
If Butina was released, US law enforcement would not be able to stop her from going into the Russian Embassy, at which point she would be beyond the legal jurisdiction of the United States, prosecutors argued. One of the charges Butina faces has a maximum penalty of 10 years in prison. A veteran official with the State Department's Diplomatic Security Service, Joseph Stowell, testified Wednesday that diplomatic immunity applied not only to an embassy compound, but also to the cars and residences of registered diplomats — US law enforcement could not stop a car or search a house, even if the people inside were not diplomats, he said.

"The defendant is a foreign agent who loyally acted on behalf of the Russian government. Based on the nature of the charges and the weight of the proffered evidence against the defendant, no condition or combination of conditions will reasonably assure the appearance of the defendant at trial," prosecutors wrote.
Driscoll argued that by the government's logic, any Russian or citizen of any other country with no extradition treaty with the United States could never be released while facing US criminal charges. Kenerson said Butina was uniquely a flight risk because the allegations against her related to her suspected relationship with the Russian government; the government couldn't make that same argument for a Russian national charged with a crime unrelated to Russia, he said.
Butina made her first court appearance on July 16 following her arrest. A federal magistrate judge ordered her temporarily detained until her next hearing. She is due back in court on July 24 for a status hearing.