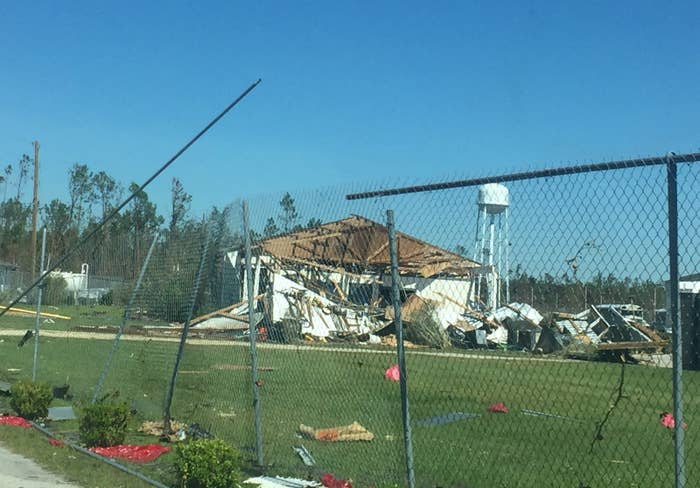 WEWAHITCHKA, Florida — A Florida Panhandle correctional facility that houses more than 1,500 inmates took a direct hit from Hurricane Michael and was badly damaged, BuzzFeed News has confirmed.

Located about 30 miles inland from where Michael made landfall as a powerful Category 4 hurricane, Gulf Correctional Institution was not evacuated ahead of the record-setting storm. Instead, the facility in Wewahitchka, Florida, took in inmates from at least one of the state's six evacuated facilities, according to multiple family members of inmates.
Since Michael's devastating landfall on Wednesday, official information about what happened has been limited and communication lines at the Gulf Correctional Institution and the overseeing state agency, the Florida Department of Corrections, have been down.
"There have been no reported injuries and all inmates are secured. Staff and inmates have access to food, shelter and water," Patrick Manderfield, a Department of Corrections spokesperson, told BuzzFeed News in an email. Every Panhandle facility has checked in with the state, he added, and additional supplies, including fuel, food, and water, are being sent to all impacted facilities. A similar message has been posted on the agency's Facebook page.
But scenes from outside the facility Friday morning, coupled with interviews with 10 mothers, wives, and girlfriends of inmates and prison officials that have received some contact from inside, tell a more chaotic, disturbing story.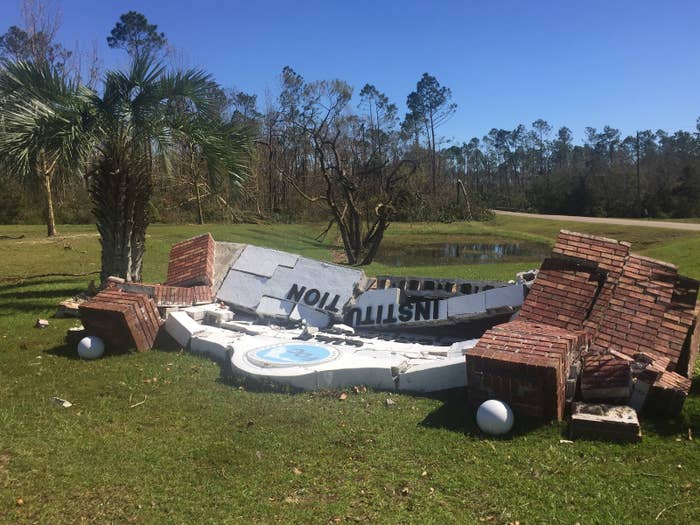 Keresten Chen last spoke to her fiancé, an inmate at Gulf Correctional Institution, on Wednesday morning. "Water was coming through the doors already," Chen recalled being told. Chen and other family members spoke with BuzzFeed News on the condition that inmate names would not be disclosed for fear of retaliation.
"They only gave him a bad lunch and told him not to eat it right away because they didn't know when they'll be able to feed them again," Nicole said, adding that he stayed in a two-person cell the night before, and more people were sleeping on the floor. "It is so inhumane."
On Wednesday afternoon, Melinda Aronson got the second — and final — call of the day from her son. "Mom, it's really bad here," Aronson recalled being told. "The roof of my dorm just fell out."

Lacey Alford, who is married to a facility official and had stayed in close contact with him during the storm, described a long list of facility damages: "a lot of the dorm rooms are destroyed"; "a lot of roof damage"; "windows blown off"; "the main control and administration rooms are destroyed"; "no fences"; and "the staff housing are gone."
State officials did not respond to repeated questions by phone and email about damage to the facility. BuzzFeed News then confirmed the facility sustained some roof damage during a Friday visit to the site. An official in the facility's administrative building declined to comment to questions in person.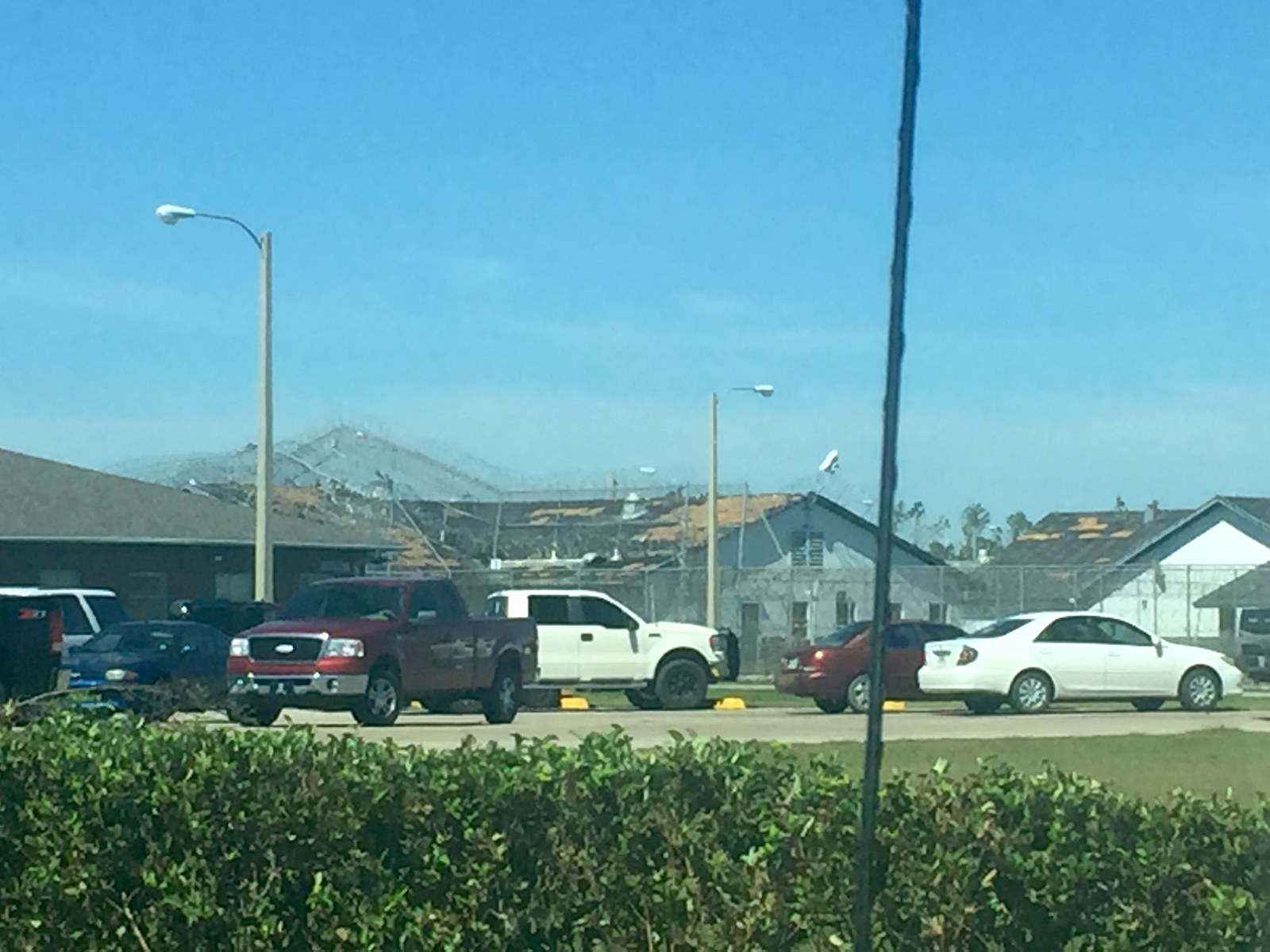 The roofs of at least two buildings were badly damaged, and shingles were removed from many others. The correctional facility's own signage, made of brick and concrete, was toppled over by the hurricane's winds. Another structure, related to the prison but outside of its barbed wire fence, had completely collapsed and debris could be seen strewn around the exterior of the facility. What appeared to be an industrial generator was working outside the administrative building. And while there were no obvious signs of damage to the facilities' exterior fence, law enforcement personnel, accompanied by their patrol cars, were stationed around the perimeter of the facility.
"These inmates were left scurrying in chaos because nobody had a plan. I want to know who failed these inmates," said Aronson. "I want to know where my son is and did he sleep on the floor."

"Much like the rest of the panhandle, our institutions did sustain damage due to the Hurricane," Florida prison officials wrote in a statement online Friday. Aerial images of the Florida coast before and after the storm, released by the National Oceanic and Atmospheric Administration, show the widespread damage, with entire neighborhoods razed, trees toppled, and boats dislodged.
Officials, however, are not yet saying which facilities were damaged or what that damage looks like. And while they suggested some inmates will soon be moved, no details were provided. Based on Facebook chatter and local reporting, it's clear that the Gulf Correctional Institution isn't the only one that's been damaged and inmate conditions may not line up with official accounts.
Jennifer Oneal's Wednesday afternoon call with her boyfriend at the Gulf Correctional Institution was cut off, presumably because of a power outage. "The call abruptly ended," Oneal said. She then had to go to work, and struggled to concentrate because she kept thinking: "Is my boyfriend okay?"
Oneal later received a call back from a prison official, and then from her boyfriend, on Friday morning. He was uninjured but hungry, she said, and would soon be evacuated to a different, undisclosed facility. Two others told BuzzFeed News they'd heard the inmates were being moved on Friday or soon after.
"They are not handing out bottled waters. [They were] told to drink tap water at their own risk," Oneal said. "It's crazy. It's uncalled for."