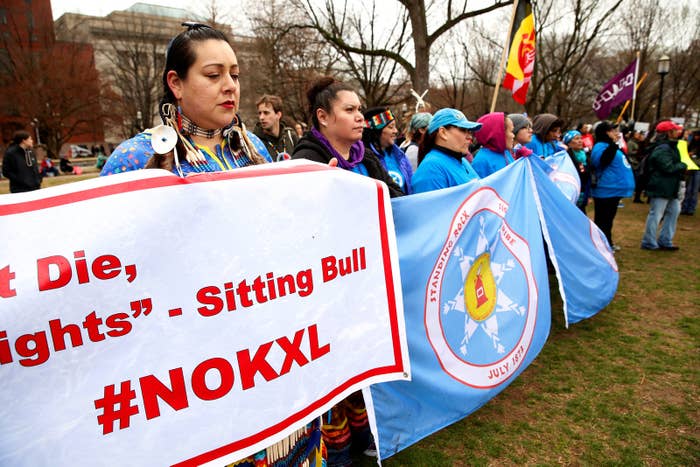 Nebraska officials on Monday conditionally approved TransCanada's bid to transport heavy crude oil through the state as part of its Keystone XL pipeline.
President Donald Trump approved the permit for the controversial pipeline in March, reversing the Obama administration's rejection of the project in November 2015 on economic and climate grounds.
The Nebraska Public Service Commission's 3-2 decision — which approved an alternative route from what the company preferred — was the last big regulatory hurdle facing the pipeline. The decision can be appealed over the next 30 days.
The oil and gas industry cheered the long-anticipated decision.
"The Nebraska Public Service Commission set an example for how to carefully evaluate critical energy infrastructure projects, even in the face of strongly held views and opinions," Jack Gerard, chief executive officer of the trade group American Petroleum Institute, said in a statement. "It's been a long path to today's approval and the Commission should be commended."
Despite this regulatory win, TransCanada is not saying whether it plans to pursue the estimated $8 billion project that has been in limbo for nine years.
"As a result of today's decision, we will conduct a careful review of the Public Service Commission's ruling while assessing how the decision would impact the cost and schedule of the project," Russ Girling, TransCanada's president and chief executive officer, said in a statement.
Keystone XL, if built, would carry about 800,000 barrels of heavy Canadian crude per day from Hardisty, Alberta, to Steele City, Nebraska, where it would connect with an existing pipeline.
Opponents to the project — a mix of Native American tribes, environmentalists, and local activists — have vowed to keeping fighting it. They are citing concerns about the pipeline's threat to a massive water source called the Ogallala Aquifer and pointing to a recent spill of at least 200,000 gallons of oil from a related TransCanada pipeline called Keystone in South Dakota as proof the company can't be trusted.
"We are disappointed in light of the leak that's happened in our aboriginal homelands," Dave Flute, chair of the Wahpeton Sioux Tribe, Lake Traverse Reservation, said in a press conference on Monday. Flute said he's heard anecdotally that last week's spill in South Dakota could be much larger than initially reported.
"TransCanada made promises and assurances that these pipelines are going to be made with state of the art equipment and any leaks or spills would be minimal," Flute said. "A couple hundred thousands of gallons is not minimal. It's a lot."
Nebraska regulators considered three possible routes: TransCanada's original route and two alternatives. All three routes would start in the northwestern Keya Paha County and end in the southwestern Jefferson County.
Commissioners rejected the first route that cuts directly across the middle of the state, noting it had already been unpopular among state officials.
The second route, called the "preferred route" by TransCanada, slants more eastward, then dips south before essentially running parallel to the bottom of the initial route. This path previously got the green light from North Dakota's governor and was included in the company's 2012 pitch to federal officials.
The third route initially overlapped with the preferred route and takes a more eastern track that parallels the company's Keystone pipeline. Nebraska officials were in favor of the pipelines being co-located.
According to a dissenting opinion from Commissioner Crystal Rhoades, the winning route was not one considered by state officials in a 2013 environmental analysis of the project and therefore may face future scrutiny. She also raised safety concerns about the project, and noted that some landowners may not even be aware their backyards now fall under this alternative route.
The Rosebud Sioux Tribe also announced its opposition to the Keystone XL in a letter from Rosebud president William Kindle, shared with BuzzFeed News on Monday.
Besides its threat to the aquifer, Kindle wrote, there is another case against the pipeline: The approved path would cut through land that was promised to the Great Sioux Nation in treaties signed by tribal leaders and the United States in 1851 and 1868. Controversially, portions of that passed back to federal control in 1877, after gold was discovered in the South Dakota Black Hills.
Kindle noted that Rosebud Sioux had secured the legal non-profit, the Native American Rights Fund (NARF), "to make sure that those public agencies – Federal, State and Tribal – honor our treaties and respect tribal sovereignty as well as our right to free, prior and informed consent."
"This is their land, their water," NARF staff attorney Natalie Landreth said in a release. "They have laws protecting their water and those laws must be respected. Keystone XL will need permission from the Rosebud Sioux Tribe, so this is not over."
"If there's anything we've learned fighting KXL, it's that the way forward for this pipeline is never as clear as it seems," Dani Heffernan of the environmental group 350.org wrote in an email to BuzzFeed News.
UPDATE
This story has been updated to include statements from Rosebud Sioux Tribe president William Kindle and NARF staff attorney Natalie Landreth.
UPDATE
This story has been updated to include details about the Nebraska decision, as well as comments from Dani Heffernan of 350.org.