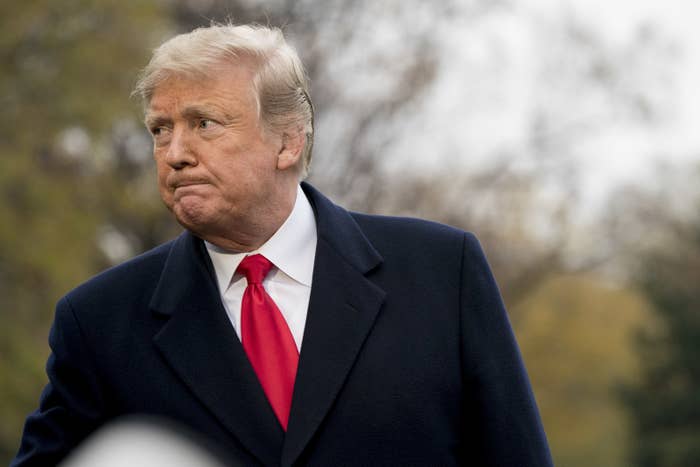 President Trump said Monday he doesn't believe climate change will lead to a massive economic recession, even though that's the finding of a major report released to Congress under his own administration.
Since 1990, US law has required researchers to advise Congress at least every four years on how climate change is affecting agriculture, natural resources, health, and more generally, American society. The goal is to give lawmakers, as well as emergency planners, public health officials, and utility managers, the information they need to prepare for and prevent the catastrophic events of climate change.
More than 300 experts worked on this year's report, which was released Friday by the National Oceanic and Atmospheric Administration; 13 government agencies supported and contributed to the assessment, and it underwent public and scientific review.
They found that human-caused climate change is already hurting every sector of the US economy, from tourism to fisheries, and if emissions continue to grow, the US will lose hundreds of billions of dollars by 2100.
On Monday, President Trump weighed in on the findings.
"I've seen it. I've read some of it. It's fine," he told reporters. "I don't believe it."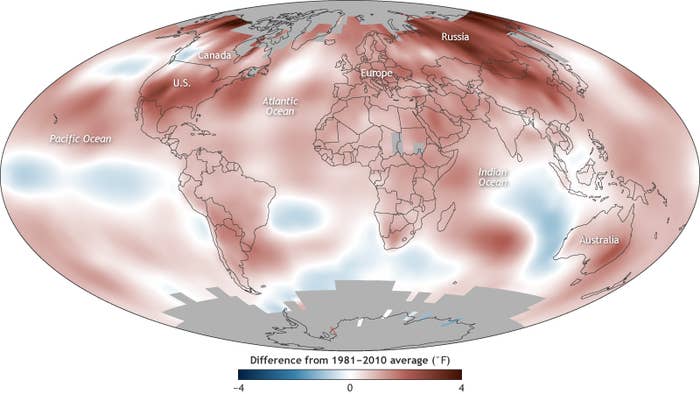 But the report's findings aren't a matter of debate, scientists told BuzzFeed News.
"It's not a religion. It's not up to us whether we choose to believe in it or not," climate scientist Katharine Hayhoe, who authored a section of the assessment, told BuzzFeed News. "If you say, 'Well, I don't believe in gravity,' but then you step off the cliff, you're going down."
"Every U.S. and international scientific body agrees that humans are causing dangerous climate change," Michael Gerrard, a professor at Columbia University's Sabin Center for Climate Change Law, told BuzzFeed News in an email. "None of this matters to President Trump. He is impervious to facts."

And whatever the president may believe, the physical effects of climate change are already here.
"Climate change is real, human-caused — and increasingly dangerous — regardless of what one deeply ignorant and misguided individual (who became president despite losing the popular vote) might happen to think," Michael Mann, a climate scientist at Pennsylvania State University, told BuzzFeed News in an email. "The warming oceans, melting ice sheets, rising sea level, worsening droughts, floods, superstorms, and wildfires—they don't care what Trump thinks. And we are increasingly endangered — as a civilization — by this one man's apathy, ignorance and malice."

The top scientists around the world, including in the US government, are saying "climate change is real, it's related to our activities, and it's unfolding in every single sector," Kelly Levin, a senior associate working on climate change at the World Resource Institute, told BuzzFeed News. "The climate impacts are certainly going to outpace these statements that are casting doubt on the science."

NOAA, the Environmental Protection Agency, the Department of Energy, and the Department of Interior — which were all involved in the assessment — did not immediately answer questions about the president's apparent denouncement of their work. The White House also did not immediately respond to questions.
Politicians can't afford to continue to ignore climate change warnings, said Gary Yohe, a professor of economics and environmental studies at Wesleyan University who served on the National Academy of Sciences committee that reviewed the report. This year's assessment builds on previous observations, so the statistics and attribution are stronger, and extreme weather events are happening more frequently, and they're more intense, he told BuzzFeed News.
"It's just getting worse and it will continue to get worse. It will not change back, and something has to be done," he said. "The sooner it is, the cheaper it will be."
But in previous comments, Trump has made it clear he doesn't see climate change as a serious threat.
"Brutal and Extended Cold Blast could shatter ALL RECORDS - Whatever happened to Global Warming," he tweeted on Thursday, a day ahead of the report's release.
The globe has warmed — on average about 1.3–1.6 degrees Fahrenheit, and the rate of warming has sped up dramatically since the 1970s, according to US data. The 10 warmest years ever recorded have all taken place since 1998.
And that's causing serious problems already. A catastrophic wildfire sparked this month in Northern California was the deadliest and most destructive in state history, which firefighters attribute to additional hotter and drier days annually.
"I want great climate," Trump said in response.
On Monday, he downplayed the effect US policies could have in fighting climate change.
"Right now, we're at the cleanest we've ever been, and that's very important to me," Trump said. "But if we're clean but every other place on Earth on is dirty, that's not so good."
But 174 countries and the European Union signed the Paris Climate Agreement, which aimed to be a united global effort to limit warming temperatures. Trump has promised the US would withdraw from the agreement, which can't go into effect until November 2020.
"The bottom line is that the Paris Accord is very unfair, at the highest level, to the United States," he said at the time.
The president's take — that solutions to climate change are punitive and would hurt the economy — are common, especially among conservatives, Hayhoe said.
"To say that yes, climate is changing, and yes, the science is real, that today is actually perceived to be a political statement, specifically and explicitly aligning with the left hand of the political spectrum," she said. "Which of course is a tragedy, because a thermometer isn't a Democrat or a Republican. It doesn't give us a different answer depending on how we vote."
When Hayhoe, a professor at Texas Tech University, talks about climate change, she points out the solutions that fit in with conservative values: the economic advantages of renewable energy, the jobs created by investing in local economies, the risks of allowing countries like China to take the lead on developing new technology. Often, that changes people's opinions on the truth of the science.
But it's a complicated issue, she added, and it's understandable that people take on the positions of leaders they trust, particularly political figures like Trump.
"Unfortunately by making these statements, the president is providing incorrect information to people who follow him and respect him and share his values," she said. "And that's dangerous, because again, climate change is not an opinion, it is not a belief. It is real and we ignore it at our peril."