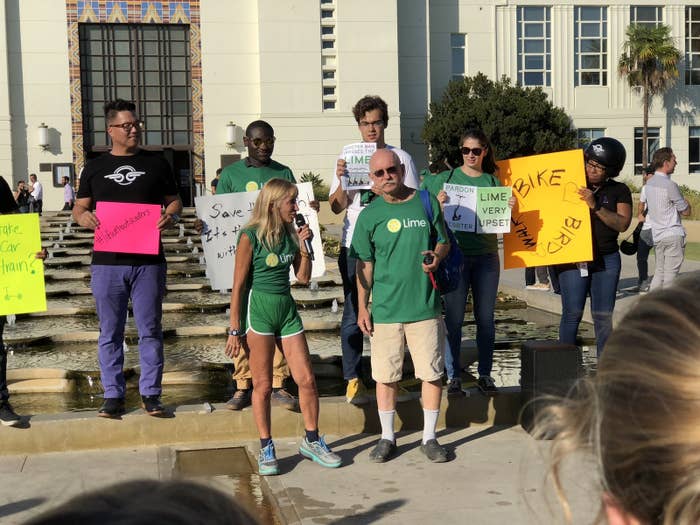 June Caldwell and her husband, Jerry, have been married nearly 20 years. Former rock 'n' roll journalists, they've since gotten serious about dance fitness and enjoy organizing flash mobs. But this summer the Santa Monica–based couple found a new way to spend their date nights: hunting for and recharging the pay-as-you-go electric scooters that the startups Bird and Lime have scattered around their city.

"We go out all night throughout the city. It's something we can do together," June, 63, told BuzzFeed News on Tuesday evening. Jerry, 62, said he can charge six scooters at a time with a power strip on their front porch, earning at least $40. He also moonlights as a roving mechanic for Bird.
The Caldwells had joined a crowd of a couple hundred people in front of Santa Monica City Hall on Tuesday to protest the possible banishment of Bird and Lime from this beachside city on the west side of Los Angeles. A government committee recommended last week that the two scooter incumbents be replaced by a pair of companies better known for managing fleets of cars: Uber and Lyft, which say they're developing their own electric scooters. The city is allowing time for public comment before its official scooter pilot program starts next month.
"What do we want?" "Scooters!" "Where do we want them?" "Here!"
Bird and Lime have made enemies among residents in Los Angeles — ask anyone who's almost been hit by a scooter zooming down the sidewalk — but the startups were nevertheless dismayed by the committee's recommendation and are scrambling to try to change the final decision. They both froze service in Santa Monica on Tuesday to show people what it would be like to live without them, and they urged customers to rally at City Hall. (The companies have encouraged similar political action in San Francisco, which has banned scooters altogether for the time being.) Bird, which is based here in Santa Monica, went as far as to compare Uber and Lyft to "Exxon and BP Oil." It told its riders in an email, "[Uber and Lyft] have every incentive to only minimally operate the less profitable green option and direct customers to their more profitable core business." An Uber spokesperson disputed this characterization and said in a statement, "We look forward to the opportunity to serve the city with new alternatives to personal car ownership."

On Tuesday evening, Bird and Lime riders gave impassioned testimonials outside City Hall, sometimes shouting into the microphone, sometimes even crying. They said how Bird or Lime had improved their lives: an easier commute, a source of extra income, a sense of personal freedom. Some riders held homemade signs. The Caldwells were wearing green Lime T-shirts. "It was a big thing getting the Lime swag," said June. At one point everyone chanted: "What do we want?" "Scooters!" "Where do we want them?" "Here!"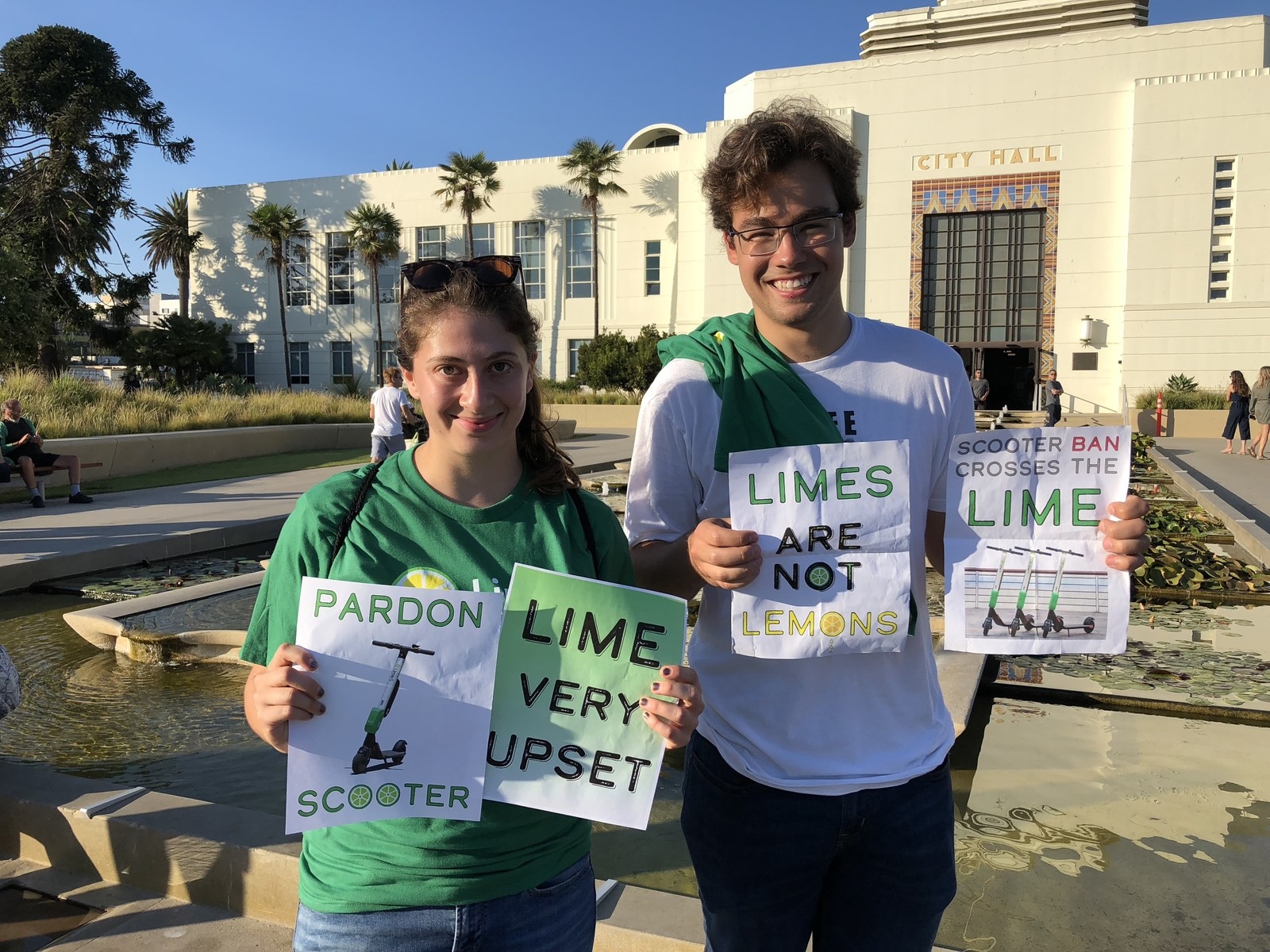 "I ride Limes and Birds regularly, and the app[s] alerted us that there was a protest going on," said Thomas Musca, who had a Lime T-shirt slung over his shoulder. He and his friend Emma Gardner went to high school in Santa Monica and are back home this summer. The two of them, both 22, had made their own signs: "PARDON SCOOTER" and "LIMES ARE NOT LEMONS."

Musca showed off a pink scar on his hand and a tear in his jeans from a spill he'd taken on a Lime scooter on July 4, en route to a party at Gardner's. He had been in the bike lane, he said, when a Prius clipped him and drove away: He said the driver had been texting. The Lime was incapacitated, Musca said, but he was fine. He hopped on a nearby Bird and showed up bleeding on Gardner's doorstep.
"[Scooters are] chaotic. They're ridiculous. But they're also incredibly useful, so I'm willing to take that."
"That hasn't deterred me in the slightest," said Musca. Scooters, he said, are "chaotic. They're ridiculous. But they're also incredibly useful, so I'm willing to take that." (Bird and Lime require riders to wear helmets and use the bike lane where possible.) Musca said scooters became a key part of his commute to an architecture firm downtown this summer, since they allowed him to zip from his home in Santa Monica to the nearby Expo Line station in minutes.
Another protester, Steve, a 58-year-old eye surgeon who asked that his last name not be used, moved to Santa Monica in April for an addiction recovery program. He said he considers scooter-riding an important part of his recovery. "It makes life a little bit freer and nicer here," he said. "It's a liberating way to travel. There's something uplifting about it."
At the same time, he said he understands the backlash, especially when riders are "out of control on the sidewalk." He said, "You could see it was definitely getting dangerous, which is unfortunate."
It's not as if the city is contemplating banning scooters entirely. But some of the faithful who rallied on Tuesday professed loyalty to the existing brands and wariness about Uber and Lyft.
Those two ride-hail companies are "run by Big Oil," said June, echoing one of Bird's talking points. "It's so unsubtle," she said. "Their business is taking people in cars that use gas." She drew a comparison to President Trump putting "someone whose biggest commitment is to coal and oil" in charge of environmental rules. (She didn't say whom she was referring to.) Jerry, her husband, agreed. "I'm just a little skeptical of what level of service they would provide," he said.
For the Caldwells, making money by charging scooters — "juicing," in Lime's parlance — has become a part of their identity. The rally was a gathering of their tribe. "It's so moving," June said. "It's not political. It's about wanting to do what the city of Santa Monica is committed to — supporting the environment and reducing traffic."
Plus, she added, "We met another juicer couple."