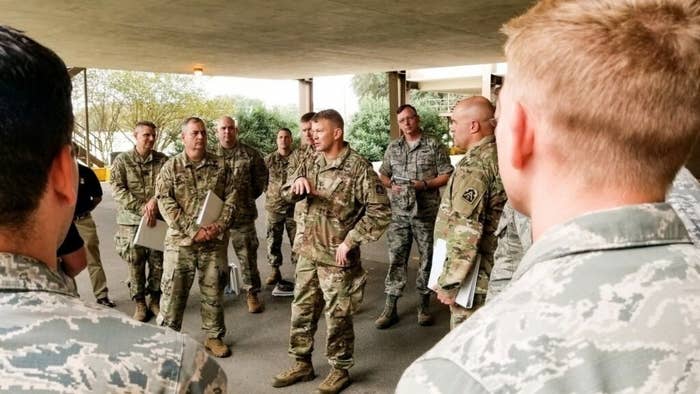 In a week of heated debate about President Donald Trump's controversial deployment of thousands of US troops to the southern border, nothing drew harsher pushback from former military leaders and veterans than his suggestion that US troops treat migrants throwing rocks as if they were armed with rifles.

"Anybody throwing stones, rocks […] we will consider that a firearm because there's not much difference," Trump told reporters Thursday, seeming to imply a radical change in the US military's rules of engagement. "I told them consider it a rifle when they throw rocks, like they did at the Mexico military and police."
Trump seemed to walk his remarks back Friday, saying migrants who threw rocks were "going to be arrested," not shot. But they'd already been widely condemned by former Pentagon brass, retired military officers, and veterans, many of whom already had been seething that the US military was being deployed in a "political stunt" ahead of next week's midterm elections.
Responding to rock-throwers with lethal force would be an "unlawful order" that goes against US troops' entire training and demonstrates Trump's ignorance of how the US military operates, they said. Many also called on Defense Secretary Jim Mattis, who has been largely silent on the rapid deployment of more than 7,000 active-duty troops to stop Central American migrants from entering the country, to step up and say something.
"Unless the rock is traveling at roughly 3,000 feet per second, there is a distinct difference between taking a rock to the face or a bullet."
"Our men and women in uniform are better trained, better equipped, and better led so they meet any threat with confidence," the former chair of the Joint Chiefs of Staff, Army Gen. Martin Dempsey, said in a tweet. "A wasteful deployment of over-stretched Soldiers and Marines would be made much worse if they use force disproportionate to the threat they face. They won't."

Former defense secretary and US Republican senator Chuck Hagel called it "a wanton incitement of unnecessary violence."
"It's a distraction, it's a distortion," he said on CNN. "It is a rank political purpose to use our military like this, and to say those kinds of things is really astounding."
Former military leaders told BuzzFeed News that Trump's words went beyond the combative president "talking tough." Several pointed to the Nigerian Army's swift use of a video of Trump's comments to justify the shooting of dozens of unarmed protesters.
"As a soldier, I am appalled at the commander-in-chief stating such a thing. It is ridiculous to have [the president] issue guidance that, is in fact, indicating a war crime," retired Army Maj. Gen. Paul Eaton, who oversaw training of the Iraqi forces in the early days of the Iraq War, told BuzzFeed News. "We go to great lengths to train our young men and women to apply commensurate force, and when you talk about killing an unarmed person because they are rioting or throwing a rock — well it's a war crime, I can't say it any more clearly."
He said his wife, P.J. Eaton, a former US Army captain and the daughter of a US Marine Corps colonel, said her immediate reaction was that "all you need is someone to get a little scared to make the choice to overcome training — and they'll think 'the president says it's ok.'"
US troops deploying to the border will work on logistics, maintenance, medical aid, and other support roles, and are barred from interacting with migrants or carrying out any law enforcement activities.
"What Mr. Trump is doing here is subverting the chain of command."
While some of the troops will be armed, they are allowed to use deadly force only in defense of "all persons, foreign or domestic, who are faced with imminent threat of death or serious bodily harm, and where lesser means have failed or cannot be reasonably employed," according to internal Pentagon documents obtained by the Washington Post.

"We had rocks thrown at us all the time in Afghanistan. Responding with lethal force is a fucking war crime," US Army veteran Joe Kassabian wrote in a tweet that was shared more than 20,000 times.
Former military leaders all agreed that while US troops were not going to heed Trump's call to treat attacks with rocks as if they were firearms, it put their commanders in the awkward position of having to tell them to disregard the commander-in-chief who was deploying them and outlining their mission.

Retired Army Gen. Mark Hertling said that "FWIW, there is no leader in the military …who would allow a soldier to shoot at an individual throwing a rock. They know that violates the rules of engagement, the law of land warfare & the values those in the military believe."
Former CIA director and Air Force Gen. Michael Hayden agreed, noting that "now lieutenants are forced to tell their troops, pay no attention to the commander-in-chief."
"He was advocating for American military personnel to commit war crimes, on camera, at the White House, and not speaking hyperbolically," Will Fischer, a former Marine who now works for the VoteVets, a progressive veterans organization, told BuzzFeed News. "These people are really being deployed to the border. Go fire a rifle and then throw a rock and tell me those are the same thing. Where is General Mattis?"

The Pentagon did not respond to BuzzFeed News' request for comment.
"I stopped a convoy when a soldier threw a water bottle at a shepherd tending his flock on the roadside. Another time I confronted and removed a sergeant from a situation after he shoved an Iraqi kid for no reason other than to show who was boss," Brandon Friedman, a former Army captain who deployed to Iraq and Afghanistan and later served in the Obama administration, wrote in an op-ed Friday.
"Trump can't relate to this at all," he wrote. "We're just waiting to see if Mattis will rise to the occasion and tell the President to leave the tactics to those who know what they're doing."