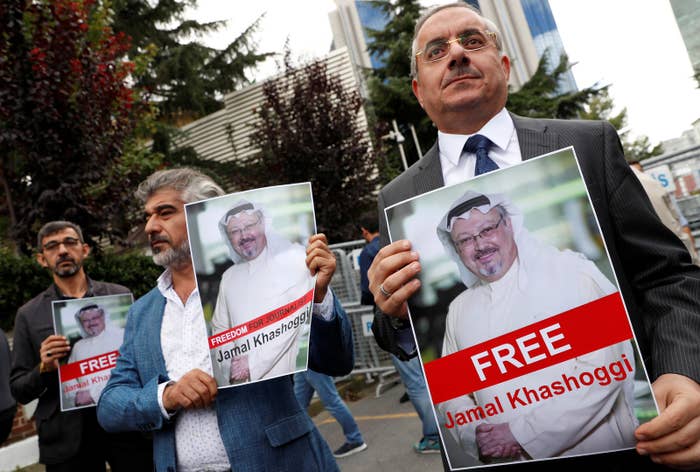 A vocal contingent in Congress that has long pushed for the US to cut off military aid to Saudi Arabia, to little effect, is seizing on the intense scrutiny surrounding the suspected murder of a prominent Saudi journalist to step up the pressure.
While it has been difficult to galvanize public opposition to US support for the Saudi-led military campaign in Yemen, the world is paying attention to the disappearance of Jamal Khashoggi, a US resident and Washington Post columnist who was critical of the Saudi government.
He was last seen walking into the Saudi Consulate in Istanbul on Oct. 2, where Turkish security officials claim he was killed by a special hit team of 15 Saudis flown into Turkey that same day. Saudi officials have denied the allegations, insisting that Khashoggi left the building that day and disappeared.
"The Saudis continue to claim that they aren't targeting civilians inside Yemen, but how can we believe them when they apparently just hunted down and murdered an American resident whose only offense was writing critical articles about the Saudi royal family?" Sen. Chris Murphy, a Connecticut Democrat, said Thursday. "This is the right time to suspend our military support for the disastrous bombing campaign in Yemen."
He called Saudi Arabia's alleged assassination "the actions of a rogue state, not an ally," and said the US "cannot be in a military partnership with a country that has this little concern for human life."
The US has provided the Saudi-led coalition fighting Iran-backed Houthi rebels in Yemen with military assistance since 2015, including weapons sales, aerial refueling, intelligence, and targeting support. Thousands of civilians have died in the conflict, most of whom were killed in bombing raids, according to the United Nations.
Trump has strengthened ties with the Gulf nation since taking office, making it his first foreign visit as US president and signing a major arms deal. On Thursday, he said blocking arms sales to the country would hurt the US and "would not be acceptable to me," a day after pronouncing relations with Saudi Arabia were "excellent."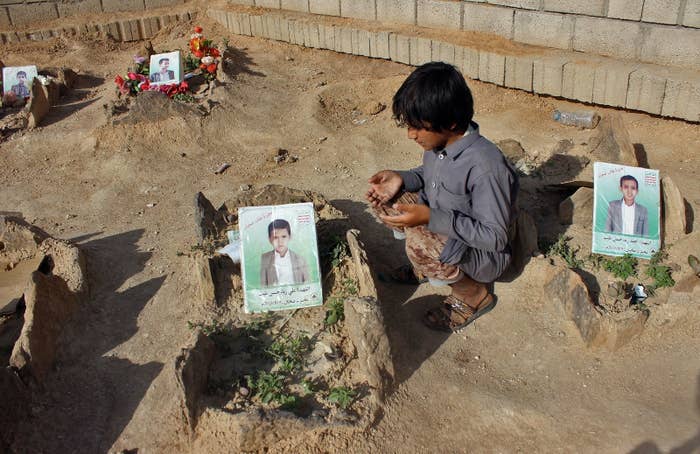 The White House's muted response infuriated many in Congress.

Sen. Rand Paul said he would be introducing "another measure to cut all funding, training, advising, and any other coordination to and with the military of Saudi Arabia until the journalist Jamal Khashoggi is returned alive."
"These are the types of headlines that make my blood boil — because an American is missing and likely dead at the hands of Saudi Arabia, and everyone is feigning shock and bewilderment, as if we've never before had cause to doubt that the Saudis share America's values," he wrote in an op-ed in the Atlantic on Wednesday.
He pointed out that without US military support, "the Saudi war effort would have fallen apart long ago," and said the US has "no business supporting it, either directly or indirectly."
Rep. Ro Khanna, a California Democrat, similarly used Khashoggi's disappearance to draw attention to the US support for Saudi Arabia's campaign in Yemen.
"This is something, whether you are a Republican or Democrat, you cannot tolerate," Khanna said in a radio interview with KQED. "The Saudis have engaged in a brutal civil war in Yemen … We need to stop arms sales to the Saudis. We need to look at potential sanctions."
The US's role in the conflict in Yemen was already straining relations between Congress and the White House after Secretary of State Mike Pompeo last month formally certified that the Saudi-led coalition was taking "demonstrable actions" to reduce harm to civilians caught up in the war. The certification was a condition for the US continuing to refuel their aircraft. Human rights groups called the declaration "farcical" and accused the Trump administration of "openly defying and lying to Congress."
Tolerance for continuing US support wore thin this summer, when the death toll blamed on Saudi airstrikes rose, including one in late August that killed at least 22 children and four women as they were fleeing the fighting, according to the UN. At the same time, an offensive on the Yemeni port city of Hodeida threatened to block food and humanitarian aid to millions of civilians.
A bipartisan group of senators sent a letter to Pompeo on Wednesday saying they "find it difficult to reconcile known facts" with his certification, which had also been backed by Defense Secretary James Mattis. Democratic Sens. Jeff Merkley, Chris Murphy, Chris Coons, and Jeanne Shaheen; and Republican Sens. Susan Collins, Jerry Moran, and Todd Young, asked him to provide more information by the end of this month to justify his decision.
A group of 22 Republican and Democratic senators on Wednesday sent a letter to Trump that triggered a human rights probe through the Global Magnitsky Act. It gives the president 120 days to respond to the Senate Foreign Relations Committee with a decision on whether officials responsible for human rights violations such as torture, extrajudicial killings or prolonged detention without trial would be sanctioned.
Khashoggi's disappearance "suggests that he could be a victim of a gross violation of internationally recognized human rights," the letter said. "Our expectation is that in making your determination you will consider any relevant information, including with respect to the highest ranking officials in the government of Saudi Arabia."