The US Says Saudi Arabia Is Trying Really Hard Not To Kill Civilians In Yemen
The claim was greeted with skepticism. "It's not a certification — it's a rubber stamp for Saudi Arabia," said Sen. Elizabeth Warren.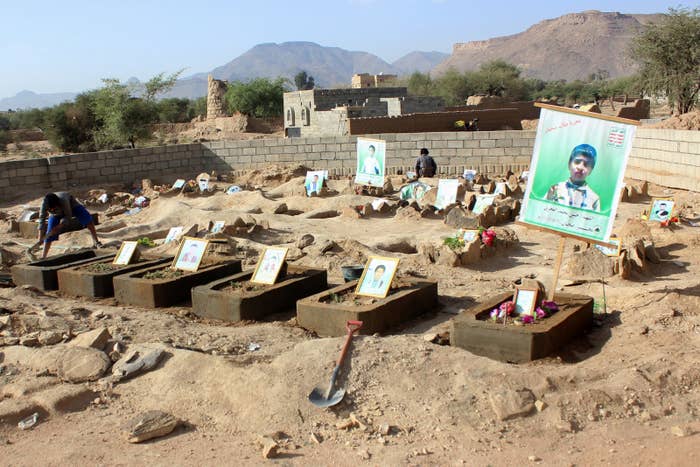 The Trump administration's certification Wednesday that Saudi Arabia and its allies are taking steps to protect civilian lives in Yemen drew an avalanche of denunciations from Congress and human rights groups, which called the claim a "farce" intended to distance the US from mounting civilian casualties.
The certification was required by a defense bill President Donald Trump signed last month that made it a condition of continued US military refueling of aircraft that have been bombing targets in Yemen for more than three years in an effort to oust forces allied with Saudi Arabia's arch nemesis, Iran. Thousands of civilians have died in the conflict, most of whom were killed in bombing raids, according to the United Nations.
Secretary of State Mike Pompeo said Wednesday morning he had confirmed to lawmakers that the Saudi-led coalition was taking "demonstrable actions" to reduce harm to civilians caught up in the war. Defense Secretary Jim Mattis went a step further, saying the governments of Saudi Arabia and the United Arab Emirates were "making every effort to reduce the risk of civilian casualties and collateral damage to civilian infrastructure."
Human rights groups and many in Congress said they found those claims hard to stomach in the aftermath of strikes that killed scores of civilians last month, and amid warnings by the UN that the situation in Yemen is the worst humanitarian crisis in the world.
"The Trump administration is openly defying and lying to Congress," the British aid agency Oxfam said in a statement. "Members of Congress must act to end the United States' complicity in this war."
Human Rights Watch Middle East director Sarah Leah Whitson called Wednesday's certifications "farcical."
"I find it remarkable that Secretary Pompeo could certify that the Saudi-led coalition is doing enough to protect civilians given that just last month they bombed a school bus, killing dozens of children," Rep. Ted Lieu, a California Democrat who has long been a sharp critic of the US's role in Yemen, said in a statement to BuzzFeed News. "It's unbelievable that the US is continuing to excuse their behavior and allow our nation to be a part of a kill chain resulting in children and innocent civilians being slaughtered en masse."

The US has provided the Saudi-led coalition fighting Iran-backed Houthi rebels in Yemen with military assistance since 2015, including aerial refueling, intelligence and targeting support, and selling them weapons. Trump has strengthened ties with both Gulf countries since taking office.
An unclassified 7-page report provided to Congress, which was supposed to document how the Trump administration had reached its conclusions, did not satisfy many of the lawmakers who had pushed for it.
There was criticism that instead of showing what steps Saudi Arabia and the UAE were taking to protect civilians and reduce the humanitarian toll of the crisis, it mainly outlined that the US, through the Defense and State departments, would continue to push them to do so.
It also seemed to contradict one of the main justifications made by supporters of the US's role, that the training provided by the US military is crucial to avoid even more unnecessary bloodshed.
"Recent civilian casualty incidents indicate insufficient implementation of reforms and targeting practices," the report says. "Investigators have not yielded accountability measures."
Lawmakers say they expect Pompeo to explain in detail what led him to certify that the Saudi-led coalition was taking steps to protect civilian lives.
"We need to hold our allies to a higher standard and, unfortunately, this certification fails in that regard," said Sen. Jeanne Shaheen, a New Hampshire Democrat who championed the certification measure along with Indiana Republican Sen. Todd Young.
The legislation laid out "firm benchmarks" on avoiding civilian casualties, she said.
"The coalition clearly hasn't met these goals, and it is evident that the administration is deliberately sidestepping congressional oversight," Shaheen said.
Rep. Ro Khanna, a California Democrat, tweeted that Pompeo's certification was a "farce."
Sen. Elizabeth Warren, a Massachusetts Democrat, said Pompeo's statement made "a mockery of congressional oversight authority. It's not a certification — it's a rubber stamp for Saudi Arabia."
Even so, even many of those critical of the report on Capitol Hill on Wednesday continued to contend that US targeting assistance and training is preventing even worse civilian casualties.
This echoes the justifications of many at the Pentagon, including Mattis, who say they have seen concrete results.
"The training that we have given them, we know has paid off," Mattis told reporters last month. "We have had pilots in the air who recognize the danger of a specific mission and decline to drop, even when they get the authority…we recognize every mistake like this is tragic in every way, but we have not seen any callous disregard by the people we're working with."
Pentagon officials have consistently voiced their support for the aid, which Mattis has insisted is "not unconditional," but depends on the Saudis and their allies doing "everything humanly possible to avoid any innocent loss of life" and supporting a UN-brokered peace process.
Tolerance for US military aid to the Saudi-led coalition frayed further this summer when an offensive on the Yemeni port city of Hodeida threatened to block food and humanitarian supplies to millions of civilians. Meanwhile, the death toll blamed on Saudi airstrikes rose, including one in late August that killed at least 22 children and four women as they were fleeing the fighting, according to the UN.
There also has been increased scrutiny on US weapons sales to the coalition after analysis of debris found that the US had supplied a Lockheed Martin–made bomb that struck a school bus last month, killing more than 50 people, including 40 children. The bomb was part of an arms deal with Saudi Arabia sanctioned by the State Department. Similar US-supplied bombs killed 97 people at a market in April 2016, and later that year, 155 people at a funeral.
Last year, the Trump administration reversed a decision made by former president Barack Obama to suspend the sale of precision-guided bombs to Saudi Arabia. The reversal was part of an arms deal Trump struck in May 2017 during his visit to the country, his first overseas trip as president.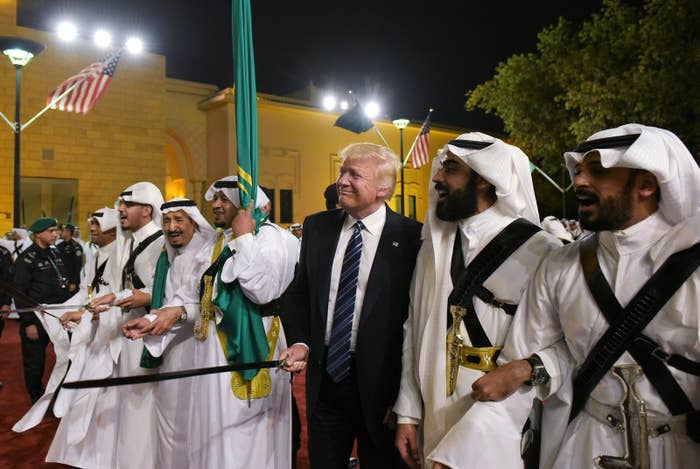 Some lawmakers have demanded to know how the US could track its weapons' use, while human rights monitors demanded to know whether the US had refueled the planes carrying out the airstrikes. Some members of Congress also have raised concerns the US's role in providing military assistance could leave US service members open to allegations they were complicit in war crimes. All sides have been frustrated by the lack of answers.

The Pentagon has been loath to publicly criticize its Gulf allies. But after the school bus bombing, Mattis directed a three-star general on a visit to Riyadh to push for a "timely and transparent investigation" into the incident, according to a Pentagon spokesperson.
In a rare concession, the coalition concluded that "mistakes" had been made in the strike, which they called "unjustified." Trump administration officials have pointed to the statement as proof that the Gulf countries are making progress.
The UN calls the situation in Yemen the "world's worst humanitarian crisis," with millions facing starvation, dehydration, and disease exacerbated by the civil war.
At least 6,660 civilians have been killed and more than 10,500 have been injured in the conflict since March 2015, according to the UN Human Rights Office.