A Taliban Attack Has Killed Key Afghan Leaders And Narrowly Missed A Top US General
Three others were wounded in the crossfire of a deadly Taliban attack that killed a powerful US-backed Afghan security official.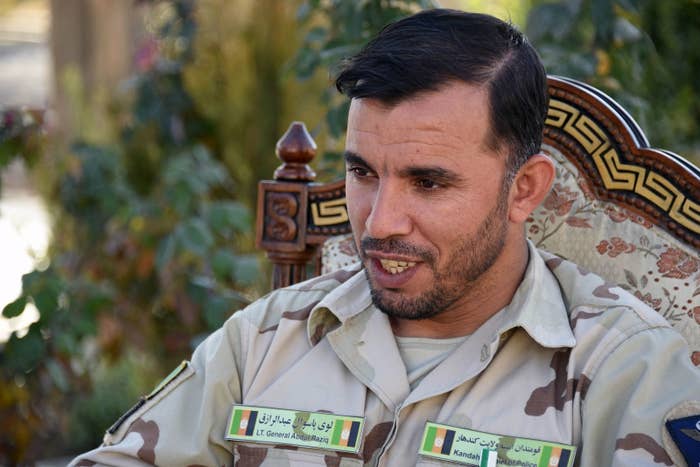 The top US commander in Afghanistan narrowly escaped a deadly attack on Thursday when a shooter opened fire during a top-level meeting with key Afghan officials in Kandahar province that killed three senior Afghan officials.
At least two Americans and one person described as a "coalition" contractor were wounded, though Army Gen. Austin "Scott" Miller escaped without injuries.
Among the dead were the region's powerful police chief Abdul Raziq; Zalmai Wesa, who is Kandahar province's governor; and the province's intelligence chief, Gen. Abdul Momin, according to the deputy governor.
First reports offered differing versions of the events, with most local reports identifying the shooter as one of the governor's bodyguards.
"Initial reports indicate this was an Afghan-on-Afghan incident," said Col. Dave Butler, a spokesperson for the US forces in Afghanistan, noting that "Afghans were the targets."
"[Americans] were wounded in the cross fire. ... General Miller is uninjured," he said.
The wounded were described as a service member, a civilian, and a contractor. They were medically evacuated and are in stable condition, according to US Forces Afghanistan.
US and Afghan officials were meeting to discuss security issues around the upcoming parliamentary elections. Local reports disagreed on when the firing started, with some saying the shooting began when the group was leaving the meeting and walking toward helicopters, and others saying that Miller had just stood up to leave the meeting with Afghan officials when the shooting started, and he rolled behind a sofa and took cover.

The US military did not confirm reports of Raziq's death, which is likely to bring significant upheaval to southern Afghanistan, the birthplace of the Taliban. The attack comes just days before Saturday's parliamentary elections, as Taliban fighters have mounted a surge of violent attacks and threatened to disrupt polling stations. Late on Wednesday, a NATO convoy was attacked near Kabul, killing two civilians and injuring five Czech troops.
Raziq was a key US ally credited with keeping the security situation under control, and the US turned a blind eye to accusations of serious human rights abuses in exchange for his keeping different factions in check. Human rights groups and the United Nations have long called for him to be prosecuted for "systematic torture, extrajudicial killings, and enforced disappearances."
The former head of Afghan intelligence Amrullah Saleh seemed to confirm reports of Raziq's death.
"Can't find weighty & dignified enough words to express my grief & pain for the loss of my compatriot & brother Gen. Razeq. He was the architect of stability in Kandahar by establishing a political network deep at grassroots level in support of State & ANDSF. It is a pan Afg loss," he tweeted.
The attack risked further worsening the security situation in the country, where the Taliban have increased the number of districts under their control despite US-led efforts to force the group from its strongholds. Since August 2016, "Afghan government control has decreased by roughly four percentage points, and the overall trend for the insurgency is rising control over the population," according to SIGAR's latest report.

Hours after the attack, Afghanistan President Ashraf Ghani announced in a televised message that he was sending his intelligence chief to Kandahar to investigate the attack.
"I promise the Afghan people that soon the situation will get normal in Kandahar," he said.