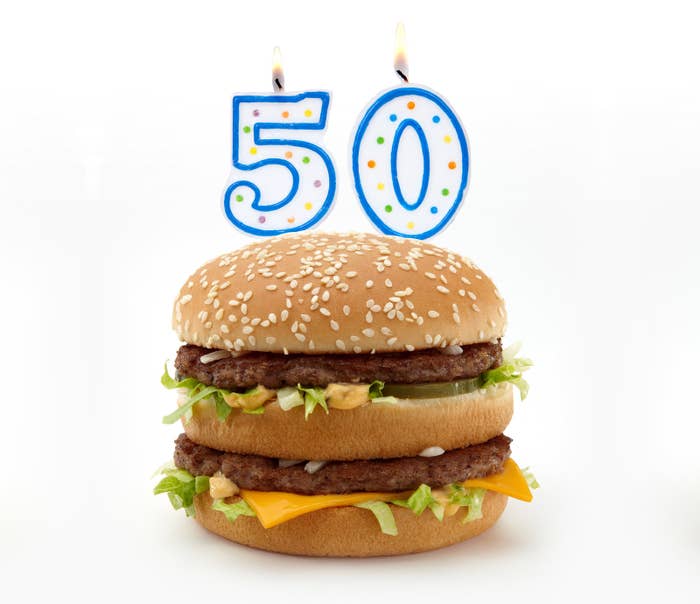 Some things need no explanation no matter where you are in the world: Coca-Cola, Mickey Mouse, Tom Cruise. They possess that bit of rare, indescribable magic that makes them universally embraceable; they're able to transcend the barriers of language and culture that prevent so many other things from becoming a truly global phenomenon.

For McDonald's, this unicorn is a double-decker sandwich — specifically two all-beef patties, special sauce, lettuce, cheese, pickles, and onions, on a sesame seed bun.
For who on earth does not know of the legendary Big Mac?
Surely President Trump knows; he is famously a yuge fan of the sandwich. "His only weakness is the Big Mac," Trump's ex-wife recently said. There's even an economic index based on the burger.
The Big Mac remains McDonald's top-selling sandwich in dollar terms (though some other smaller items sell more in terms of unit sales). The chain sold 1.3 billion Big Macs around the world in 2017.

Amid the ruin, the Big Mac is immortal — a Wolverine in the world of fast food.
The sandwich, which celebrates its 50th anniversary this year, has managed to survive for decades as comrades like McWraps, chicken wings, and McPizza (yes, pizza) have rotated on and off menu board of the world's largest fast-food chain, which is overhauling major parts of the brand as it emerges from a years-long sales slump. Amid the ruin, the Big Mac is immortal — a Wolverine in the world of fast food.
To commemorate the milestone, the company will issue 6.2 million "MacCoins" to customers who purchase a Big Mac starting Aug. 2 that can be redeemed for a free sandwich.

In many ways, the Big Mac is a relic of a bygone era in fast food, but it is also ferociously resilient: Yes, fried chicken sandwiches are en vogue. Yes, people are demanding more high-end, natural ingredients. Yes, the Big Mac has 540 calories and contains nearly half a day's recommended intake of fat. And yes, Burger King has tried to push a Big Mac imitator, the Big King. But that all seems miraculously, mind-bogglingly beside the point.
"It's as relevant today as it was 50 years ago," McDonald's CEO Steve Easterbrook told BuzzFeed News. "It's irreplaceable for us, and it's impossible to copy for anyone else."
And how? The first rule of the Big Mac is: You do not fuck with the Big Mac. "What we want to do is preserve the legendary taste of the Big Mac," said Easterbrook. "I would be a fool to change that."
The bun no longer contains high-fructose corn syrup (none of McDonald's buns do anymore), but that's about as far as Easterbrook is ready to go. Not that McDonald's hasn't tried to push the boundaries.
It has trialed mini and mega versions of the sandwich (the Mac Jr. and the Grand Mac), which Easterbrook said were "so popular, [the company] almost ran out of beef" in the UK. It tried a Chicken Big Mac in Australia and New Zealand, which the CEO described as an "exploratory test."
But if you're hoping for something disruptive — say a meatless Impossible Burger Big Mac — don't hold your breath. Just because the 50-year-old sandwich might seem like it's due for an update doesn't mean it really needs one: McDonald's customers like their beef.
"We came to the conclusion that the Big Mac has to stay as it is," said Easterbrook. "It's not just about sales, it's also about brand. ... You never know what the future will bring, but I can't see there being a fundamental change."