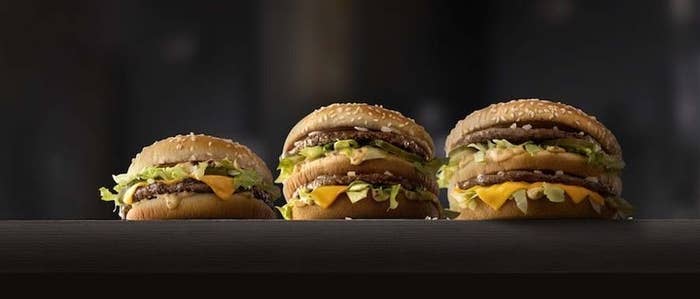 When a brand has accumulated as much recognition as the Big Mac — a burger McDonald's has marketed to consumers in more than 100 countries — tinkering with it may be the last thing you'd want to do, but this is exactly what the Golden Arches has planned as it tries to sustain a sales turnaround.
For a few weeks in early 2017, the burger chain will offer two new versions of the iconic sandwich, which uses two all-beef patties, special sauce, lettuce, cheese, pickles, onions – on a sesame seed bun, in restaurants across the US. The miniaturized Big Mac, named the "Mac Jr.," uses one 1/6 lb. patty, while the beefed up "Grand Mac" uses two 1/6 lb. patties. A classic Big Mac has two 1/10 lb. burgers.
The new sandwiches were both tested earlier this year in Ohio and Dallas, which were selected for being "beef-centric areas," said McDonald's Chef Mike Haracz. "It was time to launch something like this," he told BuzzFeed News. The rollout requires adding 1/6 lb. patties to restaurant kitchens and a larger bun for the Grand Mac.
Whether the new Macs are added permanently to the menu will depend on sales during the winter promotion. "If they're crushing it, we'll keep it rolling," said Haracz.

The experiments don't stop at the Big Mac either. The chain has been updating other iconic menu items in an effort to make its food align more with current tastes. Its McNuggets are now free of artificial preservatives; it abandoned margarine for butter in McMuffins; and the buns used for sandwiches like Big Macs and Quarter Pounders were reformulated with sugar instead of high fructose corn syrup, now an unpopular sweetener. Following the announcement, the sales of McNuggets increased nearly 10%.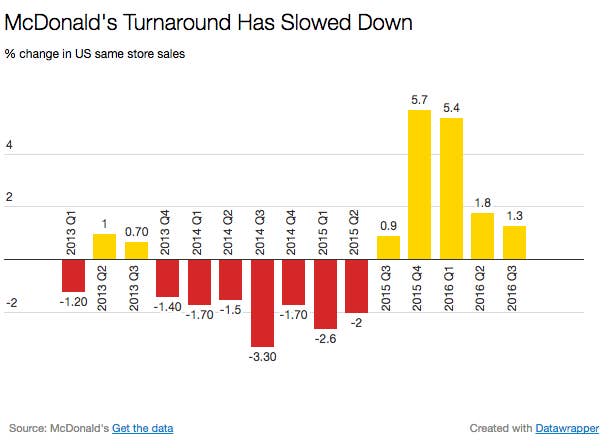 After a long slump, McDonald's US sales are on the rebound, thanks largely to the introduction of all-day breakfast last year. However, the rate of sales growth has started to slow. In the latest quarter, domestic same store sales increased only 1.3%.
The two new Mac sandwiches are the product of ongoing surveys that asked McDonald's customers questions like what their favorite menu item is; what they'd like to see on the menu; and requested their input on toppings.

"A good majority said they love the Big Mac, but would love options in that realm. We did some diving: some wanted it bigger and some wanted it smaller," Haracz said. In the Ohio and Dallas test, the Mac Jr. and the Grand Mac were about equally popular, he added.