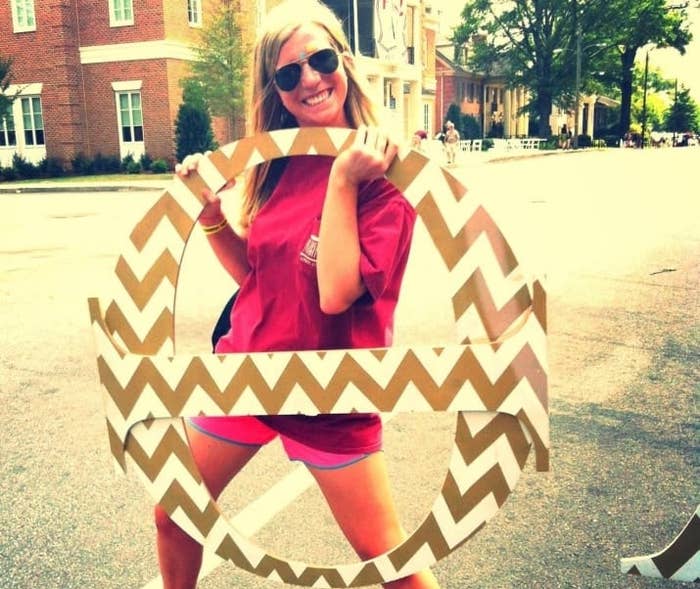 The parents of a young woman who killed herself after alleging she'd been raped by a wealthy Alabama man have sued the accused attacker, law enforcement officers, and a university Title IX official, alleging their "faulty practices" and "mishandling" of the case drove their daughter to hang herself.
The story of Megan Rondini, who was a student at the University of Alabama in Tuscaloosa when the alleged rape occurred, was detailed in a recent BuzzFeed News story.
The 25-page wrongful death suit filed Sunday by Rondini's parents, Michael and Cynthia Rondini, charges that Tuscaloosa Sheriff's Department deputies were intentionally dismissive when Rondini reported in July 2015 that she was raped by T.J. Bunn, Jr., one of six defendants named in the suit. It accuses investigator Adam Jones and deputy Joshua Hastings of the Tuscaloosa Sheriff's Department of conducting sloppy investigations. Also named in the suit is Tuscaloosa Sheriff Ronald Abernathy, for allegedly failing to properly train his department in how to handle sexual assault reports.
In addition, the Rondinis are suing Beth Howard, the University of Alabama's Title IX coordinator, who also held that position when their daughter reported she had been raped; and Cara Blakes, who was a graduate student working as a therapist at the school's Women and Gender Resource Center.
All of the defendants "negligently, recklessly, wantonly, and/or wrongfully acted or failed to act in response to Megan's reported sexual assault," the lawsuit alleges. As a result, it says, Megan Rondini suffered "extreme depression, anxiety, PTSD, fear, panic attacks, decline of cognitive functions and general well-being, weight loss, and feelings of worthlessness and hopelessness, all of which directly led to Megan's loss of life."
"Megan was ultimately treated as a crime suspect and her status as a victim of a sex crime was completely disregarded."
W. Ivey Gilmore, Jr., an attorney for Bunn, said in a statement Monday that the accusations against his client in the suit are false.
"It is, perhaps, natural to want to find someone to blame when a young woman takes her life," Gilmore said. "But accusing law enforcement and those who counseled this young woman for her actions is misguided. Unfortunately, bringing this matter before the courts in this civil action will only prolong grief without changing the reality."
No one else named in the suit immediately responded to a request for comment.
The suit, filed by Birmingham-based attorney Leroy Maxwell Jr., seeks an unspecified amount of damages.
Megan Rondini's death came to light in the BuzzFeed News report, which used law enforcement interrogation videos, text messages, and other documentation to show her growing frustration after she told Tuscaloosa law enforcement that she'd been raped after a night out with friends. Rondini accused T.J. Bunn Jr. in the assault, but Bunn said they had consensual sex. Tuscaloosa officers questioned why Rondini didn't kick or hit Bunn and concluded the incident did not meet Alabama's legal requirements for rape. They also questioned Rondini about crimes she had allegedly committed, including taking money and a gun from Bunn's car as she fled his home after the alleged assault. Rondini ultimately dropped the case, left the University of Alabama, and moved back to her native Texas, where she hanged herself in February 2016. Bunn was never charged with a crime.
The article led to outrage in Congress. Last Wednesday, Rep. Ted Poe, a Republican from Texas, described Rondini's case and said "she got the death penalty" after reporting she'd been sexually assaulted. Poe criticized Tuscaloosa investigators, saying they treated Rondini "with disdain and disbelief."
"It's easy to second guess what someone should or should not have done after emotional trauma of sexual assault, but Megan believes she did everything a rape victim is supposed to do," Poe said on the House floor.
The lawsuit says Tuscaloosa officers failed to test Rondini's rape kit, failed to interview witnesses, and failed to record all of the interviews they did conduct. Their behavior "was intentional and due to Megan Rondini's female gender," the suit alleges.

"Megan ultimately was treated as a crime suspect and her status as a victim of a sex crime was completely disregarded," the lawsuit alleges.
"The only conclusive evidence gathered from the investigation was that Megan tested positive for a sexually transmitted disease that she contracted from non-consensual sex with Defendant Bunn," the suit states.
Bunn's family is well-known in the Tuscaloosa area. His father and uncle own S.T. Bunn Construction, which took down its website following the BuzzFeed News story as people online directed outraged readers to their contact page. In a statement released shortly after the story appeared, Bunn's family called the article "an intentional distortion of facts in a tragic case," and said Rondini's family had previously sought to sue "various parties who are the targets of these unfounded accusations."
"It was just like a good ol' boys club in there."
"It is tragic that this young woman took her own life, but defaming an entire city, its leaders, its institutions and a prominent family brings no honor to this tragedy and no justice for anyone," the Bunn family said in its statement.
The University of Alabama has said the BuzzFeed News story "ignored some significant facts," including that it gave Rondini information about services available to her on campus. It also noted that it referred Rondini to another counselor because the first one she met with after the alleged assault knew the Bunn family and recused herself from the case.
However, the Rondini family claims in the lawsuit that the second counselor Rondini was referred to, Cara Blakes, "inexplicably denied Megan counseling services" until she began taking anti-anxiety medication. The lawsuit alleges this was a violation of Rondini's rights under the Americans with Disabilities Act. The suit also says that Beth Howard, the University of Alabama's Title IX coordinator, ignored calls and messages from Rondini's family requesting help for their daughter.
The suit was filed in US District Court in Alabama.
Anna Voremberg, a board member of End Rape on Campus, an advocacy group that has assisted Rondini's parents, accused investigators of appearing more sympathetic to Bunn in videotaped interviews than to Rondini, who was the one reporting a violent crime.
"Why would someone come forward to report any violence at all? It was just like a good ol' boys club in there," Voremberg told BuzzFeed News. "Megan is just one example of many in which law enforcement officers truly fail survivors of sexual violence and their community."
Katie J.M. Baker contributed reporting.