In October 2016, officials at Georgia's Kennesaw State University were considering the fate of a 20-year-old man accused of raping a classmate. A school investigation had already found the man culpable, and his accuser assumed he'd be thrown off campus.
Then an influential state representative, Earl Ehrhart, got wind of the situation.
Within weeks, Ehrhart had written directly to KSU's president, Sam Olens, blasting the case as "made for TV absurdity" and demanding to know why, if cops hadn't pressed charges, the school hadn't exonerated the student in the first place. A month later, the university did just that.
Ehrhart, a 58-year-old Republican from Cobb County, near Atlanta, and a wealthy CEO of a sprawling sports complex, was first elected in 1988. Since then, he has made a name for himself as a lightning rod around social issues. He fought affirmative action for years, tried to pass laws undercutting antidiscrimination ordinances in Atlanta, and declared in 2005 that what "militant homosexuals are seeking is special rights, not equal rights." Lately, Ehrhart's pet project has been changing how colleges deal with sexual assault, out of concern for the treatment of accused students. He tried earlier this year to push through a controversial campus rape bill that he said would have protected "hundreds" of men falsely accused of sexual assault.
"He is using his office and his position to essentially bully the University System of Georgia to see his way."
While Ehrhart's legislation failed, it appears that he was able to achieve many of his goals behind the scenes, and some government ethics experts are alarmed at how the powerful lawmaker has flexed his political muscles. "He is using his office and his position to essentially bully the University System of Georgia to see his way," said Sara Henderson, head of Common Cause Georgia, a nonpartisan watchdog group.
Emails obtained by BuzzFeed News show that Ehrhart suggested he could cut funding from state universities investigating sexual assault allegations and that he told administrators to shut down their systems for adjudicating sexual misconduct. In one case, he said a dean conducting a background check on a prospective student with a past misconduct accusation should be fired.
He has labeled critics "men-haters" and "intolerant snowflakes," and lately, he has even taken on college cheerleaders who refused to stand for the national anthem.
Ehrhart's positions have only helped bolster his national prominence. Four years ago, when he pushed to increase scholarships to schools that discriminate against gay children, Ehrhart explained that constituents have a "real taste for anything that promotes school choice in Georgia." His reputation as a champion for school choice helped him secure a personal meeting with US Education Secretary Betsy DeVos two months after she took office, emails from the White House show.
He has labeled critics "men-haters" and "intolerant snowflakes," and lately, he has even taken on college cheerleaders.
Since then, DeVos has scrapped Obama-era mandates on how colleges handle sexual assault cases — the goal of a lawsuit Ehrhart had filed against the Education Department under the previous administration. As advocates for sexual assault victims fear more rollbacks of Title IX protections under DeVos, they now see Georgia as another front in the war over how to deal with campus rape. Public universities have changed their policies to be more in line with Ehrhart's proposals, and he has said he'll try to revive the controversial legislation on campus rape that failed this year. If he's successful, his critics fear lawmakers in other states will be emboldened by Ehrhart's tactics and emulate them.
To some, Ehrhart is simply acting like a politician. Michael Shires, a public policy professor at Pepperdine University, said elected officials use their influence all the time to steer decisions for constituents. He said it sounds like Ehrhart "was trying to exert pressure with everything he had" when he got involved in individual cases. To others, Ehrhart is crossing an ethical line. "A public official who is acting outside of his or her jurisdiction is abusing their authority, and he does not have jurisdiction over students, or student conduct, or a university rulemaking process," said Hana Callaghan, director of the Government Ethics Program at Santa Clara University's Markkula Center.
In a statement to BuzzFeed News, Ehrhart said his viewpoint is simple: "Young men who are accused of assaulting women should have due process just like every other American citizen. Legally, there is still a presumption of innocence in this country. We can protect that sacred principle while also protecting women who have been assaulted." He characterized his career in the Georgia Assembly as "focused on helping people, protecting families, and helping to build a strong economy for my constituents and the people of the state." And two of his guiding principles, he said, are "Rule of Law" and "Due Process."
At this #MeToo moment, defending students accused of sexual misconduct might seem like a risky platform for a politician, but Ehrhart says he didn't pick the cause — the cause found him. Two years ago, days after Rolling Stone retracted a story about a gang rape at the University of Virginia that turned out to be fabricated, the Atlanta Journal-Constitution ran a feature story about how Georgia universities had punished college students for sexual assault even when criminal prosecutors declined to do so.

"Almost the next day I get a call from a constituent mom, and I met her for breakfast and she was just sobbing," Ehrhart told BuzzFeed News in March. "Her son had been accused, and she had barely made it home from a business trip in time — he attempted suicide. She got him to a hospital in time. Just so you know, that young man is now found not responsible, but it almost ruined his life, and the family and everything." He estimates that since reading that Journal-Constitution story, he's met with five or six mothers in similar situations.
"My advice is to shut down this office and all pending kangaroo courts until my bill passes."
In one example, a parent emailed Ehrhart directly on Jan. 29, concerned that their son was being treated unfairly in a sexual misconduct case at the University of Georgia. Ehrhart, who at the time was pushing legislation to change campus rape investigations, forwarded the message to University of Georgia officials, with a note: "My advice is to shut down this office and all pending kangaroo courts until my bill passes."
Ehrhart intervened in the KSU case at the request of Lisa Wells, the accused student's lawyer. The man had denied raping the woman, basing his defense in part on impotence, police records show. Prosecutors decided in May 2016 there was insufficient evidence of a crime. But a university investigator concluded that an assault had occurred, prompting Wells to write to KSU demanding it take another look at the incident. She copied Ehrhart on her email.
KSU officials agreed to reopen the case, and while they were reviewing it, Ehrhart emailed Olens, the university president, noting the cops' finding that no crime had occurred. "How on earth a University bureaucrat can be allowed to draw a different conclusion ruining someone's life escapes me," he wrote in an email that was first reported by the New York Times Magazine. Olens forwarded the email to KSU Title IX administrators. A few weeks later, they reversed their original decision and cleared the man. Wells said the first investigation of her client was a "witch hunt," and she said that bias by investigators against the man — not Ehrhart's involvement — led to the reversal. Lisa Anderson, an attorney who represented the woman, including through unsuccessful appeals, and who runs Atlanta Women for Equality, disagrees. "Georgia has become the proverbial embodiment of what can go wrong when people abuse power to erode Title IX protections," she said.
"I am doing my job for the taxpayers of Georgia by pointing out abuses," Ehrhart said in his statement.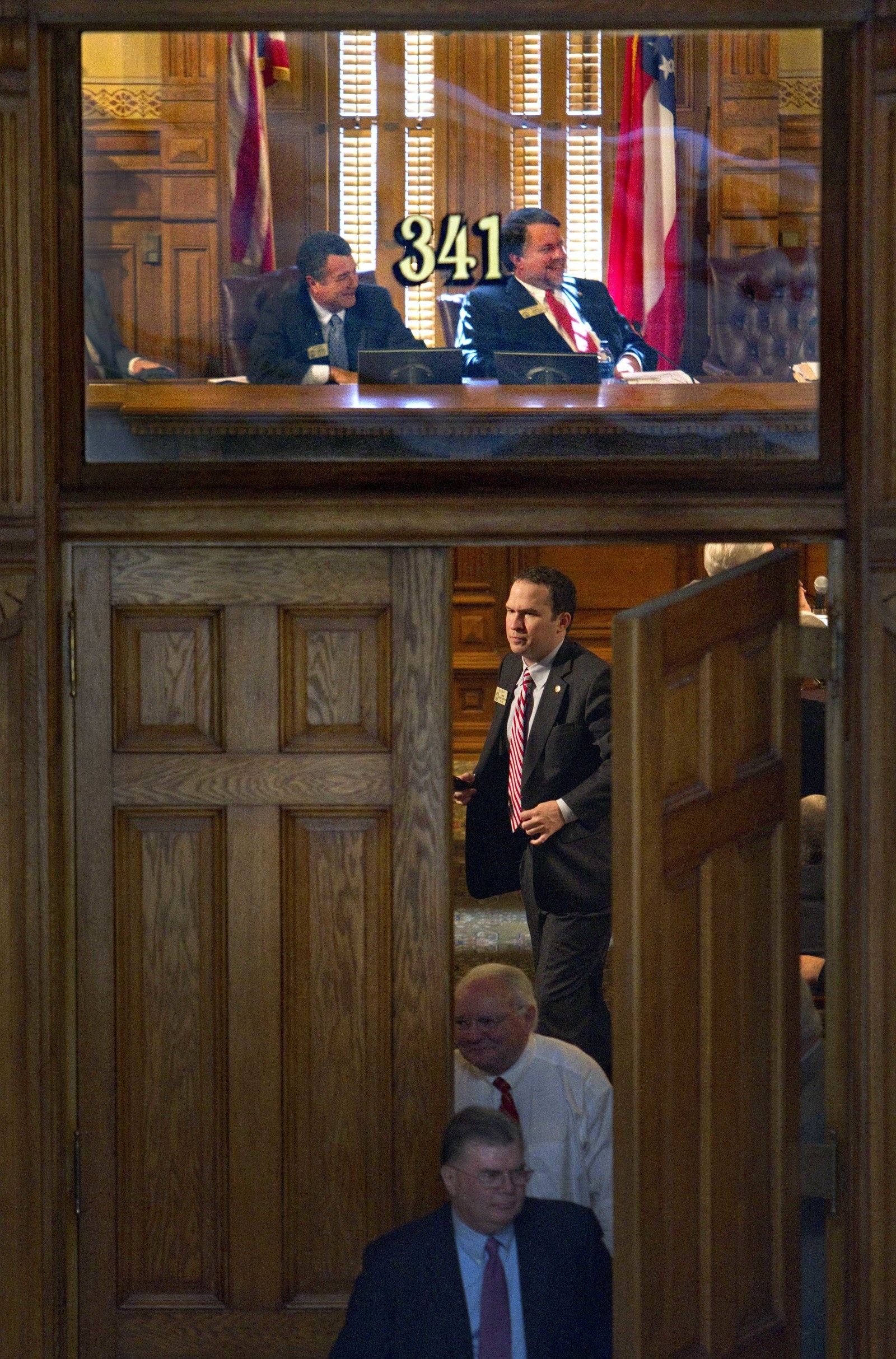 When Ehrhart was getting started in Republican politics in the 1980s, he volunteered to help abused children and was a member of the Cobb County Victim Witness Assistance Unit. He told the Atlanta Journal-Constitution in 1986, "It is time we start worrying about the rights of victims of crime and not the criminals." That sentiment rose to the surface again in the mid-2000s, when Ehrhart opposed efforts to repeal Georgia's so-called Seven Deadly Sins law, which imposed mandatory minimum 10-year prison sentences for juveniles convicted of any one of seven specific felonies, including rape. Critics said the law denied due process to young offenders, most of them black teens who could not afford to hire their own defense attorneys. Ehrhart disagreed.

"I don't like to be considered an angry white male."
"Most of these kids are pretty far gone, and for these seven heinous crimes, I believe the sentences are just compensation to society and the victims," Ehrhart said in 2004, years before he would begin championing the rights of male college students accused of rape.
Throughout his career, Ehrhart has gone on multiyear campaigns to block policies that primarily benefit women, minorities, and the LGBT community. His argument against policies aimed at reversing past discrimination is that people should not be punished for past discrimination committed by their elders.
"I don't like to be considered an angry white male," Ehrhart said in 1995. "I'm just of a generation that is not culpable, not responsible, and refuses to be immolated on the sins of our fathers."
Ehrhart's efforts have made him a hero of men's rights activists.
"For every deadbeat spouse you hear about, there is a gold digger on the other side."
During the 2000s, Ehrhart took up the cause of reforming the state's child support laws so that payments were determined by both parents' incomes. Ehrhart said reform was needed because second wives were getting a raw deal as a result of their husbands having to support first wives.
"For every deadbeat spouse you hear about, there is a gold digger on the other side," Ehrhart said in 2002. Ehrhart, who divorced in 1998 and later remarried, rejected criticism that his campaign was motivated by his personal life, and noted he had custody of his kids. It took several years, but a child support overhaul was eventually passed in 2006.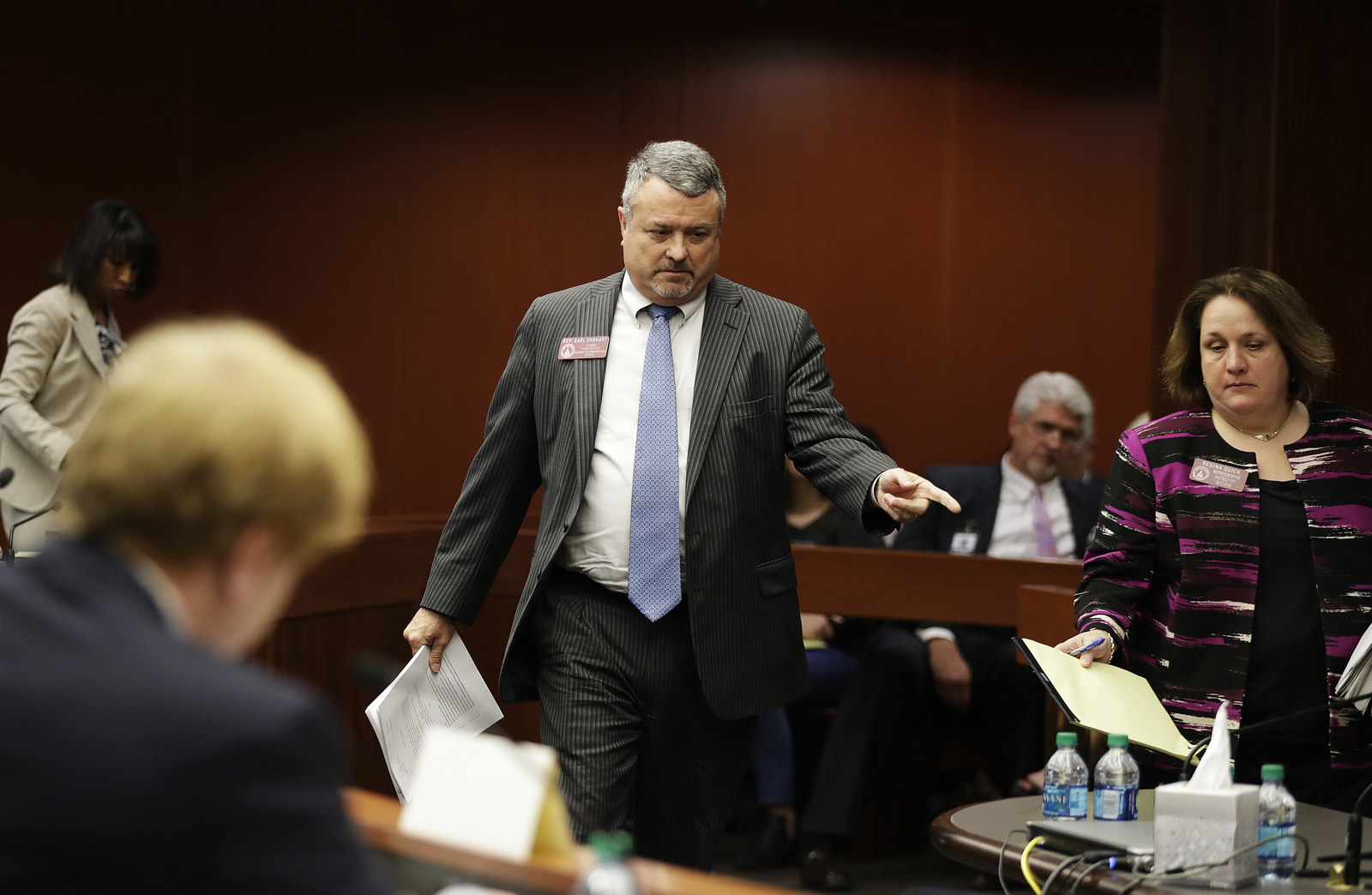 Ehrhart devoted much of this year to fighting to pass House Bill 51, his proposal that originally would have required a college to wait until a criminal investigation and trial was completed before punishing a student accused of sexual assault — a process that can take years. Ehrhart said the legislation would have benefited rape victims by preventing schools from interfering in police work, but in comments to BuzzFeed News last spring, he also said it would shut down campus "kangaroo courts" that led to innocent students being expelled. Ehrhart did not know the actual rate of people lying about rape, but said, "I know from my own experience there is a significant amount of false reporting, I've seen a lot of them, it's not one-off anecdotals." He said he had files from 50 to 60 cases in Georgia alone where a college student was falsely accused.

Ehrhart's biggest weapon in his battle to change the way colleges treat accused students is money.
The bill was celebrated by men's rights activists. The fringe website A Voice for Men said the bill could "become a template for other states' handling of this issue," maybe even for reform at the federal level. HB 51 failed in the spring but in August, the state's university system rolled out a new policy reflecting one of Ehrhart's goals: Sexual assault cases would go through the same judicial process as other student misconduct, removing the Title IX coordinator from having primary oversight of such investigations. Officials confirmed to BuzzFeed News that Ehrhart provided input on the new policy, but said the change came after years of discussions. The new policy raises the burden of proof for expelling an accused student and gives the university system more influence on punishments.
In an email to BuzzFeed News that month, Ehrhart celebrated the change as "responding to the nationwide tragedy of Due Process of law denied."
Ehrhart's biggest weapon in his battle to change the way colleges treat accused students is money: He chairs the committee that controls funding for Georgia's state universities, and he makes no secret of his willingness to wield that baton.
In January 2016, Ehrhart convened a hearing on due process after the Phi Delta Theta fraternity at Georgia Tech complained it had been unfairly punished over allegations that individuals at the frat house had yelled racial slurs at black students. "Hear me clearly," Ehrhart said to three university administrators at the hearing. "You got a bond project? If you don't protect students of this state with due process, don't come looking to us for money."
"You got a bond project? If you don't protect students of this state with due process, don't come looking to us for money."
The next month, Georgia Tech dropped its request for $47 million to renovate its library. Ehrhart later said he'd struck down the request. When Kennesaw State's Zuckerman Museum of Art hosted an "Art AIDS America" exhibit in May 2016 that some lawmakers, including Ehrhart, found distasteful, he reminded the school of the $47 million library request that had died. "I had a lot of success in getting Tech's attention in spending taxpayer money on ridiculous things," he said. (This year, emails show Ehrhart backed Georgia Tech's request for the library money. The state's public universities had started changing their policies on handling campus rape in the intervening months.)
But Ehrhart insisted in a statement he has "never threatened funding to any higher education institution," he's just holding university administrators accountable, which "is a big part of my job as a legislator."
Ehrhart's power is such that he has become the go-to guy for lawyers who want some extra muscle in battles with state schools.
In August 2016, attorney Jonathan Hawkins told Ehrhart about a student who wanted to transfer to Georgia State University but who had a sexual misconduct investigation pending at his previous school. As a result, Georgia State officials had delayed his transfer while it conducted a background check. The student said he was transferring to escape this false accusation and, angry that it would dig into his past, told Georgia State that he no longer wanted to attend the school.
Ehrhart dived right into the dispute, firing off a furious email to GSU lobbyist Julie Kerlin in which he called for the assistant dean involved in the delayed transfer, LaRonda Rena Brewer, to be fired for her "thuggish behavior."
"Tell President [Mark] Becker I am tired of these issues, and I am going to inform all of my decisions on University funding by those who harbor these types of thugs on their campus," Ehrhart wrote. Brewer, who remains on the job, did not respond to requests for comment.
Ehrhart's defenders say his intervention has ensured that some students' rights aren't trampled upon.
Kerlin told Ehrhart that it was standard for the school to do a background check on a transfer student under such circumstances, but the lawmaker pressed the university to apologize to the man and refund his $376 application fee, which it did. "The fact that Earl Ehrhart put all of this in writing, in emails, just shows how emboldened and empowered he feels to do this," Henderson, of Common Cause, told BuzzFeed News.
Ehrhart's defenders say his intervention has ensured that some students' rights aren't trampled upon.
Earlier this year, he intervened on behalf of a Georgia State University law student named Nicholas Nesmith who'd appeared at the Capitol to testify in support of Ehrhart's HB 51. Three years earlier, Nesmith had been found in violation of the school's sexual misconduct policy and served a one-year suspension. The woman who'd accused him of misconduct was also at the Capitol, to oppose HB 51, and feared Nesmith might be there to intimidate her. She alerted Georgia State, prompting the school to call Nesmith in for a meeting to ask whether he was "repeatedly and deliberately" attending events where they were likely to encounter each other. Ari Cohn, a lawyer at the Foundation for Individual Rights in Education, a civil liberties group, complained to GSU administrators for apparently investigating Nesmith. Cohn also alerted Ehrhart, who weighed in with an angry email to the school calling Nesmith's treatment "outrageous." Days later, the university concluded that Nesmith had done nothing wrong.
Cohn said it was a case where Ehrhart had good reason to get involved. It's one thing for a lawmaker to try to get a college student out of trouble for underage drinking, he said, but a far different story when a public university "is flagrantly violating the Constitution."
"When that is occurring, any and all forces should be brought to bear," Cohn told BuzzFeed News.
Ehrhart is known for "inflammatory tactics" in the legislature, as newspapers have described it. He lost his first reelection bid, in 1990, when Republicans said he couldn't be effective because he practiced "a strange brand of alienation politics." He came back in 1992. In 1998, to get people to listen to one of his speeches, Ehrhart tried to get the house speaker to use a rule that allows for the arrest of lawmakers if they don't return to their seats, though the speaker at the time, a Democrat, declined Ehrhart's request.
While Ehrhart did multiple phone interviews in the spring with BuzzFeed News, he proved hard to reach this summer and fall. His business, a 1,400-acre sports and recreation complex geared toward the booming youth sports travel league industry, in Emerson, Georgia, appeared empty when BuzzFeed News dropped by unannounced on a Tuesday afternoon in October. Ehrhart didn't answer his office phone when this reporter called from the parking lot.

The week that BuzzFeed News tried to catch Ehrhart at work, he was busy making calls to Sam Olens, the KSU president, to complain about cheerleaders who had knelt during the national anthem at a Sept. 30 football game, to protest racial injustice. "Sam is coddling them," Ehrhart texted Cobb County Sheriff Neil Warren, according to messages released through records requests.
Ehrhart, Warren, and Warren's wife called Olens to complain about the protest in the days after the game. Olens assured them that the cheerleaders were going to be kept off the field in the future. "He had to be dragged there but with you and I pushing he had no choice," Ehrhart texted Warren. "Thanks for your patriotism my friend."
"Thanks for always standing up too these liberal that hate the USA," Warren told Ehrhart in a text.
Days after the game, Olens approved a change by the school's athletic department to keep cheerleaders off the field until after the anthem, under the guise of "improv[ing] fan experience," according to a University System of Georgia investigation into the situation. School officials insisted the change was logistical and not a result of the kneeling protest, but Olens was accused of caving to political pressure and of ignoring the state attorney general's office, which had said the cheerleaders had a constitutional right to kneel during the anthem.
The new policy was scrapped after just one game amid complaints from students and a local civil rights group.
Students and a local civil rights group protested Olens for keeping the cheerleaders off the field at all, following local newspapers reports about the text messages showing Ehrhart's pressure on the university president. On Dec. 14, Olens announced he would step down as KSU president in February.
Ehrhart was upset when he heard that some KSU faculty held a happy hour to herald the news. Ehrhart had been a backer of Olens' when he was picked for the job last year and had fired off an angry email to a local reporter upon learning of a petition to block Olens' appointment because of his anti-LGBT views. "Seek a safe space you intolerant snowflakes; you are not going to get your way! I will see if we can find a supplier for the 33,000 pacifiers your petition signers are going to need." Ehrhart wrote.
Even though the cheerleader controversy appears to have cost Olens his job, Ehrhart has no regrets about taking up the cause. "I clearly communicated my views as an individual," Ehrhart told BuzzFeed News, "which is my right and which reflected the strong majority of the people in my district. First and foremost, I am elected to represent my constituents." He also said he won't back away from the debate over handling sexual assault on college campuses, saying he'll continue to push for cases to be handled by "law enforcement, not dysfunctional administrative courts in colleges or universities."
"My constituents have supported me for more than 30 years," he said, "and I'm very proud of my record." ●