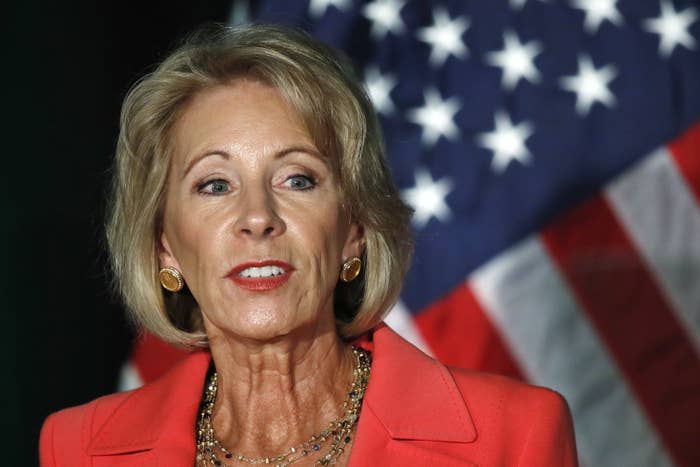 The US Department of Education on Thursday announced it was rethinking a major directive that laid out what schools must do when students report sexual assaults and opening the topic up to public comment as it seeks revisions.
Calling the current process a "failed system," Secretary of Education Betsy DeVos said she will launch a notice-and-comment process "to incorporate the insights of all parties in developing a better way."
"The truth is that the system established by the prior administration has failed too many students. Survivors, victims of a lack of due process, and campus administrators have all told me that the current approach does a disservice to everyone involved," DeVos said.
DeVos had been expected to revamp an Obama-era directive, issued in 2011, that was heralded by victims rights advocates for providing a roadmap for how schools should handle sexual assault investigations and hearings. But the directive increasingly became controversial as defenders of accused students argued that it resulted in unjust findings without due process.

A notice-and-comment process will allow the public to submit comments on schools' handling of sexual assault cases under the gender equity law Title IX. It's a slow process that will give both sides a chance to argue for and against the 2011 directive, but ultimately, DeVos's department has the final say over the regulations.
"The 2011 guidance will be replaced, and in the interim, the Department will make clear to schools how to fulfill their current obligations under Title IX," said Liz Hill, a department spokeswoman. A department official further said there will be a notice of proposed rulemaking and public comment, but there is no timeline yet.

Victims' advocates worry that withdrawing or drastically rewriting the directive would give schools the green light to drag out investigations, deny help to victims, and be less transparent about how they deal with cases. Proponents of the change say it will save students wrongly accused of assault from being expelled unjustly from school.
DeVos said a change will be better for both sides. "There is no way to avoid the devastating reality of campus sexual misconduct: lives have been lost. Lives of victims. And lives of the accused," she said during a speech at George Mason University in Virginia.
"One mother told me each time she opens the door to his bedroom, she doesn't know whether she will find him alive or dead," DeVos said, referring to the mother of one young man accused of assault. "No mother, no parent, no student should be living that reality."
There had been fears by victims' groups that DeVos would withdraw the 2011 directive altogether. Even that, though, would not give schools a free pass to ignore sexual assault reports. Supreme Court precedents and previous Education Department guidance that remains in effect say that schools have to address any incident of sexual harassment that officials know about, including assaults.
Provisions under the Violence Against Women Reauthorization Act also require colleges to implement sexual violence prevention efforts, disclose what recourse is available for victims, and train staff who investigate rape cases. For those reasons — plus the years and dollars schools have spent tweaking sexual misconduct policies and setting up offices to handle these cases in the wake of the 2011 directive — many in the field have said they couldn't imagine many colleges will rush to roll back their policies.
Candice Jackson, a deputy of DeVos who was put in charge of the department's Office for Civil Rights, said she's taken an interest in a report from an American Bar Association committee that examined what are some of the best policies for campus sexual assault cases, sources who met with her told BuzzFeed News. The ABA committee included law professors, victims rights' advocates, defenders of accused students, university administrators, and attorneys. She's also taken a close look at a law review article by civil rights attorney Alexandra Brodsky, which discussed common ground between advocates for victims and accused students.
DeVos's announcement came after months of activists, attorneys, and politicians urging her to keep the existing Title IX guidance in place. On Thursday morning, a couple dozen activists greeted DeVos at George Mason's campus; the day before, they dropped off backpacks filled with over 100,000 written petitions supporting the 2011 guidance at the Education Department. Members of Congress — both Democrat and Republican — also called on DeVos to uphold the Obama-era practices. Groups representing accused students have lobbied on Title IX as well, writing letters and arranging meetings with Jackson.

Victims' rights organization Know Your IX criticized the administration's plan immediately following the announcement. "We firmly believe campus discipline must be procedurally fair to both survivors and accused students – but DeVos and the Trump Administration have given us every indication their goal isn't equality, but helping abusers and rapists avoid accountability," the group said in a statement. "We have no faith that a President who brags about sexually assaulting women is interested in building a system that's fair for survivors."
The Foundation for Individual Rights in Education (FIRE), which has been a vocal critic of the Obama-era policies, welcomed the announcement and expressed hope that DeVos will withdraw the 2011 directive. "This is an important first step," said FIRE's Samantha Harris. "It's certainly a strong signal that the Office for Civil Rights is going to be more of a resource for schools than an adversary."
Politicians also spoke out following Thursday's announcement. "The Obama administration's Department of Education inappropriately used regulatory guidance documents to bully schools and establish significant policy changes for colleges and universities without going through the legal rule-making process," said Sen. James Lankford, a Republican from Oklahoma. "The Department of Education is taking a positive first step in soliciting comments from stakeholders to get a better understanding of ways to better address the problem."

Democratic Sen. Patty Murray of Washington, on the other hand, blasted DeVos's plan for reform and urged her to reconsider. "Secretary DeVos decided today to continue a pattern of undermining survivors' rights, once again showing a clear lack of understanding or empathy for the millions of students who have experienced sexual violence on campus," she said. "Let's be clear: Secretary DeVos just made an open invitation to colleges to once again sweep this national epidemic under the rug."
Murray's fellow Democrat, New York Sen. Kirsten Gillibrand, agreed. "I don't want to see an innocent person punished any more than I want to see a guilty person let off the hook, but Secretary DeVos has shown that she does not take the rights of survivors seriously."

Former Vice President Joe Biden, who announced the Title IX guidance in 2011, called DeVos's plan "a step in the wrong direction," but encouraged students, parents, alumni, and faculty to speak up and "tell this administration that we refuse to go backwards."
Among the 2011 letter's prescriptions, schools must use the preponderance-of-evidence standard when determining a student's guilt or innocence in sexual assault cases. Investigations are supposed to take no more than 60 days, schools must take steps to protect students off campus, and schools cannot defer to police on reports of students accused of assaults.

Before 2011, said one former Education Department official, many colleges had tended not to investigate if a student reported being assaulted off campus by another student.
The preponderance standard, which requires a 51% certainty in determining guilt, has been criticized by civil liberties and professors' groups as being too low when it can lead to someone being kicked out of college.
Additionally, the 2011 directive didn't go through a notice-and-comment process, which would've allowed schools, students, and members of the public to weigh in. As a result, critics charged that the directive was invalid, and sued over its legality.
The department initially defended itself last year against lawsuits challenging the 2011 letter's legality, but this summer, acting OCR head Jackson said in private meetings that she wanted to put the directive through notice-and-comment. Then, in August, the department signaled another change of heart, asking the courts to put the lawsuits on hold for 90 days while officials reviewed the directive. Observers largely saw that as a countdown to an announcement about the directive's future.
DeVos spoke before the campus chapter of the Federalist Society, a conservative legal group to which the Dick and Betsy DeVos Family Foundation donated at least $56,000 between 1999 and 2012, according to tax forms. The DeVos Urban Leadership Initiative, run by her father-in-law, donated at least $345,000 to the Federalist Society between 1998 and 2013.
UPDATE
This story has been updated with reactions to the announcement.
Molly Hensley-Clancy contributed reporting.