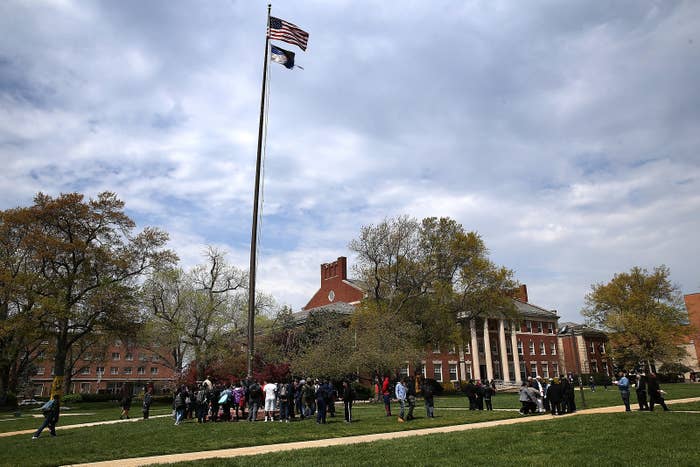 A Howard University student says she was sexually assaulted by a serial predator who's been allowed to remain on campus despite multiple reports filed against him, according to new court documents that seek to expand a federal lawsuit filed by several women against the school.
The allegations were made by a woman identified in the court documents as "Jane Doe 6," who is seeking to join the lawsuit filed against Howard in May by five female students who accused the school of mishandling their reports of sexual assault. Doe 6 says that the man who raped her in April 2016 had previously been accused of sexual violence and reported to Howard University officials. A year after Doe's accusation, school administrators told her that the same man had allegedly attacked a third woman at the Washington, DC, school, according to court papers, which say that the man remains on campus attending classes.
Linda Correia, the lawyer for the women, said she expects the university to oppose the motion. Howard said in a statement late Tuesday night that it would not comment on ongoing litigation, but that the university is "committed to diligently investigating" sexual assault and harassment allegations.
Five women have already accused Howard, the nation's flagship historically black university, of violating Title IX by, among other things, letting weeks or months pass without responding to questions from women who'd reported being raped; failing to secure counseling for assault victims who are suicidal; and delaying investigations of sexual misconduct cases. The university filed a motion to dismiss the lawsuit in July and defended how it handled the women's reports.
Like the other plaintiffs, Doe 6 said Howard's investigation was plagued by delays and poor communication. Though she reported the rape to university officials on April 19, 2016 — less than two weeks after it allegedly occurred on April 6 — she says she was told that the university couldn't investigate until the fall 2016 semester. In September, Howard's Title IX coordinator, Candi Smiley, told Doe 6 that the investigation was "in full swing now," the lawsuit says, and in late October 2016, Smiley told Doe 6 she would be contacted when the investigation finished. Doe 6 was told to contact the university's investigator with any questions about the case, but he didn't respond to her or her mother's calls for months. Nobody ever contacted Doe 6 to let her know if the investigation had finished, she says. To this day, Doe 6 says she does not know if the school found that the man had assaulted her.
In her court filing, Jane Doe 6 accuses university officials, including the investigator handling her case, Marcus Winder, of misleading her about her accused attacker's status. In February, she says Winder told her that "Assailant 5" was no longer on campus, but the woman's friends said he continued practicing with the Howard marching band, and she saw him using his student ID to swipe into the cafeteria. She says she also was assured at one point that the man had been banned from her dorm, only to learn months later that he had not.
In April, Doe 6 says she learned from Howard officials that her alleged assailant had been accused of another rape on campus. "If Howard had investigated her complaint a year earlier, it is possible another student would not have been assaulted," the court documents say.
Doe 6 says she didn't learn the investigation into her case was over until September, when she contacted Howard officials again and Winder told her it had been closed near the end of the fall 2016 term. A provision in the 2013 Violence Against Women Act requires colleges to tell students in writing about the outcome of investigations into reports of sexual assault. Doe 6 says all Winder would tell her is that Assailant 5 had been suspended for the fall 2016 and spring 2017 semesters. Doe 6, though, says in her court documents that she had seen the man on campus during that time and continues to see him at school.
UPDATE
This story has been updated with the statement Howard University released after publication.