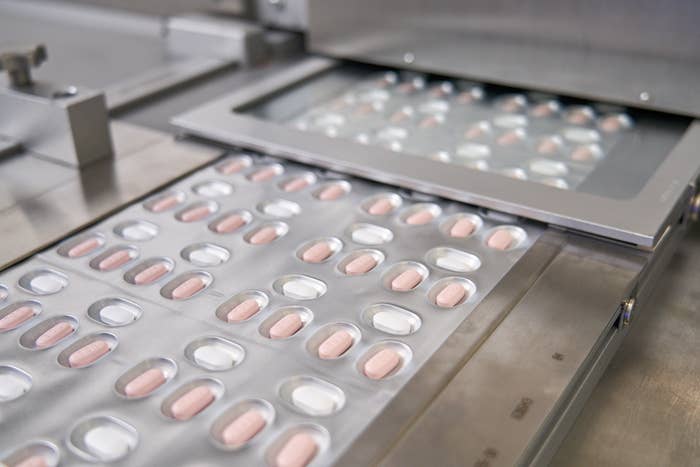 Even though there's now a safe and effective COVID-19 vaccine for people 5 and older, treatments are still desperately needed for the millions of people who continue to get sick.
One major goal has been to have an effective COVID treatment that's as easy as taking a pill. Now, finally, a new oral medication for COVID-19 may be inching closer to emergency use authorization, although experts say it has shortcomings.
On Nov. 30, an FDA advisory panel voted 13–10 to give Merck an emergency use authorization for a COVID pill called molnupiravir. (A second antiviral pill, Paxlovid, will go before the FDA for evaluation soon.)
The panel's narrow vote of approval reflected their concern about molnupiravir's relatively modest benefit and potential safety issues.
Based on animal studies, molnupiravir isn't recommended for people who are pregnant because there is a potential risk of fetal malformations, particularly of the bones and cartilage.
If the FDA follows the advice of its panel, which it usually does, it means doctors may be able to prescribe the drug.
The panel recommended it for non-pregnant adults with mild-to-moderate COVID symptoms who are at high risk of hospitalization or death.
"This was clearly a very difficult decision," said Dr. Michael Green, a professor of pediatrics, surgery, and clinical and translational science at the University of Pittsburgh School of Medicine.
Green, who voted for emergency use authorization, said he might consider using the drug in unvaccinated COVID patients with multiple risk factors.
"Should an alternative oral agent become available that had a better safety profile and equal to or better efficacy profile, the agency might reconsider its authorization," he said.
Pfizer has also submitted a request to the FDA for emergency use authorization for its own antiviral pill, marketed under the brand name Paxlovid, which may become available in the near future.
Clinical trials for the two medications purport to show a 30% to 89% reduction in the risk of being hospitalized or dying due to COVID if taken soon after symptoms start.
These pills could help protect against hospitalization and death due to the respiratory virus, if the real-world results are as good as the clinical trials (they aren't always).
However, experts agree that these medications should not take the place of vaccination. Vaccines are a highly safe and effective way for children 5 and older and adults, including people who are pregnant, to avoid infections in the first place.
More than 3 billion people around the world have now been safely vaccinated, while oral antivirals continue to be studied.
Since the start of the pandemic, experts have been desperately searching for effective treatments for COVID. Some that initially looked promising, or at least got a lot of attention, have turned out to be failures (see ivermectin and hydroxychloroquine).
Others — like the currently available monoclonal antibody treatments and the antiviral drug remdesivir (sold as Veklury) — are effective under specific circumstances. However, they have to be given via intravenous infusion or injection by a healthcare worker, usually in a hospital.
"They were not things that were widely available to the general public," said Dr. Tim Sheahan, a virologist at the University of North Carolina Gillings School of Global Public Health who did preclinical work on both molnupiravir and remdesivir. "So I think that's why these oral antivirals are getting a lot of attention."
The antiviral medications will be available by prescription at your local pharmacy, and "everybody knows how to swallow a pill," he said.
Here's what else you should know about these new treatments for COVID.
They look effective in clinical trials.
Both antiviral pills look promising when it comes to fighting COVID. Although medications don't always perform as well in the real world as they do in clinical trials, both studies were stopped early because the benefit seemed clear.
A clinical trial of molnupiravir that was supposed to include 1,500 people was stopped early because there was a 50% reduction in the risk of hospitalization or death in people taking the drug versus placebo. However, additional analysis of the second half of the trial found that the efficacy was actually lower, or about a 30% risk reduction.
Overall, about 9.7% of people taking the placebo were hospitalized or died according to a full analysis of the results, compared with 6.8% of those taking molnupiravir.
There was one death in the molnupiravir group (less than 1% of the group), and nine deaths in the placebo group (about 1.3% of the group).
In a clinical trial of Paxlovid, the drug reduced the risk of hospitalization or death by 89%. In that study, about 3,000 people with mild to moderate symptoms and at least one risk factor for developing severe illness were supposed to take the drug or a placebo, but the study was halted early because it was so clearly effective.
Overall, there were no deaths in the treatment group and 10 deaths in the placebo group.
The drugs work in different ways.
There are three basic ways drugs can interfere with the ability of the SARS-CoV-2 virus to hijack the cells in your body and churn out more of the virus.
Molnupirivir and remdesivir are polymerase or RNA replicase inhibitors, which stop the cell from creating viral genetic code, Sheahan said. ​​Molnupiravir causes errors in the viral genome that impair its ability to replicate.
"If you stop the virus from making viral RNA, it's really bad for the virus," Sheahan said. "It's an essential part of virus replication — if you can't make new RNA, you can't make offspring or progeny virus."
Paxlovid is a combination of two protease inhibitors, a new one called PF-07321332, combined with an older protease inhibitor called ritonavir. They interrupt protease, an enzyme important for viral replication. "Protease inhibitors stop the replication machine from even forming," Sheahan said.
The third type of drug, entry inhibitors, stops the virus from attaching to cells in your body in the first place, similar to the way monoclonal antibodies block the virus, Sheahan said.
"I think the other two classes of drugs will have a bigger impact than an entry inhibitor, but putting them all together, maybe that would be fine," he said.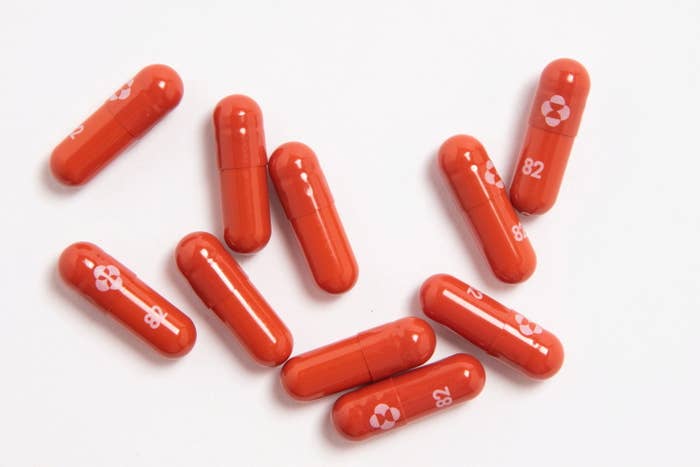 It's a lot of pills, taken over a five-day period.
Although both drugs come in pill form, molnupiravir is a capsule, and Paxlovid doses include two different tablets. (What's the difference? In general, tablets can be cut in half, capsules cannot.)
For molnupiravir, the clinical trial involved taking four capsules twice a day for five days, or a total of 40 capsules.
In the clinical trial of Paxlovid, patients took the drug every 12 hours for five days. That included four tablets of PF-07321332 and two ritonavir tablets daily, for a total of 30 pills.
Ritonavir is taken "at a low dose to help slow the metabolism, or breakdown, of PF-07321332 in order for it to remain active in the body for longer periods of time at higher concentrations to help combat the virus," a Pfizer spokesperson said in an email.
You take them within three to five days of the onset of symptoms.
Like other antivirals such as Tamiflu for influenza, the sooner you start taking them the more effective they will be in preventing you from getting seriously ill.
"These kinds of drugs do their best work if taken as early as possible after the onset of symptoms," Sheahan said.
In both clinical trials, the volunteers had mild to moderate COVID symptoms, tested positive for the virus, and had at least one risk factor that increased their chance of developing severe symptoms that could lead to hospitalization or death.
For example, in the clinical trial of molnupiravir, about 13% of people were over age 60, 76% had obesity, 13% had diabetes, and 10% had a serious heart condition.
The volunteers started taking the medication within three to five days of when symptoms started. None of the study participants were in the hospital or severely ill when they started taking the drugs.
"Their ability to shorten the duration of your disease and prevent you from going to the hospital, and prevent you from dying, will decrease over time," Sheahan said.
Molnupiravir is not recommended for people who are pregnant
Animal studies suggest the drug may be harmful to developing fetuses, including having an impact on bone and cartilage growth. It's possible the drug could also affect bone growth in children.
While research is ongoing, for now the FDA will likely only give an emergency use authorization for people who are 18 or older.
The drug "may cause fetal harm when administered to pregnant individuals," said Mark Seaton, a research officer in pharmacology and toxicology for infectious diseases at the FDA.
People with mild to moderate COVID who can become pregnant may need to use a reliable form of birth control while taking the drug and for four days after the final dose.
To make sure there's no chance of fetal exposure, a pregnancy test may also be recommended before starting the treatment.
That said, the FDA may leave it open to doctors to make a decision to treat some pregnant people with COVID, for example, if there are cases where the benefits of molnupiravir seem to outweigh the risk.
"For pregnancy, I would only use it if there is no alternative therapy available and I don't think I would use it in the first trimester," Green said.
The side effects seem to be relatively low.
In both clinical trials, the side effects in the treatment group were similar to those in the placebo group.
The FDA still has to make a decision as to who should take the pills and when. It's a good idea to follow those recommendations when they are made. For example, they might be approved only if you test positive for COVID and are at high risk of complications. In that case, you should avoid taking them "just in case" or as a preventive measure.
For any drug, it's important to make sure any benefits outweigh the risks, said Dr. Waleed Javaid, an epidemiologist and director of Infection Prevention and Control at Mount Sinai Downtown.
They should be widely available once approved.
If the drugs get the go-ahead from the FDA, the companies say they will produce millions of doses.
Merck announced it is making 10 million courses of the drug by the end of 2021, and the US has already agreed to buy 3.1 million of them for about $2.2 billion.
"The US government also has the ability to purchase more than 2 million additional courses through further options that remain in the contract," according to a Merck spokesperson.
The US plans to buy 10 million courses of Paxlovid from Pfizer at a cost of $5.3 billion, according to a deal announced in November.
While it's not yet clear how much the drugs will cost to the average consumer (or their health insurance plan, if they have one), the US government is paying around $700 per course for molnupiravir, and $530 per course for Paxlovid.
A Merck spokesperson said that in the US, "the government will make molnupiravir available for free to patients, and we believe it will be available at little to no cost for most other countries that have a supply agreement with our company."
Merck signed an agreement in October with a nonprofit that would allow companies in more than 100 countries, mostly in Asia and Africa, to license molnupiravir. In April, the company signed licensing agreements with manufacturers in India to produce generic molnupiravir.
Pfizer has struck a similar deal, allowing a United Nations–backed nonprofit to sublicense the drug, making it available in 95 countries.
That means millions of people in low- or middle-income countries may be able to get the drugs at a much lower cost.
Some day, a cocktail of drugs might be used to fight COVID.
People with other viral infections like HIV and hepatitis C are treated with a variety of antiviral medications, Sheahan said.
Having multiple drugs that use different mechanisms to stop SARS-CoV-2 could be useful in that way, although much more research is needed to demonstrate that that is true.
"Two drugs that act in different ways if used together may not only be additive but it could be synergistic in its ability to diminish replication, but it also will create an environment that's way less likely to generate resistance than monotherapy," Sheahan said.
You shouldn't skip vaccines because these are available — seriously.
All the experts we talked to were in strong agreement. These pills are not an excuse to skip vaccinations.
"Although antivirals are promising, we must be sure to get our population vaccinated," Fauci, director of the National Institute of Allergy and Infectious Diseases, said at a press briefing in November. "Antivirals, as good as they are, are not our first line of defense against COVID-19."
While a reduction in the risk of hospitalization is good, the way you get a 100% decrease in the risk of hospitalization is to not get infected in the first place, Fauci said.
"Drugs like these are very encouraging, they are very helpful, but these will not be the answer," Javaid said. "Get vaccinated, that's the answer."