A 15-year-old girl killed herself after being plagued by rumors that an ex-boyfriend had posted intimate photos of her on social media and incessant bullying from classmates about her hair — and then a photo of her dead body was leaked to a popular messaging app.
Karina Saifer Oliveira, who lived in Brazil, seemed like a typical teenager. Her parents said she was smart and wanted to study law. They said they had no idea that she was thinking of suicide.
"I wouldn't wish this on any mother," Karina's mother, Angela Saifer, 46, said. "We don't know what was going to happen in our lives. If I'd known..."
The last contact Saifer had with her daughter was a WhatsApp message in the early afternoon of Nov. 7 — the same day she killed herself — asking if it would be all right to go out to work on something for school. That afternoon, she had lunch with her stepfather. Her mother said that aside from being a "little worried" that Karina hadn't replied to her last message, she didn't sense that anything was out of the ordinary.
"I asked where she was and she didn't answer after that. Then I got a little worried, but I thought she'd gone out," Saifer said.
When her mother got home from her job at a sugar factory, she found her daughter's body on the back porch.
"Her cell phone was on her bed," Saifer said. "I called, 'Karina!' She didn't answer. I saw the back door was open. I left my backpack on the table. By the time I got to the back [where the porch is], I'd come upon the scene."
Karina was in her first year of high school in an area roughly 500 miles from São Paulo and was living through a year of torment, according to her family.
When she was 14, Karina had a sexual relationship with a 17-year-old guy. There'd been gossip that he'd spread intimate photos of her around, like a trophy. Police are looking into whether or not the photos ever actually existed.

The story spread quickly throughout the city of Nova Andradina, which has only 50,000 residents. Her school has about 900 students.
"Two months ago, she came to talk to me, saying that she was feeling like a trashy person because this had happened to her. I said it didn't have anything to do with her," Karina's father, Aparecido Oliveira, 47, said. "I only found out what had happened after the guy was no longer living in our town."
Karina, who was biracial, was also being harassed by other students who teased her about her appearance, especially her curly hair. She used to straighten it.
"She didn't like her hair because people kept criticizing her about it. That's racism," her father, who worked as a security guard at her school, said.
It wasn't until after she died that her parents realized the extent of the bullying.
"She was really tormented at school," her father said. "After she died, we saw messages from students on her WhatsApp, hateful ones, from students teasing her about her hair because it was half-afro, because she used a hair straightener. They'd been sending them for over a year."
Although racial discrimination is a crime punishable by imprisonment, racism is deeply rooted in Brazilian society. Bullying is also a large problem in the country. Just last month a 14-year-old private school student who claimed to be the victim of bullying fatally shot two classmates.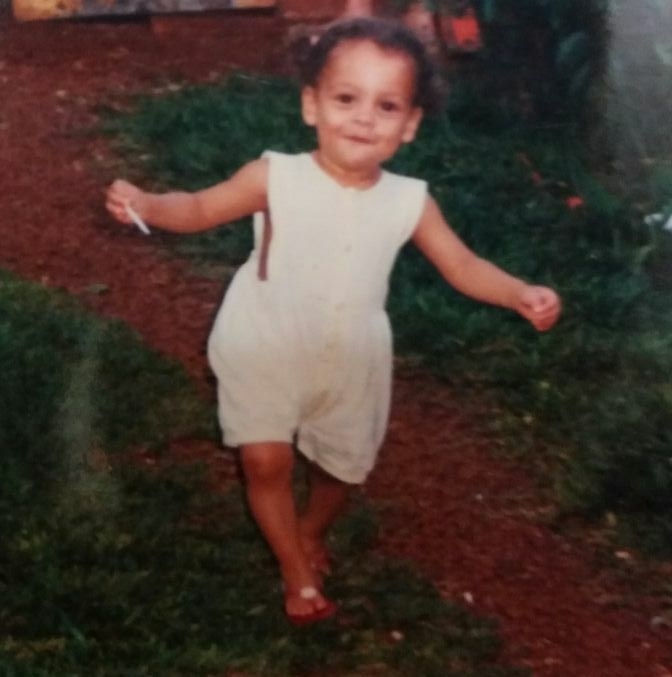 The principal, Acácio Sampaio, said that the school was aware that Karina seemed sad and "had a distant look," but didn't know that she was being bullied.
"We didn't know what was going on. The problem with bullying is the silence," Sampaio said.
It wasn't until after a student came forward a couple of weeks before Karina killed herself and said that she had tried taking poison that the school intervened.
"We called her in and she opened up, talked about the bullying, the problems. We called her father, who was on vacation. We spoke. She didn't feel good about her hair. We didn't identify who was doing the bullying, but we've spoken with all the students," Sampaio said.
Karina's father said that he had been planning to move with her to another city.
Her mother, however, said that her daughter hadn't shown any obvious signs of what was going on in her life.
"She's always been very sweet. Lately, she'd sit on my lap, kicking her legs to the side, and just run her hands through my hair," said Saifer. "I asked if anything was going on. And she would say no. 'I'm just giving you a hug,' she'd say. I didn't know anything was happening."
As is turns out, Karina's story didn't end with her suicide. After her death, one her sisters received a photo of the teenager's corpse in a WhatsApp group. The photo was taken at the scene of the suicide.

"The only ones who went in [the house] were the crime scene expert and the police. I keep asking myself who could have leaked those photos. No strangers went in there," Karina's mother said.
The family filed a complaint about the leaked images with the Nova Andradina Police Department, which is investigating the teenager's death. Police commissioner Luiz Quirino Antunes Gago said the department would determine if there was a break in procedural confidentiality, but denied that the leak was made by the police. BuzzFeed News couldn't locate the crime scene expert who worked on the case.
The commissioner added that in the coming days, an autopsy report should confirm the manner of Karina's death. However, he said, investigations into her father's allegations of bullying have little chance of any legal outcome.
"There even exists a crime in the penal code, about instigating suicide, but it would be a direct-cause type of thing. In the case of bullying, there is a symbolic effect regarding suicide, but it doesn't speak directly to the person [killing herself]," the commissioner said.
In recent weeks, Karina's school was still displaying "Yellow September" advisory signs regarding Suicide Prevention Month. School principal Acácio says the school has made efforts to talk to the students about bullying and grief following Karina's death.
Karina's 32 classmates will take a class with a psychologist to talk about grief and bullying. The principal and school supervisors already had what Acácio considered "sorrowful conversations," with the students, in which students talked about how they could have helped their classmate.
"The students were left with a sense of impotence," said Acácio. "We've also been talking about the photos of her death, to not share them, because it's a crime and it makes the family suffer even more."
This post was translated from Portuguese.