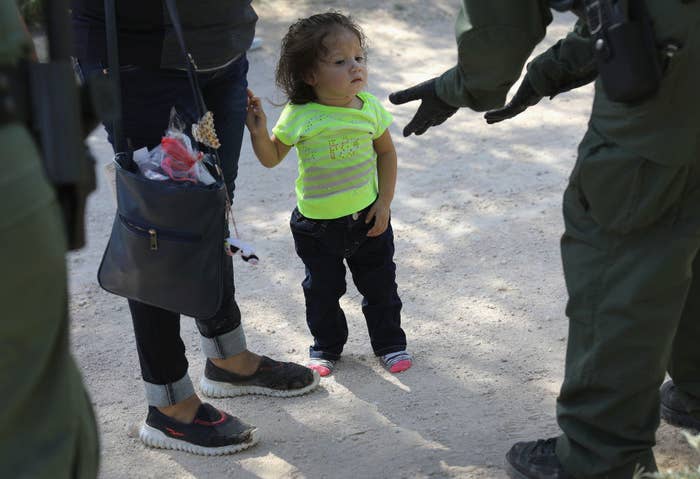 US Rep. Joaquin Castro recalled being haunted when he walked into an "infant's room" at Casa Presidente, a south Texas facility housing children separated from their families at the border, on Monday.
The youngest of the four children in the room was 8-month-old Roger, who had been in the shelter in Brownsville — located right on the US–Mexico border — for more than a month. Leah, a 1-year-old girl who had been separated from her mother and grandmother at the border, was also there.
"It's haunting because you walk into a room with several babies, and their parents are nowhere to be found," Castro, a Democrat from Texas, told BuzzFeed News on Wednesday. "And being a parent of a 2-year-old and a 4-year-old, I know how devastating that must be for the child and the parent."
Casa Presidente houses children from the ages of "0 to 12," Castro said. The kids were made to wake up at 6 a.m. on weekdays and 7 a.m. on weekends.
"They have a very regimented daily routine. It's not a military school, so that's kind of odd," he added.
A lot of the children were dressed in the same kind of clothes and shoes that were bought in bulk, Castro said, and some of the infants were wearing the same patterned shirt. The walls of the "spartan" shelter were brightened up with children's decorations.

Castro recalled seeing rows and rows of phones for children to communicate with their families, but no one was using them.
Three young women were caring for the infants, most of whom were boys. Castro said he recalled seeing only one or two girls at the shelter, which did not have the cages that children were kept in at immigration processing centers.
"It was just heartbreaking. They look at you with big eyes," US Rep. Ben Ray Luján, a Democrat from New Mexico who was part of the group of lawmakers visiting Casa Presidente, told San Antonio Express-News.
The Trump's administration's "zero tolerance" policy for migrants crossing the border illegally has resulted in more than 2,300 children being separated from their families since May. On Wednesday, Trump signed a hurriedly drafted executive order addressing the issue, but it was not immediately clear what it will do to halt border separations in the short-term. Also, already-separated families will not be reunited.
Among these separated children are babies, toddlers, and children below the age of 13, who have been taken away from their parents and placed in what the administration has referred to as "tender age" shelters.
However, there is confusion among federal agencies about how to define "tender age" children. During a press briefing on Tuesday, a Customs and Border Patrol official said it included children under the age of five, while a Department of Health and Human Services official defined it as children under the age of 13. A CBP spokesperson later confirmed their definition to BuzzFeed News, but did not address the confusion. HHS did not respond to a request for comment.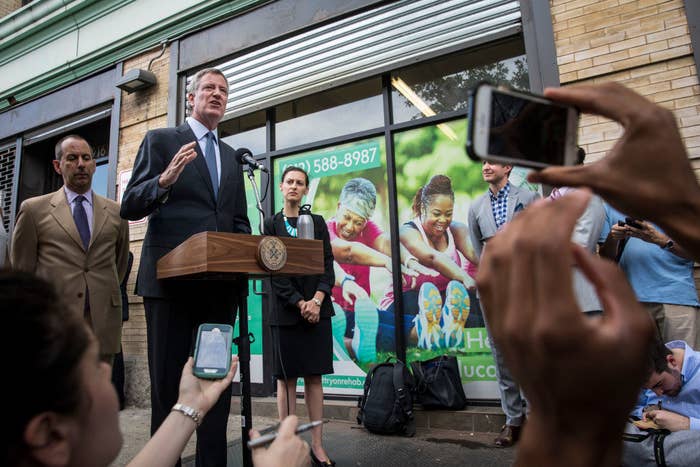 On Wednesday, New York City Mayor Bill de Blasio said that there was a day facility — which means the children have been placed in foster homes — in East Harlem caring for 239 children who had been separated from their parents at the border under the zero tolerance policy. The youngest was 9 months old.
"We're talking about children who literally cannot even communicate and don't have the ability to be in touch with their families," de Blasio said.
More than 350 children separated from their families at the border have been sent to New York City since the administration enforced its zero tolerance policy in May, de Blasio added.
Many of the children at the Cayuga Centers in East Harlem had conditions such as lice, chickenpox, and bed bugs because of their prior stays in detention facilities, de Blasio said.
He said that the staff caring for the children had made it clear that this was a "traumatic process" for the children who were suffering and that they needed mental health support.
A 9-year-old boy from Honduras named Eddie was separated from his mother at the border and was sent 2,000 miles on a bus to the shelter in New York City, de Blasio said, adding, "He does not know when he's going to see his mother again."
A classroom of 40 children were being taught by three teachers who were "compassionate and warm and trying to work with the kids as best they could under adverse conditions," de Blasio said.
Casa Presidente, along with Casa Padre — another shelter in Brownsville, Texas, that houses children separated from their families — is run by Southwest Key, a nonprofit that operates 26 such shelters for immigrant children in Texas, Arizona, and California.
There are a total of three known "tender age" facilities in South Texas, the Associated Press reported. But Southwest Key is now planning to open a fourth shelter in Houston, a move opposed by Mayor Sylvester Turner, who said he asked the state not to license the facility.
But in an interview with Eyewitness News before the meeting with Turner on Tuesday, Southwest Key CEO Juan Sanchez said, "Someone's got to take care of these kids."
Castro, who also met with Sanchez, said that he was told the Casa Presidente facility was going to have a "massive expansion."
A Southwest Key spokesperson declined to answer a list of questions from BuzzFeed News about the tender age facilities, citing the "safety and security of the children we serve." She added that "with the increased attention our programs have received, we have had to increase security in order to protect the privacy and safety of our staff and children."
Brownsville Mayor Tony Martinez said he only found out that the Casa Presidente facility was housing minors separated from their families two weeks ago.
"It's a confined space. It's a space where you have to go through security to be able to walk into the facility," he said, adding it's not a summer camp, as some conservative commentators described.
Lawmakers and officials who have visited the facilities in Texas and New York said that the children appear to be well cared for and praised the staff. Still, they said, there is little doubt about the devastating impact it will have on infants and kids who have been taken away from their parents.
"I think the kids in there are going to be psychologically damaged for a while at least," Castro said. "It's beside the point how well the staff tries to make them feel cared for. That separation is devastating to them."
Dr. Colleen Kraft, the president of the American Academy of Pediatrics, told BuzzFeed News on Wednesday that she had visited a tender age facility run by Southwest Key in Texas in April, before the administration enforced the zero tolerance policy.
She said the shelter had a "homey" feel to it with beds, cribs, a playing mat, crayons, toys, and books. But when she visited the "toddler room" — expecting a group of rambunctious and loud kids — it was quiet except for one 18-month-old girl who was "wailing and crying and sobbing."

"She wanted her mother and we couldn't give her that," Kraft said. She said that the toddlers in the shelter were unnaturally quiet and looked at her like they were scared.
At the time of her visit, she said, the shelter housed 60 children, 15 of whom were infants and toddlers.

"You can have the best toys, the best food, and the best staff," Kraft said, "but it's not going to make up for not having a parent."