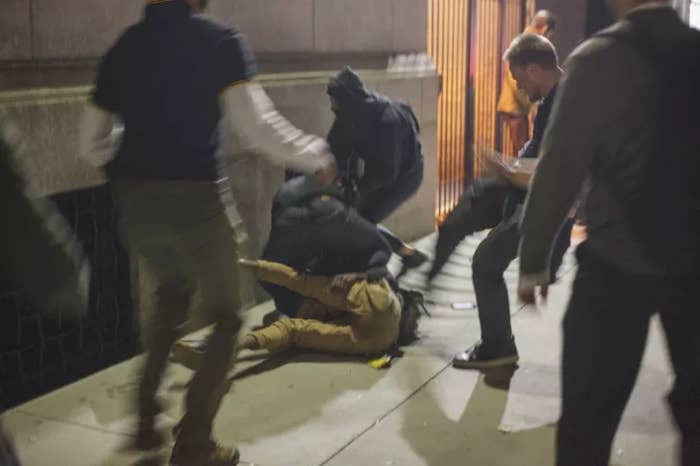 A brutal fight between a far-right men's organization and far-left protesters broke out on Manhattan's streets last weekend, serving as a flashpoint for an increasingly polarized nation and as a major point of criticism for the New York Police Department and its officers.
Using three videos of the scene and photos released by police of the incident, BuzzFeed News broke down the circumstances that led to the fight, the confrontation itself, and the immediate aftermath of the fight.

The videos show the brawl — outside the Metropolitan Republican Club after a speech by Proud Boys founder Gavin McInnes on Friday, Oct. 12 — started when a left-wing protester threw a bottle at a group of Proud Boys, who describe themselves as "Western chauvinists" and have frequently aligned themselves with avowed neo-Nazis.
Videos then show Proud Boys beating the protesters. When police arrive, the Proud Boys were able to walk away, sparking outrage about whether they should have been arrested or at least questioned.

The footage and images took off on social media, and on Monday, Oct. 15, police said they planned to charge at least nine Proud Boys and two protesters in the fight and released a series of photos of several "persons of interest" without identifying them by name.
As of Thursday, Oct. 25, six Proud Boys have been arrested and charged. David Kuriakose, 35, from Old Westbury, New York, Irvin Antillon, 41, from Queens, New York, and Douglas Lennan, 40, from Northport, New York, were all charged with riot and assault. A third man, Maxwell Hare, 26, from Harrisburg, Pennsylvania, was arrested and charged with gang assault, assault, riot, and criminal possession of a weapon.

Last week, Geoffrey Young, 38, of New City, New York, was arrested at his home Thursday night on charges of riot and attempted assault. Another Proud Boys member, John Kinsman, was charged with attempted gang assault, riot, and criminal possession of a weapon on Friday, an NYPD official said. He was released without bail.
The Oct. 12 confrontation was captured on three videos.
One video was shot by freelance reporter Sandi Bachom.
Another angle of the fight was captured in a livestream by a man who identified himself as Chris Wright, a conservative who was with the Proud Boys.
All of the people in the below images have been identified by the NYPD either by name or as persons of interest.
The confrontation began after the attendees at McInnes's event — including many Proud Boys members — left the club and walked down the street together. Many of them were dressed in their signature uniform of black-and-yellow Fred Perry polo shirts and red MAGA hats.

Kinsman, wearing a red MAGA hat, walked out of the club smoking a cigarette and waved to protesters standing outside. He was followed by an individual sought by police wearing a red MAGA hat backward and holding a cigarette. Another member — wearing a black hat and glasses and with tattooed arms — followed behind, holding a cigarette.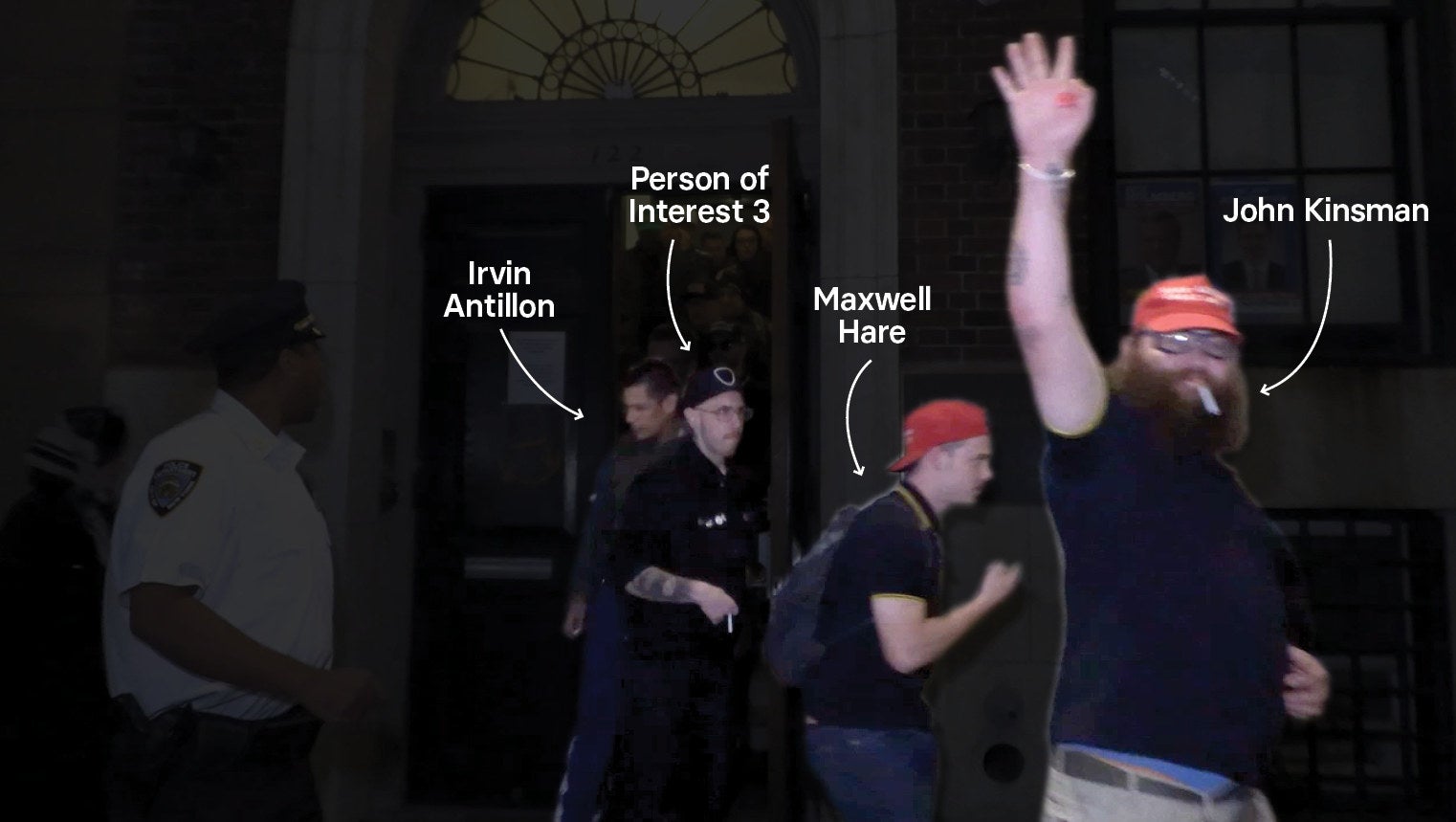 Irvin Antillon — wearing a green jacket and holding a cigarette in his hands — also exited the club. He was later seen punching a leftist protester.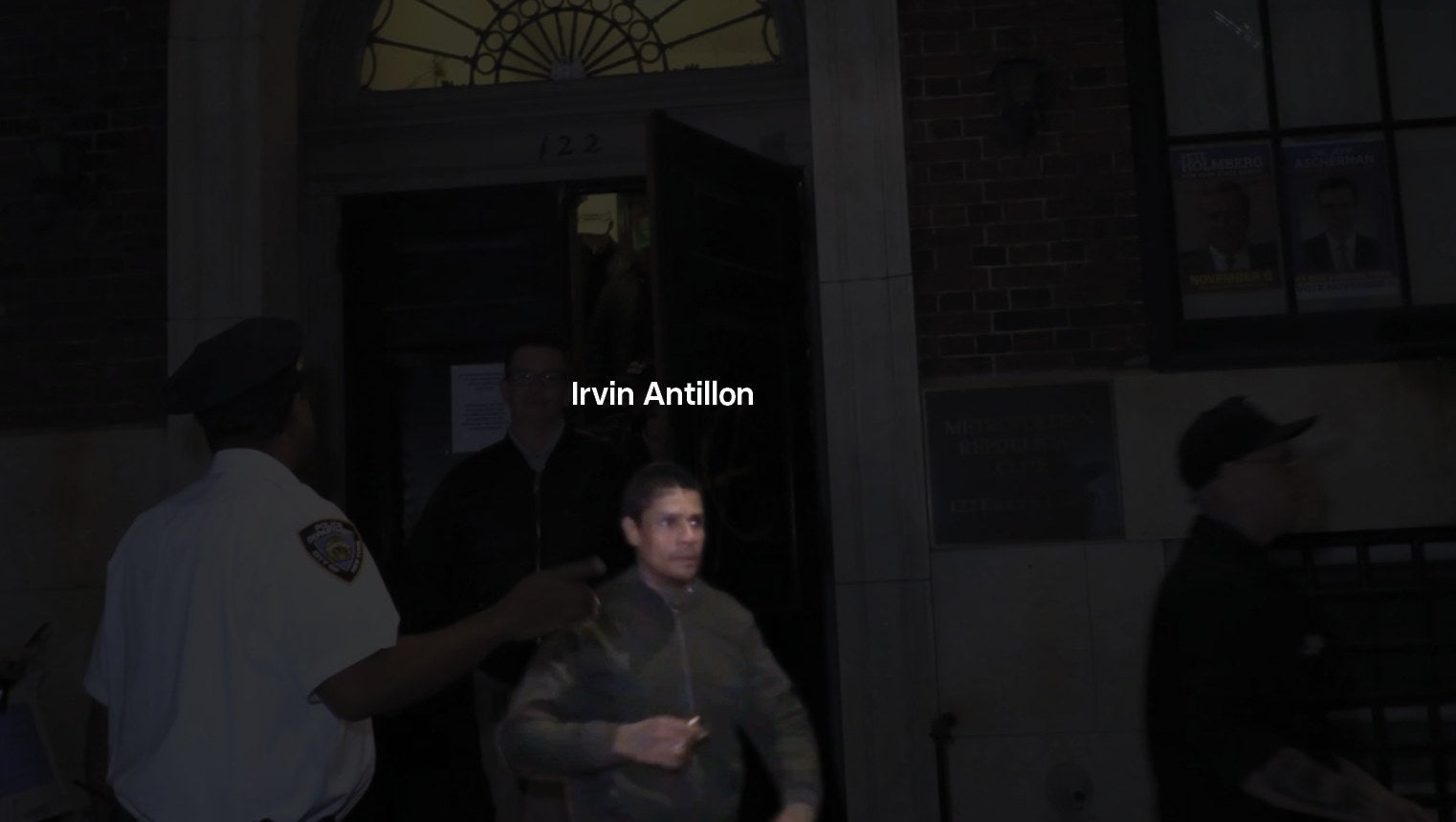 A Proud Boys member wearing sunglasses and a black MAGA hat walked out of the club. He was later seen punching a protester.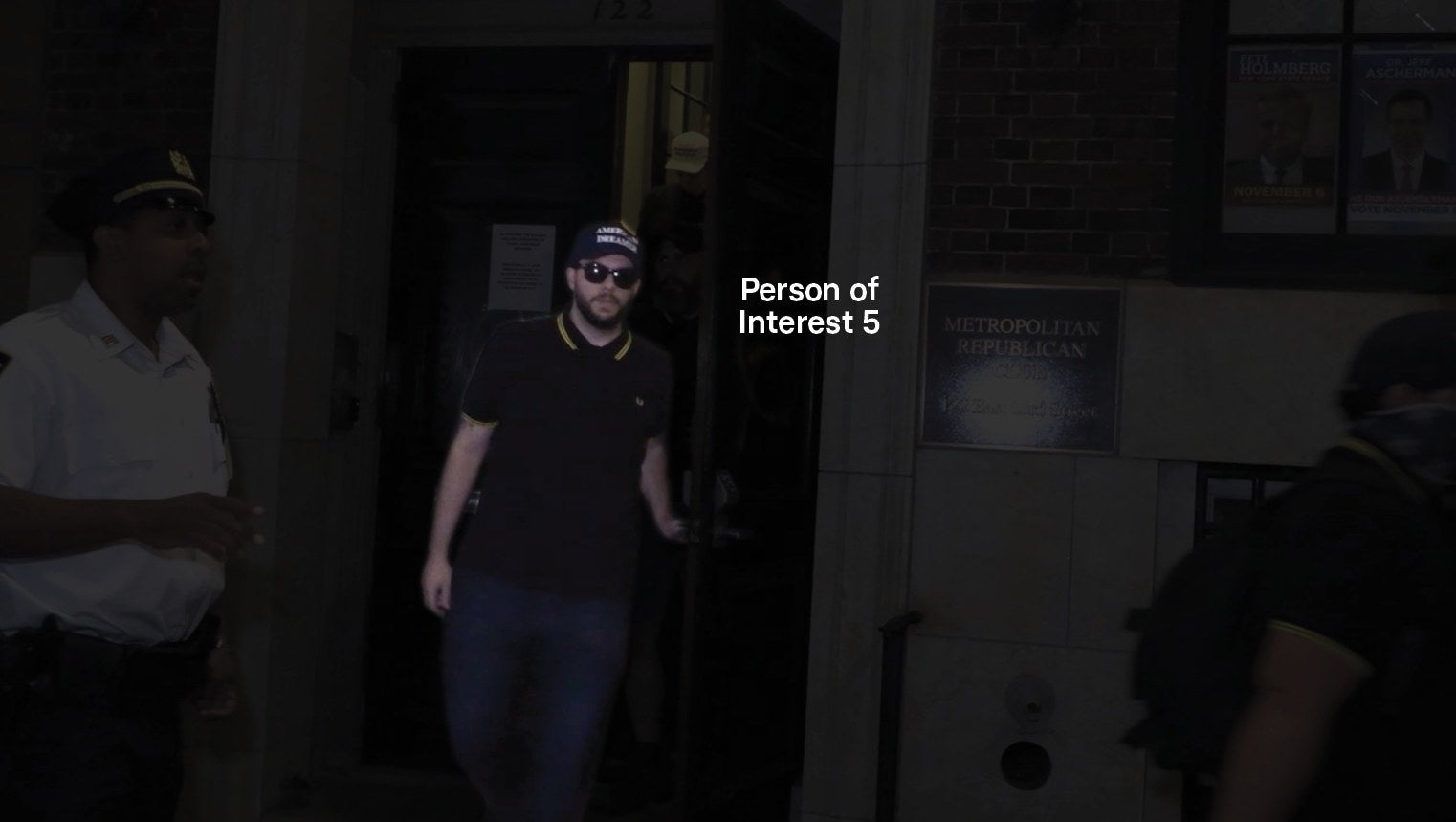 A man wearing a green jacket and a black headband walked out of the club smiling. He was seen kicking a protester during the confrontation.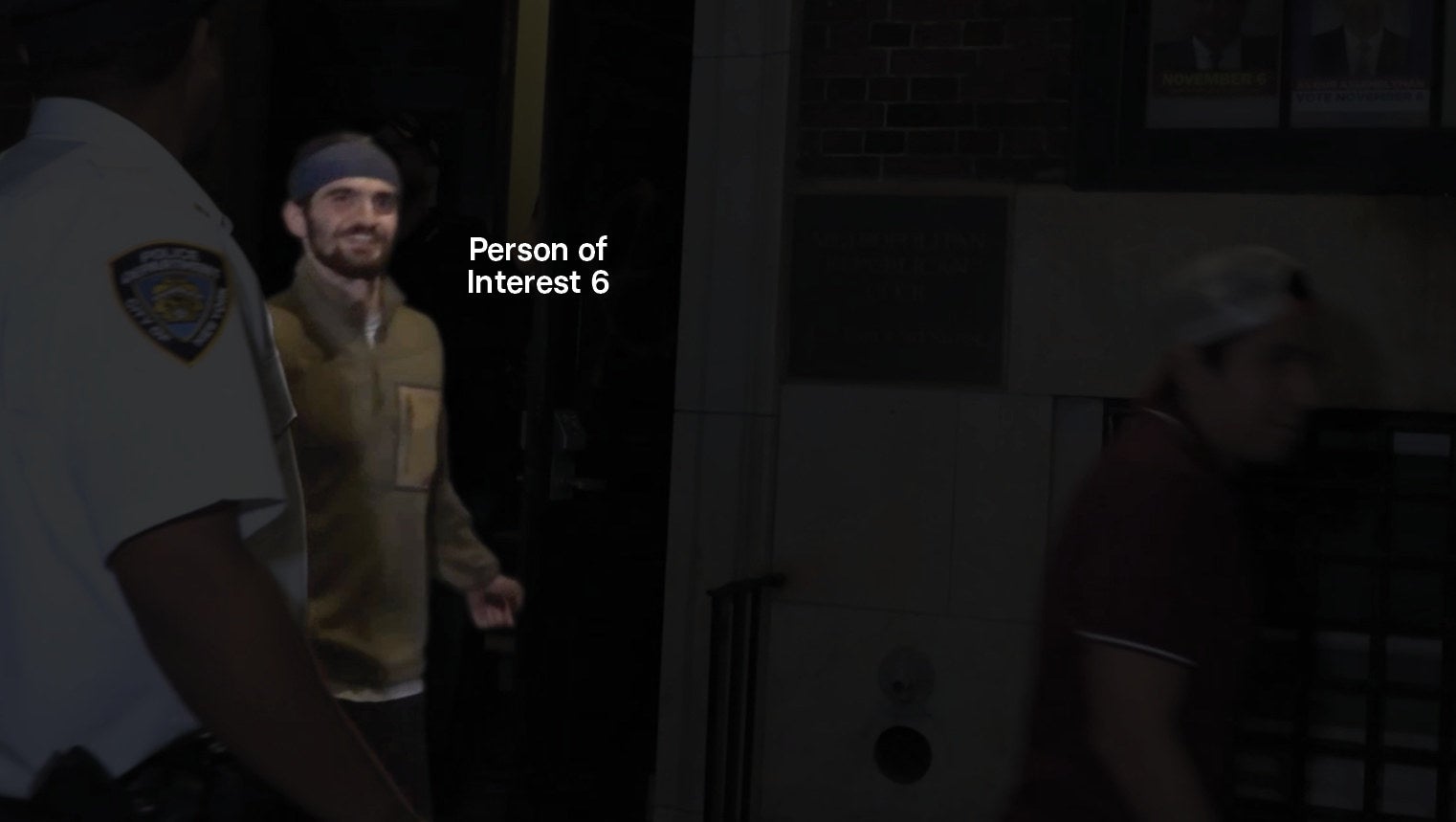 A Proud Boys member wearing a black jacket also left the club smiling. He was later seen kicking a protester.
Another member wearing a red MAGA hat on backward and a black T-shirt with a white undershirt walked out of the club and waved to protesters gathered outside.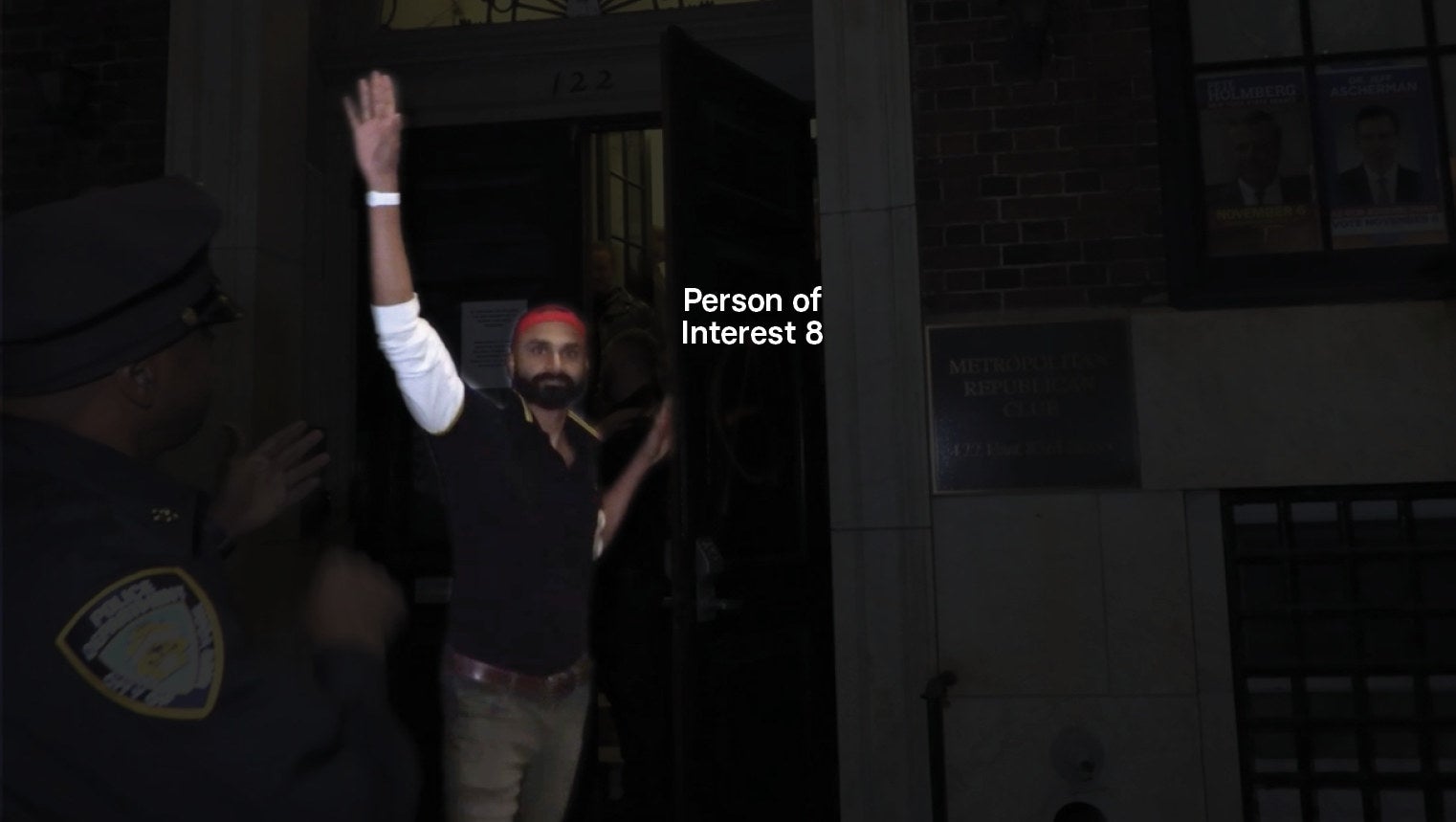 As some Proud Boys members turned the corner of the street, a group of three or four masked "anti-fascist" protesters — some of whom are also being sought by police — approached them.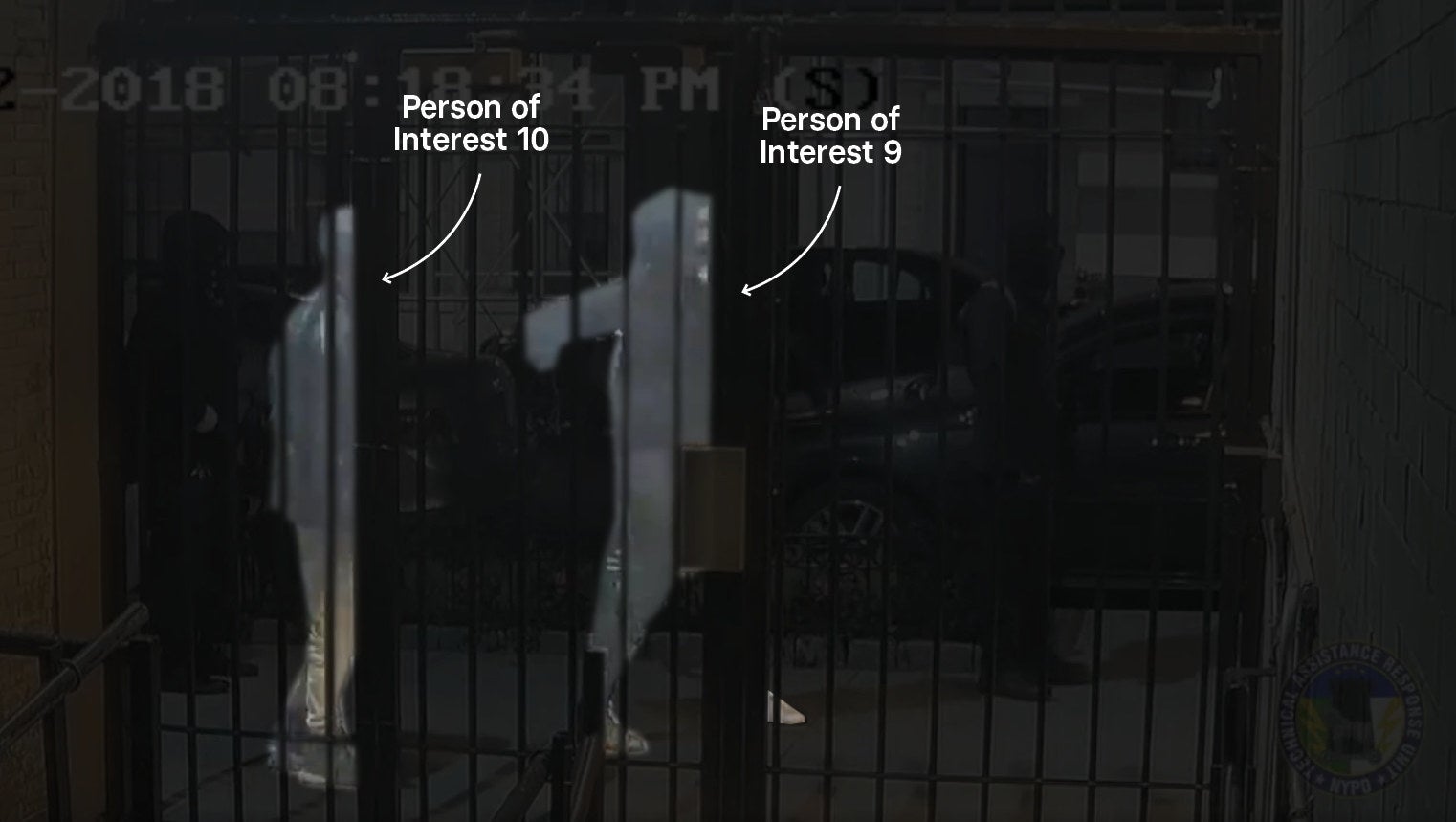 One of the masked protesters threw a bottle toward the Proud Boys members that police indicated sparked the violent confrontation.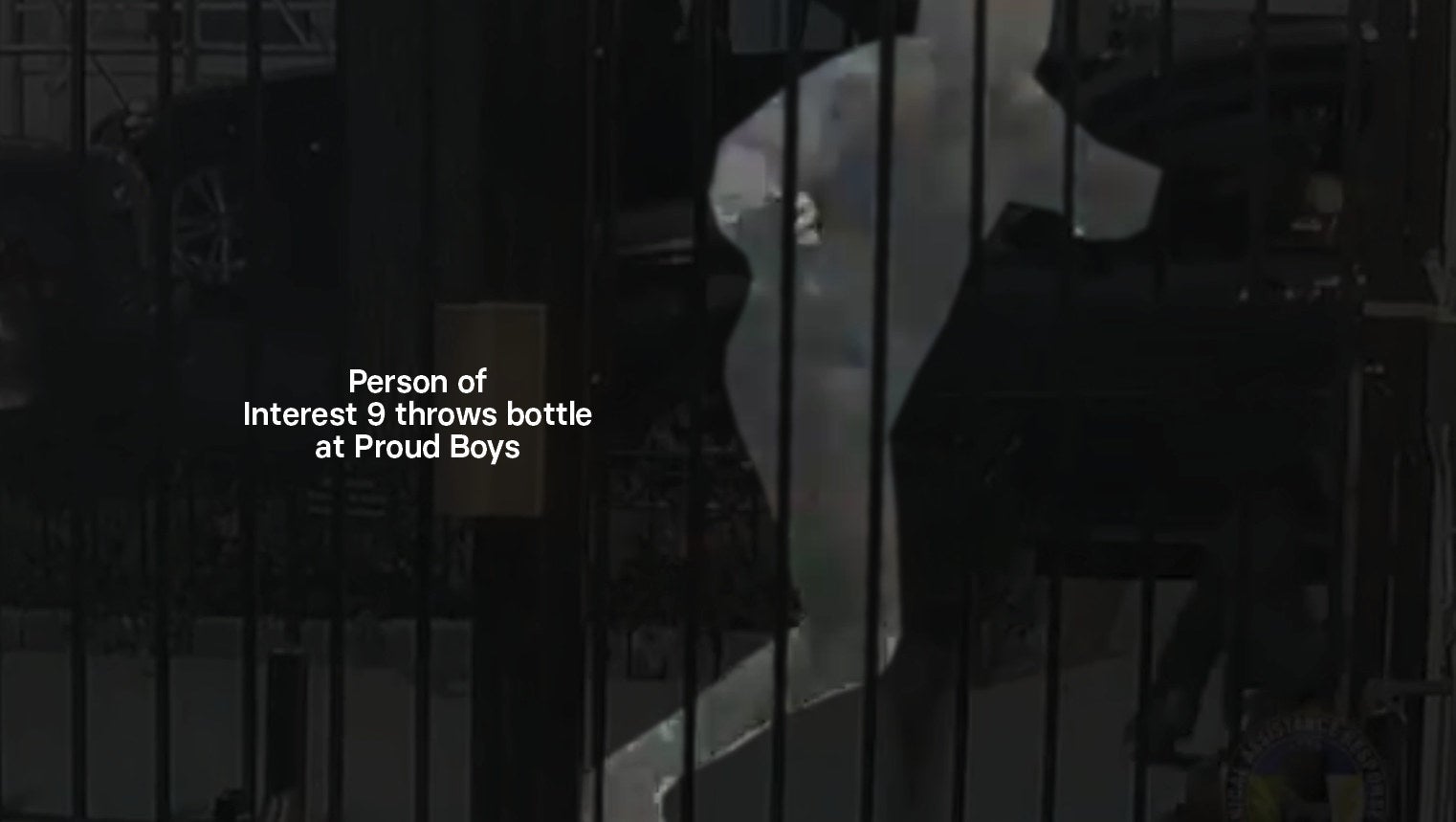 Kinsman punched one of the masked protesters, causing both of them to fall to the ground.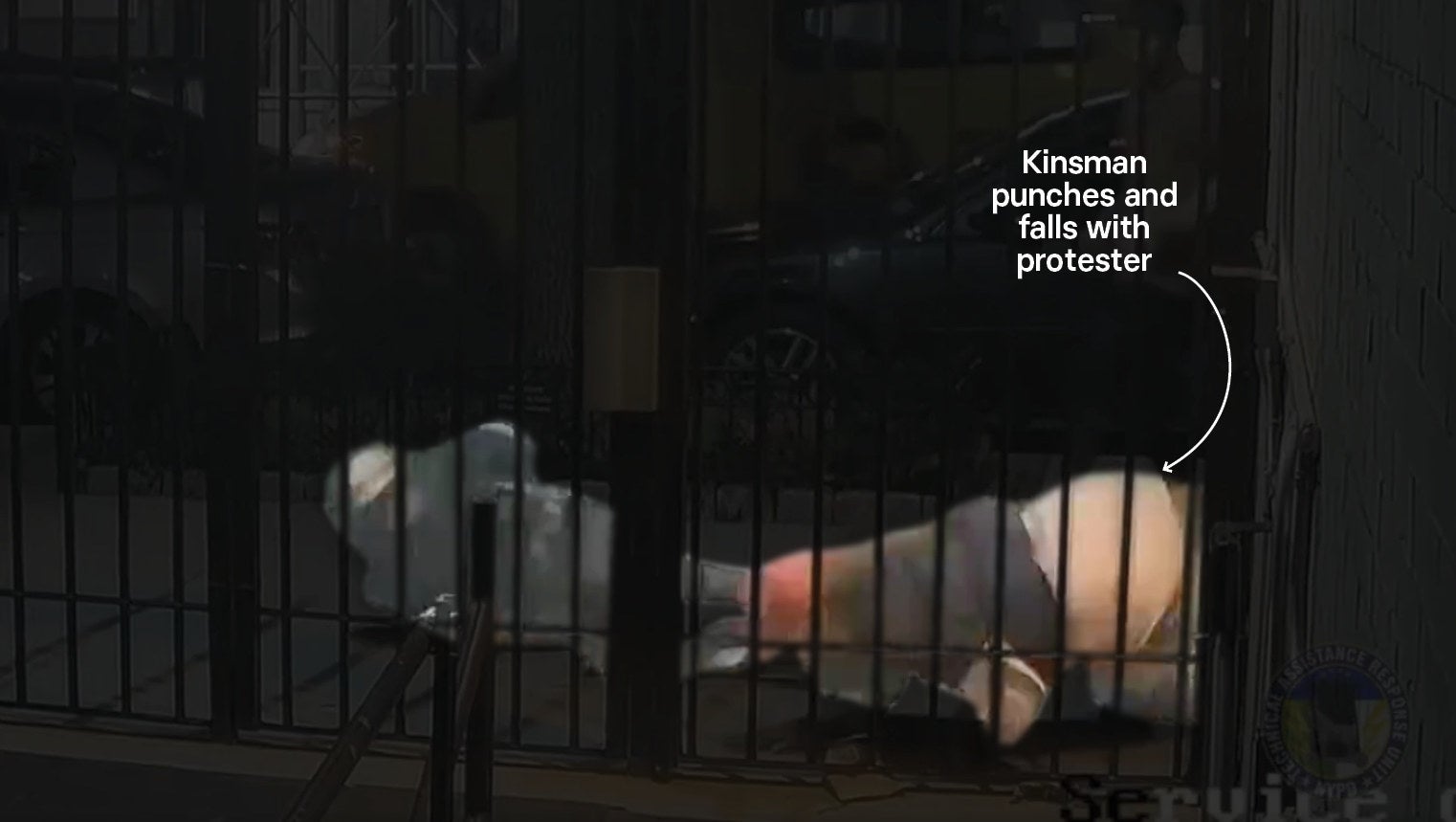 One of the Proud Boys then punched a protester who was on the ground.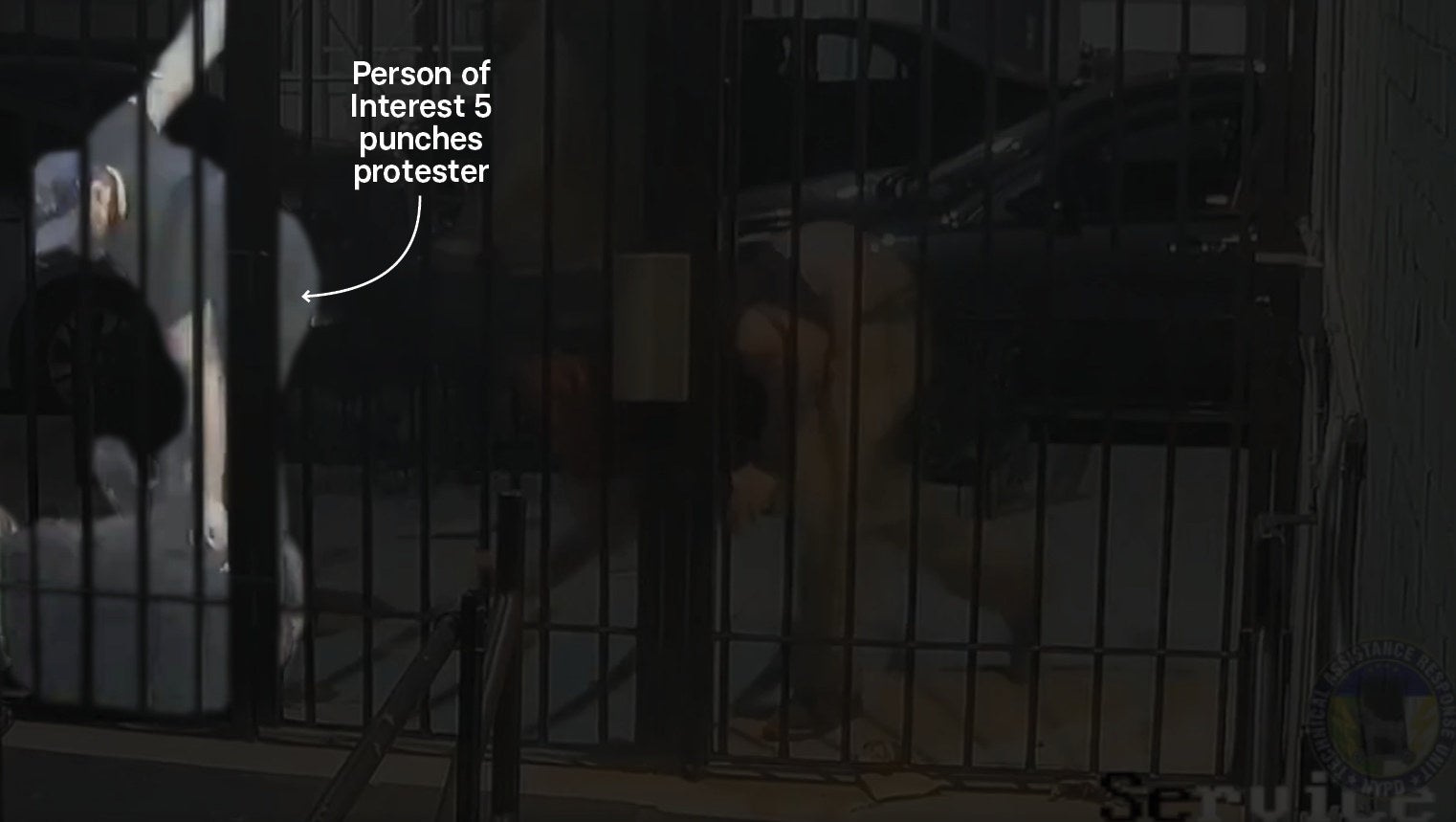 Kinsman, along with two other Proud Boys members, attacked one of the protesters together, with one of the Proud Boys kicking the protester.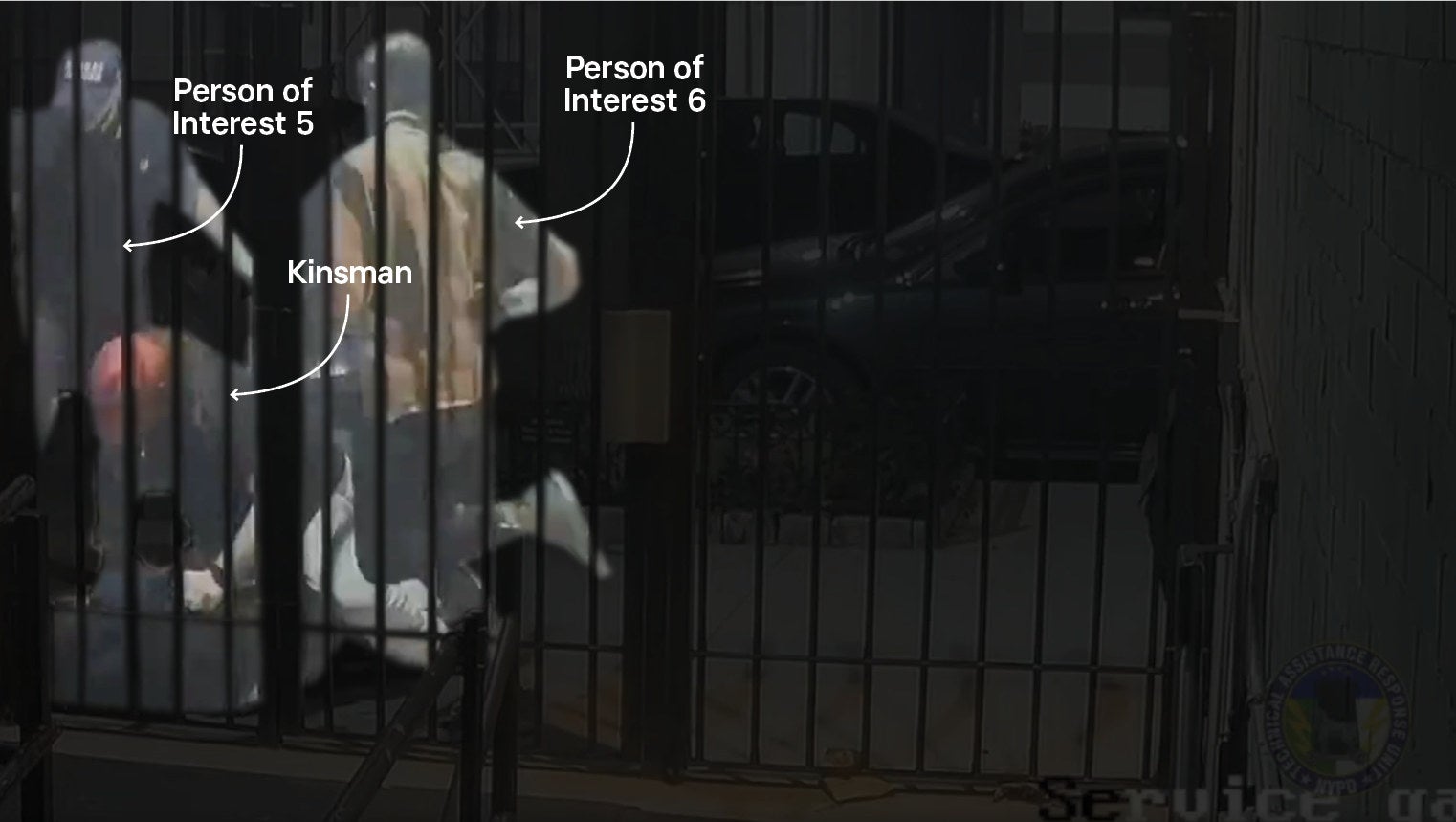 Kinsman held on to a gate and repeatedly kicked a protester.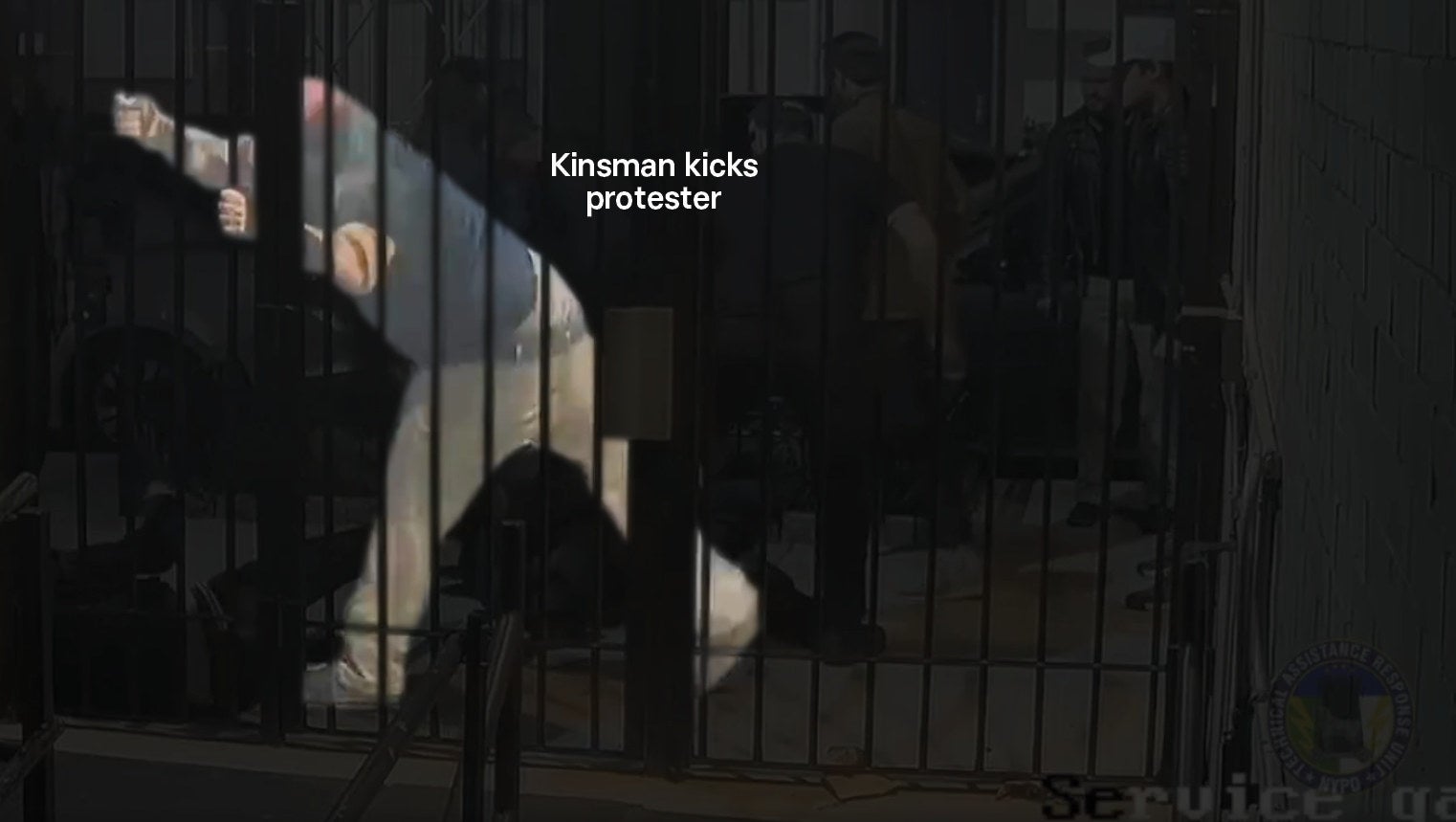 Kinsman turned around and kicked another protester.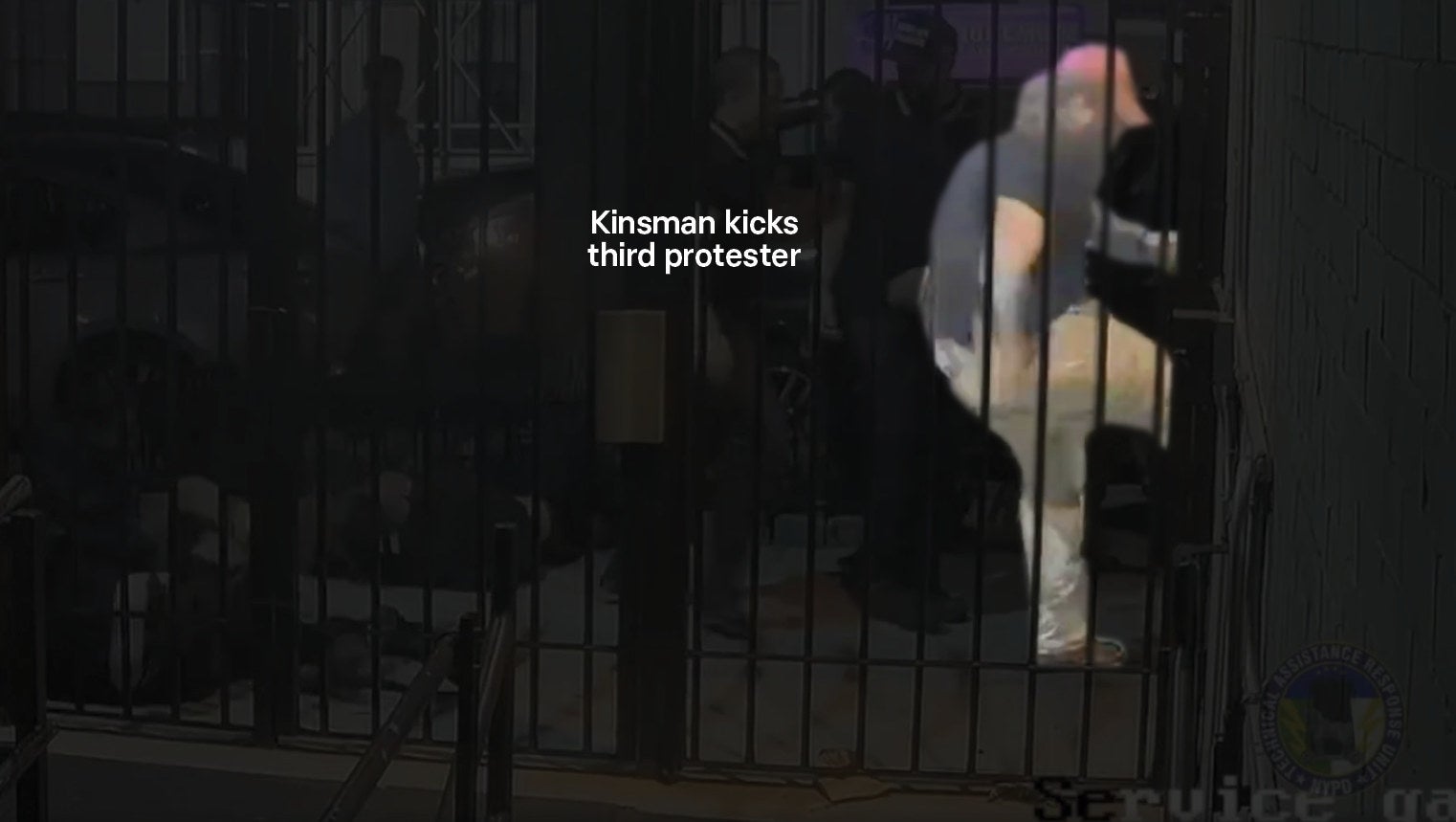 Young — the first Proud Boys member to be arrested by police — was seen on video witnessing the brawl before attacking a protester.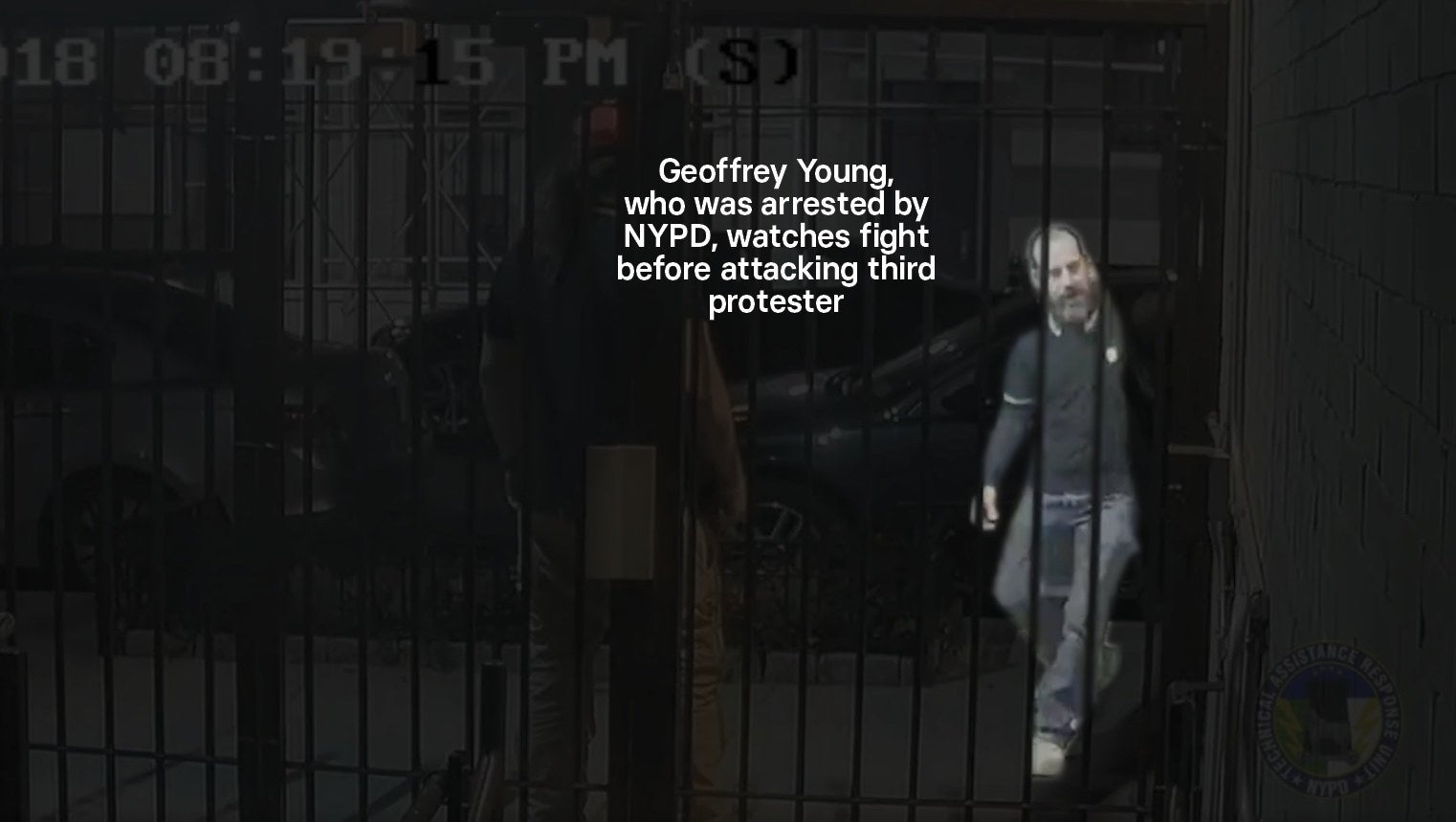 Young kicked a protester who was on the ground.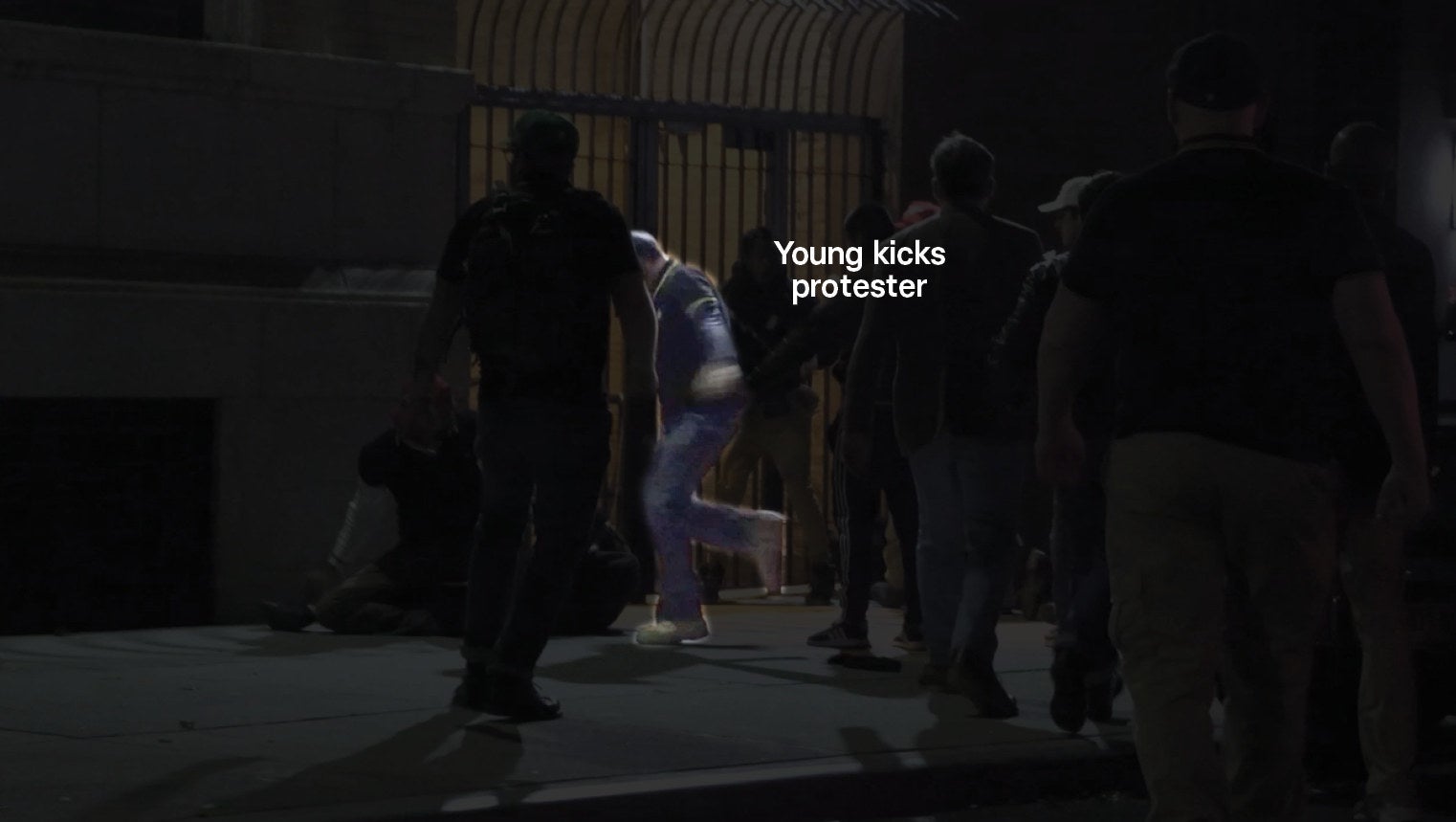 One Proud Boys member pushed a protester to the ground. He then ran away from the fight as police officers arrived at the scene.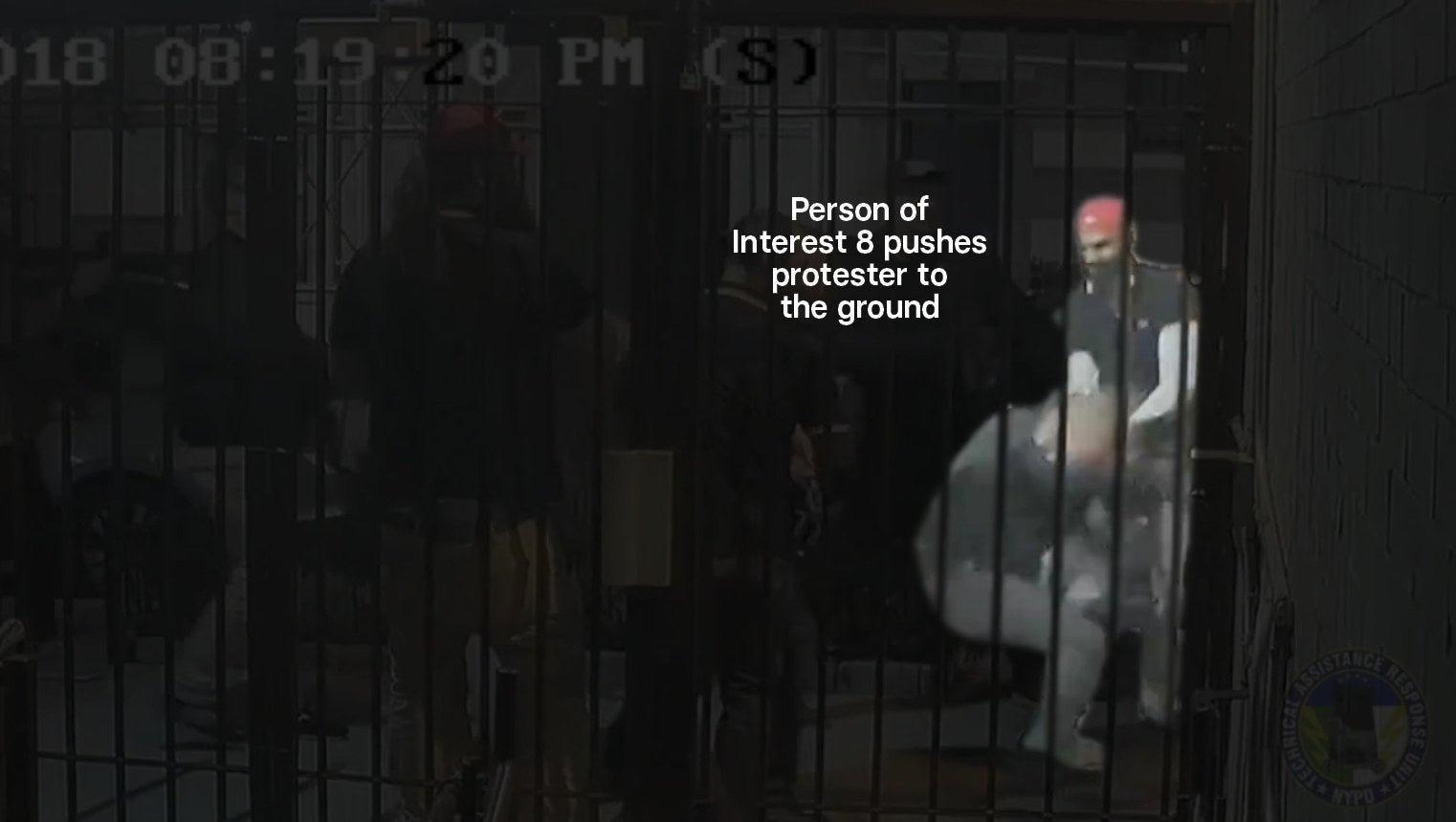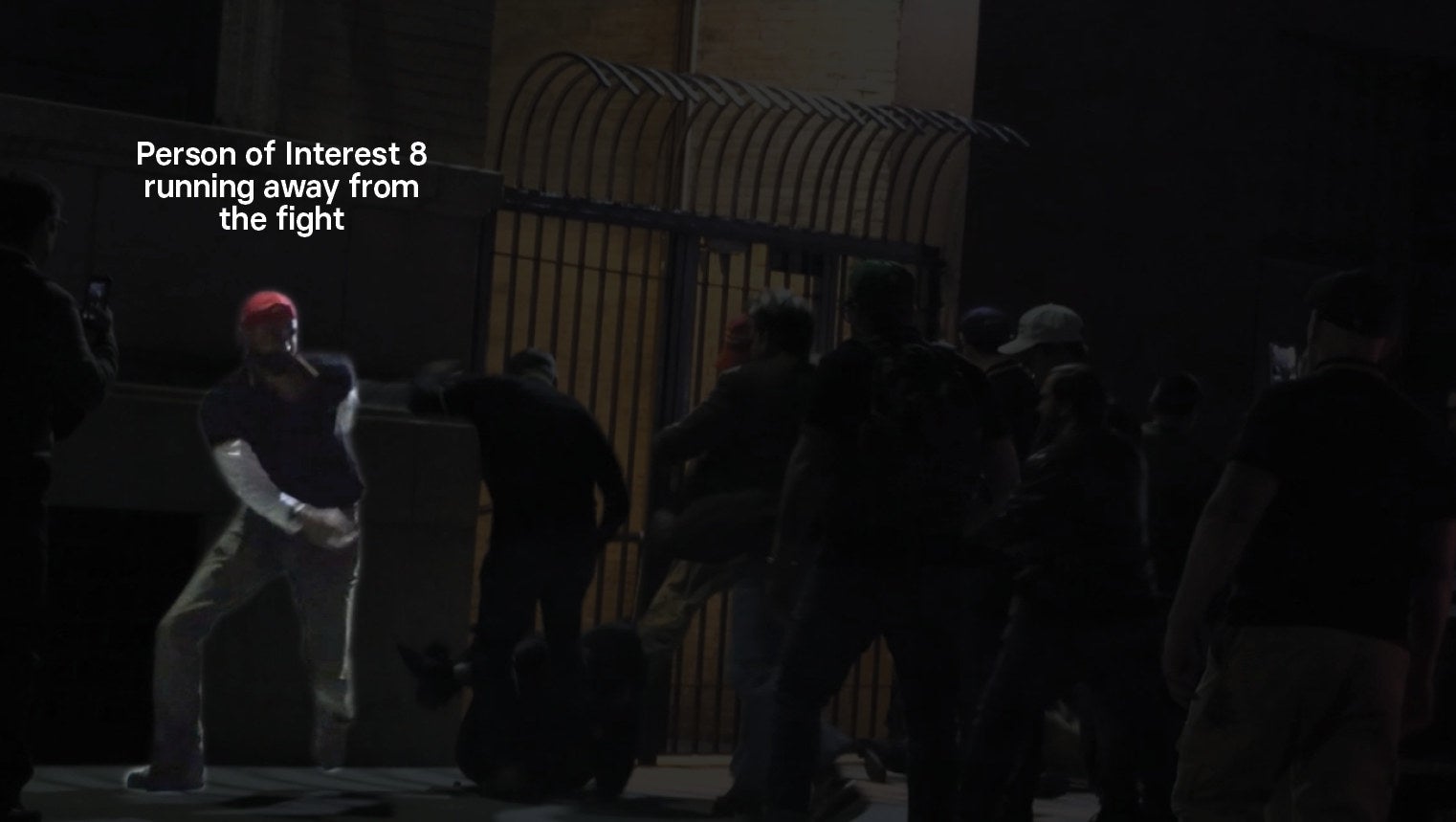 A Proud Boys member — wearing a black jacket — kicked one of the protesters.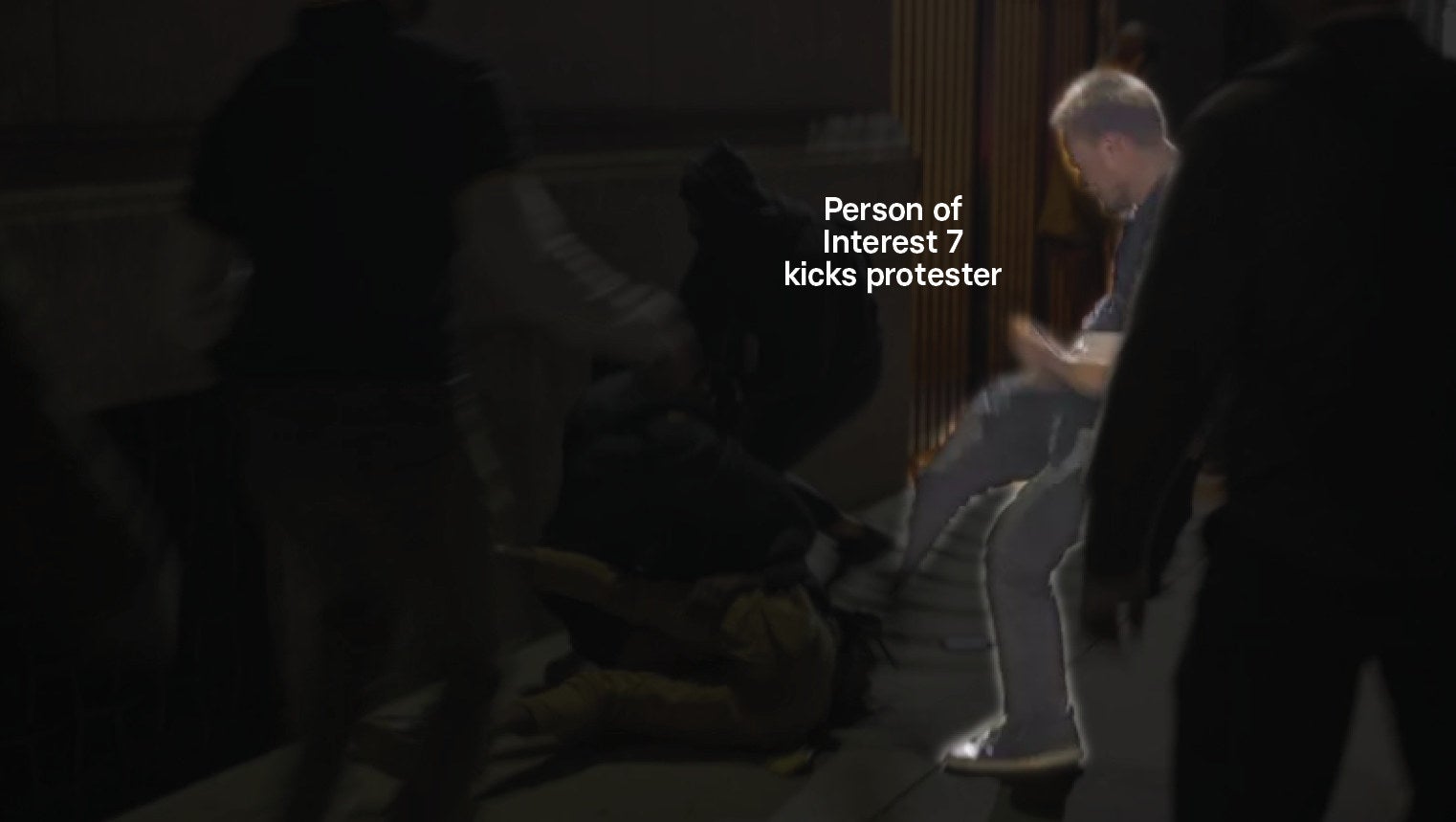 Antillon kicked one of the protesters who was on the ground.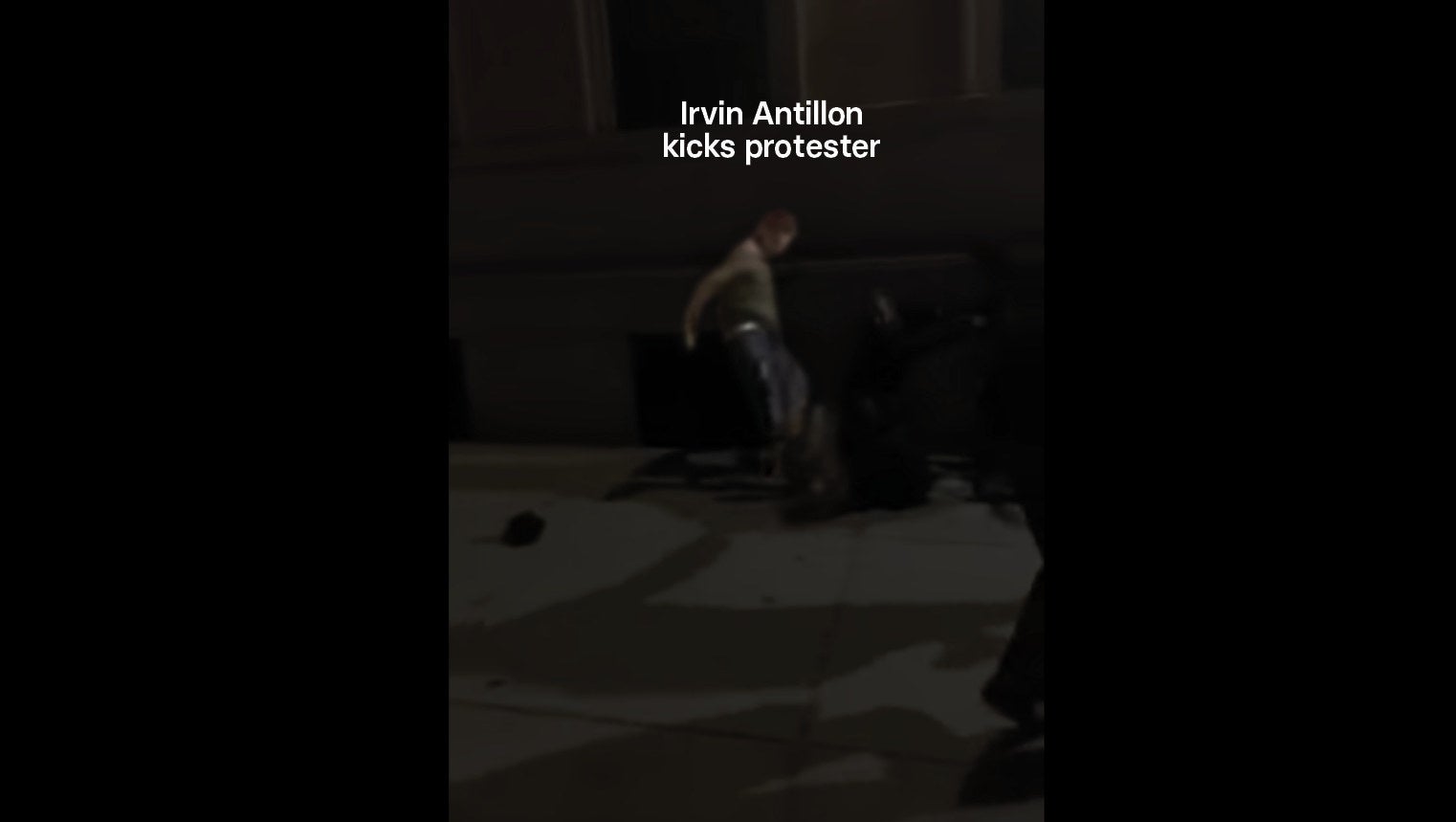 The member who had glasses and tattooed arms pushed a protester to the ground.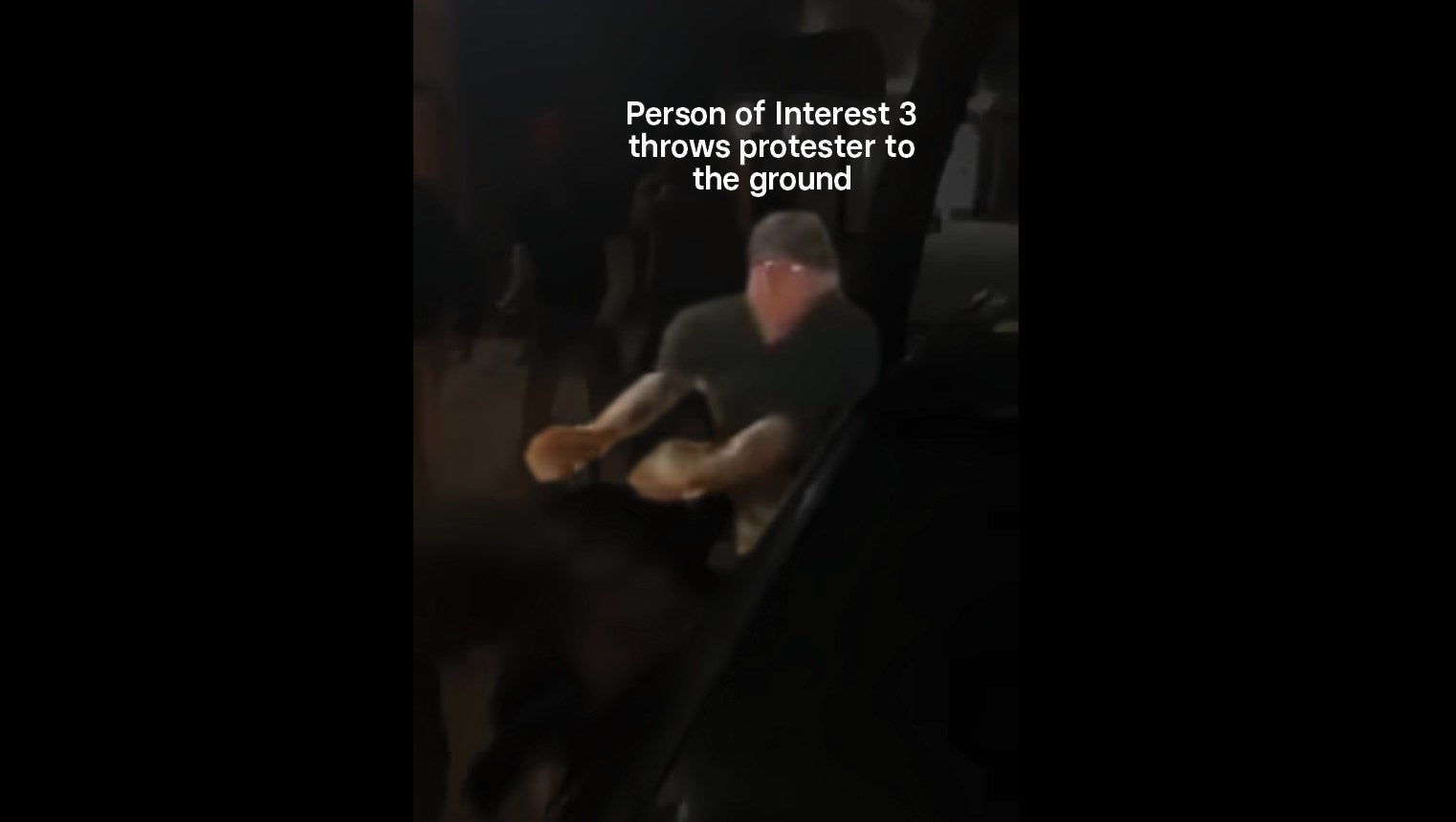 Person of Interest 3 was also captured in a New York Daily News photo throwing a punch at one of the protesters. In the same photo, Young, Kinsman, and Hare were seen gathered around two leftist protesters — the bald man on the ground and the individual with long hair — who police are seeking in connection with the fight.
Police officers arrived at the scene on scooters as the brawl continued.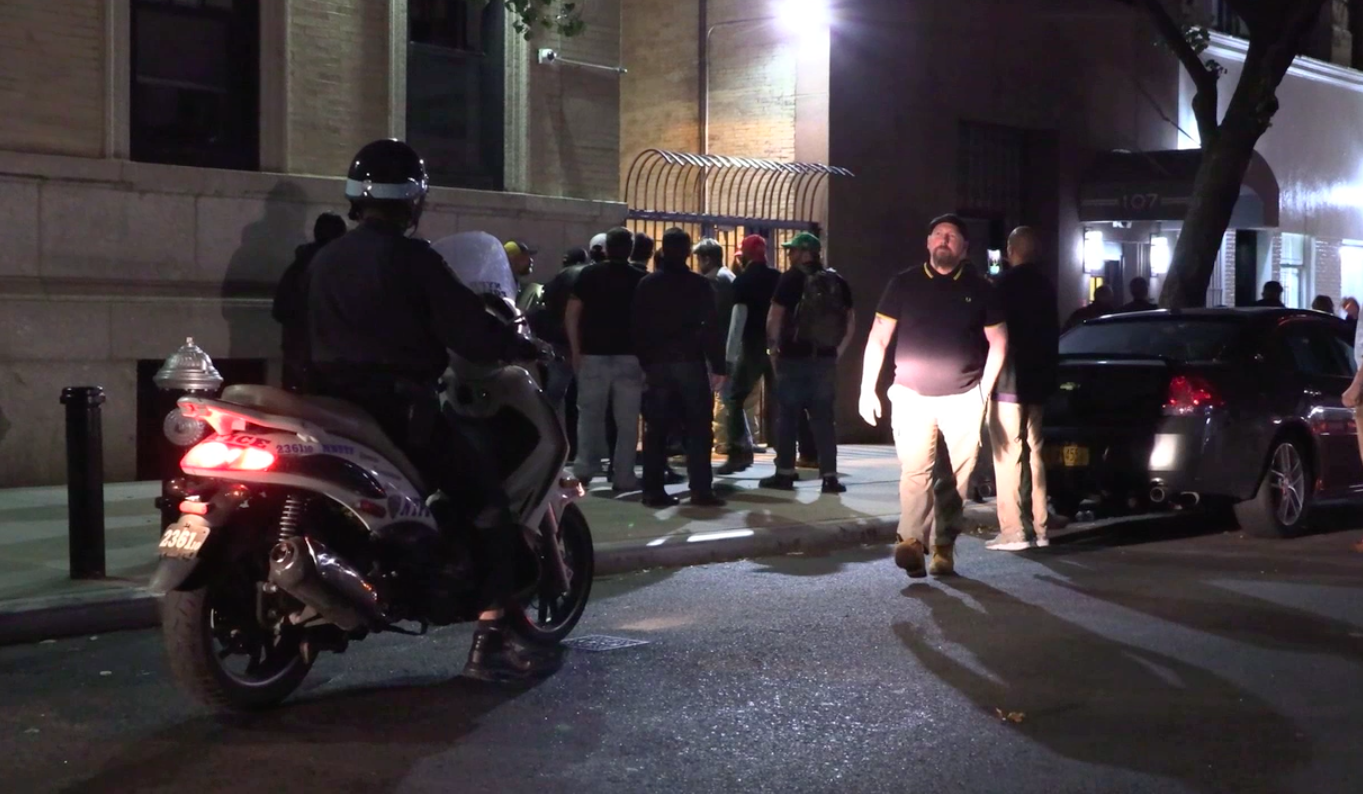 Officers approached the group, prompting most of the Proud Boys members to disperse. Police described a "chaotic scene" with many members running in different directions. However, video from the incident shows most members walking away. The officers did not arrest anyone at the scene.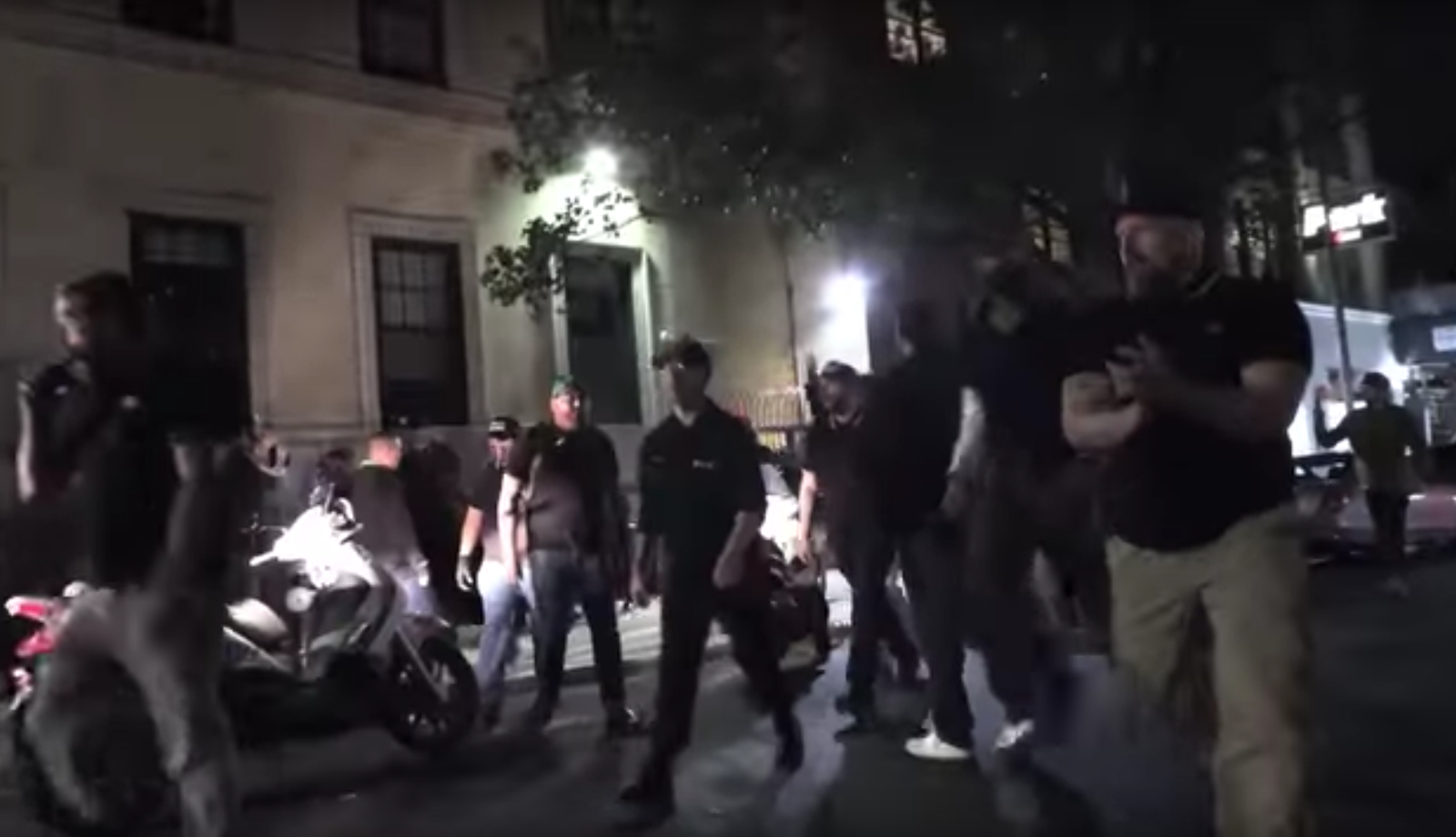 Kinsman, who is now in custody, was seen calmly walking past one of the officers on a scooter.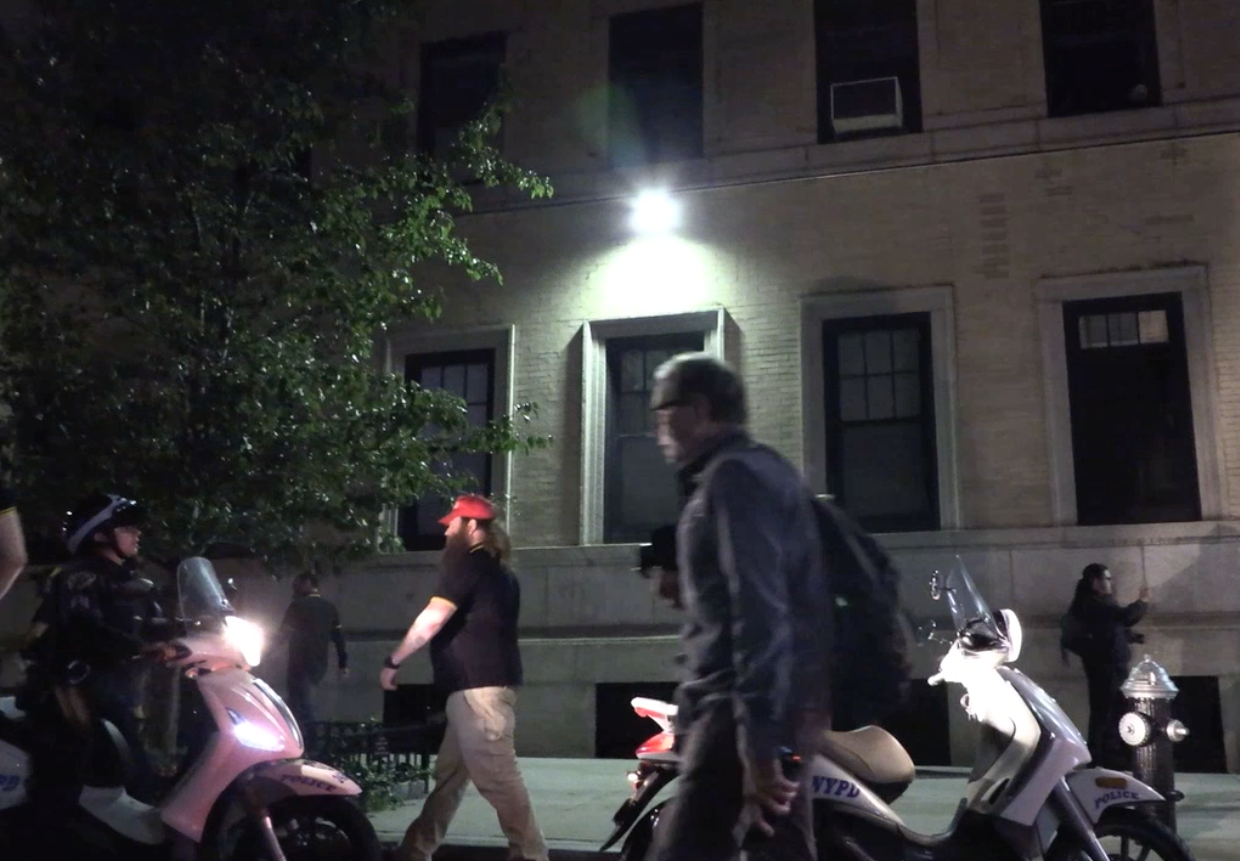 The "anti-fascist" protesters who were beaten during the confrontation refused to cooperate with police and did not want medical attention, the NYPD said. They also refused to provide a description of the assailants, police said, and did not file a complaint.

As a large group of the Proud Boys walked away from the brawl, some yelled, "I like beer" — a reference in support of Supreme Court Justice Brett Kavanaugh.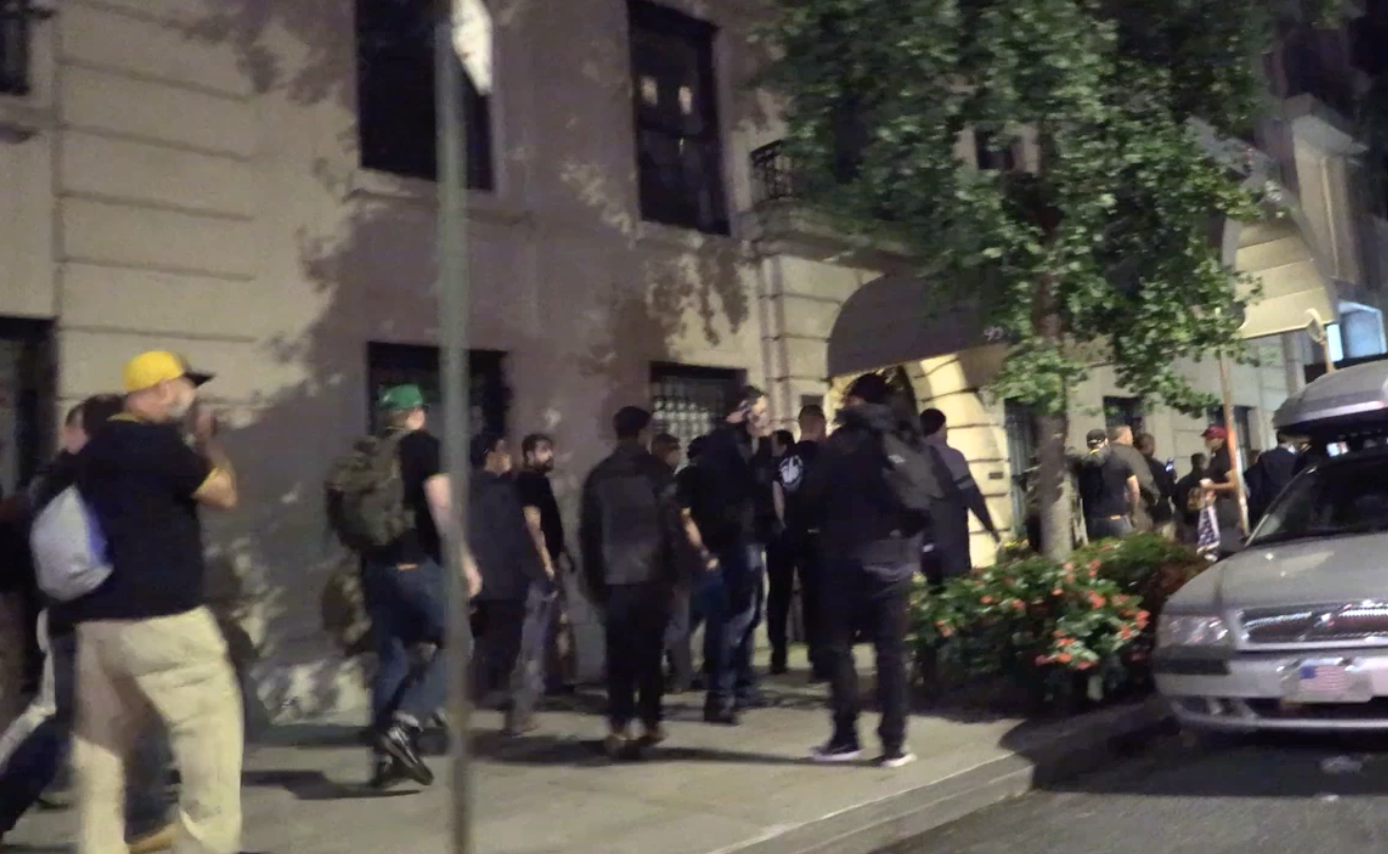 "I fucking hit him is what I did," one Proud Boys member told the others as they walked together. There were cheers from the crowd.
Members yelled the Proud Boys slogan, "Fuck around and find out."
One member of the Proud Boys yelled, "Dude I had one of their fucking heads and was just fucking smashing it to the pavement."
Others were heard describing how they "dragged" one of the "anti-fascist" protesters and one member claimed that he "ripped" one of the protester's masks off and "just fucking kicked him right in the head."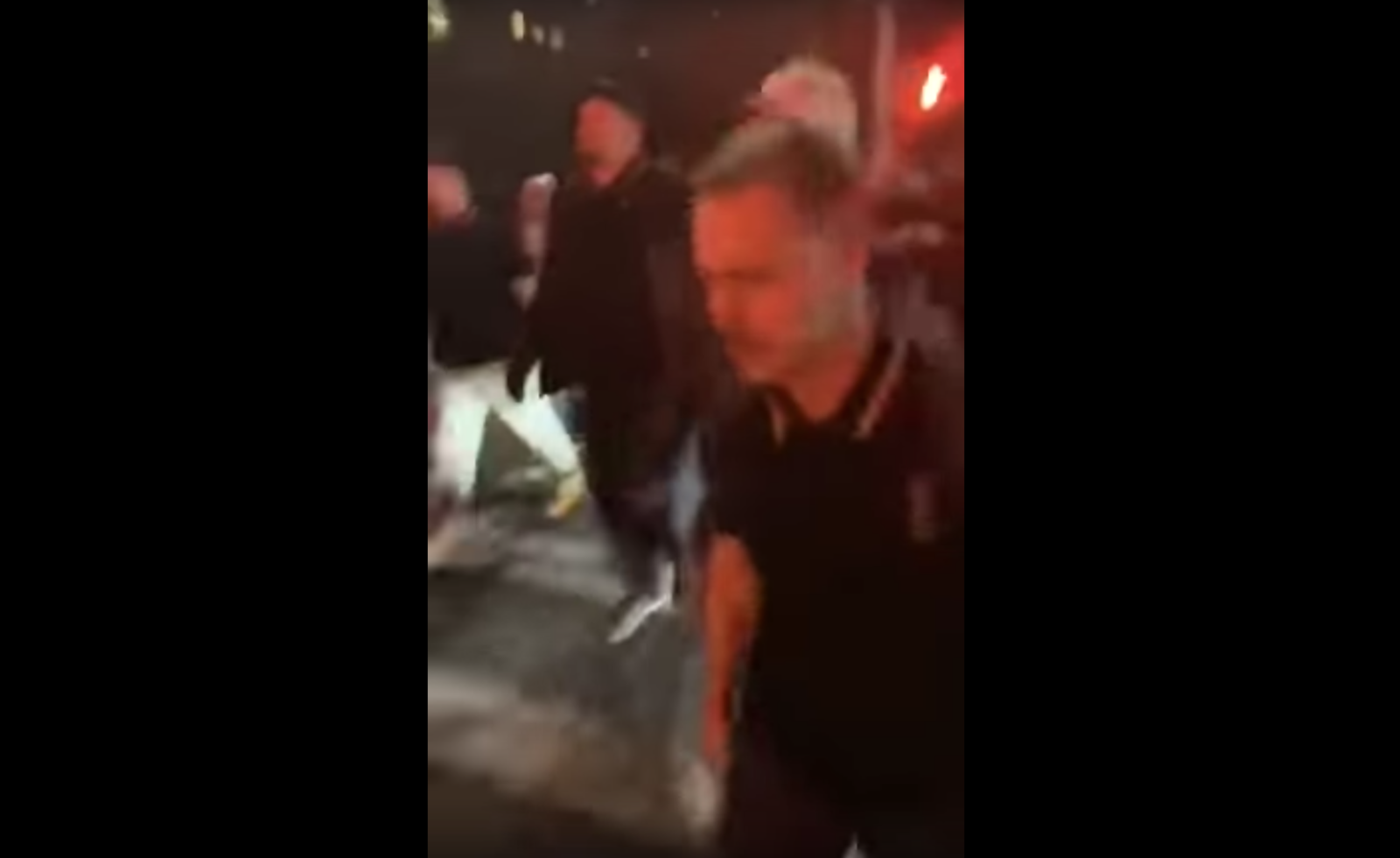 Several members of the Proud Boys — including those involved in the fight — then stopped to take a group photo.