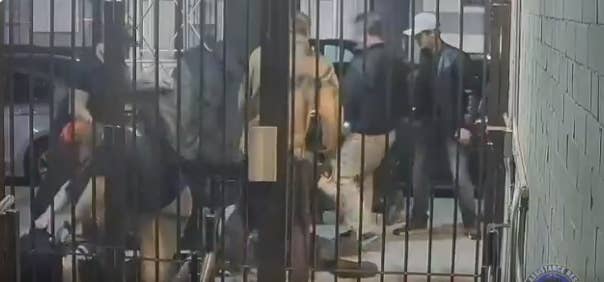 The NYPD, under intense scrutiny for how it handled brutality among extremists in the city's streets this weekend, said Monday it plans to charge at least nine "Proud Boys" and three "anti-fascist" protesters with rioting and attempted assault.
Chief of Detectives Dermot Shea on Monday laid out details of Friday night's violence between the Proud Boys — who fashion themselves as "Western chauvinists" sympathetic to neo-Nazis — and leftists.
Shea played previously unreleased footage of the brawls, which shows the protesters throwing a bottle at a group of Proud Boys, who are wearing their signature uniform of black and yellow Fred Perry polo shirts and red Make America Great Again hats. The Proud Boys responded by throwing them to the ground and beating them.

Proud Boys founder Gavin McInnes was scheduled to speak at the Metropolitan Republican Club on Friday. On Thursday night, vandals broke the club's windows and graffitied the anarchist symbol. Previously, the club received threatening phone calls voicing displeasure with McInnes.
After the event, at around 8:20 p.m., about 60 Proud Boys were escorted by police south on Park Avenue toward 81st Street. Six protesters looped across 82nd Street to intercept the group, Shea said.
Once on 82nd Street, near the corner of Park Avenue, a protester threw a bottle at the Proud Boys, causing the fight captured on video, where some Proud Boys can be seen kicking and punching people on the ground while screaming threats and homophobic slurs.
An eyewitness told BuzzFeed News he saw one of the victims had a swollen face and "was totally on the ground, couldn't even talk. ... They just had their limbs up in a half guard."

"It was just a pummeling — it wasn't really a fight, because the three people never really got a chance to even stand up," he said.
In a separate incident involving the Proud Boys about 10 minutes later, three leftist protesters were arrested for allegedly attacking a man and stealing his backpack.
The person flagged down police officers and said he was robbed, pointing to a group nearby. Three arrests were made.
A video taken during and after the first fight by a man calling himself Christopher Wright shows the Proud Boys claiming victory. Members chanted "I like beer!" in reference to Supreme Court Justice Brett Kavanaugh's confirmation testimony. One boasted, "I had one of their fucking heads, and I was just smashing it into the fucking pavement!" They took a group photo on a street corner.
The NYPD is looking to charge nine Proud Boys and two leftists in relation to the brawl on 82nd Street caught on video. Officers are looking to charge an additional protester in relation to the second fight with the alleged stolen backpack.
Police came under criticism over the weekend after video of the 82nd Street brawl surfaced and the NYPD didn't arrest any Proud Boys members. Shay Horse, a photojournalist who recorded the scene, told BuzzFeed News that an officer who arrived during the incident "just went totally slack-jawed and stared at the fight."

Responding to the criticism, Shea said the crowd immediately dispersed when officers turned up on scooters less than a minute after the fight began.
"It was a very chaotic scene," Shea said, adding that everyone ran in different directions.
A law enforcement source told BuzzFeed News that video and audio captured on the officers' body cameras shows the anti-fascist protesters were hostile toward the NYPD and not willing to cooperate. They refused medical attention and did not provide a description of the assailants.
According to the source who viewed the bodycam footage at least six or seven times, the victims of the beating said, "We don't want your help," telling the officers to "fuck off."
Earlier in the day, Police Commissioner James O'Neill called Friday night's incident "disturbing and outrageous," vowing that it will be thoroughly investigated.
"We will not tolerate any violence on the streets of New York City, and anyone, from any group, who participates in violence will be vigorously investigated," Shea said.
Shea later added that the Proud Boys are not a group that regularly comes up in the department's day-to-day work.
"It's not something in everyday crime," he said.

McInnes claimed on the Proud Boys' website that protesters were encouraging violence during his "stand-up comedy routine" with flyers and that they threw a bottle filled with urine at his car.

"There were two fights that night. Antifa started both," McInnes told BuzzFeed News.
He later said he wasn't responsible for the actions of his group. "If I had a time machine, I'd tell them, 'If someone steals your hat, let them keep it,'" McInnes told Newsmax TV Monday evening. "Not that I can control these guys. I'm the founder, not the leader."
New York City Council members blasted the NYPD's response on Monday.
Speaker Corey Johnson said, "I strongly urge you to bring these disgusting and cowardly criminals to justice."
And Donovan Richards, the chair of the council's Public Safety Committee, said, "There was absolutely nothing to be proud of when it comes to the NYPD's response to these thugs determined to turn our streets into the next Charlottesville over this past weekend."
"In my eyes, the NYPD was nonexistent in their response," he added. "One thing is clear when you look at the video footage that we saw: The strategic response group was inept, incompetent, and derelict in their duties."
He called for the NYPD to investigate the officers' response.