Donald Trump said he'd "love" to debate Bernie Sanders soon after he clinched enough delegates to win the Republican nomination for president, but he apparently changed his mind Friday saying it would be "inappropriate" for him to debate "the second place finisher."
Trump's reversal came after his challenge to Sanders made headlines across the country, and after Sanders tweeted he would be "delighted" to debate the presumptive Republican nominee.
"I'd love to debate Bernie," Trump said at a news conference in Bismark, North Dakota, adding that he would do it for $10 million that would be donated to charity. "He's a dream," he said.
The money would be donated to "women's health issues or something," Trump added.
Sanders said the two should debate "in the biggest stadium possible" and the possibility of it appeared to be inching to reality with several TV networks saying they would be open to the idea.
A technology investment company also offered to put up the $10 million for charity Trump had proposed.
"I understand the television business very well," Trump said. "We could have a lot of fun with it."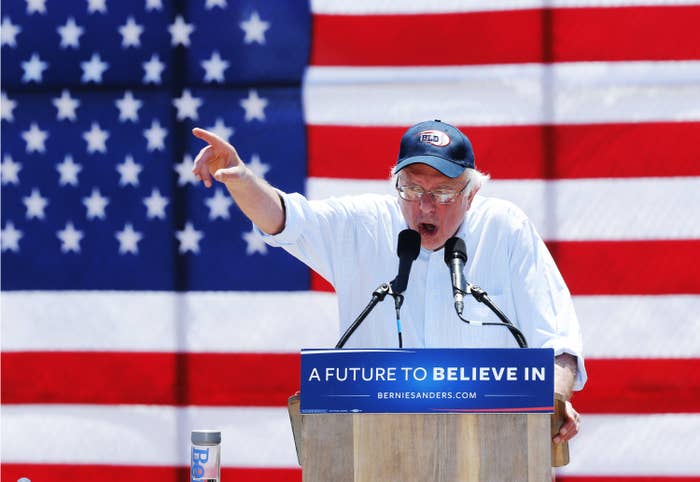 By Thursday afternoon, several TV networks indicated they'd consider airing a Trump-Sanders debate.
"We're always interested in more opportunities to hear from the candidates," an ABC News spokesperson told BuzzFeed News.
Representatives for CBS News and Fox News also said they'd be interested in hosting a debate, the Associated Press reported.
Fox News anchor Bret Baier said on air that talk of a Trump-Sanders debate was not a joke, as some had suggested.
"Those back channel discussions are continuing, and there will be some event in California," Baier said.
But Trump said in a statement Friday he would not debate the Vermont senator after all.
"As much as I want to debate Bernie Sanders - and it would be an easy payday - I will wait to debate the first place finisher in the Democratic Party, probably Crooked Hillary Clinton, or whoever it may be."
Sanders, who was campaigning in California Friday, told reporters he wanted to go forward with the debate.
"Well, I hope that he changes his mind again," he said after hearing Trump would not debate him. "Mr. Trump is known to change his mind many times a day."
Sanders also pointed out several networks were willing to air the event.
"Trump, he goes around and he's a bully," Sanders said. "He's a big tough guy. Well, Mr. Trump, what are you afraid of?"