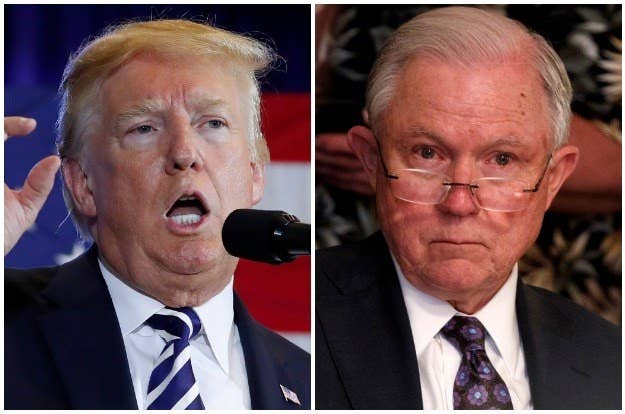 President Trump criticized his attorney general Jeff Sessions for indicting two Republican congressmen — who were early supporters of Trump — at the cost of the GOP potentially losing "two easy wins" in the upcoming midterm elections.

Referring to the two recent federal indictments of Republican lawmakers, Rep. Duncan Hunter and Rep. Chris Collins, Trump tweeted, "Two long running, Obama era, investigations of two very popular Republican Congressmen were brought to a well publicized charge, just ahead of the Mid-Terms, by the Jeff Sessions Justice Department. Two easy wins now in doubt because there is not enough time. Good job Jeff...."

Hunter and his wife, Margaret Hunter, were indicted in August on charges that they used more than $250,000 in campaign funds to pay for personal expenses, including family vacations, school tuition, and theater tickets, according to federal prosecutors.
The indictment alleged that the Hunters illegally used the campaign money between 2009 and 2016, and then covered it up by falsifying campaign finance reports. They face federal charges of conspiracy to commit offenses against the United States, wire fraud, falsification of records, and prohibited use of campaign contributions.
Hunter was an early supporter of Trump's presidential campaign and is running for a sixth congressional term in California.
Collins, a New York representative who was another early Trump supporter, was charged in July with insider trading and lying to the FBI.
"Elected representatives should jealously guard the public's trust, not abuse their positions for personal gain," US Attorney Adam Braverman said in a statement at the time of Hunter's indictment. "Today's indictment is a reminder that no one is above the law."
The implications of Trump's tweet suggesting that his attorney general should have ignored serious allegations of corruption in order to win Republican seats during the midterm elections sparked shocked reactions from many on social media.
Trump has repeatedly attacked and disparaged Sessions since he recused himself from special counsel Robert Mueller's investigation into Russian interference in the 2016 elections.
Trump told Bloomberg News last week that Sessions' job was safe until the midterm elections in November, but declined to comment if he planned to fire him after Election Day.
During Monday's rant, Trump compared Sessions to former FBI director James Comey, saying that it was only after he fired Comey that Democrats began to see him as a "wonderful man."

He said that the Democrats "must love" Sessions now for going after Republicans.
Sessions released a statement last month stating that the Justice Department would not be influenced by politics.
The statement was released hours after Trump accused him — in a televised interview — of having "no control" of the Justice Department.
"While I am Attorney General, the actions of the Department of Justice will not be improperly influenced by political considerations," Sessions' statement said. "I demand the highest standards, and when they are not met, I take action."