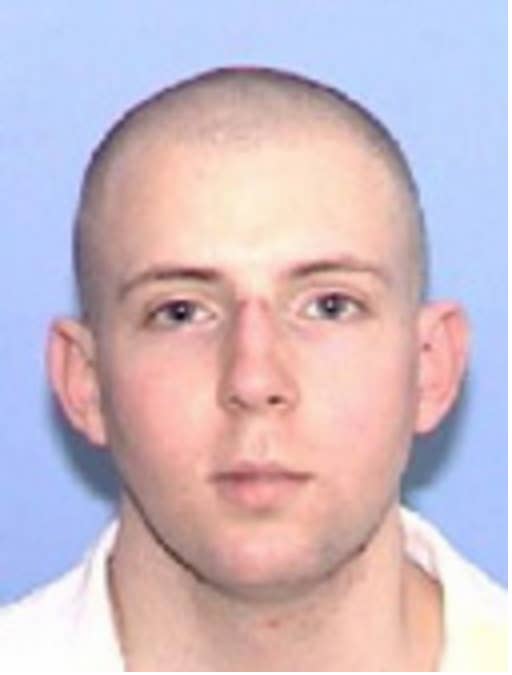 Adam Ward was executed in Texas on Tuesday for the 2005 murder of a code enforcement officer in the city of Commerce.
Ward, 33, was pronounced dead at 6:34 p.m. Tuesday after being given a lethal dose of pentobarbital, the Associated Press reported, becoming the ninth person to be executed this year, and the fifth to be executed in Texas.
Ward fatally shot Michael "Pee Wee" Walker in June 2005 as the officer was taking photos of alleged code violations at Ward's home.
Ward's lawyers appealed to the U.S. Supreme Court this past week, asking the court to take his case and stay his execution on the grounds that he is severely mentally ill and should be held to be constitutionally ineligible to be executed.
Ward's lawyers had ought review of the Texas Court of Criminal Appeal's March 16 decision to deny a stay of execution for Ward. They also filed an original action at the Supreme Court raising similar claims. In addition to the mental illness claim, the filings also argue that the death penalty itself now should be held to violate the Eighth Amendment.
The Supreme Court, on Tuesday afternoon, denied the requests to halt the execution.
As to the mental illness claim, Ward's appeal argued that his act of murder was "inextricable from the delusions and paranoia fed by his disabling bipolar disorder" and that his mental illness, traced back to his early childhood, is "so severe, so well-documented, and so deeply present" in his life that it made him constitutionally ineligible for the death penalty.
The state responded that Ward's claims are without merit and that he had not presented any new evidence.
Ward was prescribed psychiatric medicines when he was 3 years old owing to his aggressive and destructive behavior, according to his appeal. He spent two and a half months in a psychiatric unit at the age of 4, where he was diagnosed with bipolar disorder. The appeal states that Ward's parents did not follow physicians' recommendations to continue therapy sessions after his discharge from the unit, which led to him being readmitted to the psychiatric unit for three weeks.
When he was in second grade, teachers used to lock him away in a "Time Out Box" — a small isolation room — that had been specifically built for him when he was "out of control," according to the appeal.
According to court documents, Ward had an unusually close relationship with his father, Ralph Ward, who was a hoarder and filled the family's home with piles of unsold items and an arsenal of guns and ammunition. The two suffered from shared delusions, including the belief that the city of Commerce was out to get their family and that the "Illuminati" controlled the majority of the government, court documents showed.
"Adam's lifelong struggle with bipolar disorder, combined with his isolation and toxic family life, finally culminated in tragedy when he shot and killed City of Commerce Code Enforcement Officer Michael Walker on June 13, 2005," Ward's appeal argues.
Walker, 44, was at Ward's family home to document code violations because of the junk piled inside and outside the house, according to court documents. Walker began taking pictures of the home, which led to an argument between Ward, then 22, and Walker — after which Ward sprayed the officer with a hose he was using to wash his car. Ralph Ward tried to intervene and warned Walker that it might be "best if he left the property." After calling for assistance, Walker waited near the house. Ralph Ward ran to look for his son, believing that he had a gun in his room — but did not warn Walker about this.
Ward ran out of the house and repeatedly fired a .45 caliber pistol at Walker, who made attempts to escape. Walker died after sustaining nine gunshot wounds in total.
Ward confessed to killing Walker soon after the murder, saying he believed the city was after his family and that Walker had threatened to tear down the family home. He also claimed that he shot Walker because he feared for his life, as Walker had threatened to call the cops.
"Pee Wee was begging for his life and he kept shooting," Walker's father, Dick Walker, told the Herald Banner. "Your grandkids are now 19 and 21 and when they break down and start crying, it tears you up," he said, referring to his Walker's two children.
Dick Walker said he had forgiven Ward for killing his son. "It took me eight years to get rid of the anger that I had and I am through with the anger," he told the Herald Banner. "I prayed that when he takes his last breath here, he takes his next breath in a better place."