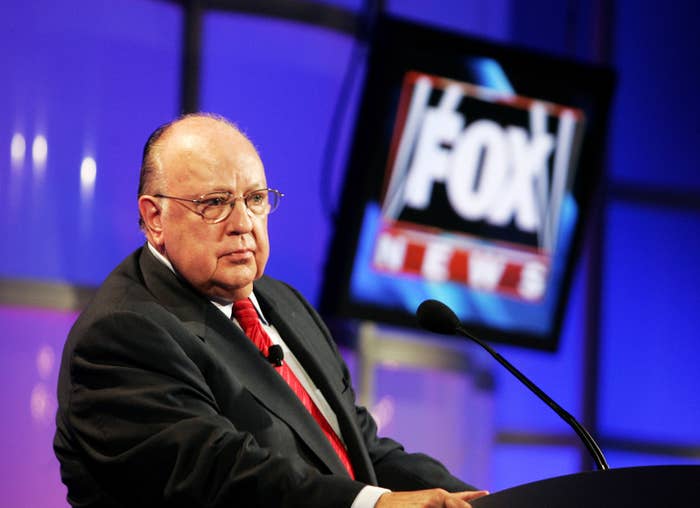 Former Fox News chairman and CEO Roger Ailes died Thursday morning at age 77.
The Palm Beach County medical examiner said he died of bleeding on the brain after falling and hitting his head in his home. His death was officially ruled accidental, and the medical examiner said hemophilia contributed to making his injury fatal.
"I am profoundly sad and heartbroken to report that my husband, Roger Ailes, passed away this morning surrounded by his beautiful family," Elizabeth Ailes said in a statement provided to BuzzFeed News.

"Roger was my best friend, the most wonderful loving husband and father to our son Zachary, he was a loyal friend to so many. Roger was a patriot, grateful to live in a country that gave him so much opportunity to work hard, to rise-and to give back.
"During a career that stretched over more than five decades, his work in entertainment, in politics, and in news affected the lives of many millions. And so even as we mourn his death, we celebrate his life."
A 911 call recounted Ailes' fall on May 10. Though he was conscious and breathing after hitting his head, he was not entirely alert and was seriously bleeding, the record said.
Ailes resigned from the network last July after former anchor Gretchen Carlson filed a sexual harassment suit claiming she was fired for rejecting Ailes' sexual advances. Ailes denied the allegations, saying the reason her contract was not renewed was due to "disappointingly low ratings."

After his ouster, at least 20 other women came forward with allegations of sexual harassment against Ailes.

A controversial and influential figure in American politics and entertainment, Ailes personally oversaw Fox News programming after the network's launch in 1996. During his 20-year reign over the network, he built Fox News into a conservative media powerhouse.
Ailes, who started his career in local television, served as a media consultant and adviser to three Republican presidents, including Richard Nixon, Ronald Reagan, and George H.W. Bush.

In a tweet on Thursday, Bush said, "He wasn't perfect, but Roger Ailes was my friend & I loved him."
He was also a longtime friend of President Trump, who defended Ailes against the accusations of sexual harassment, saying Ailes had helped "some of the women that are complaining."
Former Fox News host Bill O'Reilly defended Ailes and his legacy in a column published Thursday in USA Today, calling him "a force of nature with an agenda."
"Roger was convicted of bad behavior in the court of public opinion, and it was painful for many of us to watch," O'Reilly wrote. "He, himself, was stunned and never really recovered."
O'Reilly, like Ailes, left the network in the wake of allegations he sexually harassed women.
Ailes, O'Reilly wrote, "had my back."
The former host of The O'Reilly Factor said Ailes was able to thrive and help others despite accumulating enemies over the years.
"Roger Ailes experienced that hatred and it killed him," he wrote. "That is the truth. But he would not want to be remembered that way. He did both good and bad in his life and in that, he had something in common with every human being."
Sean Hannity, who Ailes hired, said, "Today America lost one of its great patriotic warriors."

"He has dramatically and forever changed the political and the media landscape singlehandedly for the better," Hannity tweeted.

Reporting the news of Ailes' death on the network on Thursday morning, Fox News host Steve Doocy said, "Roger Ailes helped build Fox News channel into the powerhouse it is today."

"Many people out there would say that he saved this country by starting the Fox News channel," added anchor Ainsley Earhardt.
Fox News anchor Shepard Smith offered an emotional tribute to Ailes, outlining his influence within news and politics, loyalty to his team, and also his flaws. Ailes was a champion and father figure, Smith said.
"It's all so complicated," he said. "Everything here was and is, as he was."