Juanita Broaddrick, who in 1999 said she was raped by then-president Bill Clinton two decades earlier, said Friday she did not believe Christine Blasey Ford's testimony that she was sexually assaulted by Brett Kavanaugh 36 years ago.
Broaddrick told BuzzFeed News' AM to DM that she still "absolutely stands" with Kavanaugh following Thursday's emotional and volatile hearing over Ford's sexual assault allegations against President Donald Trump's Supreme Court nominee.

Broaddrick said that Ford's allegations and testimony "just didn't sit very well with me."
"It wasn't what I went through," Broaddrick said in the interview with BuzzFeed News Editor-in-Chief Ben Smith. "And there was not evidence that I had and made very much available. There was none of that."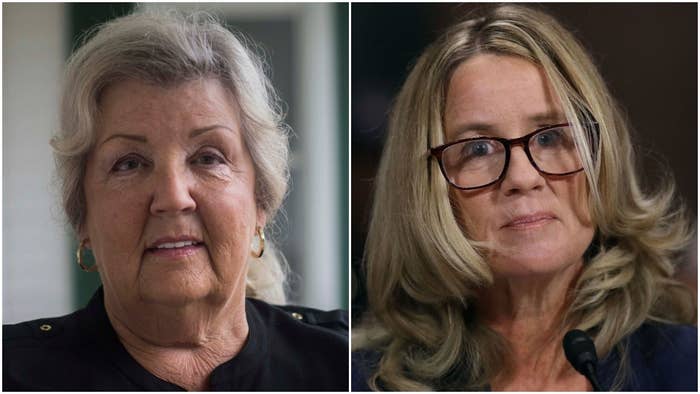 There are some striking similarities between Broaddrick and Ford's circumstances. Both women waited to come forward with their stories years after the alleged incidents, both wanted to remain anonymous, both were fearful of the scrutiny and publicity that followed, and both were subjected to partisan skepticism over their allegations.
Like Ford — who said she was "terrified" at the Senate Judiciary Committee hearing on Thursday — Broaddrick told AM to DM that she was "frightened" when she was forced to go public with her allegations against Clinton in 1999.
"It was so hard. And the main reason is I did not want to come out. I was frightened since the time it happened. I never wanted to come out," she said.
Clinton denied Broaddrick's allegations that he raped her in an Arkansas motel room in 1978.

She said it was "hurtful and painful" when Democrats and the "predominantly pro-Clinton media" at the time refused to believe her story and attacked her credibility.
"They called me a liar," Broaddrick said.
But Broaddrick cast doubt on Ford's testimony that Kavanaugh sexually assaulted her at a house gathering in the summer of 1982.
"I'm sure this woman might have suffered something horrific back then. I have no idea what, whether she did or not, but I really don't think it was Brett Kavanaugh. I really believe in Brett Kavanaugh."
When asked if Broaddrick was worried that she was treating Ford's allegations with the same skepticism and doubt that her own accusations were subjected to, Broaddrick said, "People are going to have to believe what they want to believe, but I believe in due process, and I believe in evidentiary information."
"I had everything in the world — the who, what, where, the time, the date, the how, and everything and there's none of that with Dr. Ford," she said.
Broaddrick has previously said that she believes Anita Hill, who, like Ford, testified in a Senate hearing that she was sexually assaulted by then–Supreme Court nominee Clarence Thomas who went on to be confirmed.

On Friday, Broaddrick did not say if she still believed Hill, but said that her "sorrow" for Hill at the time was "very true and real."

"What I remember, is how taken I was with Anita Hill. How compassionate I was about Anita Hill. I haven't gone back to it," Broaddrick said.