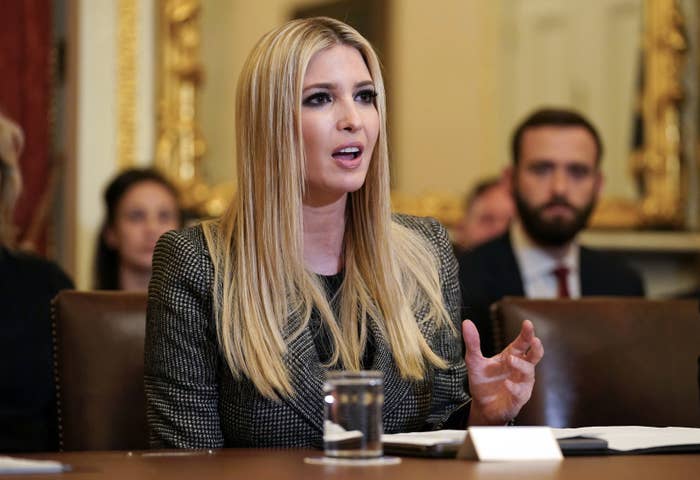 Ivanka Trump said her use of a private email account while working at the White House had "no connection" to Hillary Clinton's email scandal.
In an interview with ABC News Tuesday, Trump defended her use of a private account during her first six months working for the White House, a time when her father called for his 2016 rival to be locked up over her private email use.
Trump said there "was no equivalency" to Clinton's scandal and insisted that the president's rallying cry of "lock her up" didn't apply to her.
"People who want to see it as the same will see it as the same," Trump said. "But the fact is, we all have private email and personal emails to coordinate with our families. We all receive content to those emails and there's no prohibition from using private email as long as it's archived and as long as there's nothing in it that's classified."
Trump, who is a senior adviser to her father in the administration, said that all her emails — "relating to any form of government work" — are stored and preserved on the White House server.
"There's no attempt to hide. There's no equivalency to what my father's spoken about," she said, referring to the president's frequent and vehement condemnation of Clinton's private email use.
Ivanka Trump sent hundreds of emails to White House aides, officials, and her assistants using her private email account while transitioning into her government role as her father's adviser — from roughly around March to September 2017, the Washington Post first reported earlier this month.
"While transitioning into government, until the White House provided her the same guidance they had to others who started before she did, Ms. Trump sometimes used her private account, almost always for logistics and scheduling concerning her family," Peter Mirijanian, a spokesperson for her ethics counsel, told BuzzFeed News at the time of the report.

President Trump defended his daughter, saying that her email use was different than Clinton's because Ivanka's emails "weren't classified" and "weren't deleted" like Clinton's emails.
Ivanka Trump echoed her father's words on Tuesday.
She said that Clinton had specifically set up a private email server with the intent to circumvent the system and that there were "mass deletions" after Clinton received a subpoena.
In her case, Trump told ABC News, "There was no intent to circumvent."
"My emails have not been deleted, nor was there anything of substance and nothing confidential that was within them," she said. "So there's no connection between the two things."