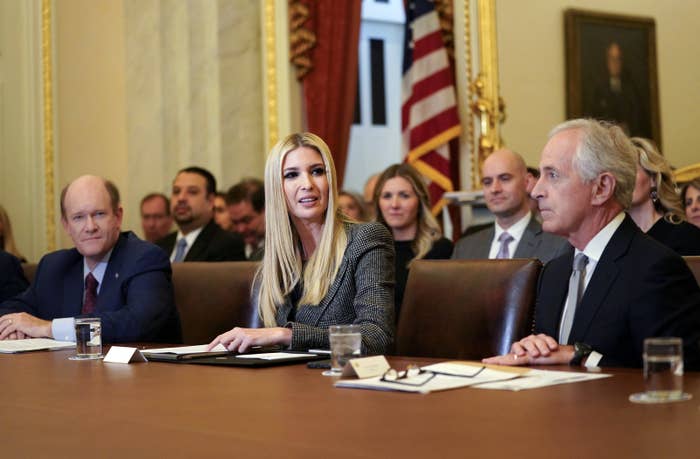 Ivanka Trump used a private email account during her first six months working for the White House, a time when President Trump continued to call for his 2016 rival Hillary Clinton to be locked up over her private email use.
A handful of emails sent by Ivanka Trump to Cabinet officials were reported last year, but on Monday, the Washington Post reported she also sent hundreds of other emails to White House aides, officials, and her assistants using her private account while she officially worked for the government.
A spokesperson for Ivanka Trump's ethics counsel on Monday confirmed that she sometimes used her private email in government work until White House officials explained records retention policies, roughly from March to September 2017. Trump informally advised her father during his campaign and after the inauguration, taking a formal role as adviser to the president in March 2017.
"While transitioning into government, until the White House provided her the same guidance they had to others who started before she did, Ms. Trump sometimes used her private account, almost always for logistics and scheduling concerning her family," Peter Mirijanian said in a statement to BuzzFeed News.
On Tuesday, President Trump told reporters that his daughter's email use was different than Clinton's.
"Early on and for a little period of time, Ivanka did some emails," he said. "They weren't classified like Hillary Clinton, they weren't deleted like Hillary Clinton."
After news of the private email use became known last year, Trump's counsel Abbe Lowell reviewed her messages.
"There was never classified information transmitted, the account was never transferred or housed at Trump Organization, no emails were ever deleted, and the emails have been retained in the official account in conformity with records preservation laws and rules," Mirijanian said.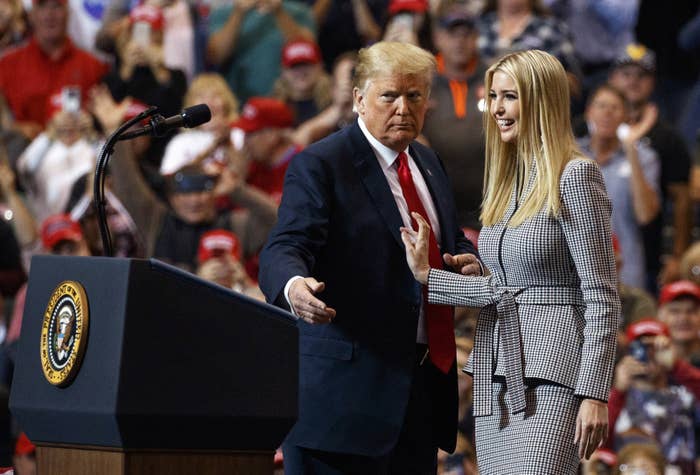 The emails were not reviewed by the White House Counsel's Office, to protect Trump's attorney–client privilege, the Post reported. But Lowell did forward messages he considered to be relevant to her official White House account; less than 100 involved official business with administration officials, and less than 1,000 related to Trump's official schedule and logistics, the Post reported.
According to the Post, Trump and her husband, Jared Kushner, set up the private domain ijkfamily.com in December 2016, shortly after the election.
"When concerns were raised in the press 14 months ago, Ms. Trump reviewed and verified her email use with White House Counsel and explained the issue to congressional leaders," Mirijanian said.

On Tuesday, the president said he was satisfied with how the issue had been handled — but even as he confirmed what his daughter had done, he called it fake news.
"So what Ivanka did, it's all in the presidential records, everything is there," the president said. "There was no deletion, there was no nothing. What it is is a false story. Hillary Clinton deleted 33,000 emails. She had a server in the basement. That's the real story."
Ivanka Trump's emails to government officials were requested by watchdog group American Oversight via multiple Freedom of Information Act requests last year. At that time, the group at that time revealed that Trump used a private email address in dealing with the Treasury Department when she was already assigned a White House email. The message related to her focus on child care and family leave.
On Monday, American Oversight executive director Austin Evers called for Congress to investigate.
"The president's family is not above the law, and there are serious questions that Congress should immediately investigate. Did Ivanka Trump turn over all of her emails for preservation as required by law? Was she sending classified information over a private system?" he wrote. "For more than two years, President Trump and senior leaders in Congress have made it very clear that they view the use of personal email servers for government business to be a serious offense that demands investigation and even prosecution, and we expect the same standard will be applied in this case."
The issue of private email accounts used by government officials has been a frequent talking point of President Trump, who has accused Clinton of mishandling classified information and attempting to cover up her use of a personal email server while she was secretary of state. "Lock her up" remains a frequent chant of Trump supporters, who believe that Clinton's use of a private email server should be criminally punished.