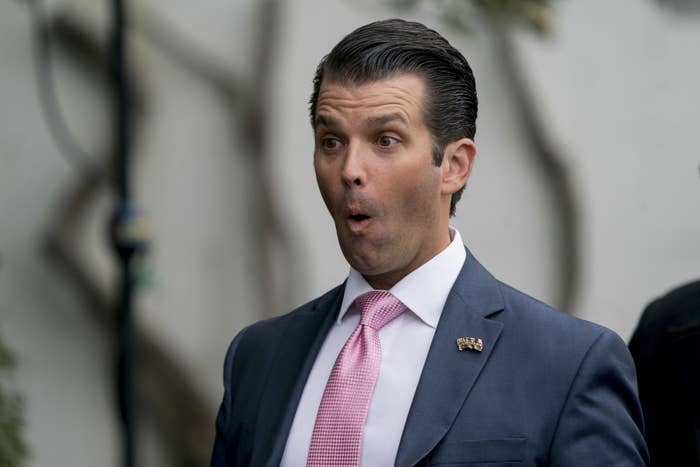 Donald Trump Jr. posted an image on his Instagram account that appeared to mock the woman who alleged she was sexually assaulted by the president's Supreme Court nominee Brett Kavanaugh.
The woman identified herself on Sunday as Christine Blasey Ford, a 51-year-old research psychologist and professor in California. She says that during a house party in Maryland in 1982, Kavanaugh — whom she described as "stumbling drunk" — pinned her to a bed, groped her, tried to remove her clothes, and put his hand over her mouth to stop her from screaming.
Ford's allegations were contained in a secret letter that she sent to California Rep. Anna Eshoo, who then sent it to California Sen. Dianne Feinstein — the ranking Democrat on the Senate Judiciary Committee — in July.
Ford expected the letter to remain private, but earlier this week the Intercept reported on the existence of the letter, and then the New Yorker published details of the alleged sexual assault contained in the letter without identifying Ford.
A day before Ford spoke out for the first time, Trump Jr. posted an image of a childish note on Instagram that appeared to mock her letter about Kavanaugh's alleged sexual assault.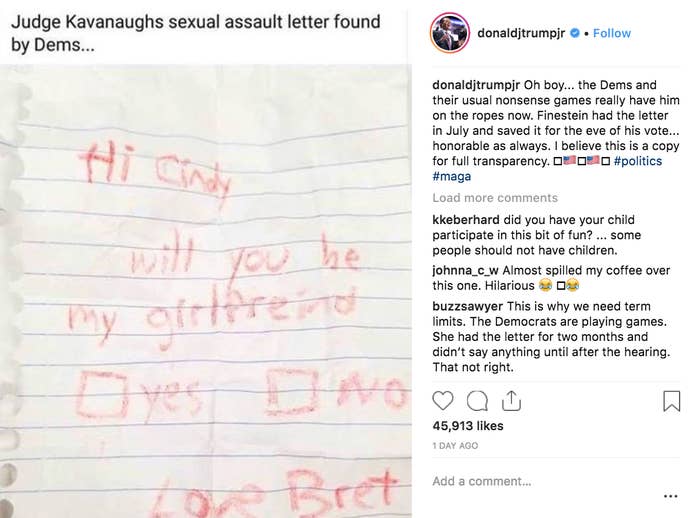 The image — titled "Judge Kavanaughs sexual assault letter found by Dems..." — was that of a note scrawled in childish handwriting which read, "Hi Cindy will you be my girlfreind [sic]?" The note had two checkboxes marked "yes" and "no" and was signed "Love Bret [sic]."
In his Instagram caption, Trump Jr. wrote: "Oh boy... the Dems and their usual nonsense games really have him on the ropes now. Finestein [sic] had the letter in July and saved it for the eve of his vote... honorable as always. I believe this is a copy for full transparency."

Trump Jr. did not immediately respond to a request for comment on Monday.
The origin of the image is unclear, but several pro-Trump Twitter accounts had shared it a day before Trump Jr. posted it on Instagram.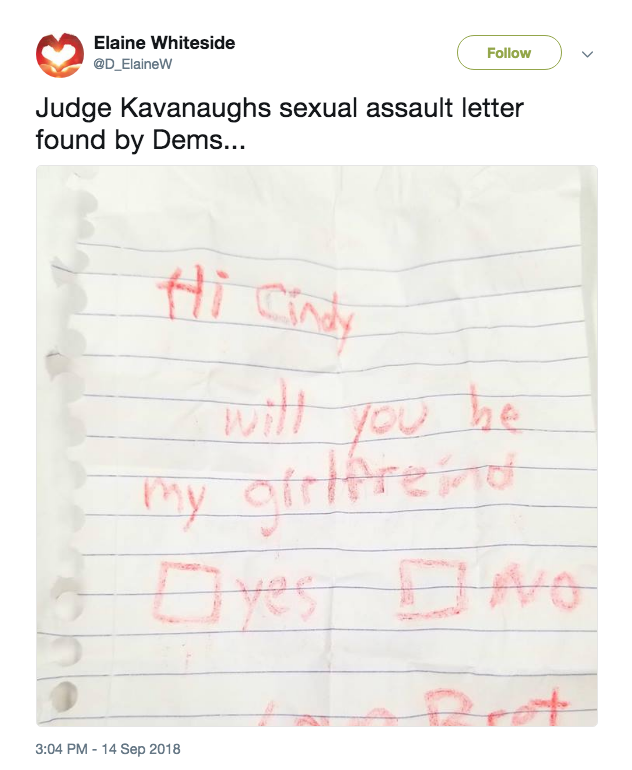 Kavanaugh has repeatedly denied the allegations, including in a statement released by the White House on Monday saying, "This is a completely false allegation. I have never done anything like what the accuser describes — to her or to anyone."
After Ford spoke out on Sunday, Republicans on the Senate Judiciary Committee defended Kavanaugh's integrity and said it was "disturbing that these uncorroborated allegations from more than 35 years ago, during high school, would surface on the eve of a committee vote after Democrats sat on them since July."
However, some Republicans said they would like to hear from Ford if she is willing to provide information to the committee.
White House adviser Kellyanne Conway told Fox News on Monday: "This woman should not be insulted and she should not be ignored." Conway said that she had spoken to Trump and other Republican senators and that "this woman will be heard."
Ford's attorney, Debra Katz, told the Today show on Monday that Ford would be prepared to testify in front of the Judiciary Committee in relation to Kavanaugh's fitness to serve as a Supreme Court justice.

"She believes these allegations obviously bear on his character and his fitness, and the denials also bear on his character and fitness," Katz said. "She's taken a polygraph. She's a credible person. These are serious allegations and they should be addressed. Yesterday the White House would not even have the nominee acknowledge whether he knew her, and he's not being forthcoming."