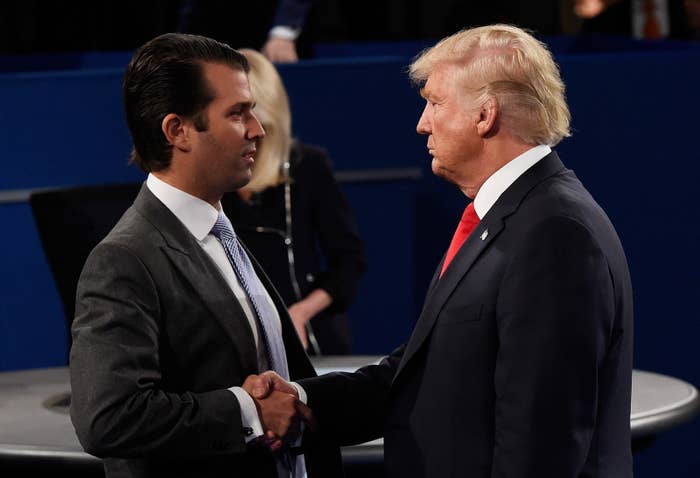 For the last two months, Donald Trump Jr. has aggressively defended his father against a constant stream of news reports regarding the Trump campaign's contacts with Russia.
Now, Trump Jr. has himself become the target, and his father's most ardent supporters are pushing back on his behalf. But while the MAGA internet reliably defends Trump and members of his inner circle, their defense of Trump Jr. has been uniquely intense, far outpacing their response when other Trump associates got caught up in the Russia probe, including Trump's son-in-law Jared Kushner.
That may be because, as one senior administration official told BuzzFeed News, "Don Jr. is the base."
Trump Jr. — who, of Trump's inner circle, was most attuned to his father's brand of politics — is reeling from a series of New York Times stories that revealed he met with a Kremlin-linked lawyer last June after she claimed to have damaging information on Hillary Clinton. Crucially, Trump Jr. reportedly was informed in an email before the meeting that the Russian government was attempting to help his father's campaign. The meeting was recently disclosed after Kushner revised his security clearance paperwork, which listed more meetings with foreign officials.
Initially, Trump Jr. had said the meeting was regarding an adoption program, but he later changed his account, saying in a statement that "the woman stated that she had information that individuals connected to Russia were funding the Democratic National Committee and supporting Mrs. Clinton. Her statements were vague, ambiguous and made no sense."
He has since continued to tweet responses to the stories, saying sarcastically at one point: "Obviously I'm the first person on a campaign to ever take a meeting to hear info about an opponent... went nowhere but had to listen."
A source close to the administration waved away questions of why Trump's son would take the meeting, but acknowledged not disclosing it was concerning — although Trump Jr., unlike Kushner who is a West Wing employee, was not under a legal obligation to formally disclose the meeting.
"The larger issue that is relevant is why wasn't this disclosed?" the source said. "My guess is sloppiness and that's certainly my hope."
The problem with Trump Jr. being on the defensive, the source continued, is that he "didn't seem to get his dad's smarts, and certainly not his sister's. He can be emotional — you can see that in his tweeting, where his [T]witter stream is the most erratic."
But although some in the White House would rather have kept Trump Jr. off Twitter on Monday, Trump's base rallied behind him, as some lawmakers called on Trump Jr. to meet with the Senate Intelligence Committee.
On the radio, Fox News' Sean Hannity devoted a chunk of his show Monday to defending Trump's elder son. Two separate 4chan and Reddit personalities told BuzzFeed News the "bat signal" went up to defend Trump Jr. even earlier, on Sunday. One source, who runs a big pro-Trump Twitter account, said that once the "liberal Fake News starts its coordinated attack on Don Jr., the pro-Trump online ecosystem tries to defend him as best we can," including quote tweeting and retweeting each other's tweets, searching Twitter for examples of liberal bias, and reading old news stories to look for holes in the "current fake news stories."
"The pro-Trump Internet loves Don Jr.," said Mike Cernovich, a pro-Trump media personality, who, like Trump Jr. himself, has previously been accused of spreading conspiracy theories.
Cernovich said "hit pieces" from the media can hurt even when someone like Trump Jr. is distrustful of the media, but he said support can make it fun, fondly recalling the way he and Alex Jones responded to the perceived hit piece by NBC's Megyn Kelly "because we harnessed the support of our followers."
"Moral support really does matter, it's not slacktivism," Cernovich continued. "That way Don Jr. can look at this support and see that 'hey, it's not so bad' — it can rally him. And in the best case it might even make the whole thing fun because you know people are watching and supporting you."
Trump fans have also been trying to figure out who leaked the information about the meeting. The New York Times story cited three White House advisers as sources. Some suspect that Kushner or his allies could have leaked the document to hurt Donald Jr. and keep some of the heat off Kushner, whom many Trump supporters still view as a left-wing, so-called "globalist" faction of the White House.
The defense of Trump Jr. stands in contrast to when the Washington Post reported in May that Kushner and the Russian ambassador had discussed creating a backchannel between Trump's transition team and the Kremlin. The president and his top aides were abroad for his first foreign trip — and the immediate response was silence.
"I wouldn't put it past (Kushner or his allies)," said a source close to the administration. "But then again, the leaks are coming from everywhere these days, so who knows. Mr. Trump needs to surround himself with loyalists. Period."
Doug Deason, a major Dallas-based donor and Trump supporter, sent BuzzFeed News a bulleted list in defense of Trump Jr., with whom he spent time during the campaign and described as "brilliant and principled."
"As a member of the election team leadership, it is not odd at all that he would meet with someone, ANYONE, who claimed to have evidence of the Clinton campaign group receiving financing from the Russians. When I am on a campaign team, we ALWAYS do opposition research, everyone does in both parties at every level," Deason wrote, adding that he believes that "Don did not know the attorneys past relationship with Russian government representatives."
Addressing whether this could have come from Kushner, Deason said that he doesn't "personally know Jared but I have confirmed that he and Don Jr have an excellent relationship and enjoy working together and supporting each other."