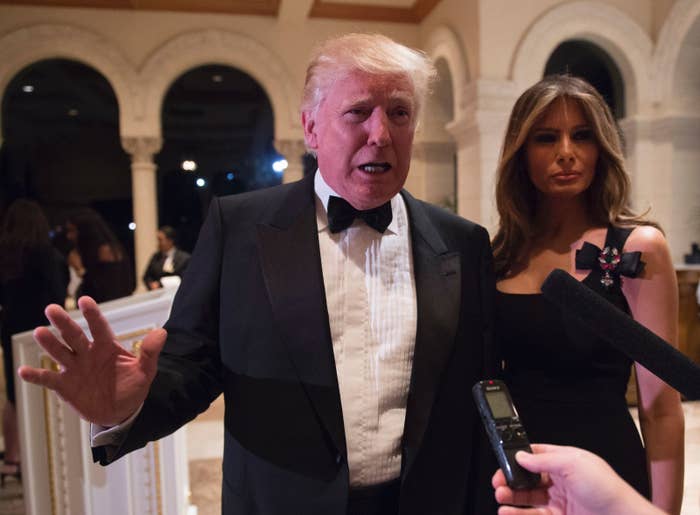 WASHINGTON — Senate Republicans opened the new session of Congress Tuesday in a familiar position: trying to uphold long-held GOP beliefs— this time, the party's tough-on-Russia stance — without criticizing President-elect Donald Trump.
Republican lawmakers generally said they supported the economic sanctions and the expulsion of 35 Russian diplomats announced by President Obama last week, with some even pushing for further congressional measures against Russia. But when it came to responding to Trump — who praised Russian President Vladmir Putin in a tweet and said the US needs to "move on" from talking about Russian hacking during the election — Republicans tried to defend their president-elect and deflected questions about the possibility of Trump reversing those sanctions.
Tennessee Sen. Bob Corker, chairman of the Senate Foreign Relations Committee, said there are "individuals who certainly have those concerns" about Trump appearing soft on Russia, but said he's going to discuss the issue in greater detail with Trump's secretary of state nominee Rex Tillerson to get a better idea of the incoming administration's position on Russia.
Corker was scheduled to meet with Tillerson Tuesday afternoon. The former Exxon Mobile CEO is set to meet with key lawmakers from both parties — including some who have expressed concerns about his close ties to Putin — ahead of his confirmation hearing tentatively set for Jan. 11. The hearing will be one of the first opportunities for lawmakers to learn more about the new administration's stance on Russia, after having grown accustomed to first seeing Trump's foreign policy positions in 140 characters on Twitter.
Corker also stressed it was important to understand how commonplace cyber hacking has become when investigating the allegations against Russia. "We used to have people in trench coats standing outside hotels. Today people use computers and they hack, and every sophisticated country in the world is engaged in hacking."

Asked about Trump's tweet — which the president-elect pinned to highlight at the top of his feed — praising Putin, Corker said: "To try to respond to the daily ebbings and flowings of tweets and those kinds of things is just not a good way to do business."
Georgia Sen. David Perdue, a top Trump ally on Capitol Hill, made the distinction that Trump wasn't necessarily praising Putin, but praising Putin's decision to not retaliate. "Look, we've got a new president-elect who will be sworn in the next few weeks, and I want to wait to have him in place," he said when asked about Trump appearing too close to Putin.

"We know the current administration has failed on Russia. They failed to reset that relationship. I'm anxious to see how this next president, new secretary of state will get in and develop this forward-leaning relationship with Russia."
Although Senate Majority Whip John Cornyn said there were "a lot of legitimate concerns about Russian activity," he went on to call Trump's response wise. "I think he's getting briefed by the intelligence community today or tomorrow — sometime soon. There's been a lot of speculation without any proof, and I think he has wisely said I want to see what the facts are."
In addition to the sanctions announced by the president, three separate committees — foreign relations, armed services, and intelligence — are looking into the Russian hacking of the Democratic National Committee's emails during the election. Sen. John McCain, chairman of the Armed Services Committee, will hold the first hearing on Thursday.
And Sen. Ben Cardin, the top Democrat on the Senate Foreign Relations Committee, told reporters Tuesday he's working with Republicans on "a comprehensive bill that will provide congressional authorization for additional sanctions against Russia."
"We're not only threatened but our allies around the world have been threatened by what Russia has done, so there's a significant role for the Senate Foreign Relations Committee," he said.
Florida Sen. Marco Rubio, one of the most vocal critics of Putin in the Senate, said he's also working on "some additional measures" against Russia, regardless of the president-elect's views. It's unclear if he's working with Cardin, who declined to disclose his GOP co-sponsors, or on something separate.
"Congress should do whatever it believes is right, and the president will just have to make his own decisions," Rubio said.