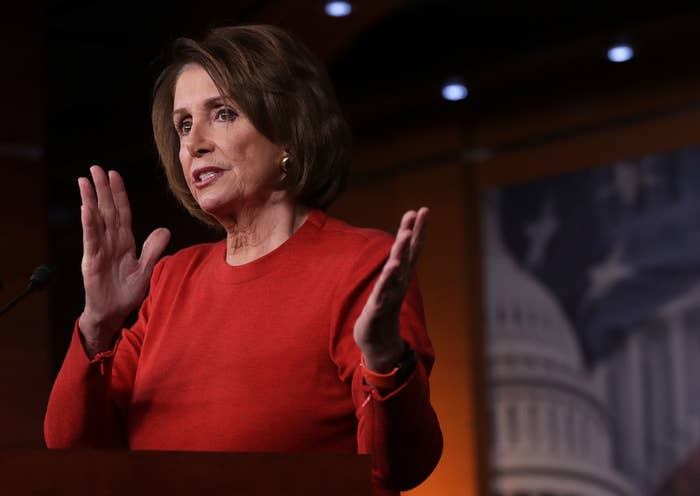 WASHINGTON — Democrats didn't think 2016 was going to end this way. They especially didn't think that they would suddenly be the party that seemed out of touch with a segment of working-class America.

As Democrats returned to Capitol Hill after a disappointing election for them, divisions among the party were clear Tuesday with lawmakers soul-searching for the path forward. House Democrats decided to delay their leadership elections "to recalibrate" as they try to figure out what went wrong.
Although Hillary Clinton's performance with white college-educated voters and whether voters of color would turn out big were the big questions in the lead-up to the election, her dismal performance with working-class whites has animated the election's aftermath at the exclusion of almost all else.
And in Washington, many Democrats emphasized the path forward is determining how they lost those working-class voters in the Rust Belt, specifically in areas that President Obama won by double digits, and how they can win them back while maintaining their advantage with black and Latino voters. Lawmakers were outspoken about the need to appeal to white, working-class voters with ideas ranging from a complete reform of the party's infrastructure to changing up communication tactics and espousing more progressive policy ideas.

The Democratic National Committee "has to have a really serious family conversation about where we're going, about how we win in Scranton, how we win in Harrisburg, how we win in Youngstown, how we win in Michigan as we go forward," said retiring New York Rep. Steve Israel.
Asked about how the Democrats might have misread the electorate, Israel said: "I think we failed to tap into those anxieties of middle-class voters and working-class voters, and we need to do a much better job of understanding where they are."
"There are historic convergences on them, the economy is changing radically before their very eyes, historic breakdown in faith and institutions across the board," he continued, "unprecedented levels of threat at home and abroad, and a sense that democracy has just sold them out. And until we understand those convergences, how to give voice to them, and also solve those anxieties, then we're going to continue to be running from a position of weakness."
Some Democrats — including Arizona Rep. Raúl Grijalva — are pushing for top-to-bottom reform that looks at middle-class voters more broadly instead of trying single out white voters.
"I think you begin by looking at your own infrastructure. Our own infrastructure is the DNC...has run this same kind of campaign now for decades. Kind of a middle-of-the-road, take-no-risks, and pay a lot of consultants and pay a lot of pollsters to tell you what to say and what to do and not have any emotion or feeling in what you're doing," Grijalva said in an interview. "You have to clean house, you have to change the leadership, and you have to change the strategy."
Grijalva is the co-chairman of the House Progressive Caucus and backed Sen. Bernie Sanders in the Democratic presidential primary.

"Some people are promoting the idea that we have to have a whole new white strategy in terms of how the DNC works. I think we have to have a whole-America strategy," Grijalva said. "The demographics are not going to change. They're going to continue to head into a multicultural, multi-ethnic constituency toward the Democratic Party. That doesn't mean you leave some behind in order to appeal then and try to win back."
But the party needs to affirm that Democrats, who have traditionally represented working-class voters, still look out for their interests, said Wisconsin Rep. Mark Pocan in an interview.
"That voter feels a little left behind by both parties over the last several decades, and Donald Trump gave simple, appealing answers. Maybe not simple, easy solutions, but he gave simple, easy answers," Pocan said.
A better economic message also needs to be crafted, said Michigan Sen. Gary Peters, adding that working-class voters didn't hear the economic message they wanted from Hillary Clinton's campaign. "You do have to have a strong economic message. That's critical — certainly in Michigan," Peters said. "That's what voters are looking for... I think she should have had a stronger economic message. That would have been helpful. There's no question about that."
While Democrats maintain their policies would be the most beneficial for economically-frustrated Americans, they recognize that they will have to push harder to deliver their message to those voters.
"One of the things we do as Democrats to talk to essentially to address the white male, not-in-college male, is we propose policies that we think will help them, but we don't really ever talk empathetically to them," said Kentucky Rep. John Yarmuth.
Connecticut Sen. Chris Murphy said "big ideas" from the progressive wing need to be incorporated more into the party's overall message to get the attention of these voters.
"I think we have to be crystal clear about where we stand and not be afraid of big ideas that solve big problems," Murphy said. "I think we've been addicted to incrementalism."
"You know a tax credit for higher education doesn't scratch the itch. They want to hear us talking about free college, or debt-free college. They want to hear why we're not taking on drug companies, why people who were responsible for the Wall Street crash haven't gone to jail...Trump was very good at articulating some easy to understand — albeit dangerous — ideas. There are a lot of white papers in the Clinton campaign, but very few of them broke through."