Denver Riggleman, a Republican running in a competitive race for a US House seat in Virginia, has apparently "liked" a number of Facebook pages that share racist, sexist, and otherwise offensive posts, according to screenshots taken by American Bridge, a Democratic opposition research firm, and reviewed by BuzzFeed News.
Some of the pages, screenshotted in recent days, still appear on the candidate's list of likes, while others have apparently disappeared from his account. Some of the Facebook pages themselves have either been removed or changed their privacy settings. Riggleman's campaign did not dispute that he is the owner of the Facebook account in question.
You may recall Riggleman, who is running in Virginia's 5th Congressional District, which includes the city of Charlottesville. His Democratic opponent, Leslie Cockburn, publicly accused him of liking and sharing Bigfoot erotica in July. (Riggleman categorically denied that those social media posts were "Bigfoot erotica," but rather that he and his friends were just joking around when he shared the lewd images. He's since set his Instagram page to private.)
Riggleman could face new controversy over screenshots showing the Republican candidate currently or recently "liking" a number of Facebook pages that share offensive posts.

One page that is still under the candidate's current likes, "The West Is The Best," has a banner image that alludes to rape. It depicts a scared woman as representative of "liberal followers" and a threatening, apparently male presence as the so-called "right-wing political content" they share on the page.

The page also seems to enjoy circulating memes and images demeaning women and their bodies, and satirizing rape against women. The account states their content is "dedicated to those who admire the western world and who appreciate its accomplishment."
Jimmy Keady, a spokesperson for Riggleman's election campaign, told BuzzFeed News that Riggleman simply "does not remember liking some of these pages or being a part of these groups."
"We are in a world where social media is constantly at our fingertips and things can get clicked without knowledge," he added. "The story here is that this is another Democrat hit piece and a topic that does not pass for legitimate news."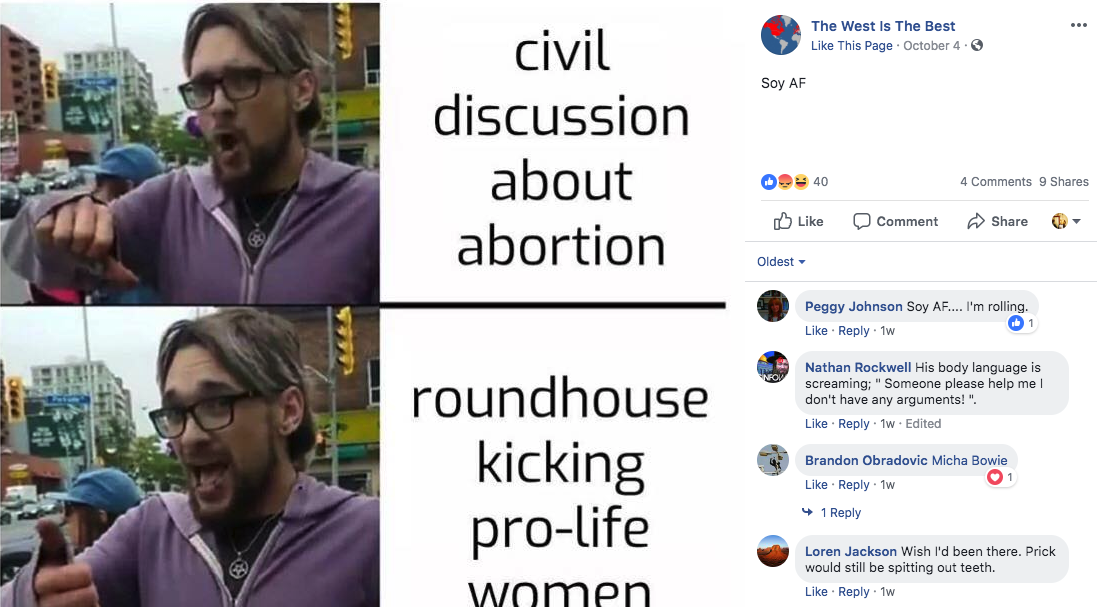 Screenshots of Riggleman's Facebook likes taken a few days ago showed that he had liked a page called "Walk Away From the Democrat Plantation," but that like has apparently since been removed. Riggleman's campaign team did not respond to inquiries from BuzzFeed News about whether he had removed the like — or "unliked" — the page himself.
The screenshots of the Facebook page provided by American Bridge show that the page shared a variety of racist memes. Screenshots showed several posts depicting black people, with one joking about the gang violence in Chicago, captioned "I visited Chicago. All I got was this casket."

The page has either been removed or changed its privacy settings.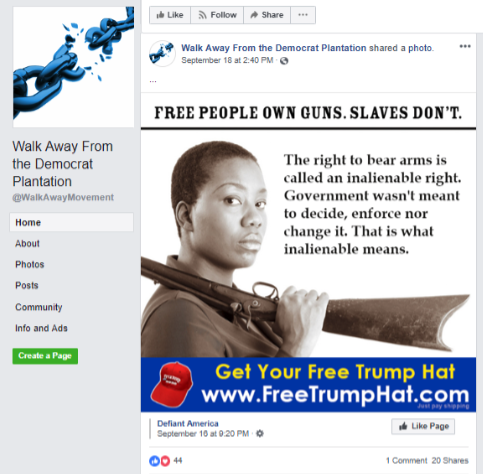 Another page that appears to have been removed from Riggleman's most recent likes is "Nation In Distress." The page appeared on his likes, according to screenshots taken by American Bridge two weeks ago, but was not present on his page when BuzzFeed News reviewed the account on Tuesday. The page also appears to have recently been deleted or had its privacy settings changed.

Screenshots of posts from "Nation In Distress" show links and captions calling attention to people of color committing crimes, frequently referring to black people in the posts as "thugs." The page apparently shared links to RightWingTribune.com — one with the headline "Mexican Steals Cadillac Escalade." Another shared post from the site showed a mugshot of black man with the headline "Thug Breaks Into Woman's Home And Sexually Assaults her..."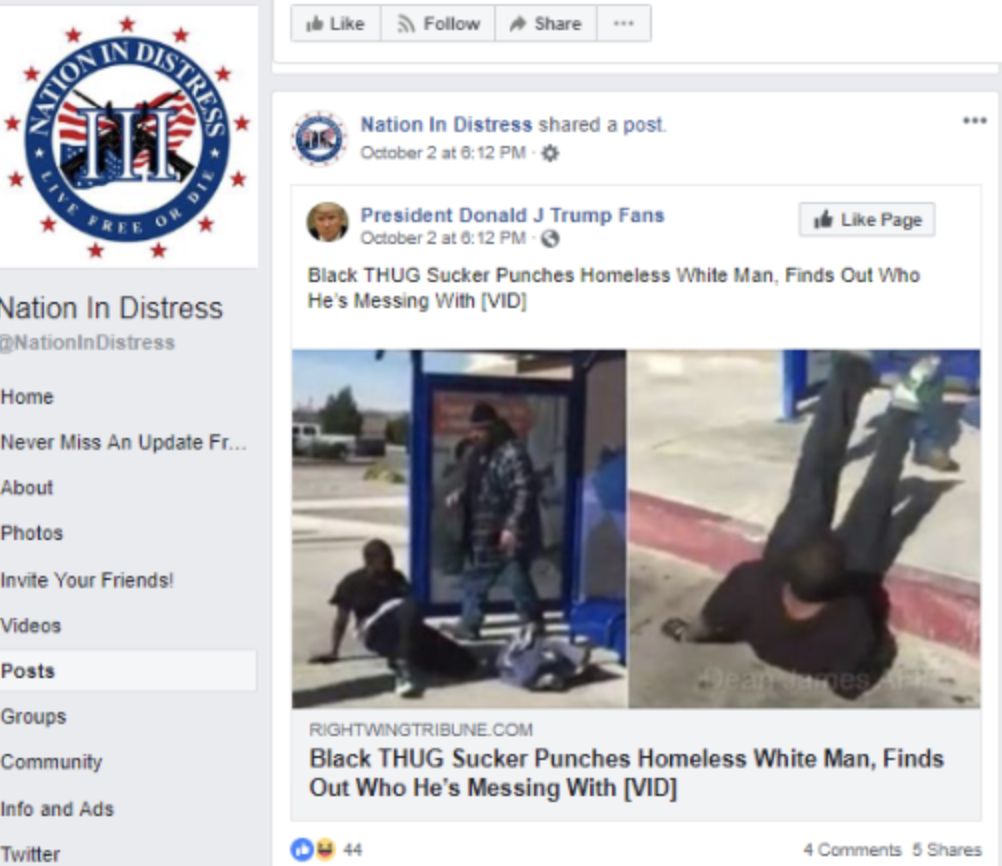 American Bridge also shared a screenshot of Riggleman's comment on a meme depicting Sen. Elizabeth Warren as a Native American woman. The post, from conservative filmmaker Dinesh D'Souza, included the caption "Me no like the way Paleface Donald drove my ancestors off our Cherokee lands."
"She is such an idiot," Riggleman commented on the post, according to the screenshot.

When asked about this specific comment, Keady responded with the statement, "Denver is a normal guy who is running for office and is not a politician."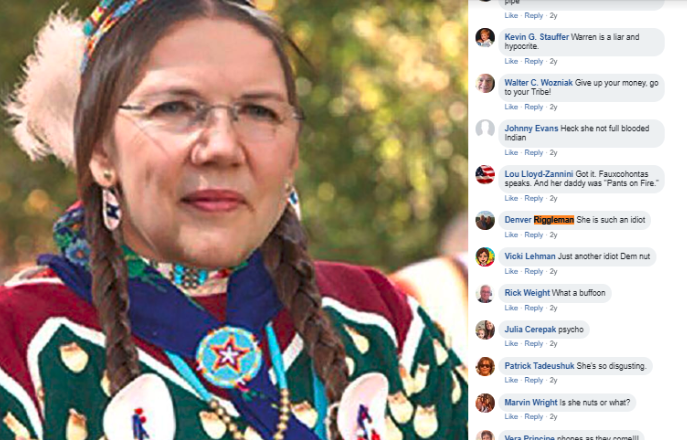 CORRECTION
Jimmy Keady's name was misspelled in an earlier version of this post.