Hello there. I see you have come to learn more about Bigfoot erotica because somehow, that's what people are talking about. So let's see if we can explain how we all got here.
On Sunday night, Leslie Cockburn, a Democrat running for a US House seat in Virginia, shared a tweet with a screenshot supposedly taken from her Republican opponent's Instagram account. The tweet showed Bigfoot with his private parts censored by a very long black box.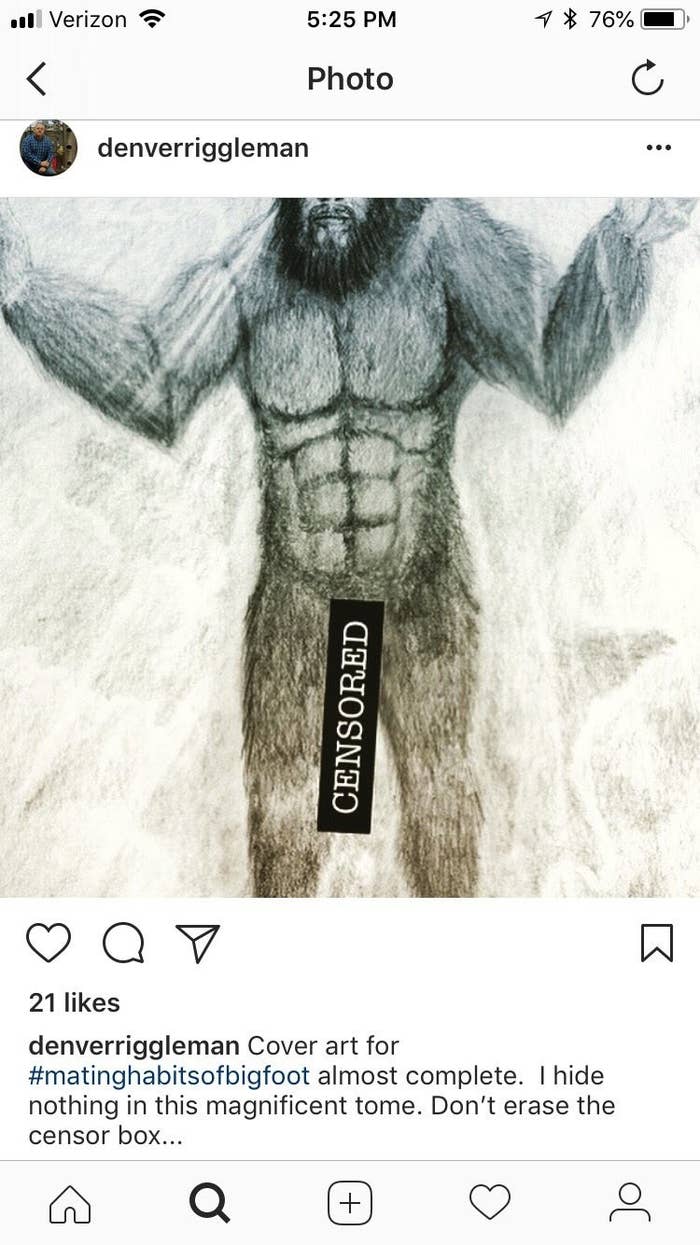 Denver Riggleman and Cockburn are running against each other in Virginia's 5th Congressional District, which includes the city of Charlottesville.
In her Tweet Sunday, Cockburn accused Riggleman of "campaigning with a white supremacist" — and also of being a "devotee of Bigfoot erotica."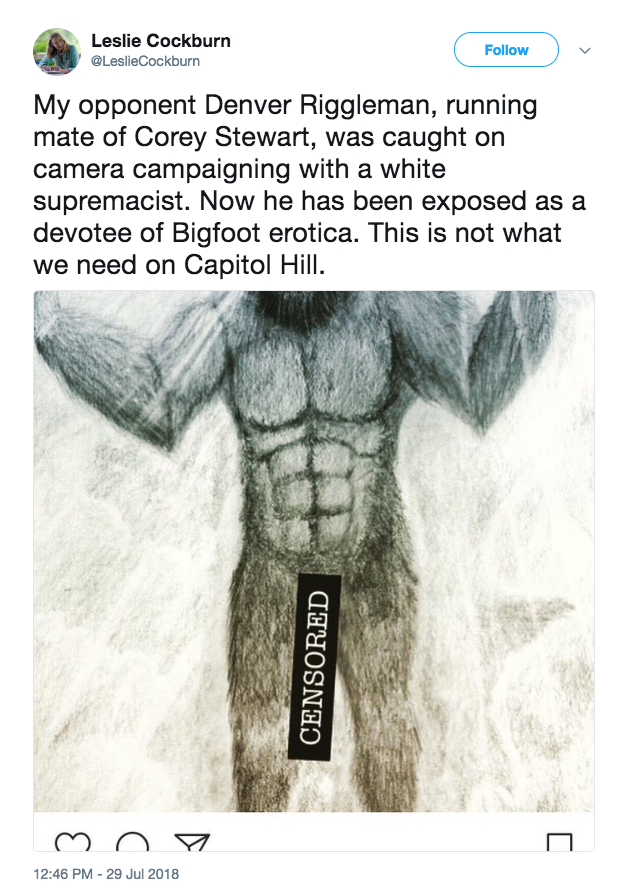 Riggleman has tried to distance himself from the groups behind the Charlottesville rally and published an op-ed Sunday in which he declared that white supremacists would not be welcomed back in the city on the upcoming anniversary of the deadly clashes.
You might be wondering what all this has to do with Bigfoot erotica. In tweets Sunday, Cockburn claimed to have found two images on Riggleman's Instagram page, depicting drawings of Bigfoot with his dick (or whatever he has down there) blocked. She shared both images on Twitter as evidence of her opponent's alleged "Bigfoot erotica collection."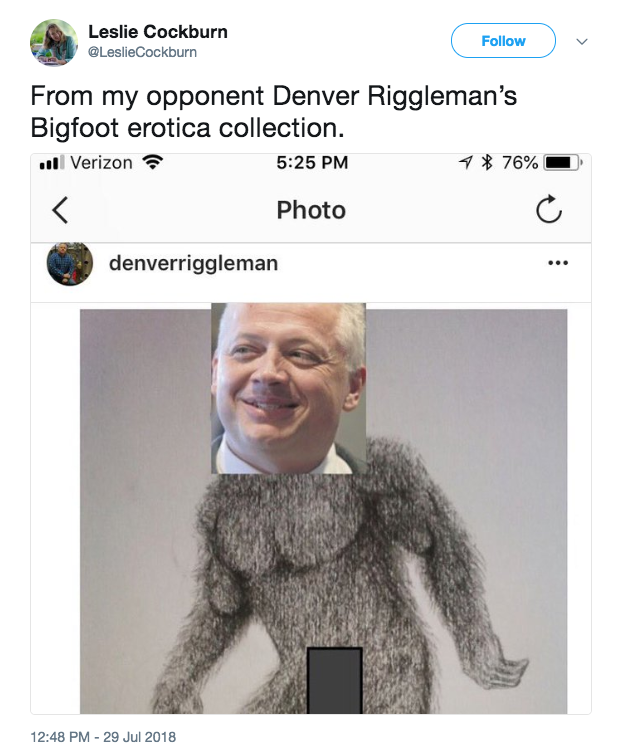 Riggleman's Instagram account has been set to private, so BuzzFeed News was not able to verify that the images were in fact posted by the candidate.
BuzzFeed News reached out to Riggleman for further comment but did not immediately receive a response.
In one post, Riggleman's face was superimposed on Bigfoot, accompanied by a caption that explained his "buddies" had made the image to celebrate his birthday and the upcoming release of Mating Habits of Bigfoot and Why Women Want Him, which is very, very eyebrow-raising.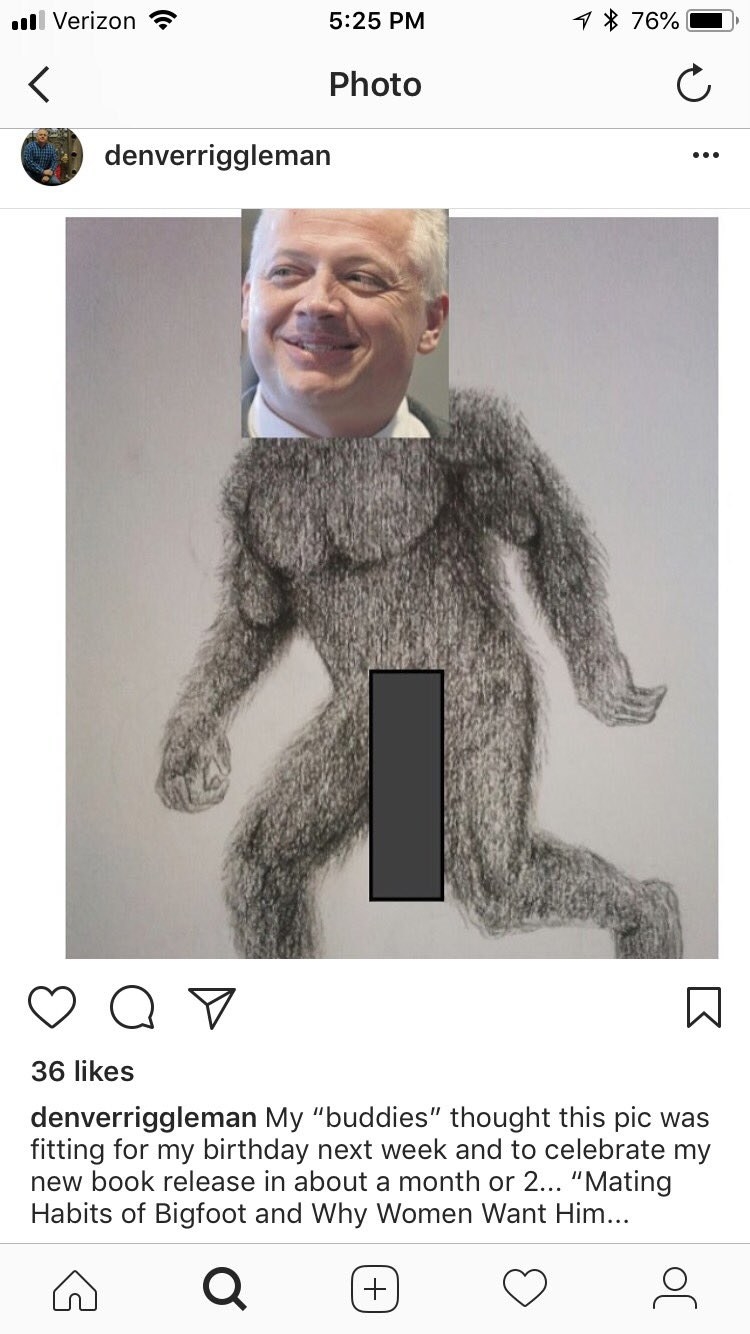 It seems that Riggleman's Facebook page had until recently recognized him as the author of a self-published book titled — I kid you not — The Mating Habits of Bigfoot and Why Women Want Him, according to a story published Friday by the Cook Political Report.
Cockburn's Campaign Manager Louise Bruce told BuzzFeed News that they were made aware of the Bigfoot erotica after Cook Political Report editor Dave Wasserman tweeted about it.
"The voters of Virginia's 5th District deserve to know the true character of anyone who is asking to be sent to Congress to represent them," Bruce said in a statement sent to BuzzFeed News about Cockburn's Bigfoot tweets.
"Leslie has already put more than 62,000 miles on her car criss-crossing our district to meet with real people about the real issues that matter to them. Meanwhile, Mr. Riggleman is home scrubbing his social media of 'Bigfoot erotica' and who knows what else."
In comments to the Daily Progress, a Charlottesville newspaper, Riggleman called Cockburn's tweets "absurd." The Instagram posts are not "Bigfoot erotica," he said, but rather jokes played on him by his friends.
The Daily Progress pointed out that Riggleman did coauthor a story about Bigfoot in 2006 titled Bigfoot Exterminators Inc.: The Partially Cautionary, Mostly True Tale of Monster Hunt. But there is no indication that this work was sexual in nature.
However, if you are wondering whether Bigfoot erotica is actually a thing, the answer is yes. Bigfoot erotica is very, very real.
Not only does Bigfoot erotica exist, according to a 2014 BuzzFeed News piece, but, as the article says, "We are living in something of a Bigfoot erotica heyday."
That year, the Daily Beast reported that a 16-book Bigfoot erotica series, Cum for Bigfoot, had earned the author up to $30,000 per month through Kindle Direct Publishing, which is probably making a few people (myself included) second-guess their writing careers right now.
On Monday, Riggleman tweeted a link to video, saying it showed his "research into the Bigfoot myth," while adding that he doesn't know what Bigfoot erotica is.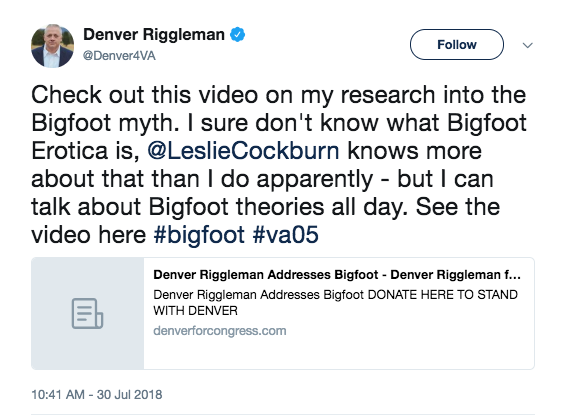 The video was posted by Conservative Review TV, which is best known for recently for making a fake interview of Alexandria Ocasio-Cortez, that went viral. The interview with Riggleman, however, is apparently real and it is...something.
In it, the candidate discusses his apparently extensive research into the competing Bigfoot "belief systems," characterizing it as a fight for the freedom to believe in any type of Bigfoot. He also talks about taking his wife on a trip to search for mythical monster.
Anyways, that's why everyone is talking about Bigfoot erotica.
There were many critiques.
People noted that everyone involved has the name of a cartoon.
Some people could not believe this is what politics has come to in 2018.
Other people were like, "I can't be shocked anymore."
And naturally, some people loved it.
They were here for the Bigfoot erotica.
"Bigfoot Erotica was the plot twist 2018 didn't know it needed."