This is Please Like Me, BuzzFeed News' newsletter about how influencers are battling for your attention. You can sign up here.
"I think what makes us so unique is that we seem to have this bond on camera that other children of immigrant parents don't typically get."
Arguably the most famous mom-daughter duo on TikTok is Addison Rae and her mother, Sheri. But it's time we all made some room for 19-year-old Krithi Srinivas and her mom, Sridevi.
Unlike Addison and Sheri and other teens who've made their parents famous, Krithi and Sridevi's origin story happened in reverse. Krithi's account, @krithi0328, has over 200,000 followers, but she told me the majority of her followers came only in the past few weeks, when her mom started dancing alongside her.
"I have been making TikToks since probably December-ish but only started getting views a couple weeks ago when I decided to include my mom in one of my dance videos," the teen, who's from New Jersey, said. Her first video with her mom was posted July 10 and has been viewed half a million times.
"OK UR MOM WENT OFF," one person wrote.
She and her mom have since posted a few more, including this incredible sketch that's now gone viral. Commenters are infatuated with this "most elite duo" who they believe show "a healthy Brown mom and daughter relationship." People are impressed with how committed Sridevi is to learning these dances, and how well she's doing(!).
That's because, according to her daughter, Sridevi has a professional background in classical Indian dance. "She has danced her whole life and actually has a dance school now that has been flourishing for the past 10 to 15 years or so," said Krithi.
She said it takes them about 20 minutes to an hour to learn a routine. Krithi's followers post aggressively adoring comments every time one's uploaded.
"I think what makes us so unique is that we seem to have this bond on camera that other children of immigrant parents don't typically get. So it's pretty rare seeing an Indian mom from India dancing to mainstream music with profanity," she said. "I think it's interesting and oddly progressive because there's a stereotype that Indian parents are super strict and don't like to 'bond' with their kids. We have our struggles, [but] we are dancers at the end of the day, so that's a place we can get along."
For me, Krithi and Sridevi's TikToks are little shots of serotonin.

This new #InfluencerChallenge has had me wondering something all week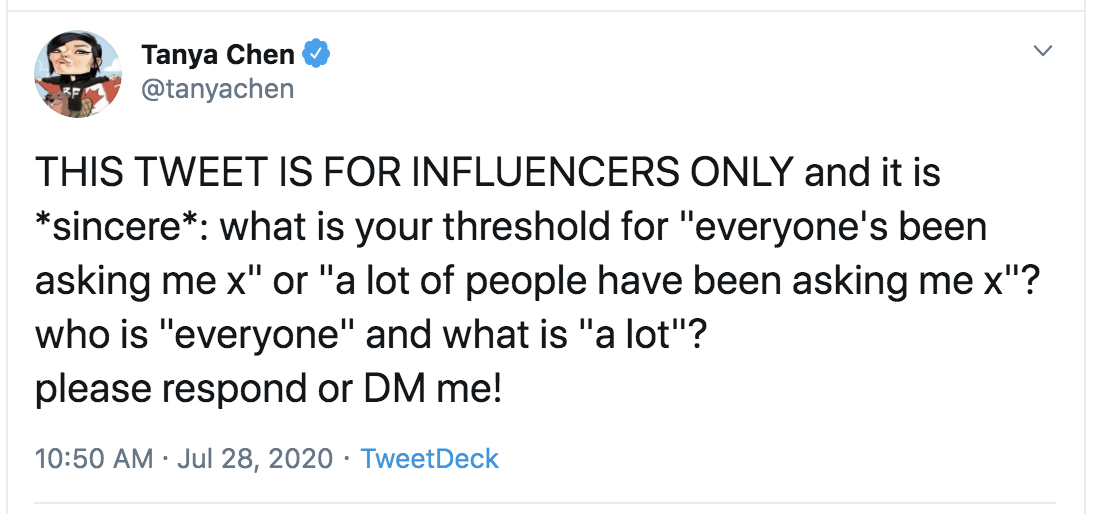 Social media users who aren't influencers have been posting videos filming their partners reacting to them acting like lifestyle influencers. In this viral TikTok, @taylorfields97 has the camera turned to her boyfriend and she says, "So a lot of you have been asking about how I curl my hair…"
And usually the spouse or partner is incredulous and asks, "Who's been asking?"
Well, I'm wondering too! When influencers create content about something as unremarkable as how they put their hair up, and say they've been resigned to making it because they "have so many questions" on it...what is "so many"? Who is "everyone" in "everyone's been asking…"?
So I tweeted to ask influencers, hoping to reach some. And I did not get many responses because the tweet did not reach outside of my bubble very far. Alison Gary, a microinfluencer whom I've featured previously in this newsletter, wrote back saying her ratio is about an average of 20 of the same questions per 2,000 views on a post or so.
"I will say it's 'everyone' because that's a big influx of DMs for me on a single topic," she added.I think that is a relatively large number of inquiries! Although if it were me, and if I were a full-time influencer of...myself (?), I would seize, like, only two inquiries to give myself enough of a reason to talk more about myself. A lot of people have been asking about my hair routine in quarantine — and, honestly, it's like washing once or twice a week. Super-simple stuff! If I catch a whiff of it and gag, it's time to shampoo.What was even more interesting is, per the suggestion of someone on Twitter, I included a poll to ask non-influencers what they assumed. I asked how many inquiries they thought influencers were truly getting, and people guessed pretty low. (Note: I asked with influencers who have large followings, which I'd say is 100,000 or more, in mind.)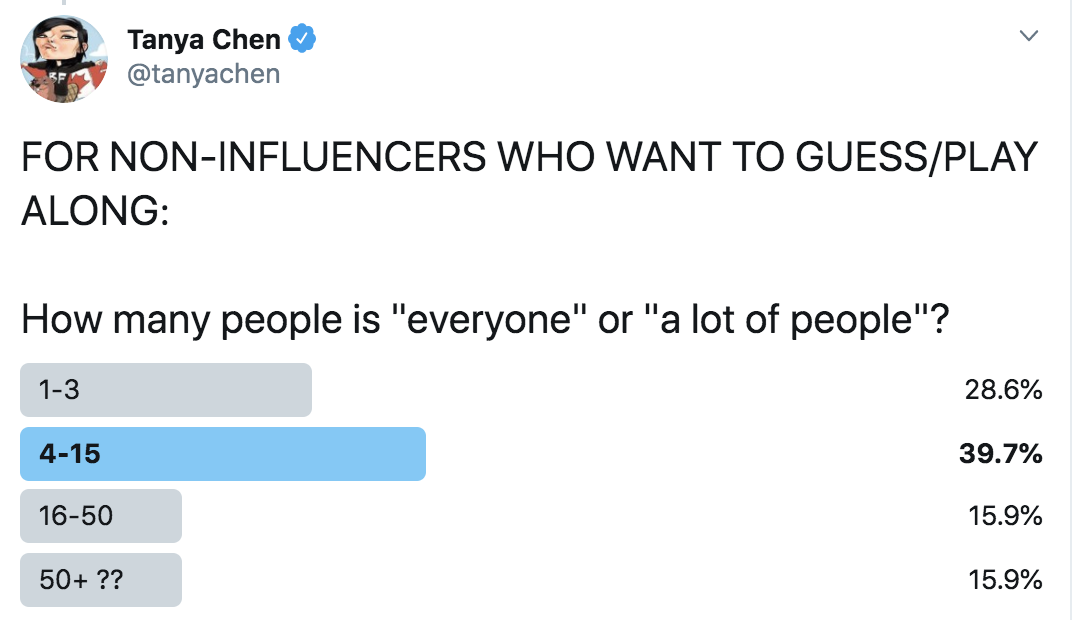 While people might assume influencers inflate their realities (which they probably do), if more than two people ask you about how you tie your hair, or which side of the toilet paper roll you have the end facing, I'd argue you have major influence. That kind of influence terrifies me, but I do understand the impulse to feel godly and say "everyone's been asking…"
So, I guess, proceed.

Until next time,
Tanya